Enter the whimsical and chocolatey world of Roald Dahl's Willy Wonka's chocolate factory with any one of these Wonka-themed desserts. Wonka's story is one of the most recognized and treasured chocolate stories to date, rich in humor, filled with unbelievably creative ideas, and conveying a subtle underlying message.
This roundup of unique Willy Wonka desserts recipes will take you to a world where the line between reality and pure, sugary fantasy blurs.
From chocolate cupcakes to bonbons, and colorful cakes and to fizzy lifting treats, I've curated a delectable collection of nearly two dozen Willy Wonka-inspired desserts, sure to ignite your imagination and tantalize your taste buds.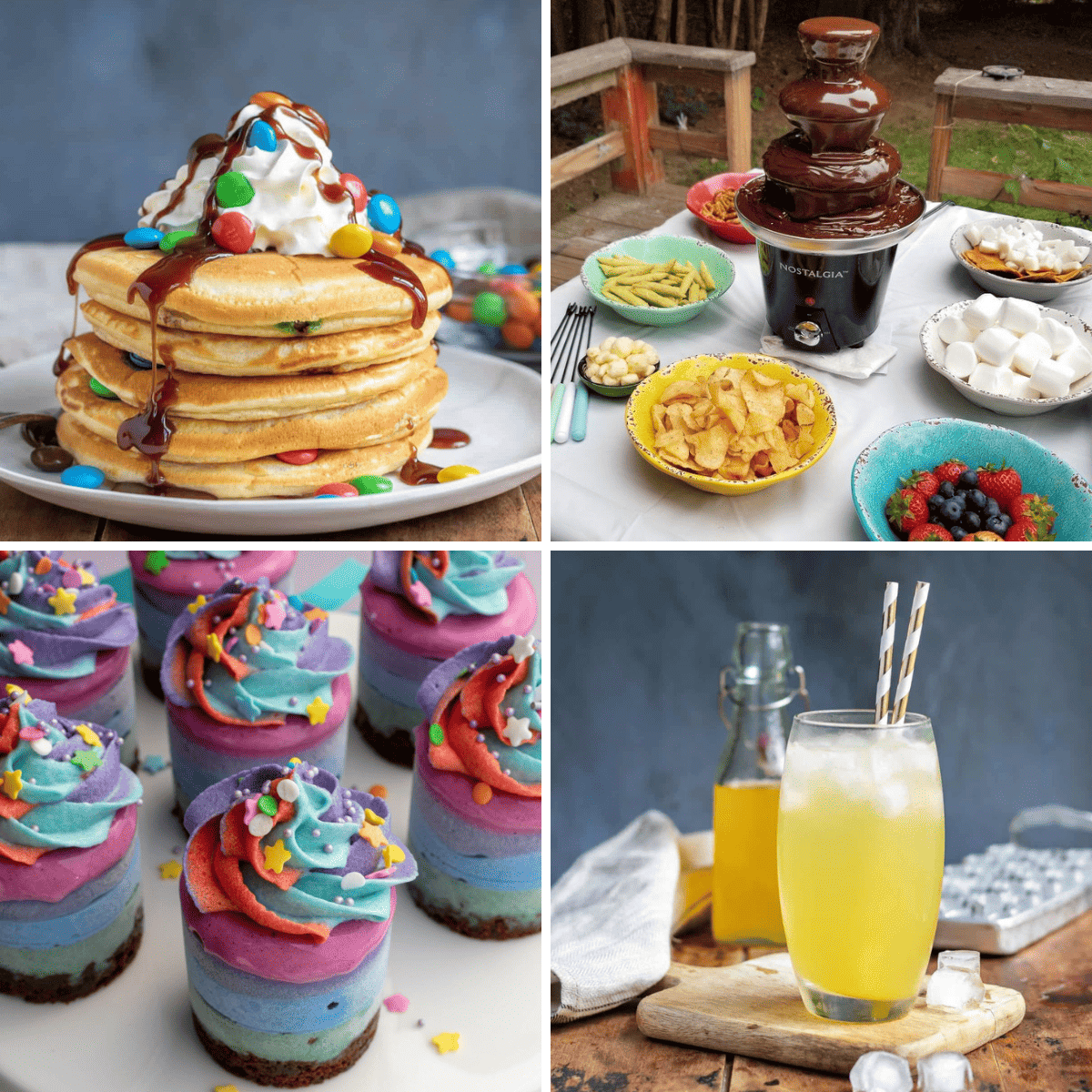 Jump to:
Easy Chocolate Fountain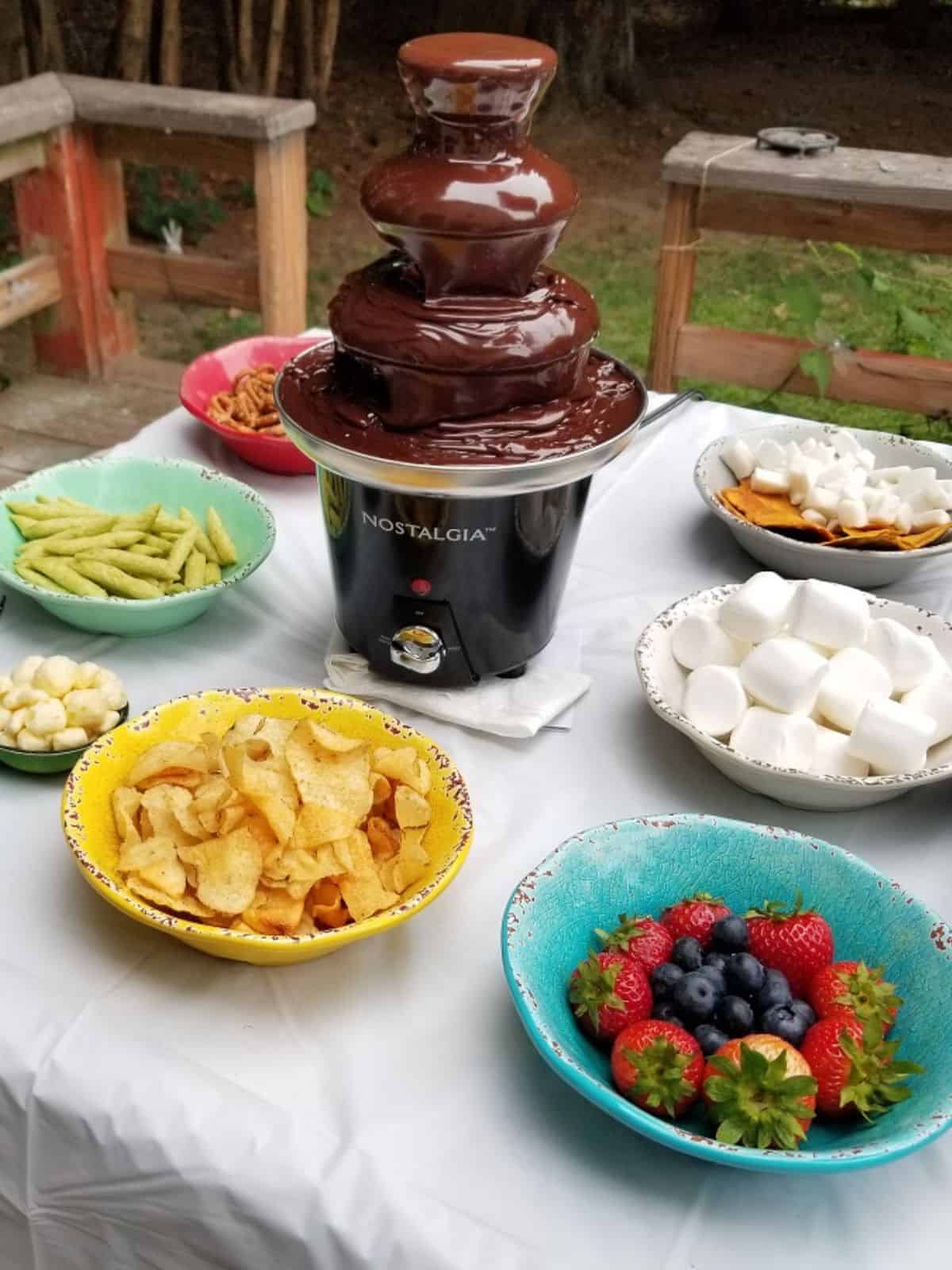 Planning to have a themed Willy Wonka afternoon tea for the release of the new chocolate movie? What better way to simulate the chocolate river than a stunning chocolate fountain centerpiece!
I've got some great tips and tricks for serving up a chocolate fountain with all the trimmings, and of course my ever-growing list of dippables. A chocolate fountain river will undoubtedly impress your guests and satisfy their sweet tooth (without breaking the bank!).
Strawberry Truffles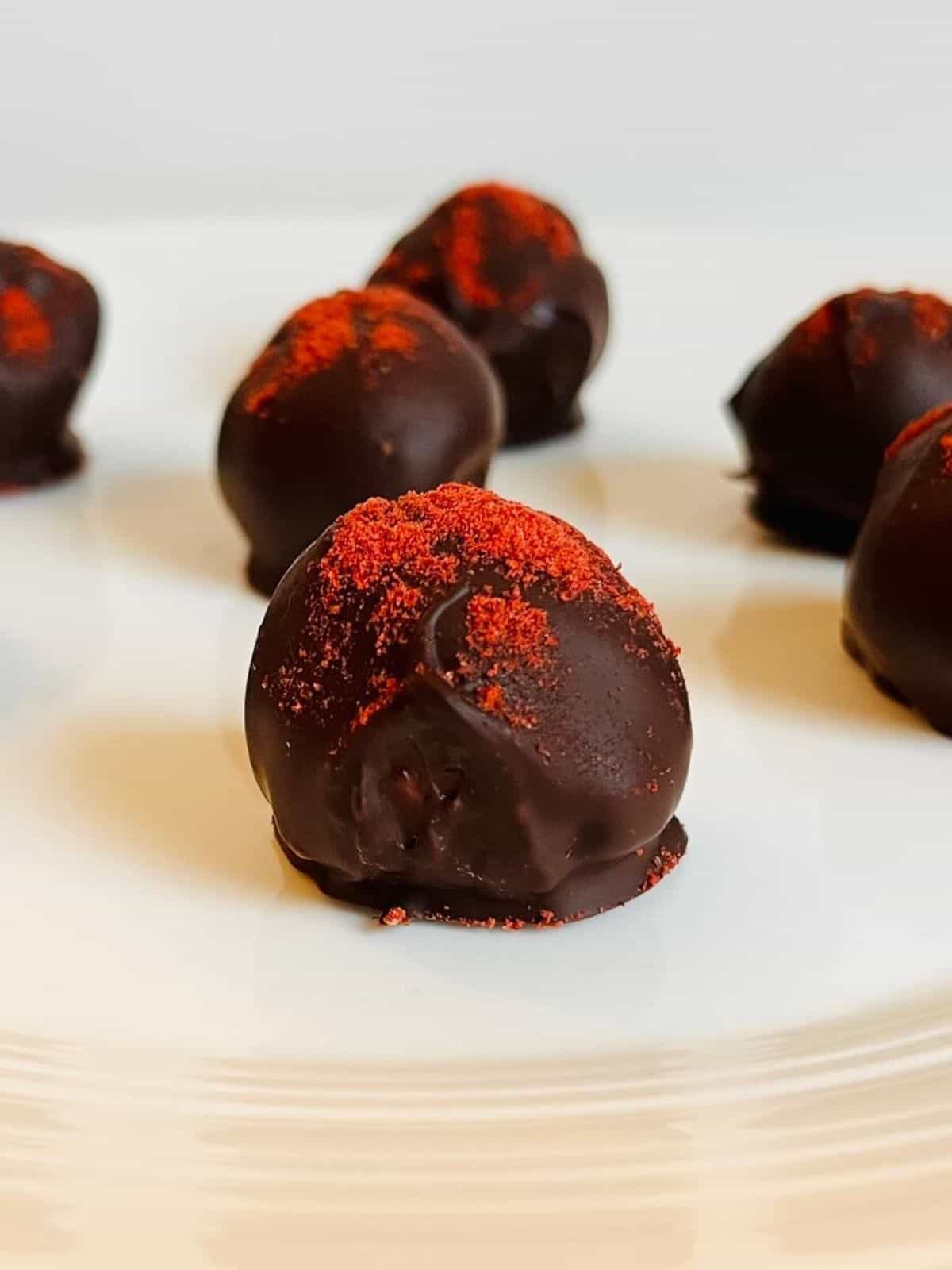 No snozzberries here, only mouthwatering strawberry truffles that are quick and easy to prepare. A dusting of freeze-dried strawberry powder is optional but adds a nice boost of strawberry flavor and a pretty presentation to these yummy treats fit for any Wonka themed party.
Chocolate Blue Matcha Latte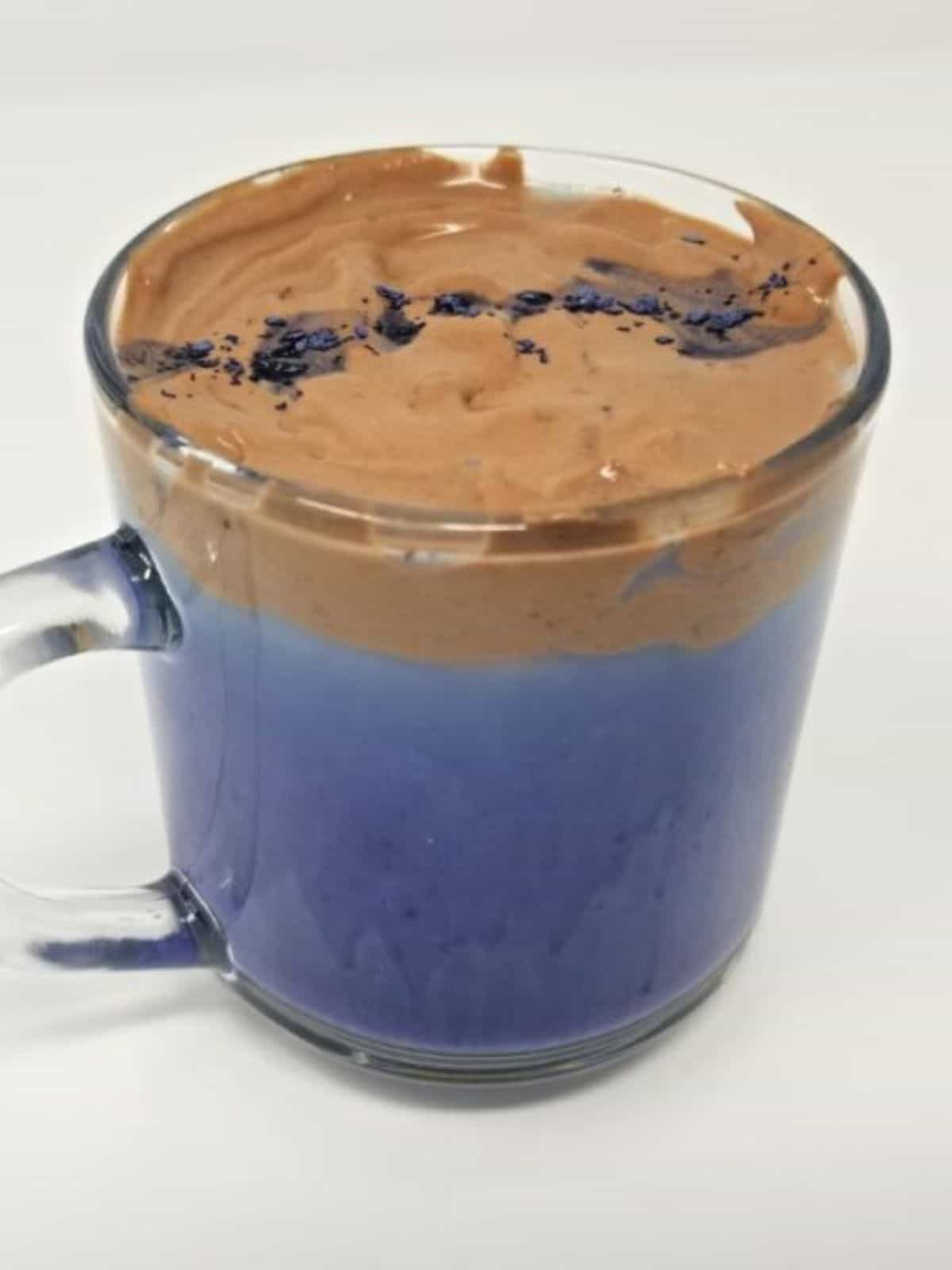 This butterfly pea flower latte recipe can be made hot or iced, with or without a frothy chocolate twist. It's a beautifully colored drink that has a herbaceous vanilla undertone with a creamy finish, making it the ideal hot chocolate substitute.
This is a sweet and marshmallowy blue latte with vanilla undertones and an optional dollop of homemade chocolate cream. This dessert-like drink will remind you of Violet Beauregarde's love for chewing blueberry gum, though it can be made purple with the addition of a squeeze of fresh lemon juice.
Homemade Vegan Butterfingers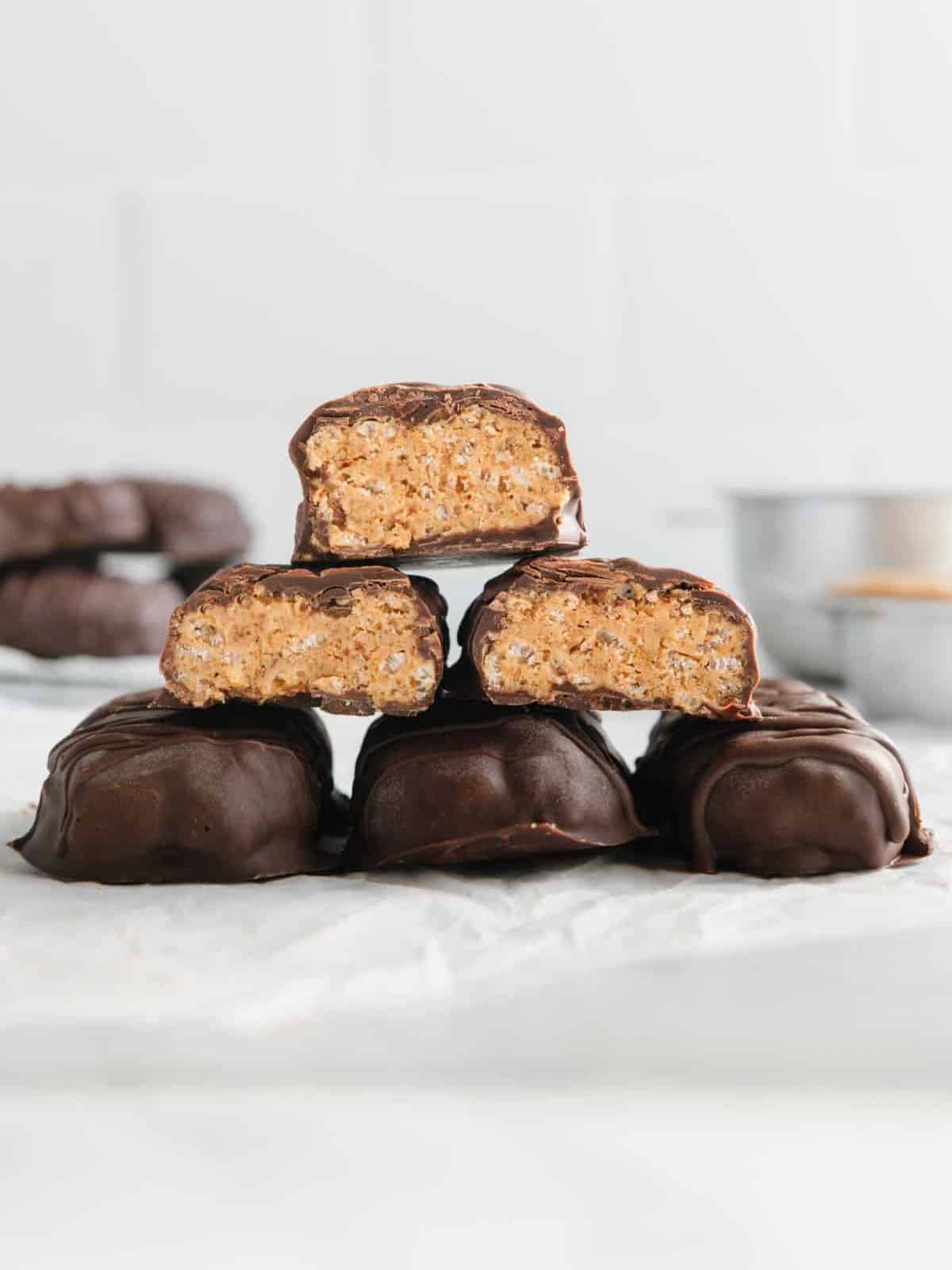 Turn your home kitchen into Willy Wonka's chocolate factory with this home-made, vegan butterfingers recipe. With just 5 ingredients, these copycat Butterfingers are crunchy and perfectly decadent!
They're made vegan (no dairy!), soy-free, gluten-free, and even have a nut-free option so everyone can enjoy the deliciousness of a Butterfinger. Making your favorite candy bar at home is easy with this recipe.
Chocolate Gummy Bears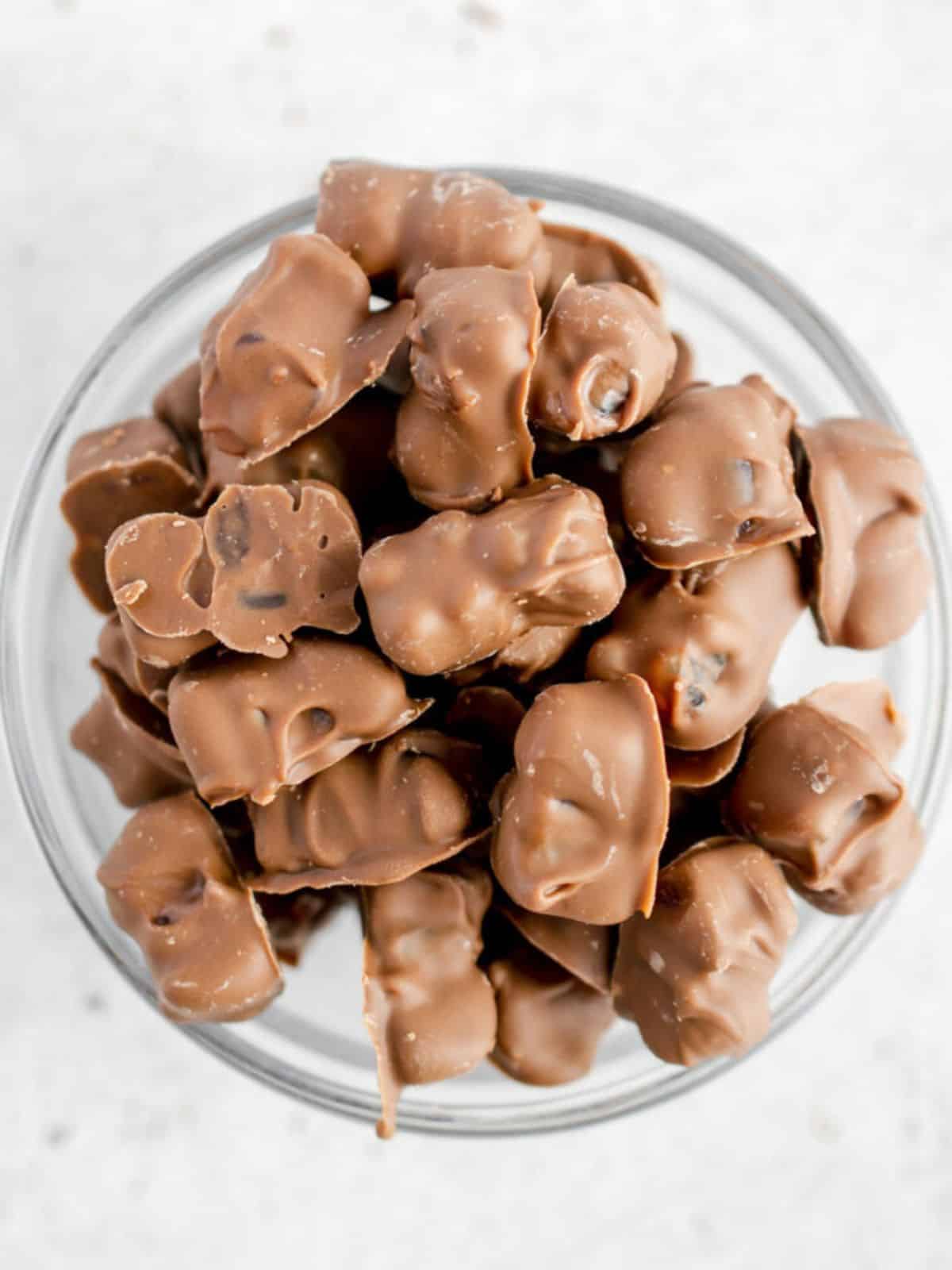 As a chocolate lover, I'm a firm believer that chocolate makes everything better. So amp up your gummy bears by covering them in chocolate. These chocolate gummy bears are a quick, easy, and delicious snack!
Grab a bag of gummy bears and let's start to melt some chocolate chips. I promise you, Violet Beauregarde won't be the only person in the room taking a big bite of this chocolate covered gummy.
Raspberry Truffle Brownies Bars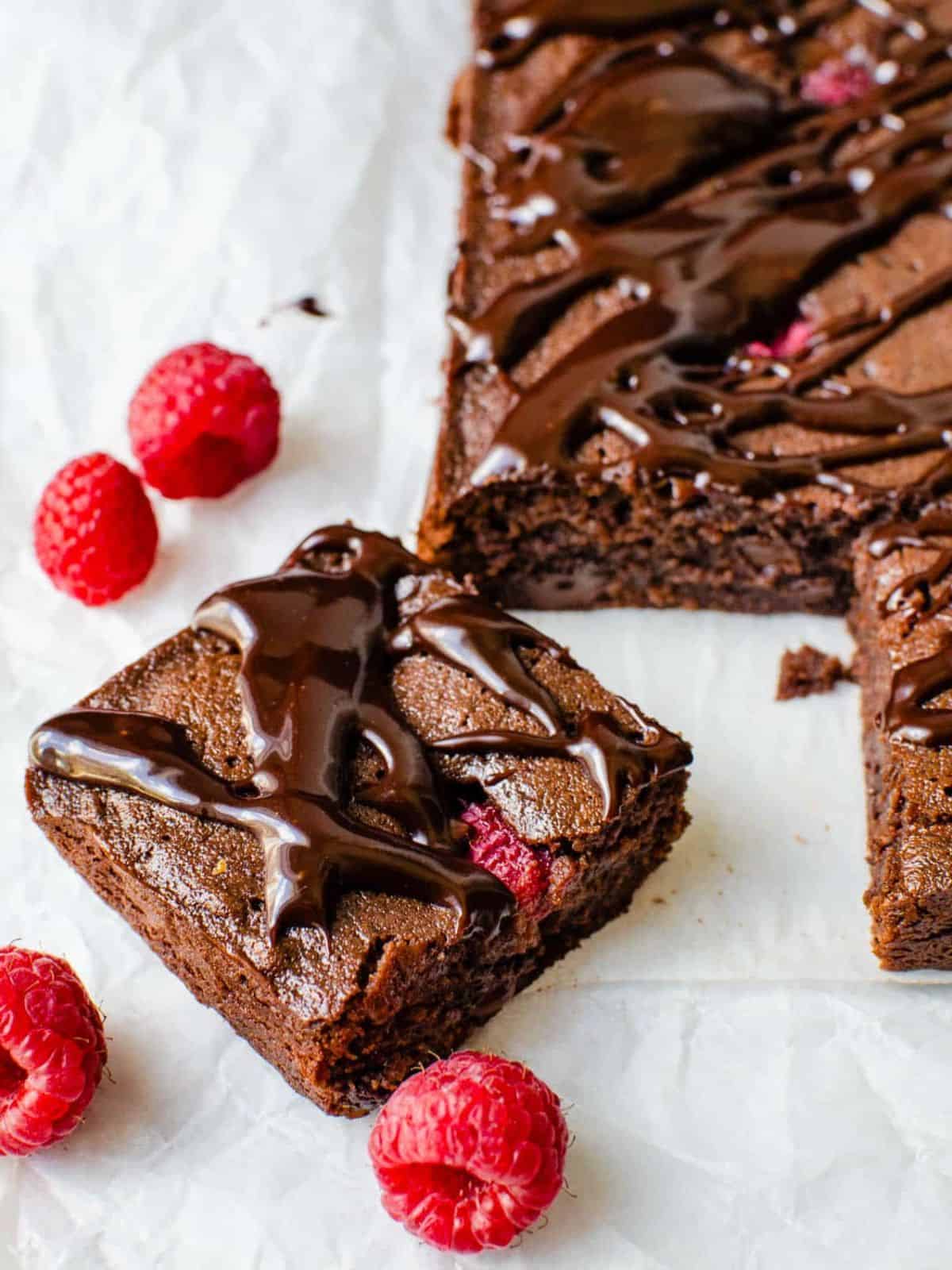 No need to import from Loompaland with these show stopping red-tinged raspberry brownies. With a rich raspberry taste and jammy pieces of fruit in each bite, these raspberry brownies are sophisticated and deliciously fudgy.
With real raspberries baked into the fudgy chocolate batter and a rich chocolate raspberry frosting, you'll be in chocolate heaven with its candy truffle-like flavor. Best of all, it's a quick and simple dish. They're ready in under an hour, so consider adding this recipe to your list.
Easy Collagen Hot Chocolate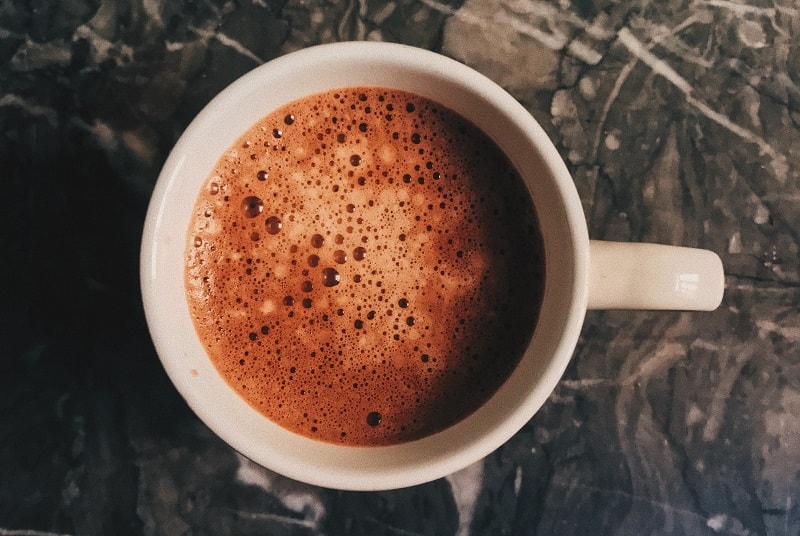 Dive into the chocolate river with this rich collagen hot chocolate recipe reminiscing Wonka's gluttonous character, Augustus Gloop. This rich and thick hot beverage made from with organic dark chocolate with sea salt is decadent & so easy to make from scratch.
Who can pass up a piping hot cup of hot chocolate with a boost from collagen peptides? Not me, that's for sure. Remember to use high percentage craft chocolate in your hot cocoa. Aside from marshmallows, here are some more hot chocolate add ons to try.
Chocolate Nonpareils Candy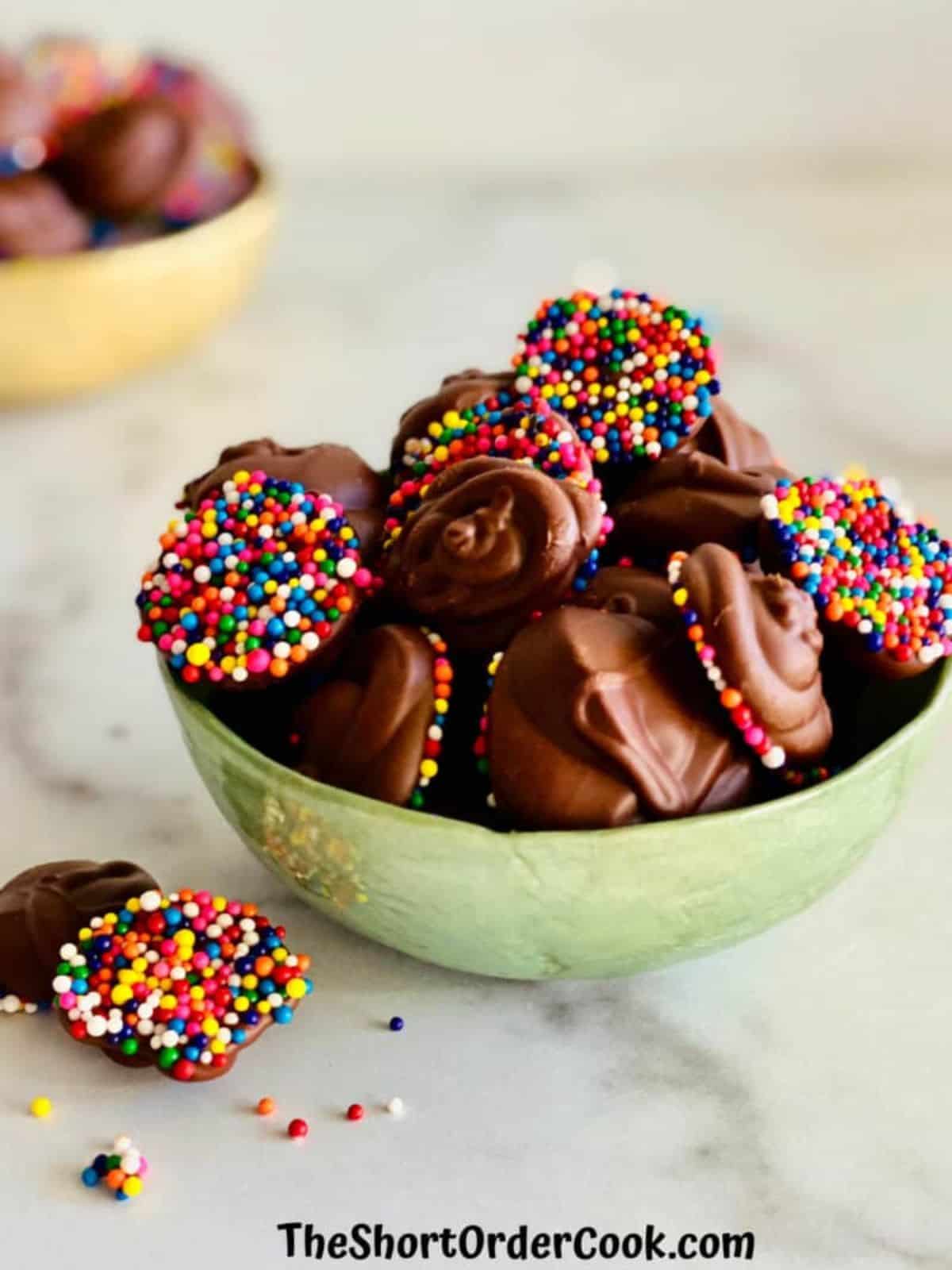 Colorful, crunchy, & creamy homemade chocolate nonpareils candies are a delight. These chocolatey delights are reminiscent of the whimsical factory of grassy meadow full of flowers and trees, with a chocolate river and Oompa Loompas running about.
This handcrafted treat consists of delicious chocolate discs with a rainbow nonpareil sprinkle covering on one side. The recipe can be made with whatever chocolate you enjoy, promising a delightful journey through Wonka's colorful chocolate world that's "without equal."
Vanilla Mango Soda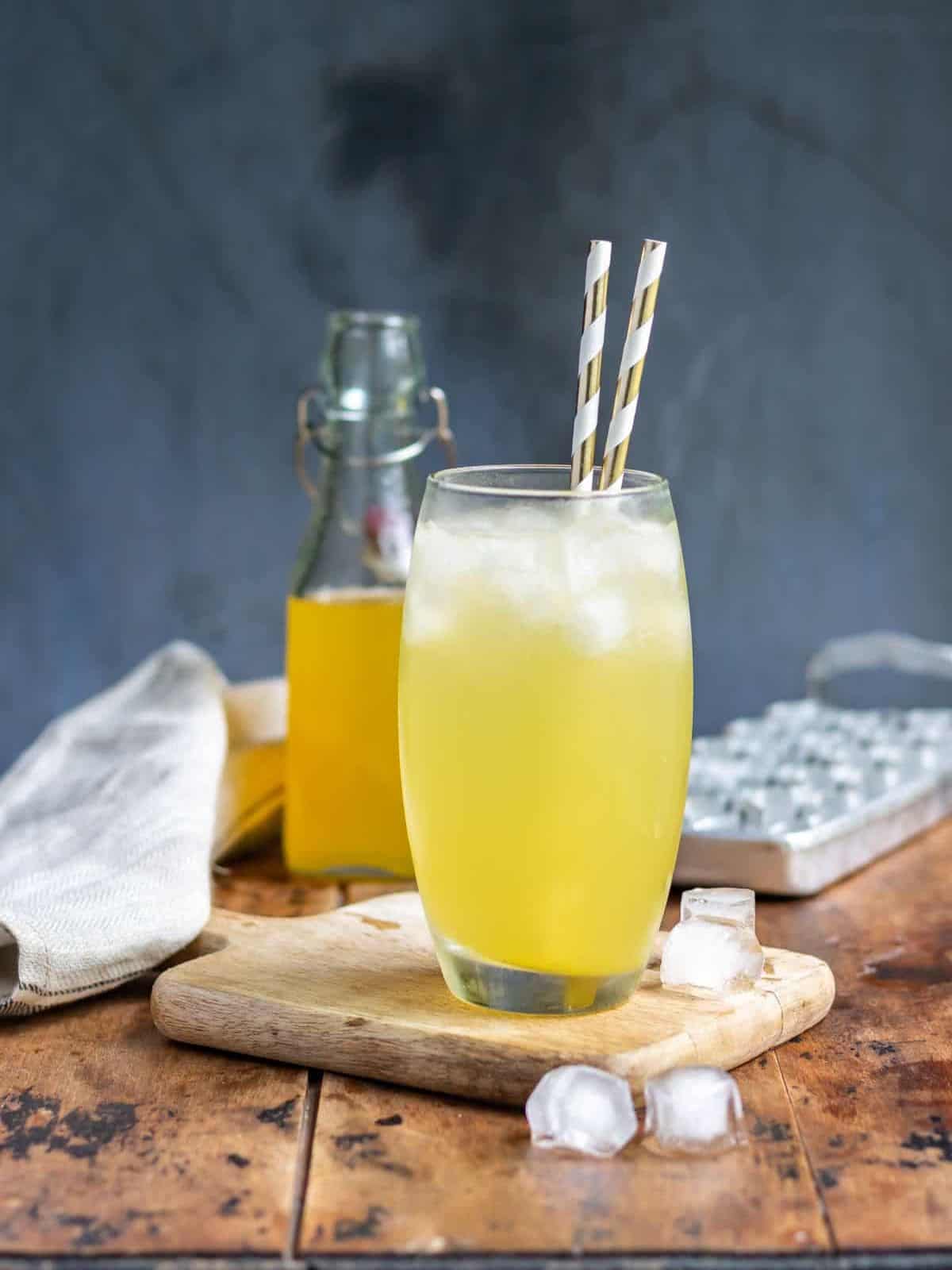 Make your own 'Fizzy Lifting Drink' with this delicious vanilla mango soda. This bubbly and delicious vanilla mango soda is the perfect summertime cocktail that's simple to create and full of flavor.
Homemade mango syrup is combined with soda water and can be consumed on its own or as the foundation for a summer cocktail! Enjoy the playful effervescence of Willy Wonka's fizzy lifting drinks in creamy, tropical form.
Marzipan Chocolates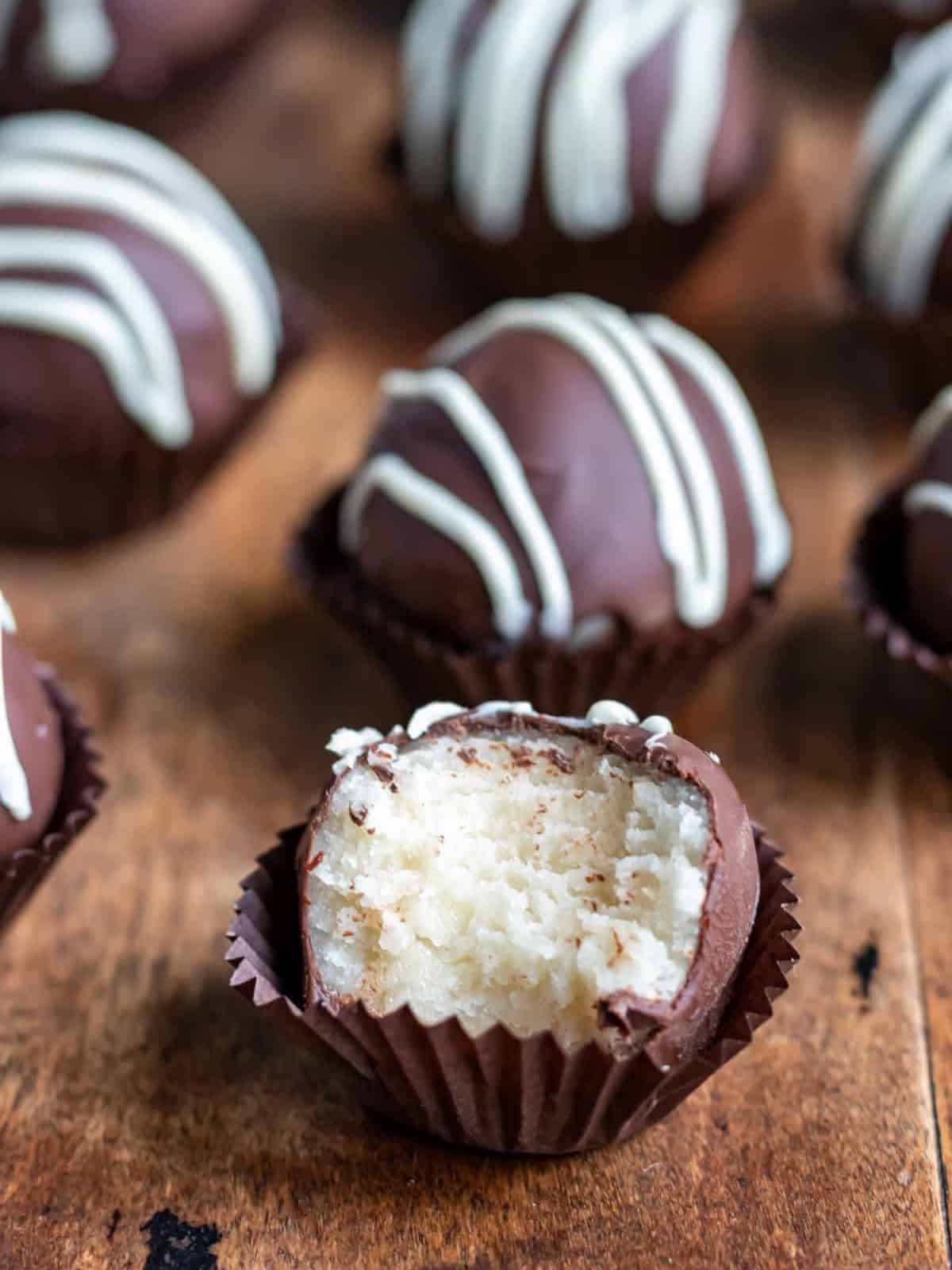 This fun & simple recipe will have you feeling like a veteran chocolatier straight out of Wonka's chocolate factory. Marzipan chocolates are a delectable chocolate delicacy that are ideal for the holidays or any other special occasion.
These simple marzipan chocolates will be ready in 15 minutes and require only three ingredients! Go on a delicious chocolate journey like no other with this Willy Wonka inspired dessert recipe
Meringue Lollipops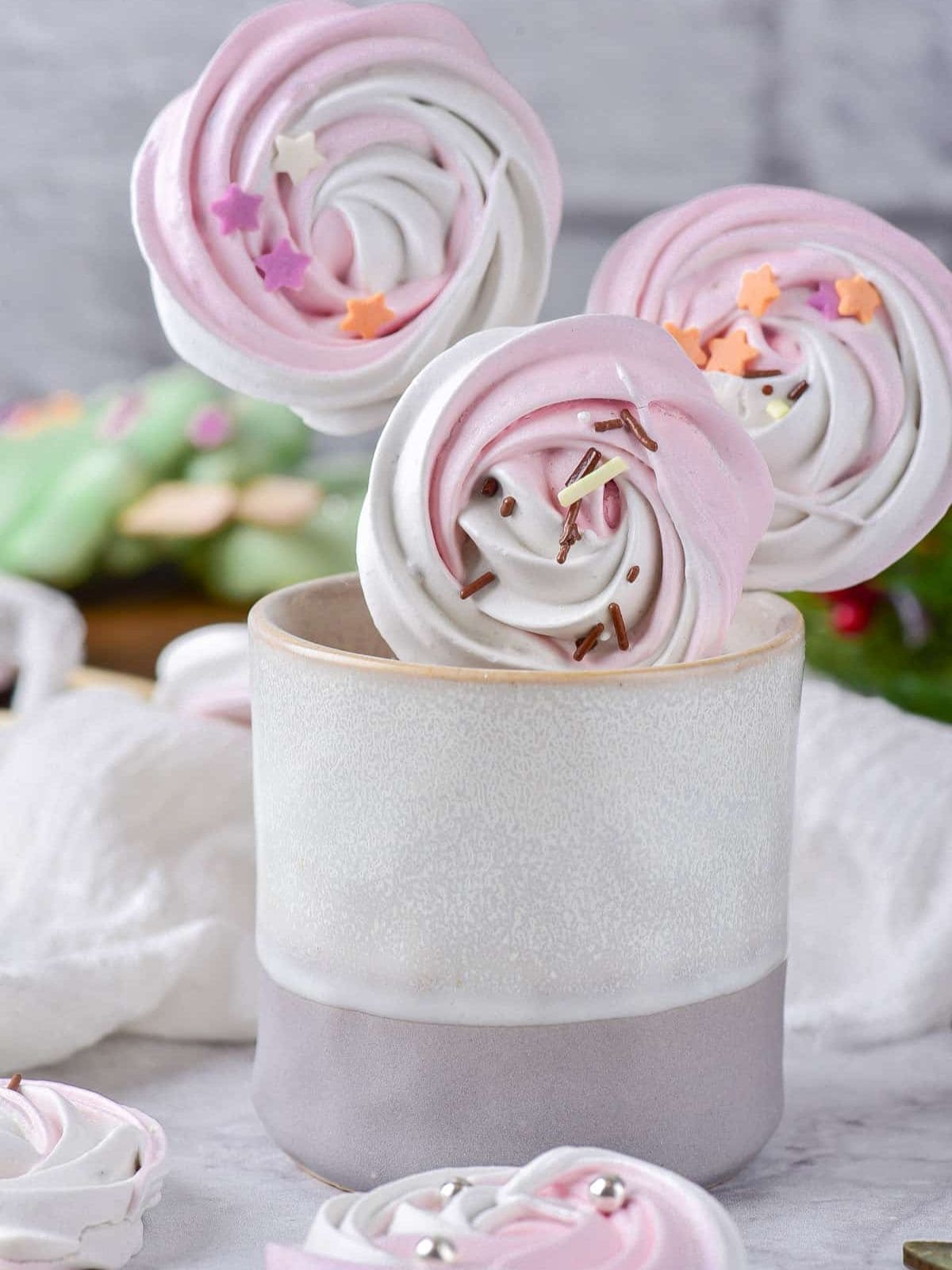 These beautiful and colorful meringue lollipops are a tribute to Violet's unforgettable gum-chewing incident, but without the blueberry side effects.
These easy meringue lollipops are a fun treat or edible gift! Customize them with colors and sprinkles for a party theme or a festive holiday. These pops are super easy to make and taste great, to boot!
Mini Vegan Rainbow Ice Cream Cakes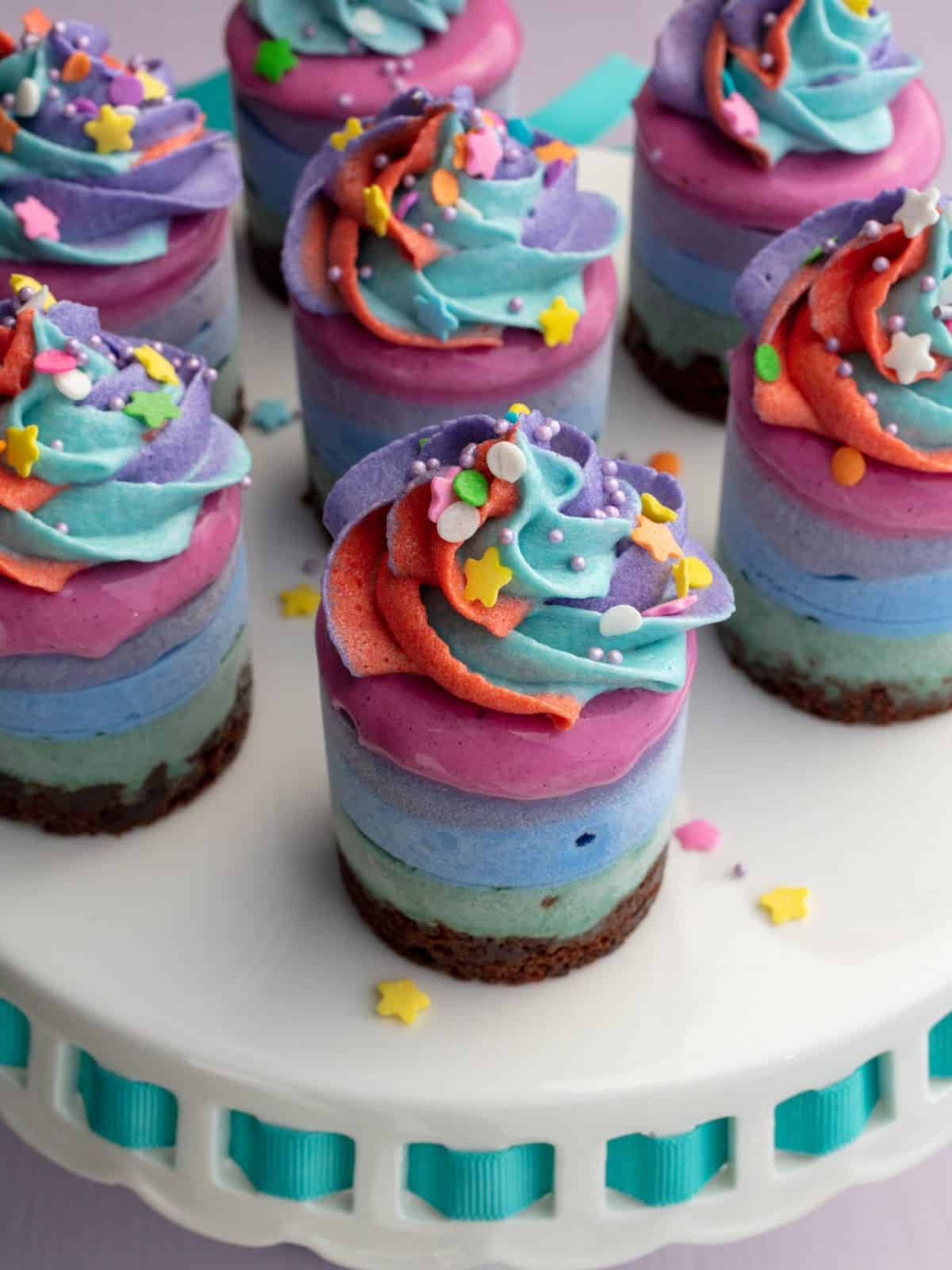 Many of Roald Dahl's characters, story plots and objects in Willy Wonka's Chocolate Factory are fanciful, fictional words like snozzberries that nobody knows what they really are. So why not include a rainbow-hued mini ice cream cake to top off your treats table?
As a chocoholic by nature, I love how this mini vegan rainbow ice cream cake recipe cleverly sneaks a chocolate brownie crust into these vanilla and lemon rainbow ice cream mini cakes. Wonka would be proud.
Chocolate Sour Cream Pound Cake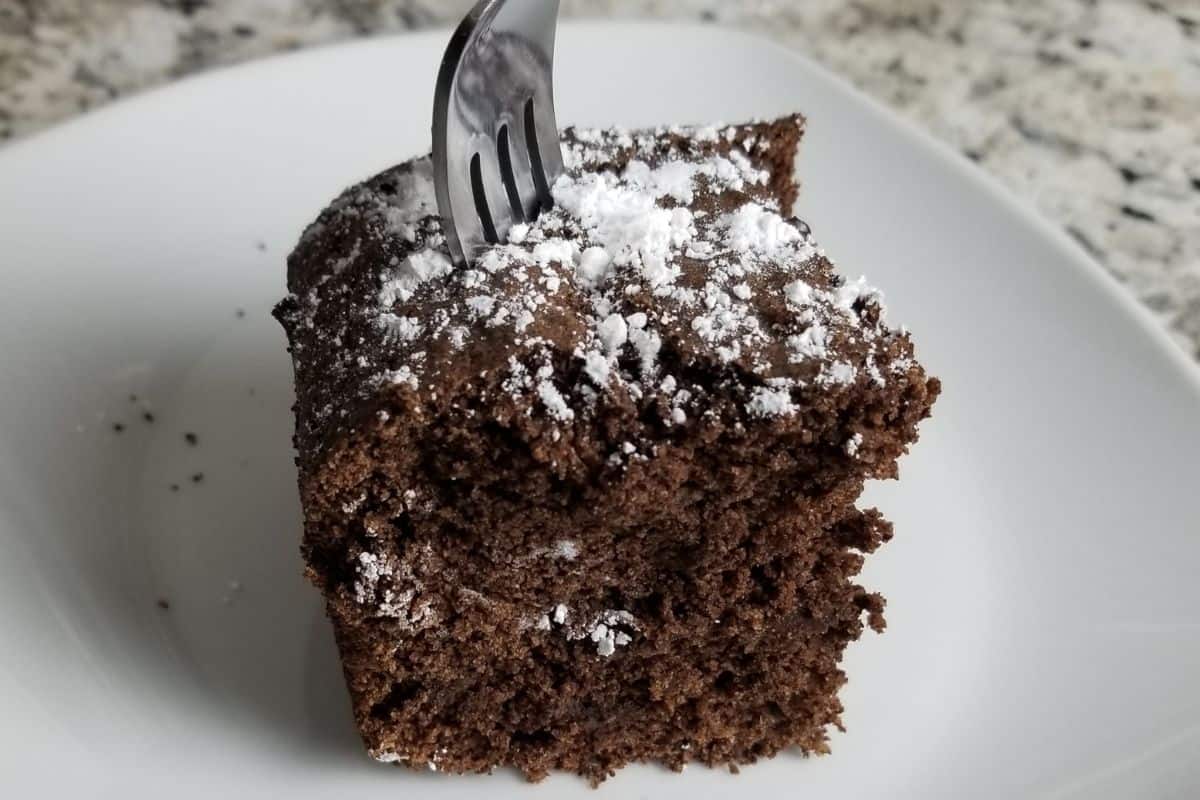 This delectable chocolate sour cream pound cake with optional glaze is a delightful nod to Roald Dahl's timeless tale and will transport you to a world where dreams really do come true – at least for your sweet tooth!
It's a soft and fluffy chocolate cake that's gluten-free with a delicious and rich chocolate glaze (optional) on top. This cake is moist and sweet while the cocoa powder gives it a thick and fudgy chocolate flavor. It's fantastic, quick, and easy to make at home!
Dairy-Free Peanut Butter Fudge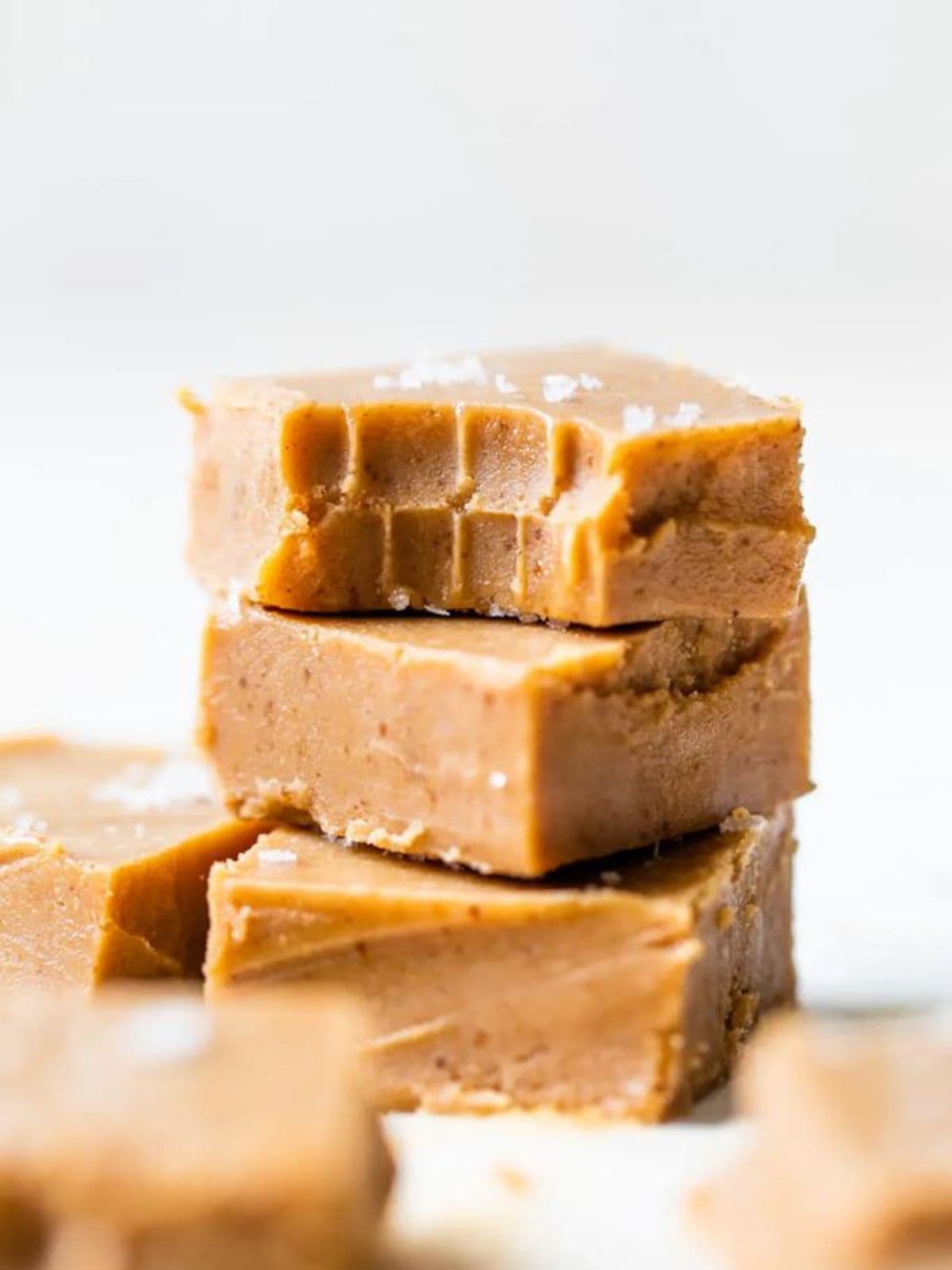 This rich and indulgent dessert is a 'golden' opportunity for chocolate and Willy Wonka sweets lovers everywhere to revel in extravagance. This dairy-free peanut butter fudge tastes just like your favorite peanut butter fudge, and can even be cut out into egg shapes for an extra thematic addition.
It's made with only five ingredients and takes only a few minutes to prepare. Plus, it can be stored in the freezer for even longer enjoyment. It's sure to become your new favorite recipe thanks to that perfect fudgy texture.
Sourdough Chocolate Cake (w/Sourdough Discard)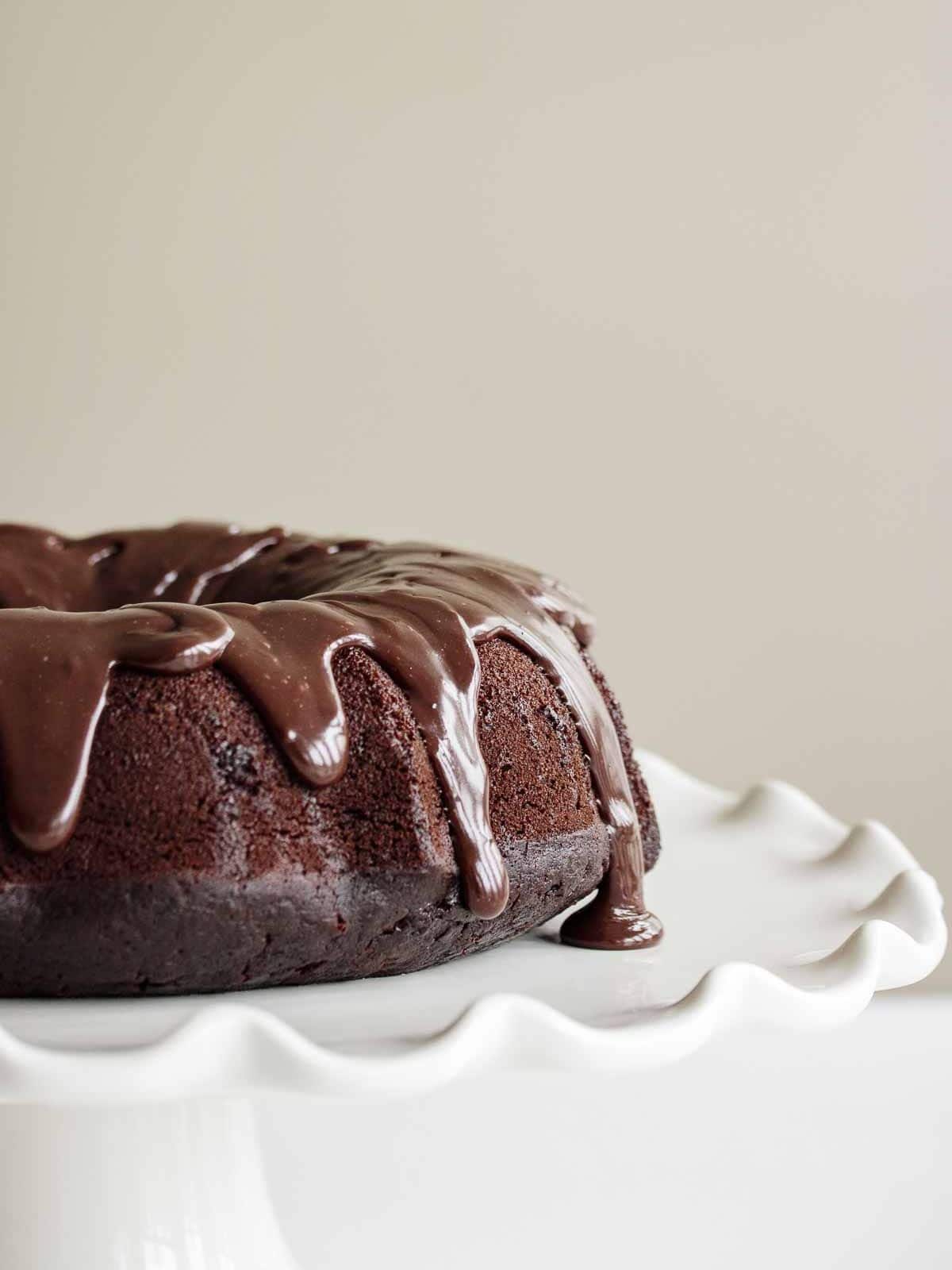 Dive into the tantalizing world of Willy Wonka's chocolate factory with a chocolate river fountain-esque cake. Sourdough chocolate cake has an incredible texture and is the greatest method for all chocolate lovers to use up their sourdough starter scraps.
This chocolate cake is so rich and luscious that it should be illegal to eat it! The sourdough waste adds flavor (but not a sour one), creates a tender crust with an extra-soft inside, and keeps the cake from drying out. Your visitors will be impressed by this extra-moist chocolate cake.
3-Ingredient, No-Bake Vegan Brownies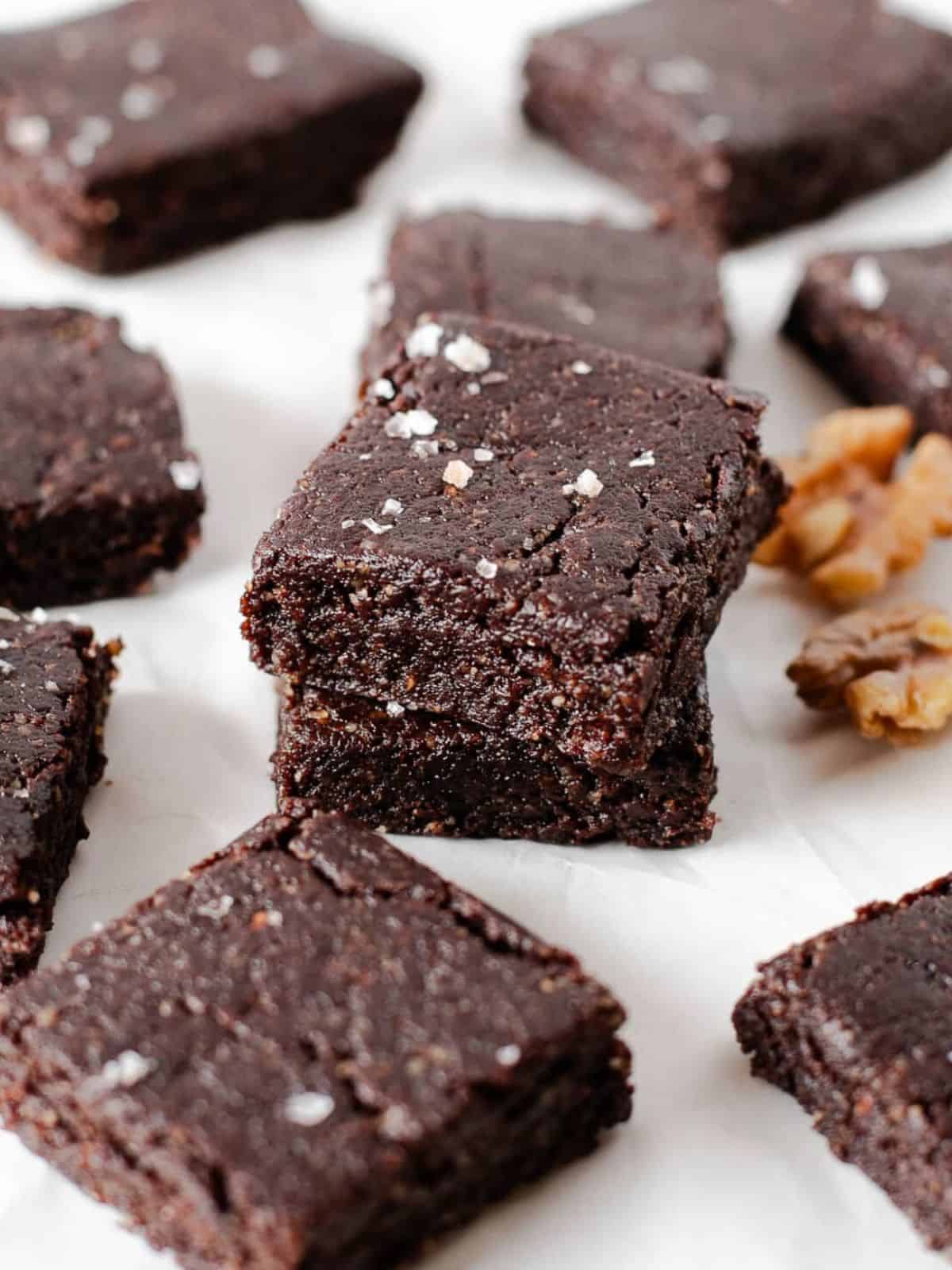 Since I'm always on the lookout for a healthy but delightfully chocolatey recipe, these raw brownies are on my radar. So to celebrate the release of Wonka's new flick here's a raw, no-bake, vegan brownie recipe for you to try.
This naturally sweet treat is made with just 3 ingredients so you can make them whenever you want a chocolaty taste without turning on the oven or breaking out the white sugar. The brownie recipe is prepared with natural ingredients such as dates, walnuts, and cocoa powder.
Chocolate Marshmallow Cookies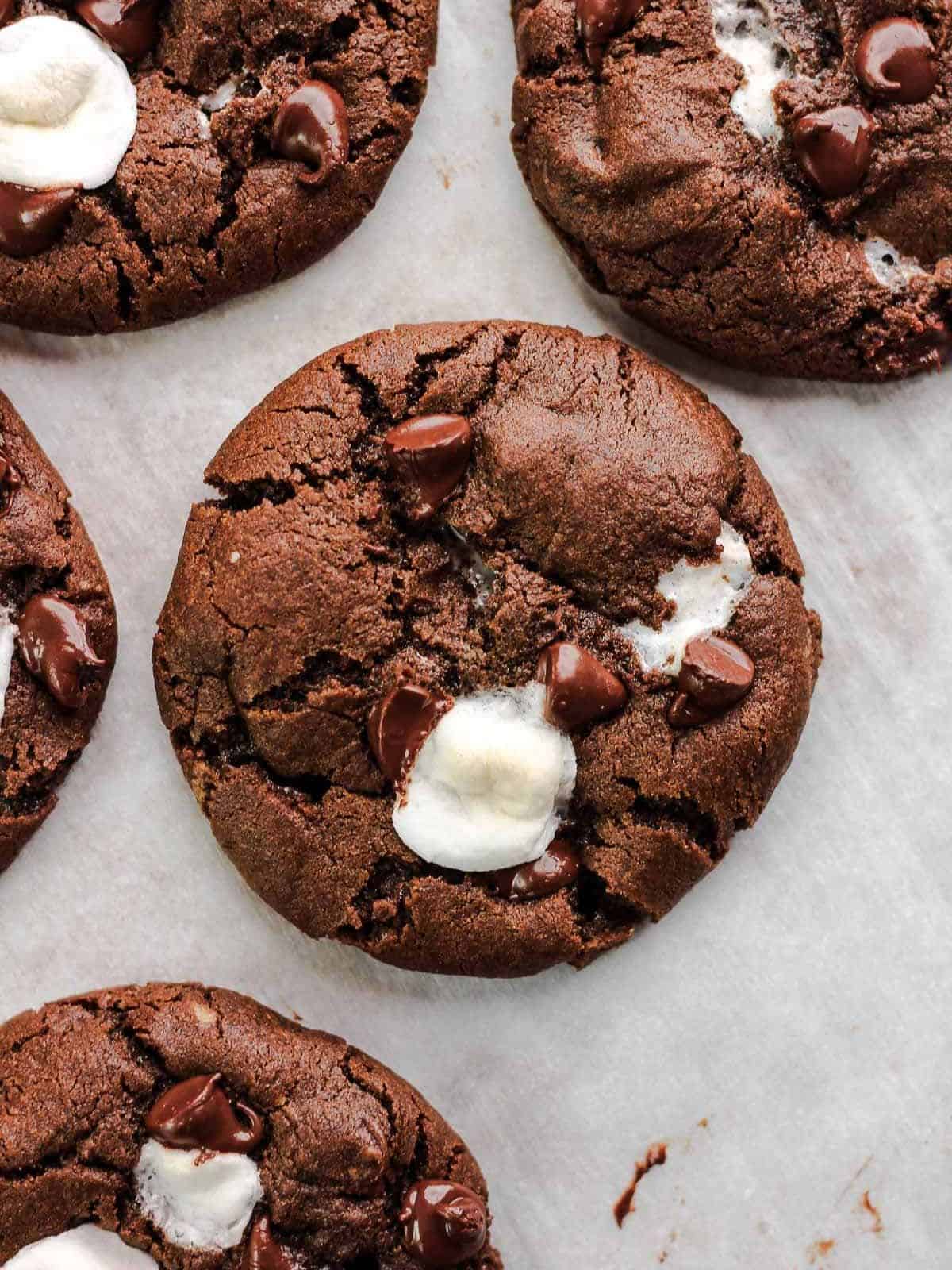 You're going to love these bakery-style chocolate cookies with marshmallows! These chocolate marshmallow cookies are soft, chewy and stuffed with gooey chocolate chips and toasted marshmallows.
This recipe is easy to make and customize to your liking. These cookies are super decadent and will satisfy your sweet tooth including Grandpa Joe. Fluffy marshmallows folded in chocolate cookie dough? Yes please! These're truly scrumptious in every sense.
M&M Pancakes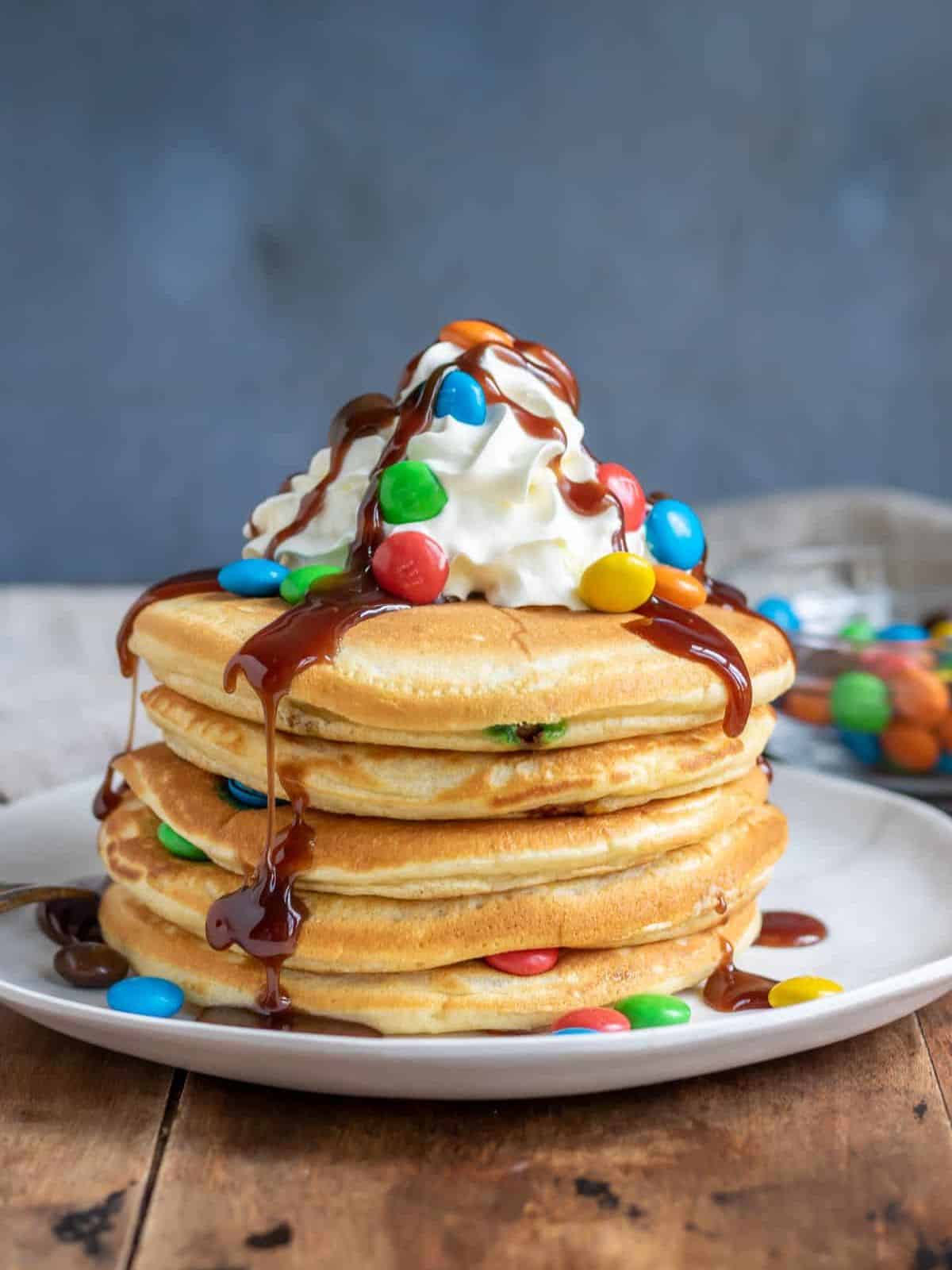 These vibrant desserts are a sweet tribute to the little people who make the magic happen in Wonka's factory. Loaded M&M pancakes that you can sprinkle it with more M and M's for a more festive touch.
Tender and fluffy pancakes with M&Ms in the batter make a fun and colorful golden flat cakes. Then they're topped with whipped cream and drizzled with chocolate sauce reminiscent of the chocolate river for a truly inspired Willy Wonka dessert.
Gluten-Free Chocolate Cupcakes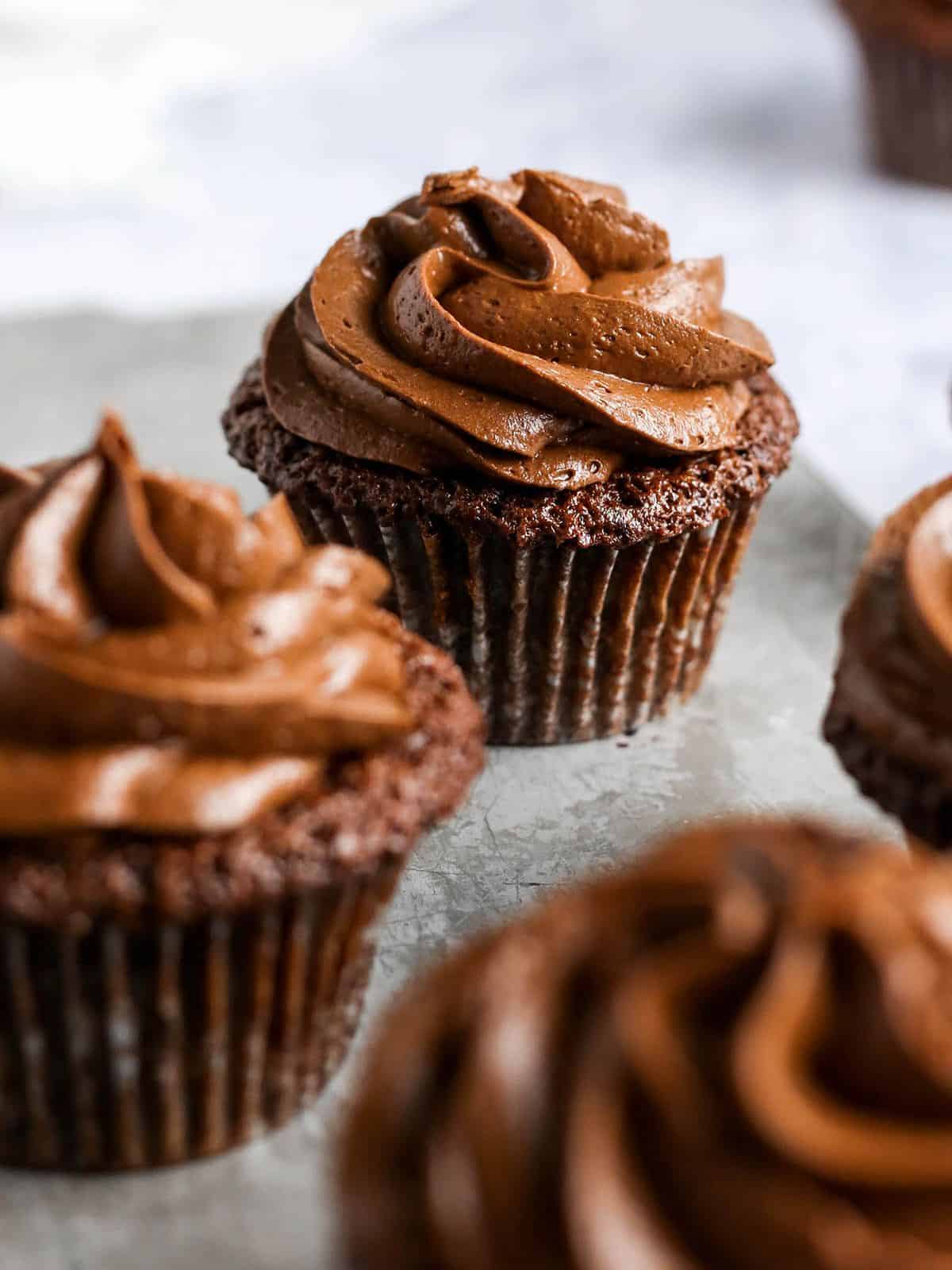 Gluten-free chocolate cupcakes with a luscious chocolate buttercream frosting is every chocolate lover's dream. Decadent in every way and will please the most discriminating chocoholic.
These dairy-free, oil-free, gluten-free chocolate cupcakes are baked with almond flour and topped with a delectable vegan chocolate buttercream icing. It's really simple to make and takes only a few minutes to put together using a mixer. This is a cupcake for chocolate lovers!
Willy Wonka Desserts FAQ
What sweets did Willy Wonka make?
Wonka made a number of treats in the books and movies about the character, including Everlasting Gobstoppers, Wonka Bars, Three-Course Dinner Chewing Gum, and Fizzy Lifting Drinks.

What do they eat in Willy Wonka?
In Willy Wonka, the characters eat a wide array of imaginative and whimsical confections created by Willy Wonka, such as Everlasting Gobstoppers, Wonka Bars, and Fizzy Lifting Drinks.
Can you still buy Wonka bars?
As of now, Wonka bars are not widely available for purchase, as they were discontinued by Nestlé many years back. However, there may be specialty or limited edition releases from time to time.
What is the name of the chocolate bar in Willy Wonka?
The chocolate bar featured in Willy Wonka is known as the "Wonka Bar," but other chocolate bars in Willy Wonka include the Scrumdiddlyumptious Bar, Nutty Crunch Surprise, and Triple Dazzle Caramel.
📖 Recipe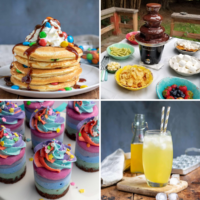 19 BEST Willy Wonka Desserts
The best Wonka desserts for birthday celebrations, special events, and Wonka parties of all kinds!
Print
Pin
Rate