Despite its popularity on the tourist circuit, I'll admit I wasn't thrilled about visiting or planning out my Berlin itinerary. It just never really appealed to me, but when I ended up there for work reasons, I certainly jumped quickly enough at the chance to explore Berlin chocolate shops.
After all, I practically lived off of Ritter Sport bars in middle school. So I headed to Berlin directly from Brussels and just before heading to Prague (though it's also a popular destination after a visit to Amsterdam) on my last visit to Europe.
Chocolate has a long history in Berlin, with Germany being one of the main cocoa consumers & processors in recent decades. There are also several famous chocolate brands produced in Germany, such as Merci and Ritter Sport, as well as local versions of Kinder and Milka.
This guide to chocolate in Berlin includes a few homegrown bean to bar shops, some high quality retailers, and a few well-known European chocolatiers.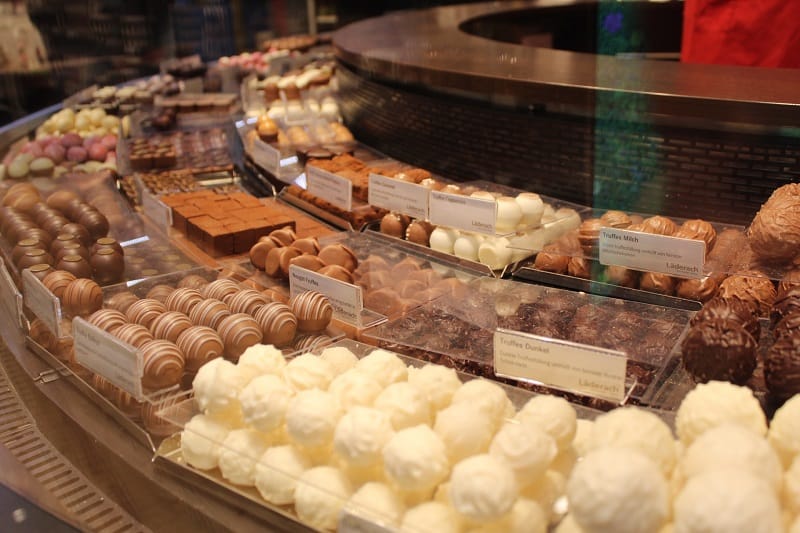 The Berlin Chocolate Scene
Despite a long history with cacao processing, the German chocolate scene is a bit behind bean to bar. But if you want to get a taste of what's to come, Berlin is a good spot to try both the old and the new. Here you'll find traditional and new-age chocolatiers, bean to bar chocolate makers, and even book-themed chocolate cafes.
Hussel is a name I heard a lot in connection to chocolate in Berlin. Apparently it's a popular German chocolate brand; you'll see it in lots of train stations and malls in Berlin, but I found it too sweet & flat to even be worth adding to the list (not to mention mass-market).
The chocolate shops in Berlin do seem to be clustered in either West Berlin or Central Berlin, however. Historically these have been the richer parts of the city, both previously under Allied Forces' control. Most people traveling to Germany will end up going through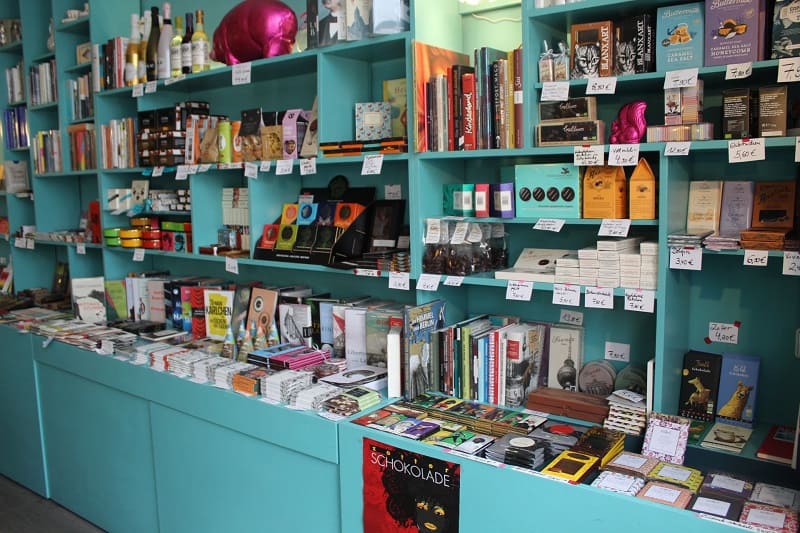 Central Berlin is also known as the most touristy region, though I imagine that right now it's mostly domestic tourism. When I was there in March, most Berlin chocolate shops closed on Sunday and/or Monday, but while I've confirmed that all these shops are still in business, almost everyone has changed their hours of operation.
Each one also has varying levels of dine-in and takeaway options, so check directly to confirm they'll be open when you go! In reality, I went to a few more shops and cafes than are included on this list, but they were just so off-base in terms of what I wanted to share that I've excluded them entirely.
For example, Schokofabrik, which— despite the name— only carries a few molded chocolates; it's mostly a fresh juice bar! But I've starred the most standout chocolate cafes in Berlin, as honestly, most of them were fine but not amazing.
West Berlin Chocolate Shops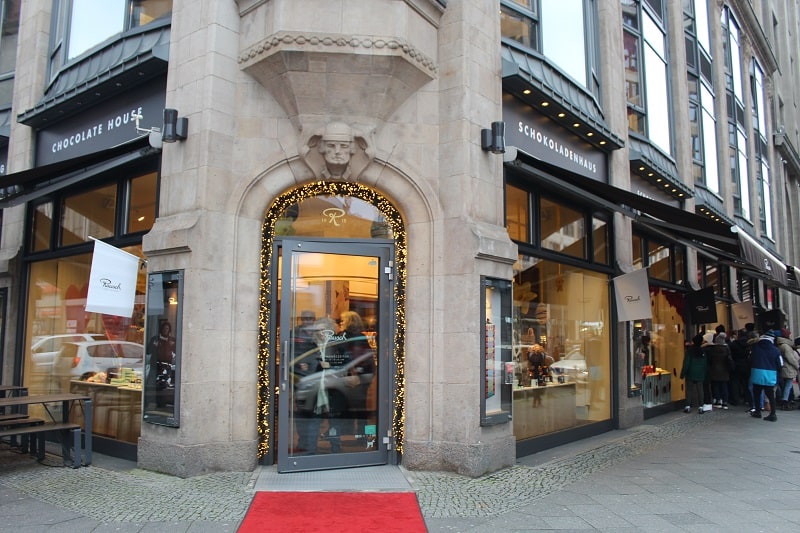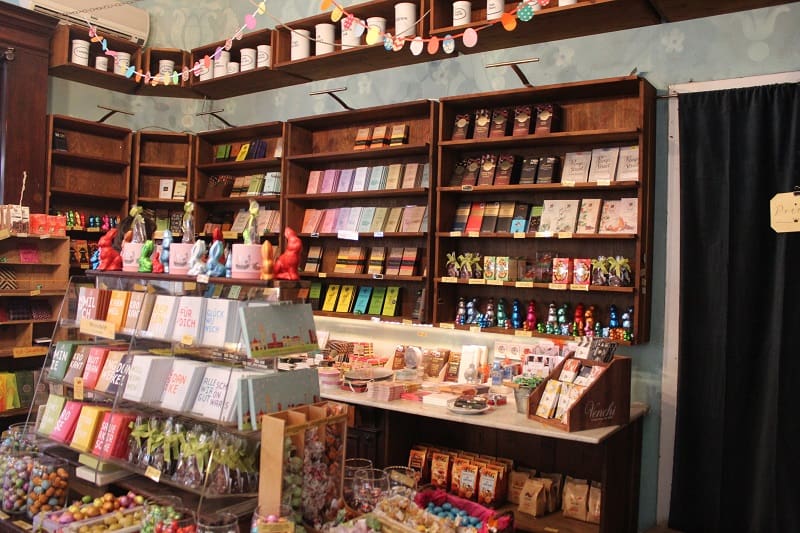 Decidedly a popular spot on the weekends, Winterfeldt sits on a relatively busy street corner just south of downtown. Their vast menu is mostly variations on espresso and milk-based chocolate drinks, with several vegan options. Your order will come in a large bowls when you order the local koffeemilch, and in the form of a big glass of milk with 22g of Zotter chocolate melted in it, if you order a specialty hot chocolate.
Overall I was underwhelmed with both the desserts and the drinks, but that's not really what I came for. I came to this cluttered cafe for the specialty chocolate selection. With around 20 craft chocolate makers and a variety of seasonal goodies, Winterfeldt Schokoladen has one of the best selections of bean to bar chocolate in Berlin.
This is especially true when it comes to German makers and the Austrian maker Zotter; along the right wall in the center is another display case of bonbons. The bonbons and truffles were fine, but none of the 6 we tried were particularly memorable.
Address: Goltzstraße 23, 10781 Berlin, Germany
Hours: check Google or their social media for current hours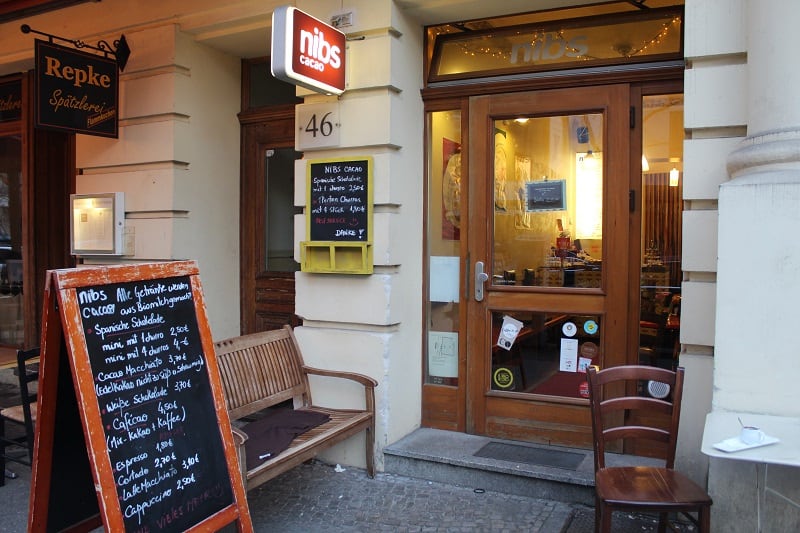 Nibs is a Spain-inspired churrería, specializing in small hot chocolates with piping hot churros. With a name as close to the bean as "Nibs Cacao," we were expecting a lot of delicious, high-percentage chocolate options, but boy were we mistaken.
The "Spanish chocolate" that came with our order tasted like watery chocolate pudding, and it had almost no flavor when we dipped the churros in. I was disappointed, after the great reviews we'd read online. But if you'd like to buy some chocolate vinegar, BlanxArt chocolate bars, or some of the tiny Italian chocolates at the counter, it's a reasonable stop for a quick treat.
There are also other chocolate and coffee drinks on the large menu, but after our experience with the "Spanische Schokolade," I won't be trying them anytime soon. If you can believe it, this was definitely not our worst chocolate experience in Berlin (those were left out!).
Address: Bleibtreustraße 46, 10623 Berlin, Germany
Hours: check Google or their social media for current hours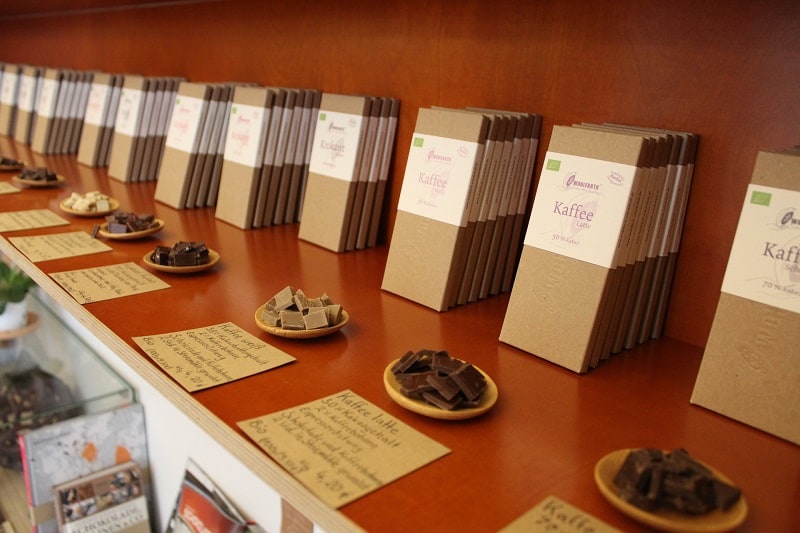 Wohlfarth is a very small shop with an array of around 10 chocolate bars— with samples— and a few different sizes of chocolate salami (a confection of chocolate dotted with bits of dried fruits & nuts). In the front display case are squares of white, milk, and dark chocolates, each flavored with various inclusions on the back, from cacao nibs to candied hemp seeds.
To their right are chocolate-dipped fruits, which are exactly as advertised; just pick a favorite. Of my piecemeal purchases, I especially enjoyed the milk chocolate, and the depth in flavor in the dark chocolate. Note that while they're an organic shop & they have copious vegan options, not everything is vegan.
Address: Soldiner Str. 39, 13359 Berlin, Germany
Hours: check Google or their social media for current hours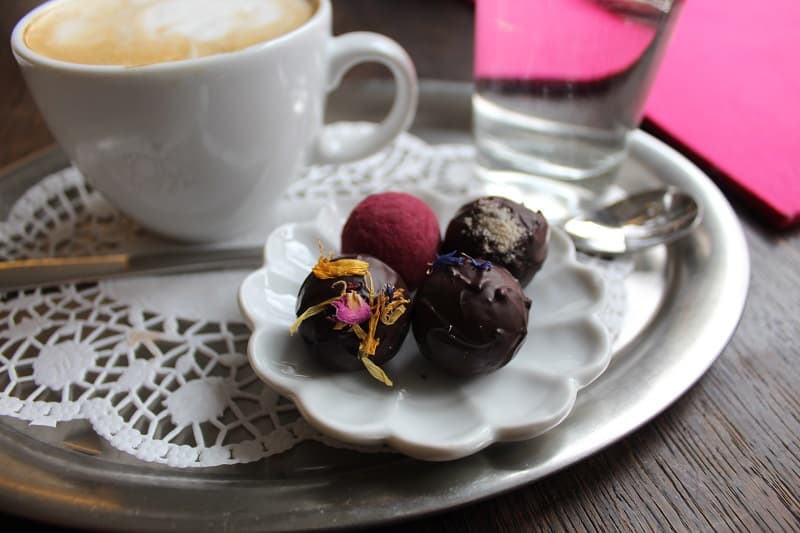 Though at first glance it just seems like another storefront, Dubenkropp is home to a lovely array of truffles, many of which are liquor-infused. The left portion of the shop is dedicated to the chocolate display case, featuring more than 20 different flavors of bonbons & truffles, and the coffee bar.
To the right as you head up the stairs, there's another small display with flavored chocolates, hot chocolate drops, and chocolate balls.
You can relax on one of the three levels of seating, or on the patio if weather permits. We tried several flavors of bonbons, and while all of them were good, the standouts were definitely the Cassis and the Oriente; I'd come back for those 2 any time. The coffee, however, I'd head elsewhere for.
Address: Grolmanstraße 20, 10623 Berlin, Germany
Hours: check Google or their social media for current hours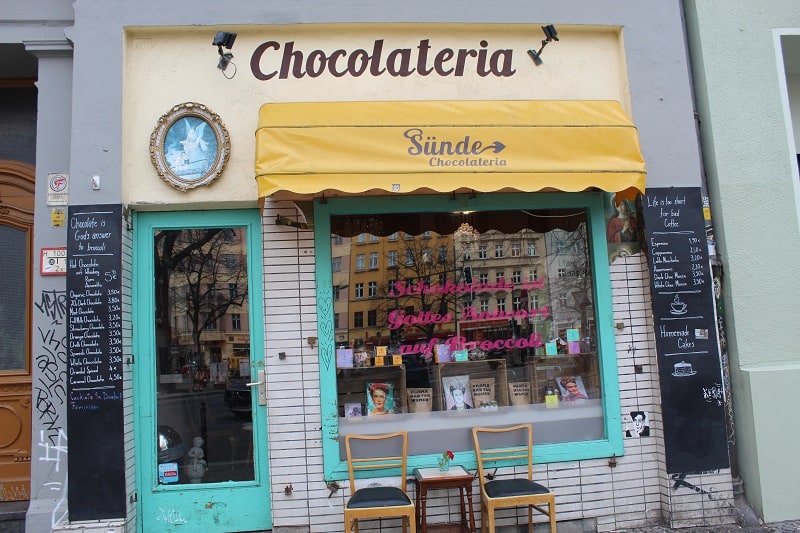 Walking into this place, I had such high hopes for the cakes and hot chocolates, but they were quickly dashed. Since their chocolate selection is limited to a few random truffles, we opted for a hot chocolate and a chocolate lava cake, the latter of which was served cold.
Both were fine, but nothing to write home about, and the borderline cold reception from the owner didn't help. The fire in the corner is nice in the wintertime, but the religious pictures all over make the ambience a bit overwhelming in general; I wouldn't come back to sit in (especially in pandemic times), but it's not a bad option for a takeaway hot chocolate.
Address: Oranienstraße 194, 10999 Berlin, Germany
Hours: check Google or their social media for current hours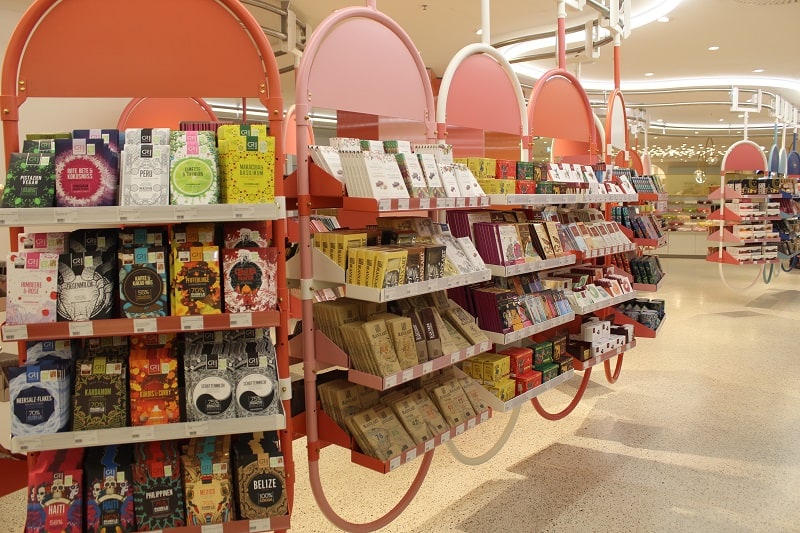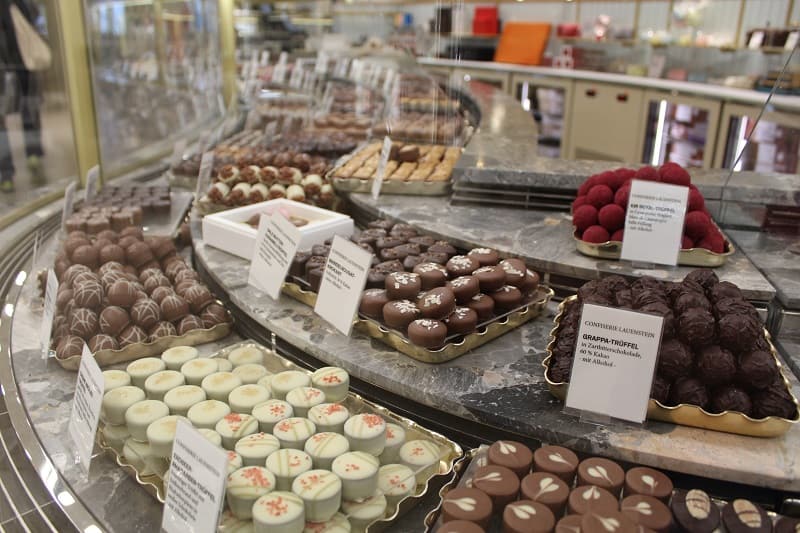 Best known as KaDeWe, the 6th floor of this department store is a foodie's paradise. Heading to the furthest corner of the floor, there are around 10 chocolatiers' goodies for sale by weight. Options include chocolate bonbons & truffles, candied fruits, and patês de fruits.
But just before that area, in the center of the floor is a series of suspended displays with lots of so-called premium chocolate brands and several bean to bar makers. If you're unfamiliar with quality chocolate, it may take some digging around to find worthy choices, but it's worth it.
Heading closer to the center of the floor, there are separate displays & sales areas for several internationally-known European chocolatiers, as well as many areas of specialty foods, like cheese, coffee, bread, and pastry. Everything looked great, to be honest; I wish we'd had time to have lunch here.
Address: Tauentzienstraße 21-24, 10789 Berlin, Germany
Hours: check Google or their social media for current hours
Downtown Berlin Chocolate Shops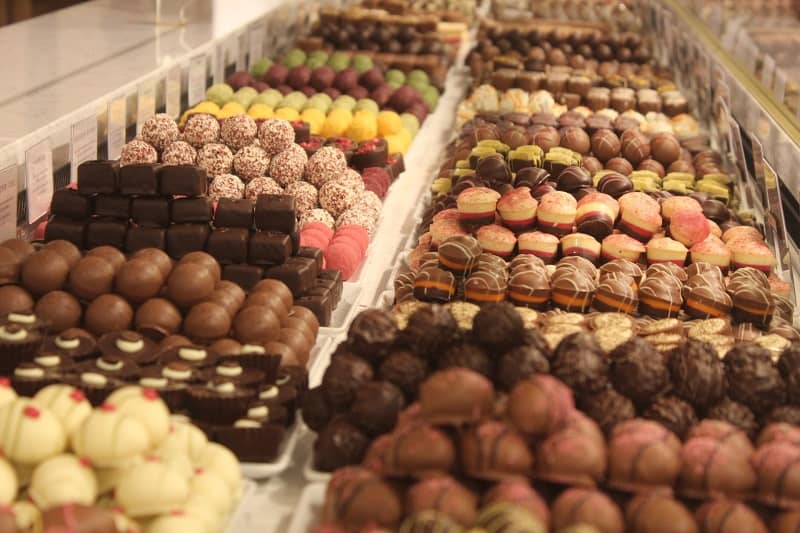 This shop is essentially an ode to everything you could possibly make with chocolate. It's comprised of three floors of chocolate, with levels 1 & 2 decided to selling their chocolate bonbons, truffles, and bars, plus some random confections like patês de fruits and cookies.
Rausch now makes a single origin chocolate line, using only cacao from 6 cacao origins in the Americas, whose displays take up most of the second floor. Level 3 is their chocolate café, which sells chocolate desserts and drinks, as well as waffles, coffee, and even wine.
They boast an impressive chocolate conveyor belt of bonbons & truffles for 1€ each, perhaps the most instagrammable location in the place. Unfortunately, the triple chocolate mousse dessert I ordered was remarkably flavorless considering it had three types of chocolate in it, leading me to believe it contains more gelatin & sugar than cacao.
I got about 4 reluctant bites in before calling it quits. Turning to the conveyor belt, the bonbons themselves are on the sweeter side, with a strong flavor and thick shell. The Salted Caramel wasn't bad, but I wouldn't get a Black Tea or a fruit-flavored bonbon again.
If you go down one floor to the "Fine Chocolate" level, you can add flavors to a chocolate bar of your choosing, though it's not clear if you'll also choose an origin, or be relegated to only their flat-flavored couverture.
Address: Charlottenstraße 60, 10117 Berlin, Germany
Hours: check Google or their social media for current hours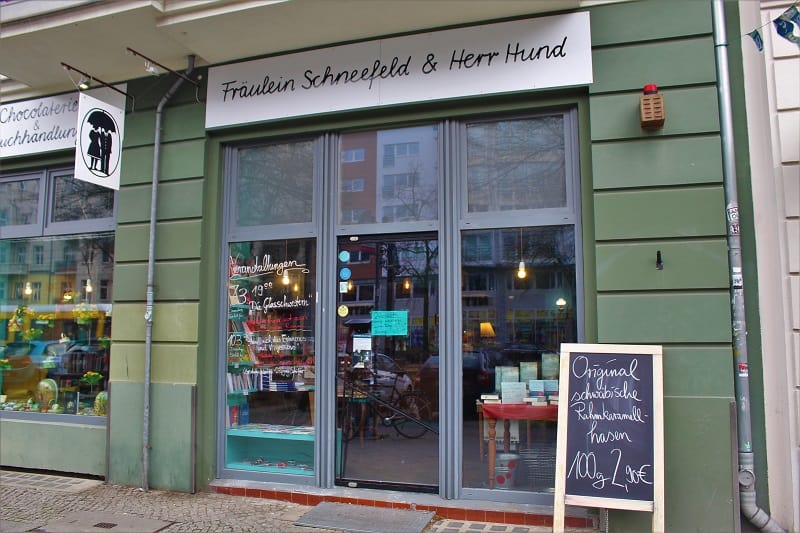 This is my favorite chocolate shop in Berlin (Sorry, Dubenkropp). Every surface of it is covered in either chocolate or books. Beyond the hours of reading material, a true chocoholic could easily spend a full afternoon here, pouring over both books & bars while sipping down a latte.
Posted on the wall are their modest coffee and hot chocolate menus, quite easy to translate. In their display case you'll see over 2 dozen flavors of truffles from a variety of makers and manufacturers, and a huge selection of bean to bar chocolates.
The owner nicely translated each of the bonbon flavors, as everything was written only in German. Each of the 6 flavors we bought was delicious, though a couple were too sweet for my taste, so be sure to tell the owner whether you prefer sweeter chocolate or not. I will be back here!
Address: Prenzlauer Allee 23, 10405 Berlin, Germany
Hours: check Google or their social media for current hours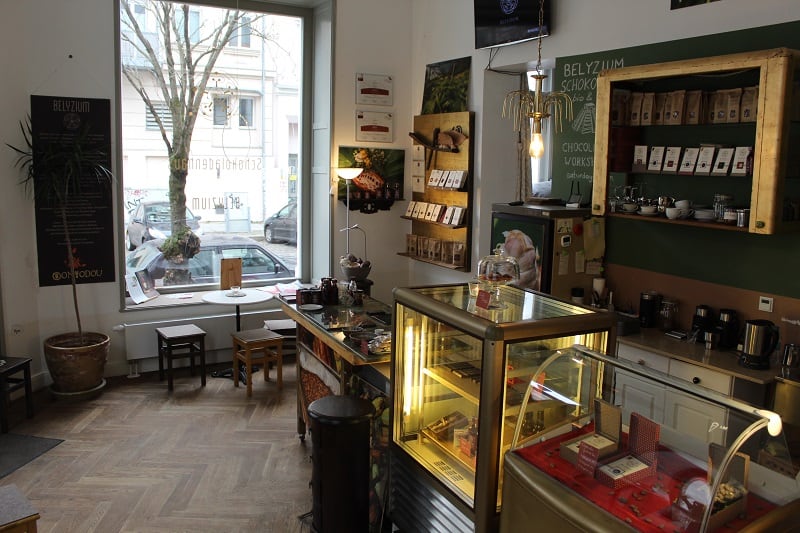 Belyzium has a rather small shop compared to other chocolate cafes in Berlin, but theirs is one of the few bean to bar chocolate factories in Germany. Here they offer their whole range of chocolate bars, as well as flavored chocolate sticks, a vegan and non-vegan chocolate truffle, and a few variations on their hot chocolate (made with their 100% chocolate).
The staff was very helpful in helping me navigate their offerings, too. They only use cacao sourced from their farm in Belize, leading to an interesting conversation I had with one of the owners about their fermentation protocols; you can tell how involved they are in the whole process.
If you're interested, you can also buy a bite of the farm through candied cacao beans, cacao husk tea, and Belizean rum. There are samples of each bar behind the counter, if you ask one of the employees. Every Saturday at 4pm they also had a chocolate workshop in their factory, which is located just next to the cafe, but check with them to see what's happening these days.
Address: Lottumstraße 15, 10119 Berlin, Germany
Hours: check Google or their social media for current hours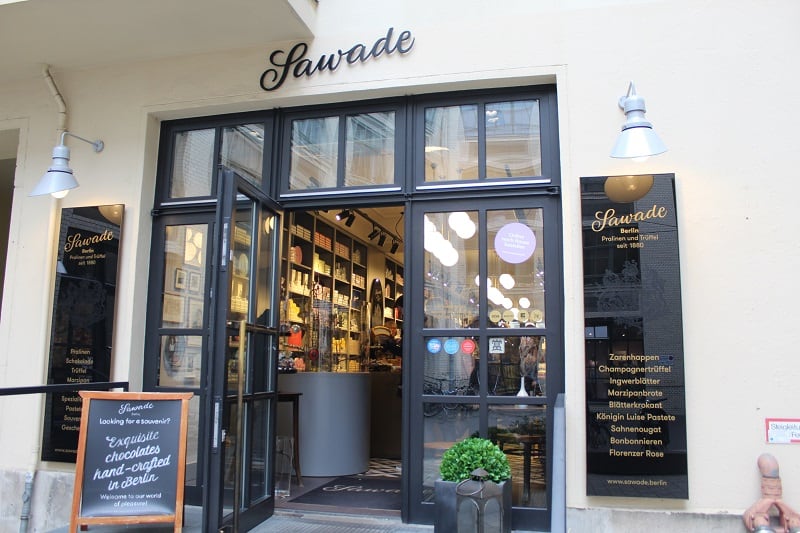 Just before the big street ends, take a right into the large passage to find Chocolaterie Sawade. Boxes of bonbons, truffles, and molded chocolates sit along the narrow shop's right wall, with a large counter and display case of bonbons along the left.
On offer are more than a dozen flavors of bonbons and truffles, and a few other more unusual confections. The staff woman was very patient in translating flavors for me, as everything is in German only.
The bonbons themselves are very sweet and strong in flavor, with the winners being the nougat and the green apple, which reminded me of a white chocolate jolly rancher. Not my favorite, but their chocolates would do in a craving pinch.
Address: Rosenthaler Str. 40, 10178 Berlin, Germany
Hours: check Google or their social media for current hours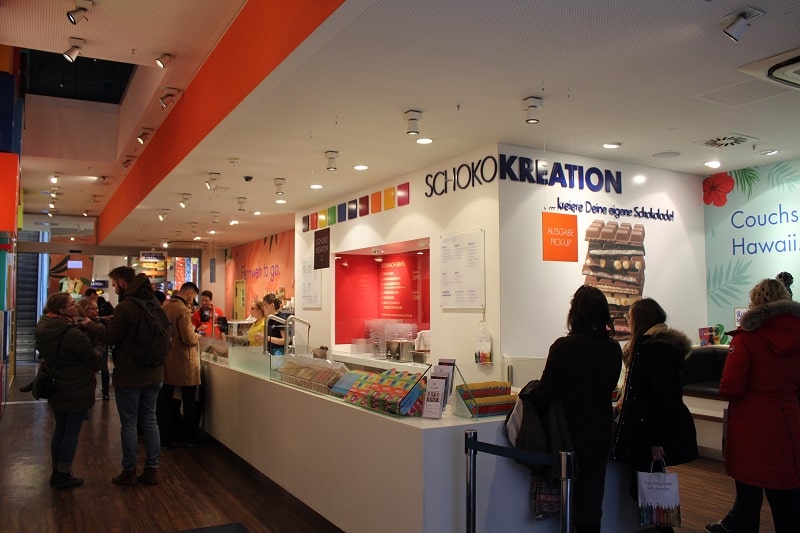 The whole first floor of Ritter Sport Berlin is dedicated to the build-your-own bar at the entrance, and then a huge shopping area. They have full-sized & oversized, small & mini versions of what appears to be every bar they've ever made, including vegan options and some "single origins."
But this chocolate is so incredibly cheap that it seems like there's no way they're paying living wages for the farmers they say they're working with in Nicaragua and West Africa. I'd love to see the actual prices they pay at their display on the second floor, which talks more about their ingredients, of which their cacao is UTZ Certified.
UTZ speaks only to the conditions in which the cacao is grown, but says nothing about paying higher prices to farmers. Elsewhere on the second floor they have their cafe, which offers some small meals, a huge array of chocolate desserts, and coffee & chocolate drinks.
Address: Französische Straße 24, 10117 Berlin, Germany
Hours: check Google or their social media for current hours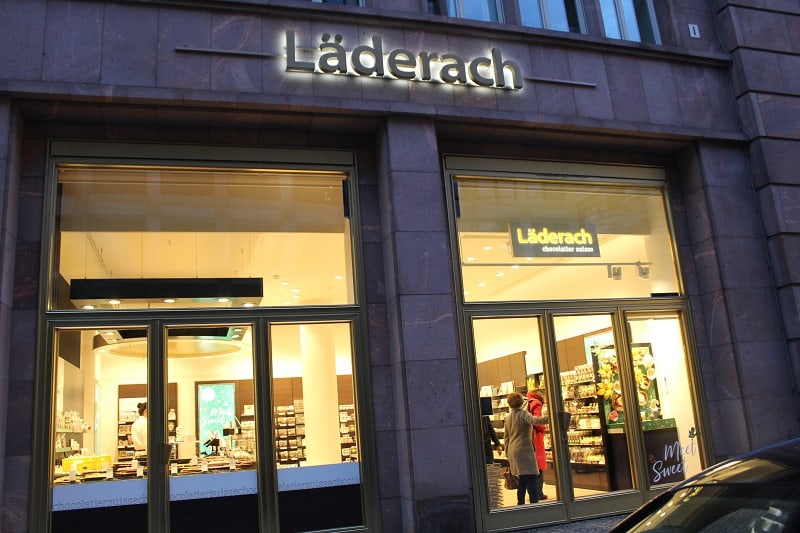 Especially at night, Läderach just beckons you inside. The first thing you'll likely notice are packs & stacks of their famous flavored chocolates barks, as well as seasonal molded chocolates and boxes of bonbons & truffles.
Along the far wall is their current selection of flavored chocolate bars and traditional Swiss chocolate confections, like orangettes and dipped feuilletine. From flavored pralinés to stacked chocolate-dipped mousses, their walls could keep you occupied for days.
But it's about 5 dozen varieties of bonbons and a dozen flavors of chocolate barks which end up drawing your attention to their counter. There you'll find the cheapest prices per 100g for any of the chocolates in the store, plus you can choose your flavors. I prefer any of their plain ganaches, though they're on the sweeter side.
If you're coming here for the best chocolate in Berlin, you're coming to the wrong place, but if you're coming for the Swiss chocolates you already know, then this is your spot.
Address: Friedrichstraße 181, 10117 Berlin, Germany
Hours: check Google or their social media for current hours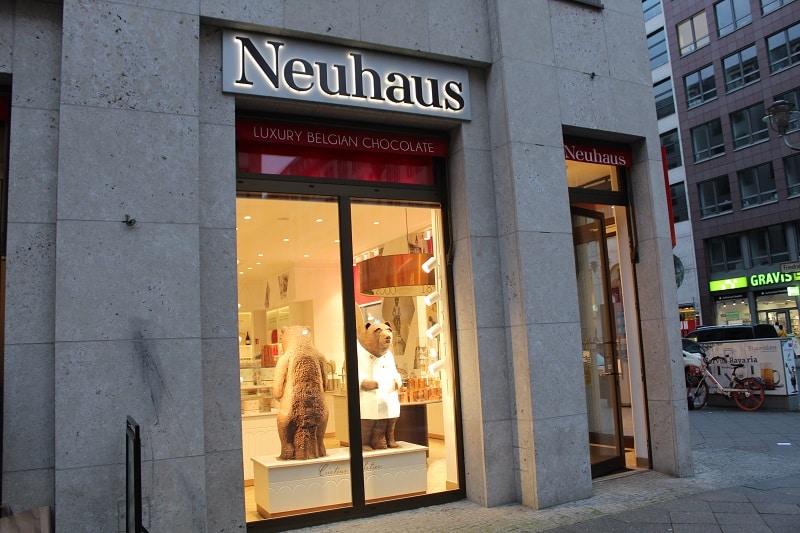 I'm pretty sure that most people are familiar with Neuhaus Chocolate by now. The Belgian chocolate company has been around for over 160 years, offering molded chocolates, chocolate-dipped candied fruits & nuts, and in this shop, chocolate mousses with customizable options.
In the German wintertime, you'll see an option for praline-based hot chocolate, drowning a small selection of flavored chocolates in milk, and then stirring until all melted. At this location they have beautiful displays of how their various specialty chocolate collections could be displayed and consumed.
At the center of it all, of course, is their signature display case of truffles and pralines, including their famous filled, nougat-structured trapezoid pralines. They're still very sweet, as with all Neuhaus chocolates, but all the various flavors can keep things interesting.
Address: Friedrichstraße 63, 10117 Berlin, Germany
Hours: check Google or their social media for current hours
Map of Chocolate Shops in Berlin
---
Pin this guide to Berlin chocolate shops!