​The Busan chocolate scene is all over the place. Unlike chocolate in Seoul, Busan chocolate shops are all ridiculously far apart via public transportation. It took me a few several trips to Busan to be able to visit them all, so whether you're a visitor or a resident, the Busan chocolate scene is not an event to rush.
Since options are so sparse compared to Seoul, I've chosen to order the shops by cardinal direction, with the northernmost shops at the top, any of which would be the perfect addition to your Korea itinerary!
Jump to: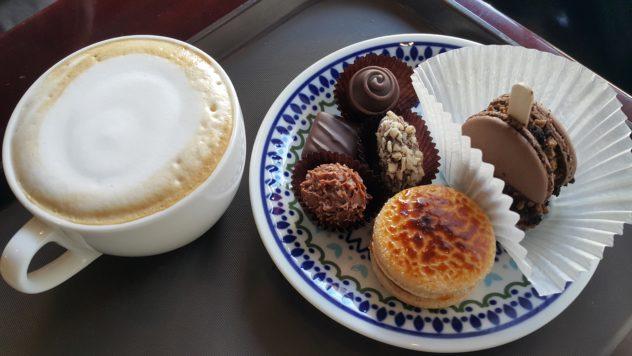 A cross between a small bakery and a cafe, Cacao Du serves a mild latte and several different types of cakes, mostly of the lava variety. Unfortunately there's really no English at all, but you could pretty easily translate the handwritten signs.
I found the chocolates to be sort of hit and miss, with the smooth yuzu ganache being the winner by far. The macarons were actually my favorites of the whole menu, as they were not only creative, in flavors like creme brulee or injeolmi, but they were also quite good.
The macarons also seem to be their central product these days. Cacao Du has seating for maybe 2 dozen people, and a dine-in policy of one drink per guest, even if you're also buying some of their desserts.
Address: 419-9 Jangjeon 2(i)-dong, Geumjeong-gu, Busan (see map below)
Korean Address: 부산광역시 금정구 장전2동 419-9
Hours & Prices: 12-10pm, daily (₩1500-2000 per truffle)
Open and bright, this small chocolate shop serves some of my favorite bonbons in Busan. Every time I go into the city, I try to make a stop in a Sweet B for a box of truffles or a small cake.
They have a very extensive drink menu, from coffee and chocolate to fruit juices, with a pleasant staff & an active Instagram showing off their current projects. Sweet B has seating for about ten customers, with two walls of treats and two walls of seats, but I rarely saw people stop in to sit.
The pretty bonbons are luxuriously smooth, done in the French style of ganaches and caramels, so it seems like most people come in for take-away. Located a bit closer to Gimhae than to downtown Busan, Sweet B is not the most convenient, but I completely understand why you'd go out of your way to come here.
A note: if you get the salted caramel chocolate stick, just know that it's solid chocolate, not caramel-filled chocolate. I won't make that mistake twice.
English Address: 413-25 Deokcheon 2(i)-dong, Buk-gu, Busan (see map below)
Korean Address: 부산광역시 북구 덕천2동 413-25
Hours & Prices: 10am-10pm, Mon.-Sat. (₩2500 per truffle)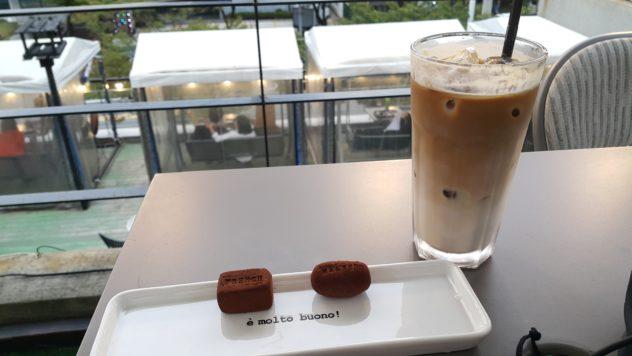 Three stories of established chocolate goodness, Bella Luna takes up a nice big chunk of ocean-side real estate. Their chocolate selection is huge, with a couple dozen flavors and a focus on single origin ganaches.
They use a few different couvertures to achieve a balance of sweet and bitter, though all of their flavored ganaches are dusted with cocoa powder & imprinted with their names. This is a delicious choice, if a bit melty in the warmer months.
In addition to the large beverage and bonbons menus, the cafe also offers a half dozen flavors of brownies and a small selection of house made cakes and cookies. Our favorites were by far the soft Silk Caramel and the Peru Milk, also conveniently dusted in cocoa powder.
Be sure to grab your drinks and head up to the second or third floor to watch the sunset and rock back and forth on one of the covered benches.
Address: 66-1 Songjeonggwangeogol-ro, Songjeong-dong, Haeundae, Busan (see map below)
Korean Address: 부산광역시 해운대구 송정동 송정광어골로 66-1
Hours & Prices: 10am-11pm, daily (₩3500 per truffle)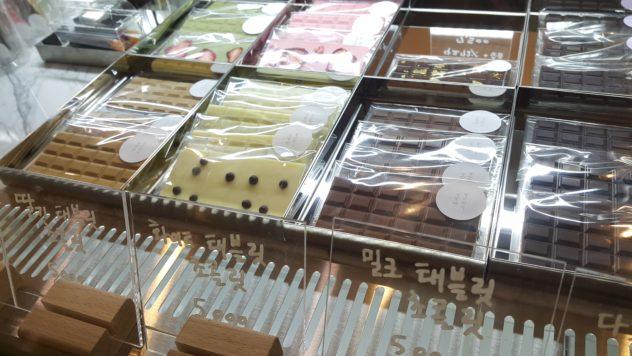 Lucie's is one of the more obscure chocolate shops in Busan. She only opens for a few hours each Wednesday, Friday, and Saturday evening, but if you happen to be nearby and have a chocolate fix, she's your woman.
The tiny outlet of a shop has a very small selection, but artfully made and offered in a variety of flavors, like green tea, strawberry, and caramel. The owner is the only one (wo)manning the shop, and she speaks and bit of English and French, to explain what each chocolate is.
I'd recommend the orangettes (chocolate-covered candied orange peels) to add a little French touch to your day. Lucie did train at the Cordon Bleu in Paris, after all! Plus, there are free samples. Message her through Instagram (at the link above) with at least 1 day's notice for any special orders, or to reserve something.
Address: 187-5, Gwangan-dong, Suyeong-gu, Busan (see map below)
Korean Address: 부산시 수영구 광안동 187-5
Hours & Prices: 4pm-7:30pm, Wed./Fri./Sat. (₩5000-9900 per chocolate creation)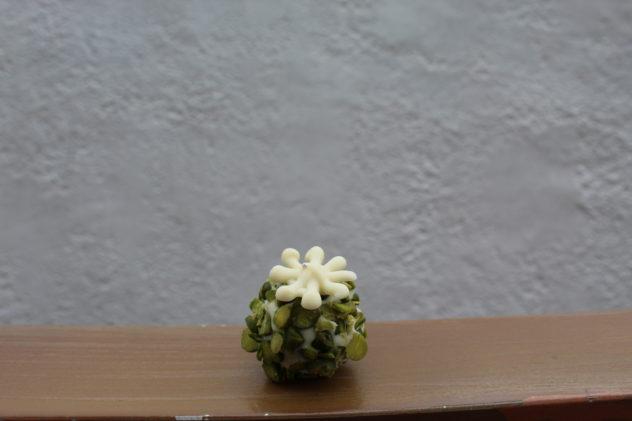 This is a super tiny shop, tucked in between two very tall buildings near Busan's Haeundae Beach. The very nice owner speaks English, and will immediately try to ascertain your tastes in chocolate, as she usually maintains anywhere from 90 to 100 flavors at a time. The other draw? All of her chocolates are made with no sugar added, and even made with sugar-free chocolate when available.
Her chocolates truly are little pieces of art, and her wonderful little buttery scones were a fun surprise, made with almond flour and the perfect amount of salt, so as to not weigh down the gut. That way there's more room for chocolate, right?
The passion fruit and the mango pistachio truffles are both impressive, but what I was really surprised by was the quality of her little spherical truffles filled with super fluffy ganaches. I'd highly recommend investing in a box of those, plus a few passion fruit truffles for the road.
Address: 1411 U-dong, Haeundae, Busan (see map below)
Korean Address: 부산광역시 해운대구 우동 1411
Hours & Prices: 10:30am-9pm, daily (₩2500-3500 per truffle)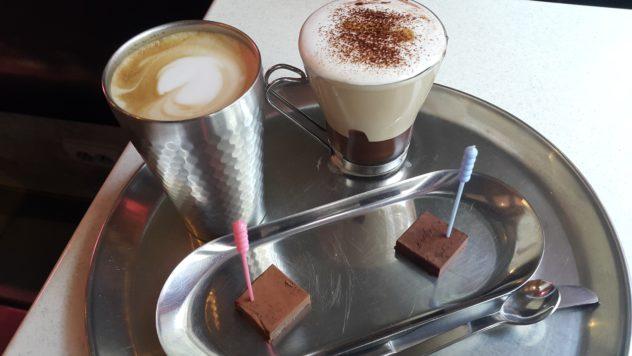 While very Instagram-worthy, this pink place just didn't inspire me in the least. It's become quite well-known for its dinosaur-egg bingsu (공룡알빙수), a pile of shaved ice topped with chocolate ice cream and syrup, and a large hollow dinosaur egg made of white chocolate.
Served with a hammer to crack the "egg," they've certainly gotten a bit of attention from the creation, but from my visit I got the impression that it's basically all hype.
My friend's bicerin drink was overly sweet, while the chocolate paves had a weird metallic aftertaste. The milk chocolate was the least offensive of all three types. Dala also sells macarons and chocolate bars, as well as a huge variety of chocolate drinks, but if our experience is anything to go by then you're better off heading elsewhere.
Bottom line is, if you get anything to drink, definitely make it a latte and stick to the milk chocolate selection.
Address: 14 Jeonpo-daero 209beon-gil, Jeonpo 1(il)-dong, Busanjin-gu, Busan (see map below)
Korean Address: 부산광역시 부산진구 전포1동 전포대로209번길 14
Hours & Prices: 11am-11pm, daily (₩1500-2500 per truffle)
This particular shop arrived on the scene after I left Korea, but Chocolat Fonce (쇼콜라퐁쎄 in Korean) appears to be yet another talented, European-trained chocolatier with a broad portfolio.
Their social profiles show off a variety of bonbons, paves, dipped truffles, and rochers, and I look forward to trying them on my next trip to Busan. Leave a comment, if you have thoe chance to try their creations!
Address: Store 110 of Busan Department Store at 21 Jungang-daero, Jung-gu, Busan, South Korea (see map below)
Korean Address: 부산시 중구 중앙대로21 부산데파트 110호
Hours & Prices: 11am-7pm, Tue.-Sun. (close at 4pm on Sundays)
If you found this helpful, please pin it!