"Eating chocolates is no longer like when we were kids... we snacked on chocolates, it's more about enjoying eating a good piece of chocolate. It's like a lifestyle."

-Ronald Ng, Co-founder of Lemuel Chocolate
Singapore is much better known for its financial institutions than its fine food selection, and this is for good reason. The options for chocolate lovers in Singapore have increased dramatically over the last several years, but relatively few consumers have become interested. Locals are still more interested in fine cakes and foreign cookies than they are in chocolate. It will take big steps for the Little Red Dot to put itself on the world's chocolate map. But how about Singaporean consumers?
What could convince Singaporeans to buy more and better chocolate, if anything? To find some answers to this query, I spoke with co-founders from two Singaporean bean to bar chocolate companies, and a bean to bar chocolate retailer in Singapore. Just five years ago, none of these companies existed. Today's episode explores the basis of fine food in Singapore, as established by the country's young fine coffee culture.
To read an article related to this episode, click here.
Topics We Cover
background on how Singapore became a country
what attracts Singaporeans to craft chocolate
the most popular chocolates & chocolate flavors in Singapore
chocolate's very own "Starbucks"
how Chinese heritage has hurt Singapore's overall chocolate consumption
challenges of opening a retail chocolate shop in Singapore
consumer expectations from a chocolate shop vs. coffee shop
Show Timeline
0:00-2:50~ Episode introduction to Singapore and its young fine food culture.
2:50-10:50~ The most popular chocolate flavors and brands in Singapore, as well as the country's history with manufacturing mass-produced chocolate (Jay Chua & Charis Xie).
10:50-12:10~ The basics of coffee culture in Singapore (Ronald Ng).
12:10-19:20~ The role of the Mast Brothers in spreading Singaporean chocolate culture, how Hello Chocolate was launched, and what makes craft chocolate more appealing to the changing Singaporean public when compared to mass market chocolate (Dima Minkov).
19:20-28:48~ The influence of many Singaporeans' Chinese heritage in the country's chocolate consumption, the most popular types of chocolate in Singapore, and the challenges of running a physical chocolate retail store. Also, the end of the episode (Ronald Ng).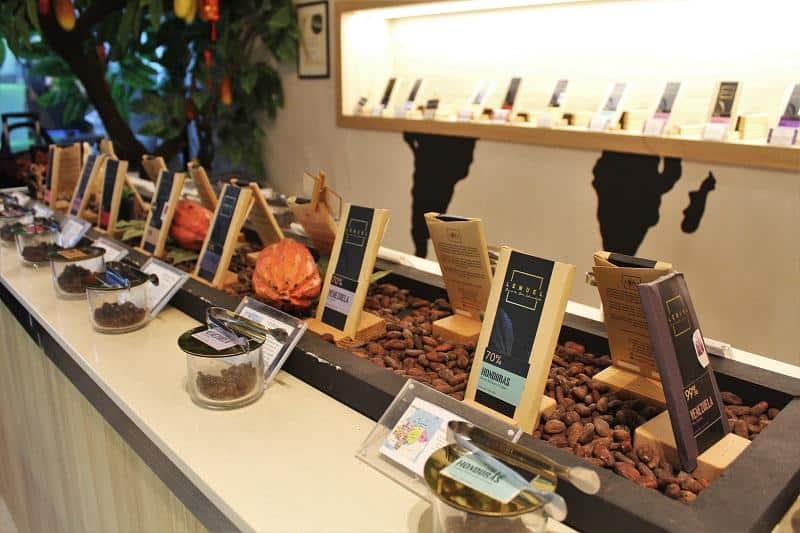 More About Our Guests
Jay Chua & Charis Xie: Two of the three co-founders of Fossa Chocolate, the first bean to bar, craft chocolate maker in Singapore. Check out Fossa's Website, Instagram, and Facebook.
Dima Minkov: Co-founder of Hello Chocolate, an online fine chocolate retailer based in Singapore since 2015. Check out Hello Chocolate's Website and Instagram
Ronald Ng: Co-founder of Lemuel Chocolate, a bean to bar, craft chocolate maker based in Singapore, with a retail shop in downtown Singapore. Check out Lemuel's Facebook, Instagram, and Website.
Further Reading
Connect With Chocolate On The Road
On Instagram: @chocolateontheroad
On Facebook: @chocolateontheroad
Show music is Roadtrip by Phil Reavis, and our transition music is We're Gonna Be Around by People Like Us & multiple songs by Lobo Loco. Also includes clips of "Contract" by Marceau of Freemusicarchive.org and "Homeroad" by Kai Engel (http://www.kai-engel.com/) of Freemusicarchive.org.