Indulging in delicious chocolate snacks has been one of my greatest pleasures for as long as I can rmemeber. This list of chocolate snacks to buy— plus some of my favorite chocolate recipes— has been honed over decades of dedicated snacking and baking.
There's a chocolate snack here to satisfy every craving, from the rich and decadent to the light and airy. One of the best things about chocolate is its overall versatility. You can enjoy it in a range of forms, from chocolate bars and truffles to chocolate-covered nuts and fruits.
Below are dozens of easy chocolate snacks to make and to buy, all taste-tested and expertly hand-picked. From classic favorites like chocolate-covered pretzels and almonds to more unique options like chocolate-dipped dates and bacon, there's something for everyone on this list.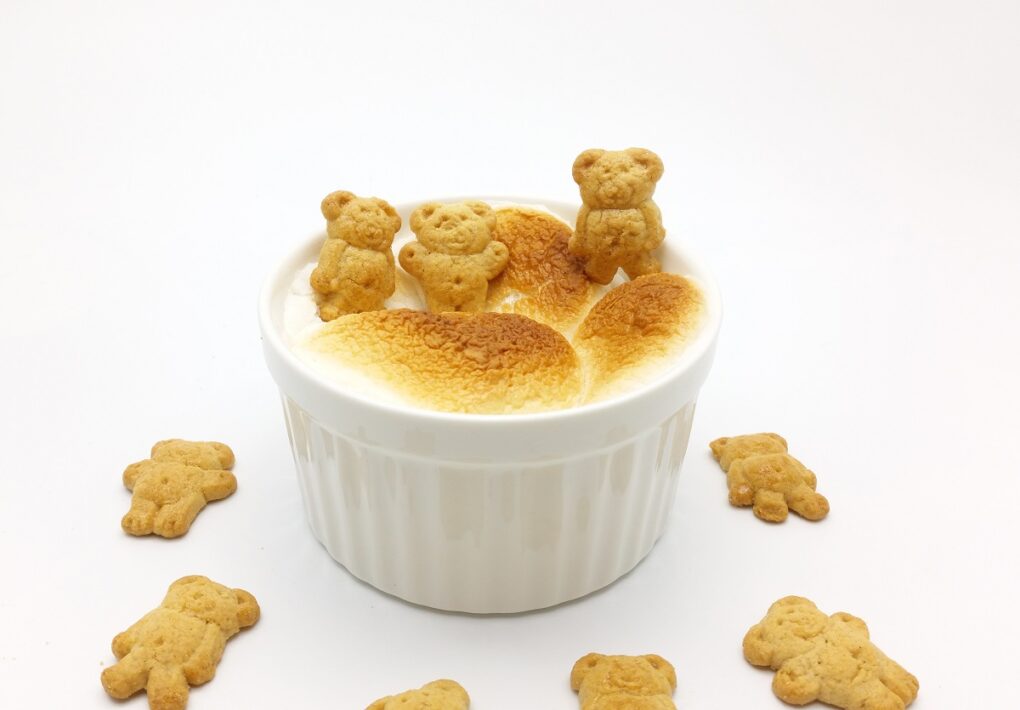 Rich & Decadent Chocolate Snacks
Slow-Cooker Chocolate Pots de Creme
These may sound super fancy, but with minimal ingredients you can indulge in rich and creamy chocolate pots de creme made in the slow-cooker, which keep very well in the fridge. These individual-serving desserts are cooked to perfection to achieve a silky smooth texture that's sure to delight anyone.
Homemade Chocolate Pudding
Snack pack puddings are a classic chocolate snack beloved by kids across the US and beyond. Alternately, you can make some at home with JELL-O instant pudding or homemade chocolate pudding, as any version of this chocolate pudding cups can satisfy your sweet tooth.
2-Ingredient Chocolate Truffles
Impress your guests with classic homemade chocolate truffles, a decadent chocolate snack customizable for anyone's tastes. Using only 2 ingredients, these rich and creamy truffles are the product of over two decades of recipe- & technique-perfecting.
The sugar bombs I made as a kid used sweetened condensed milk and chocolate with minuscule amounts of cacao, but these no-bake truffles are a much more elevated treat.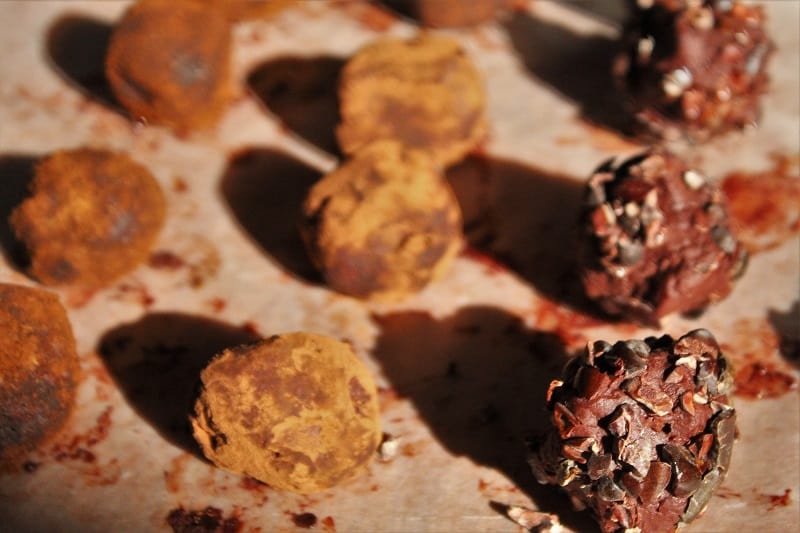 Chocolate-Dipped Stuffed Dates
Whether you fill them with cream cheese or flavored nut butter, dates make for a fantastic base for chocolate snacks, mimicking the sweetness of your favorite candy bar in a way no other fruit can. Opt for fresh dates in order to make the stuffed date recipe below, and pick your favorite dark chocolate for dipping.
Chocolate-Dipped Candied Bacon
For a unique and delicious chocolate snack you can make at home, why not try candied bacon? The combination of salty, smoky bacon and sweet, rich chocolate creates a flavor profile that's easy to make and quite versatile. The finished product is a decadent and indulgent treat that keeps well in the freezer for several weeks.
Grain-Free Chocolate Cookies
Fun fact: cookies can be healthy, too. These flourless chocolate cookies are a scrumptious and easy-to-enjoy snack that'll appease your sweet tooth while also providing a much-needed *sustained* energy boost. These cookies can also be made in under half an hour with no flour and a low-calorie count.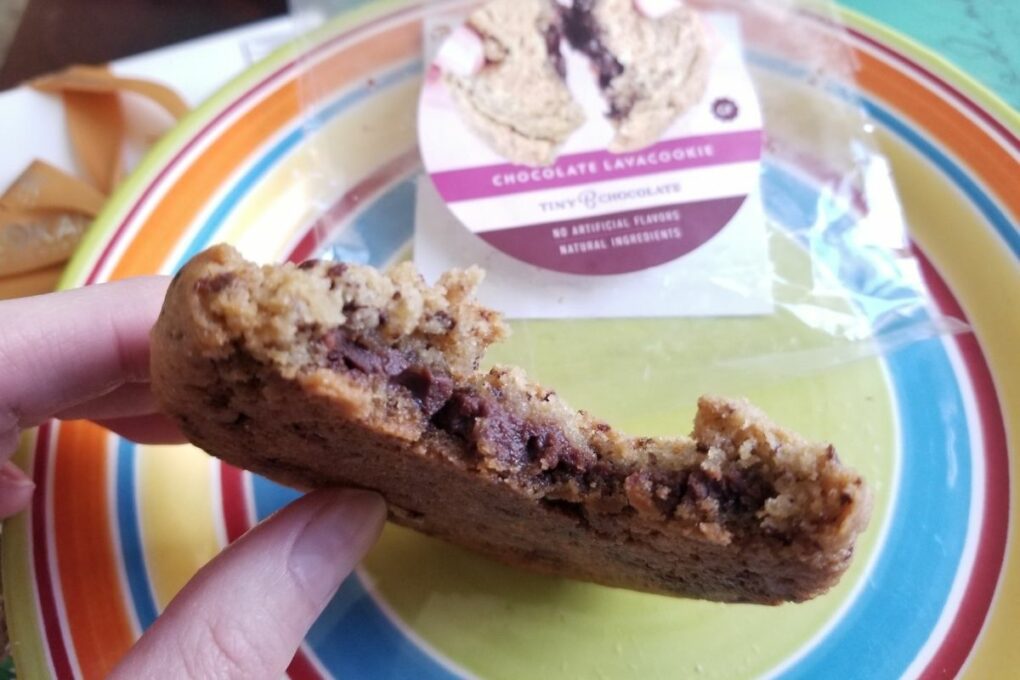 Cosmic Brownies
If you've never had one, a cosmic brownie is a fudgey chocolate brownie with colorful chocolate candies on top. Whether you make them at home or buy them at the corner store, they're a classic chocolate snack that has colored many a childhood.
With their small servings and compact sizes, each one is a foolproof chocolate dessert for after dinner or an after school treat.
Chocolate Peanut Butter Balls
These nutty, chocolatey snacks are made with only a few simple ingredients, making them a convenient pick to prep and keep in the fridge for easy noshing. Plus, the combination of peanut butter and chocolate is a classic, and no-bake treats are hard to beat!
Peanut Butter Blossoms
These classic chocolate-topped peanut butter cookies are popular snacks for a reason. Peanut butter blossoms are easy to make, too, with just a few ingredients that make for a soft and chewy cookie with a sweet and indulgent chocolate center.
No-Bake Chocolate Cookies
These no-bake cookies are an easy chocolate snack with no baking required, perfect for when you don't want to spend a lot of time in the kitchen. Plus the combination of chocolate, peanut butter, and oats creates a delicious and satisfyingly sweet and chewy cookie that's ideal for satisfying any chocolate craving.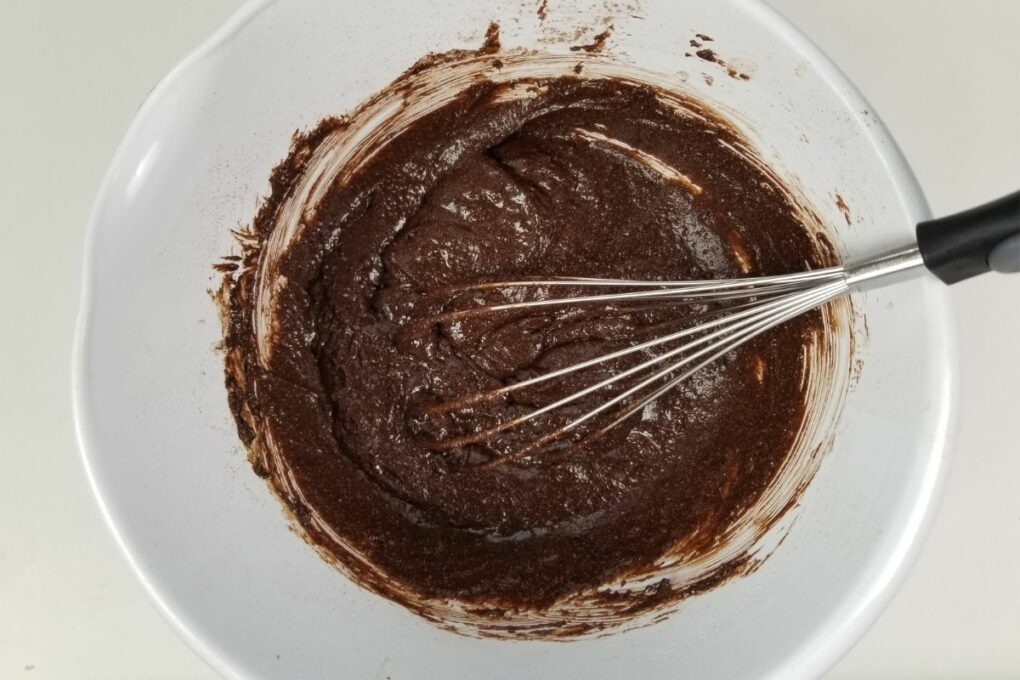 Light & Healthy Chocolate Snacks
Chocolate-Covered Raisins (Raisinettes)
Chocolate-covered raisins, also known commercially as Raisinettes, are a classic chocolate snack loved by many, especially at the movie theatre. The combination of sweet, chewy raisins and smooth, rich chocolate creates a delicious and satisfying chocolate treat for all ages.
Additionally, chocolate-covered raisins are a good source of dietary fiber and antioxidants, making them a healthier alternative to many other chocolate snacks. Plus they're easy to find in most grocery stores and rather affordable, making them a convenient and accessible snack pick.
Flourless Chocolate Mug Cake
Who says you can't have your cake and eat it too? This flourless chocolate mug cake is the perfect single-serving dessert. Made with simple ingredients like cocoa powder, a single egg, and a touch of oil, it's a guilt-free delight you can make at home in the microwave in under 5 minutes.
Chocolate Meringue Cookies
At under 20 calories and 3g of protein in every two cookies, these sugar-free chocolate meringues are both light and high in protein, thanks to a base of whipped egg whites and cocoa powder, both of which are protein-dense and delicious.
Try the recipe at home with your favorite no-calorie sweetener to keep a low cal dessert around that's not going to leave you feeling guilty, even if you eat 8 or 9.... you know, by accident.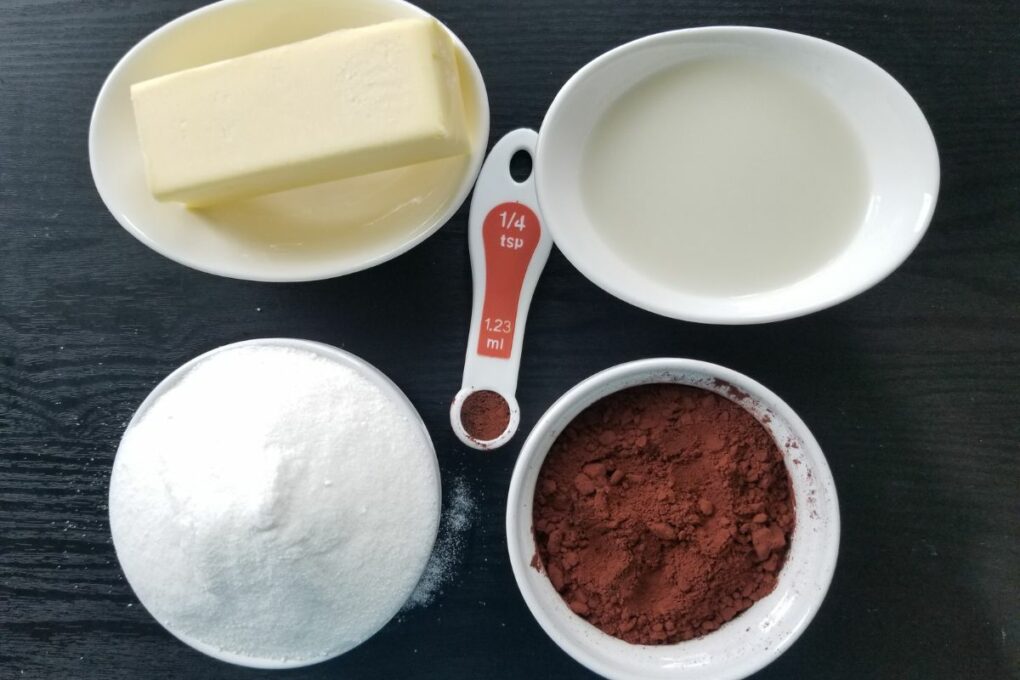 Chocolate-Coated Mini Pretzels
Chocolate-dipped mini pretzels are a classic snack that's easy to find on shelves and even easier to make at home. Pretzels are relatively low in calories and fat, so even dipped in melted chocolate or enjoyed with a chocolate coating, a large handful still makes for a light chocolate snack.
Banana, Oats & Chocolate Bars
These homemade bars are outstanding for a quick and healthy chocolate snack. Made with bananas, oats, and dark chocolate chips, they're a great source of fiber and protein, and kid-friendly, too.
Apricot, Almond, and Chocolate Fudge
Indulge in a healthier alternative to traditional fudge with this recipe made from dried apricots, almonds, and dark chocolate. Not only is this fudge delicious, but it's also a great source of antioxidants and healthy fats, making it a guilt-free treat you can enjoy anytime.
Chocolate-Dipped Sesame Nut Bars
Satisfy your hunger and your taste buds with these homemade bars, are packed with protein and healthy fats. Made with sesame seeds, nuts, and dark chocolate, they're a delicious and nutritious chocolate snack that can keep you fueled throughout the day.
Dairy-Free Avocado Chocolate Mousse
For a guilt-free dessert, try this recipe for a healthier chocolate mousse made with avocado, cocoa powder, and maple syrup. This delicious treat is packed with healthy fats and antioxidants, making it a nutritious option that won't leave you feeling guilty after indulging.
Chocolate Chia Pudding
This flavored chia pudding is a great chocolate snack for kids and adults, as chia seeds are a good source of both dietary fiber and omega-3 fatty acids. Plus, the recipe calls for only a few ingredients and can easily be made vegan, making it a convenient and flexible snack option that's satisfying and low in calories.
Cacao Nib Bars
For a nutritious and easy chocolate snack, try these cacao nibs bars, packed with both protein and healthy fats. They're made with a base of cacao powder and cacao nibs as well as almonds and dates, resulting in a vegan-friendly delicious treat that will keep you feeling full and energized.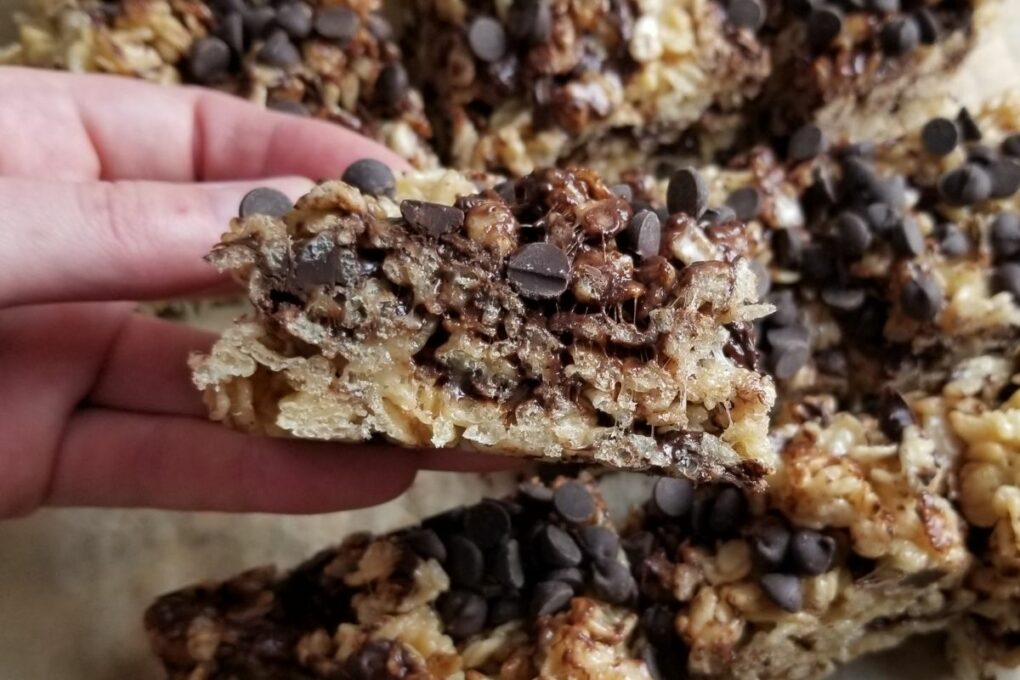 Chocolate Snacks to Serve at Parties
Chocolate Chip Rice Krispies Treats
Step up your dessert game with these homemade chocolate chip rice krispies treats, which go from bag to bowl to baking tray in just 15 minutes. In the recipe I outlined two different— but equally delicious— ways to make rice krispie treats with chocolate chips.
Chocolate Monkey Bread
This makes for a great chocolate snack for a crowd, not just because of how easy it is to make in advance, but also because it yields a large amount of bread, making it perfect for parties. The combination of chocolate and buttery, sweet bread creates a delicious and indulgent treat perfect for sharing.
Gourmet Chocolate Covered Strawberries
Impress your guests with these sophisticated delicacies. Plump, fresh strawberries are dipped in luxurious dark chocolate and adorned with a delicate drizzle of white chocolate, creating a stunning and irresistible presentation you can even adorn with some colorful sprinkles to match the season.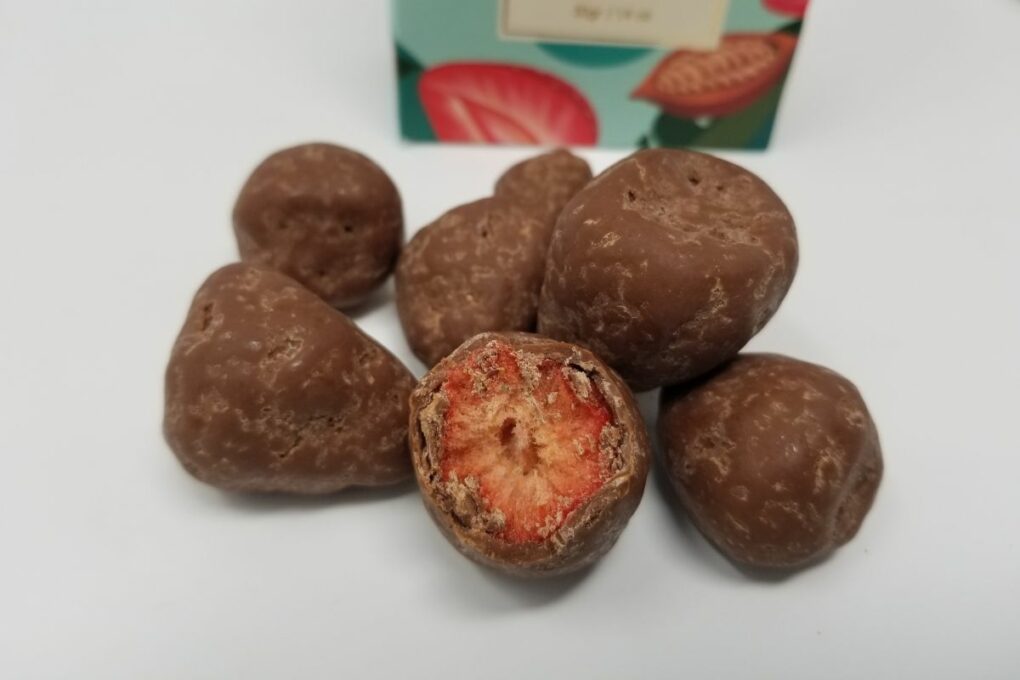 Paleo Double Chocolate Energy Bites
These nourishing chocolate snacks are an ideal choice for those with dietary limitations. They're crafted from wholesome ingredients such as nuts, dates, and cocoa powder, resulting in a gratifying and chocolatey indulgence.
Tipped Shortbread Fingers
Savor the luxury of buttery shortbread coated in rich, dark chocolate (or whatever your preference). These delectable treats are an excellent accompaniment to coffee or tea or a sweet snack that can be enjoyed at any gathering.
Chocolate Chip Cookie Dough Truffles
Enjoy these delectable homemade truffles, made from edible cookie dough and enveloped in smooth milk chocolate. These bite-sized treats are an excellent choice for serving as a dessert or as a sweet snack to savor anytime.
Lazy Girl Brownies
Everyone loves an easy fudgy brownie, but sometimes your favorite box mix could use a little extra help to get there. This 15-minute recipe covers how to make box brownies better with just a few added ingredients, and tips to bake the perfect brownie, starting with making better batter!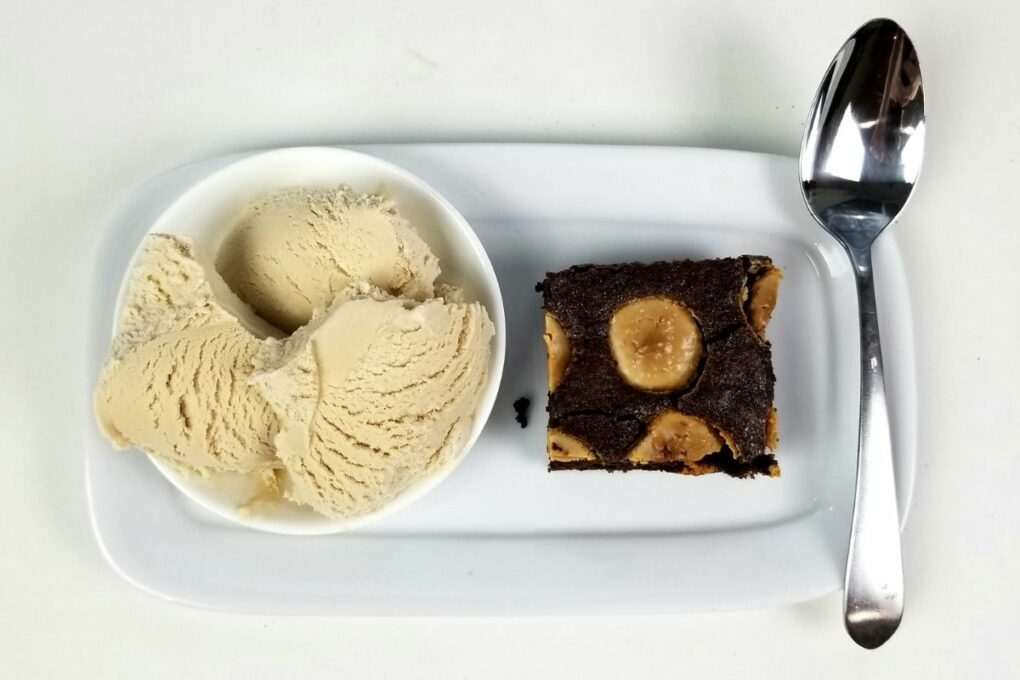 Chocolate Covered Berries
For a simple yet crowd-pleasing treat, dip fresh berries into melted chocolate and let them chill until the chocolate hardens, or just set up a chocolate fountain with berries along the bottom. The result is a light and refreshing dessert or sweet snack that's perfect for any gathering or occasion.
Homemade Butterfingers
Create your own candy bars with only three ingredients: peanut butter, candy corn, and chocolate. These delightful treats are not the healthiest, but they are a quick and enjoyable option to prepare for any celebration or event.
Nutella Sandwich Cookies
Crafted from a decadent, chocolatey dough filled with smooth chocolate nut spread, these cookies are an excellent option for serving as a dessert or sweet snack anytime.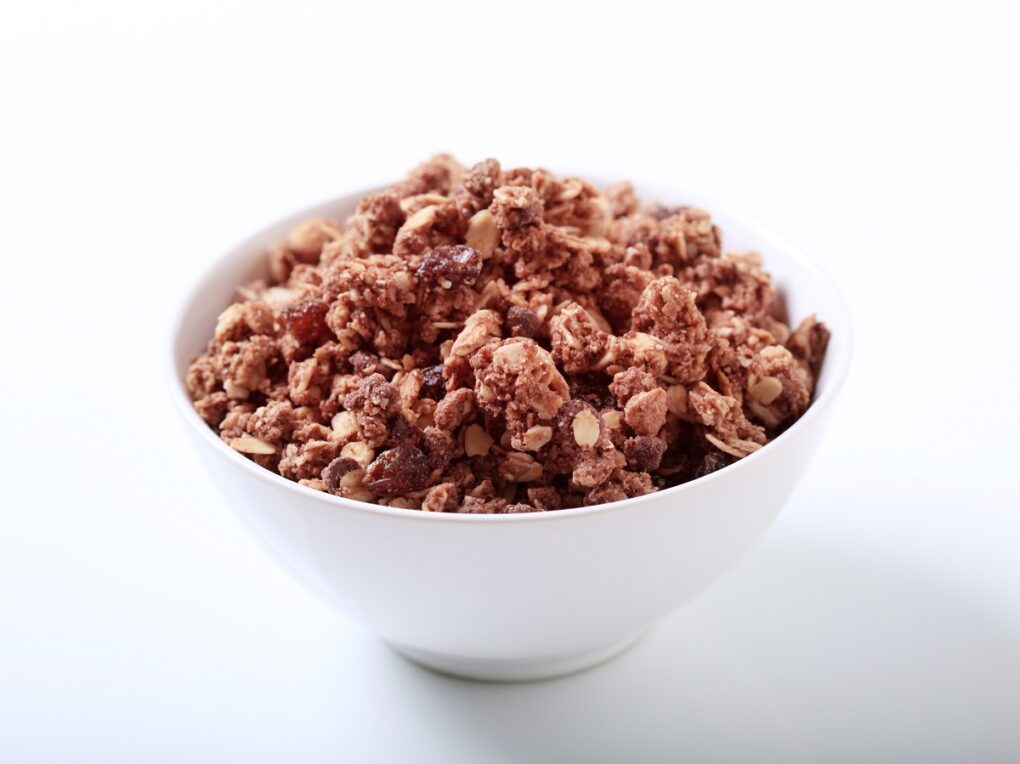 Kid-Friendly Chocolate Snacks
Purely Elizabeth Chocolate Sea Salt Granola
This oat-based granola is a delicious and low-calorie chocolate treat that's both sweet and crunchy. Made with ancient grains, superfood seeds, and fair-trade dark chocolate chunks, this granola is loaded with fiber, protein, and antioxidants that can help support heart health and boost energy levels.
MadeGood Soft Baked Mini Cookies
MadeGood Soft Baked Mini Cookies are an excellent choice for a kid-friendly chocolate snack. These cookies are made with organic ingredients, including whole grains, cocoa powder, and vegetable extracts, providing a tasty and healthy option for children.
Clif Kid Zbar Energy Bar
Clif energy bars are a great choice for a kid-friendly chocolate snack with both energy and nutrition. The chocolate chip flavor is particularly popular, made with organic ingredients like rolled oats, chocolate chips, and dried fruits, making them a delicious and wholesome option for children on the go.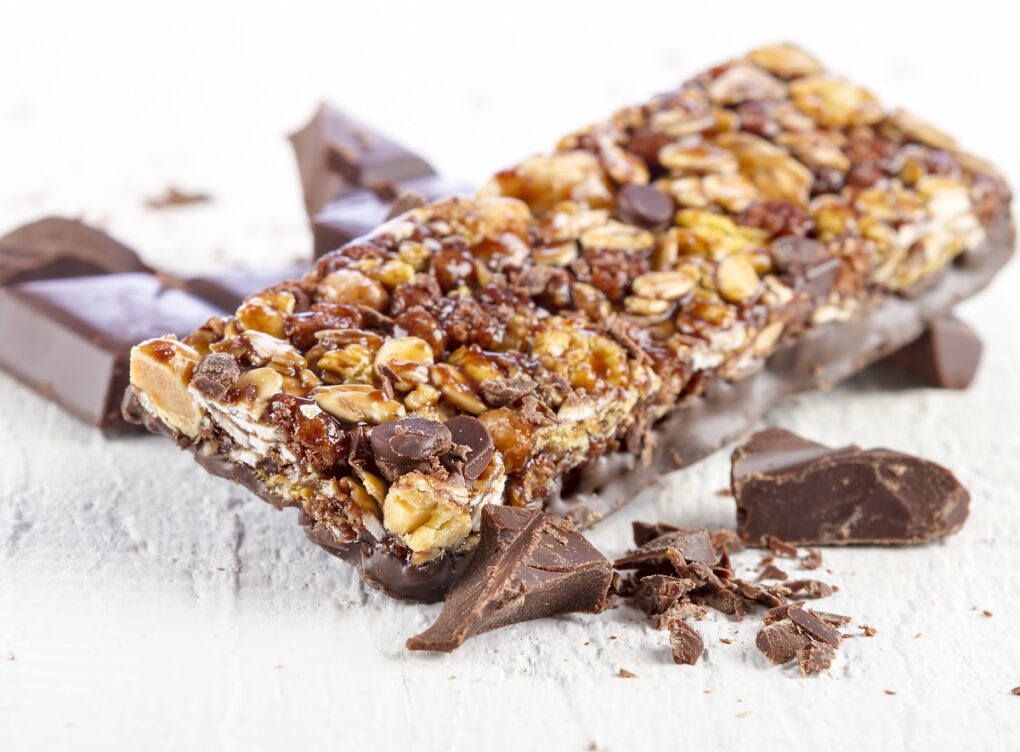 Chocolate Dates Phirni
Phirni is a traditional Indian dessert that's made with rice, milk, and sugar. This version is made with dates and cocoa powder, which give it a rich, chocolatey flavor that's a great introduction to a blend of flavors common in Indian culture and easy to make vegan-friendly.
Soft Baked Chocolate Chip Oatmeal Bars
Soft-baked oatmeal bars are a kid-friendly chocolate snack that they can also help you make in the kitchen. The bars are made with wholesome ingredients like oats, light brown sugar, and chocolate chips of your choosing, providing a delicious and relatively nutritious treat for children.
Chocolate Multigrain Cookies
These chocolate multigrain cookies are a healthier twist on traditional chocolate chip cookies. They're made with whole grains, coconut oil, and dark chocolate chips, so they're packed with nutrients and flavor, and easy to batch-make ahead of time.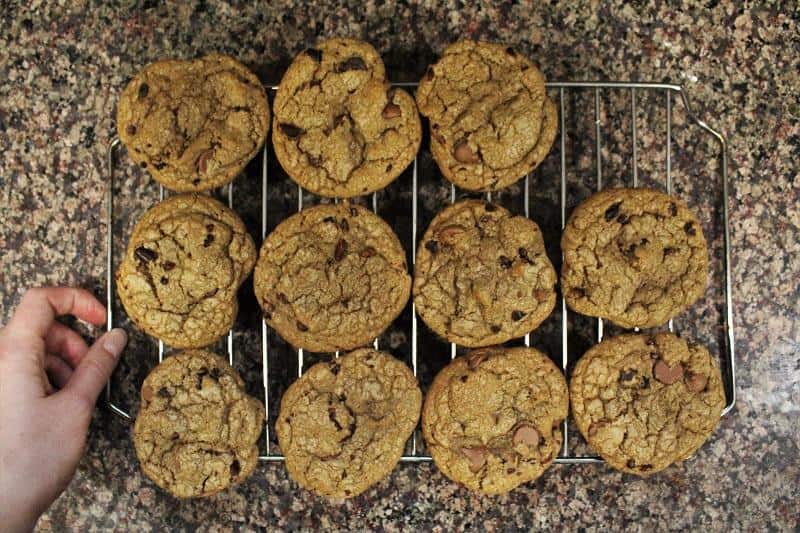 Chocolate Fudge Yasso Frozen Yogurt Bars
These are a creamy, low-calorie chocolate snack made with Greek yogurt and cocoa powder, making them a good source of protein and calcium as well as helping support gut health and good bone density. Yasso's chocolate frozen yogurt bars are an indulgence you can enjoy anytime, and won't regret giving to your kiddos.
Salted Chocolate Oatmeal Smoothie
Smoothies are a great way to sneak in some extra nutrients, and this salted chocolate oatmeal smoothie is no exception. It's made with oats, bananas, cocoa powder, and almond milk, so it's both healthy and delicious.
Cherry Chocolate Milkshake
Milkshakes have always been a classic chocolate treat, and this cherry chocolate milkshake is a slightly healthier twist on the type you'd get from the diner. It's what we'd call a concrete shake, meaning that you need to enjoy it with a spoon, and with just 3 ingredients, it doesn't get much simpler than this. Whipped cream and topping optional.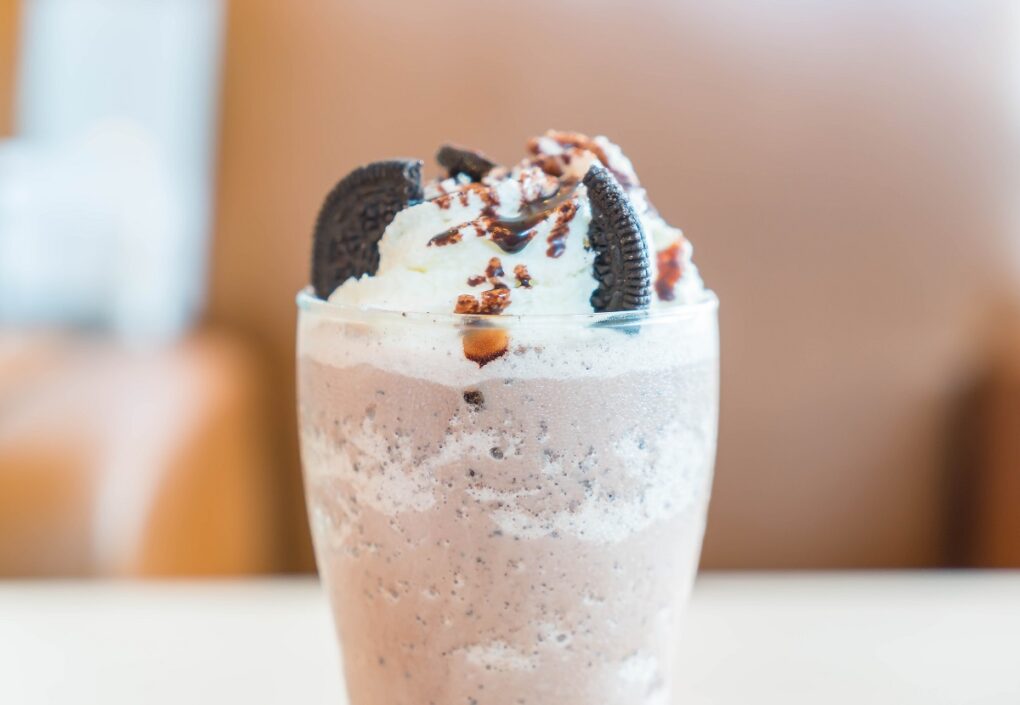 Chocolate Nan Khatai
Nan khatai is a traditional Indian cookie that's made with ghee, flour, and sugar. This version is made with cocoa powder, which gives it a rich, chocolatey flavor in addition to being a simple chocolate snack.
Greek Yogurt Chocolate Mousse
This Greek yogurt chocolate mousse is a healthier version of the classic dessert. It's made with Greek yogurt, cocoa powder, and honey, so it's both creamy and delicious. Plus, it's packed with protein, so it's a superb snack to have after a workout.