Like with most other parts of Asia, chocolate isn't the first, second, or even fiftieth thing you'd associate with India. But chocolate is universal; it's spread to markets worldwide, and India is no exception. In fact, with nearly 1.4 billion people, the Indian chocolate market is one of the fastest-growing in the world. Yet the tale of chocolate in India is anything but simple, with hugely varying consumer tastes, distribution channels, and material available for producers.
Some of these issues stem from how quickly the Indian economy is growing, while others are simply due to lower overall buying power. Most Indians are trying to move to the cities these days, in pursuit of better jobs and better infrastructure. But many Indians still depend upon agriculture to make their living. Most of the crops they grow are commodity crops, largely for export to other parts of Asia and the west.
One of these crops— still a very small player locally— is cocoa. Cocoa, or cacao, is what chocolate is made of. So why don't they grow more of it?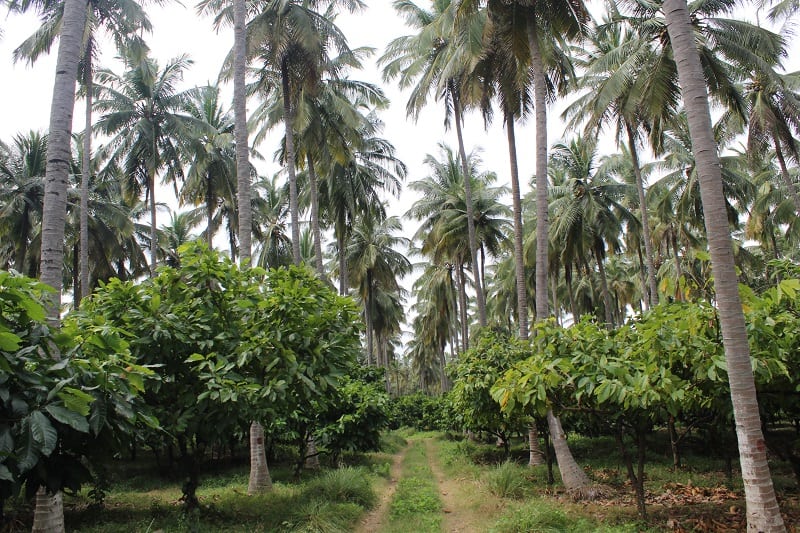 Brief History of Cacao in India
While I'd love to share a super detailed history of cocoa production in India, down to exact dates & growing regions & amounts, during my research I couldn't find that information. I couldn't even find very specific info on when cacao came to the country, as I could for The Philippines and Hawai'i. But here's what we do know: a British company brought the fruit to southern India, as early as the end of the 18th century.
This would make sense, as neighboring Sri Lanka was already growing cocoa around that time. The era also overlaps with the nearly two centuries of British occupation of India, which lasted until the nation's independence in 1947. Up to that point, there were very small amounts of cocoa being grown in India. But that cocoa is said to have been brought from native criollo varietals in South America, likely via Indonesia.
The big shift in Indian cacao came in the 1960's and 70's. This is when British chocolate giant Cadbury started giving out seedlings to farmers. According to the Indian cacao farmers I interviewed for the podcast episode on Indian chocolate, this is around the time when Cadbury's cocoa came to the region of Kerala, and likely also the neighboring region of Tamil Nadu. These seedlings were chosen most of all for their high yield.
Since the quantity of pods they grow is what earns farmers money, that's what they've continued to plant, for the most part. In the nearly half century since then, India has continued to cultivate cacao, and Cadbury has continued to buy most of it. But production amounts have tapered off over the last few years, in accordance with the decreased world market price for cocoa, which has continued to decrease since 2015. At the moment, the tropical south of India produces well under 1% of the world's cacao supply, but consumes more than twice that amount.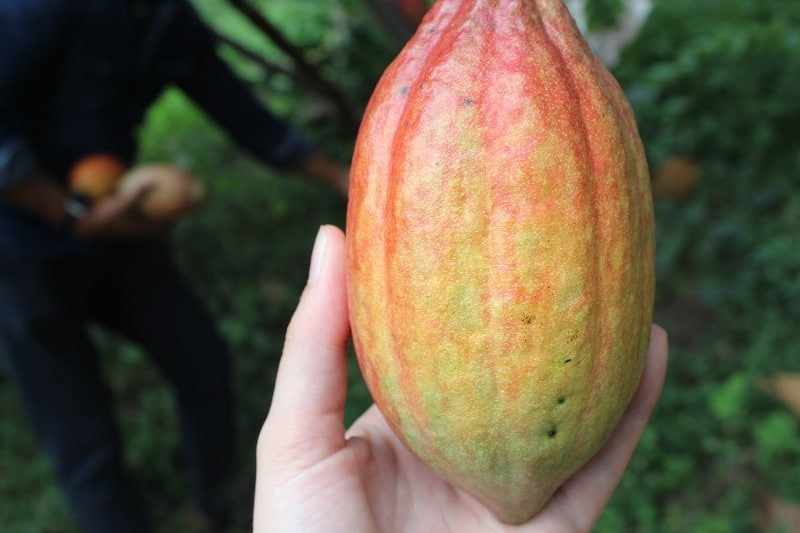 Cocoa Farming in India
Cocoa consumption in India will undoubtedly continue rising, but cocoa cultivation is more or less at a standstill. The most obvious reason for this is the crop's low market price, unappealing to local farmers. But this is only part of the story. Other factors for the country's low production include prices for crops competing for the same land, markets & cultural importance for existing crops, and the various inputs needed to raise cocoa at a premium price.
Right now cocoa is mainly cultivated in four states in southern India: Andhra Pradesh, Kerala, Tamil Nadu, and Karnataka. While cacao has been grown in these regions for decades, the tree has been slowly becoming trendy in various parts of each state. This is especially true since Cadbury started their push for local farming. Around 2005, the tree started catching on in Pollachi, a town in western Tamil Nadu. Back then farmers like Harish Manoj Kumar, owner of Regal Farms near Pollachi, added cocoa to their existing farms, which were often already centered upon coconut.
Most of these farmers are still selling their cocoa to either Cadbury or local company CampCo. But a small number of farmers have entered the premium cocoa market, as Harish has. For his farm this has meant completely transforming their plantations into a closed organic system, using natural fertilizers and normalizing their production to be consistent year-round. But such an effort is beyond the desire of most farmers, as it reflects a distinct dedication to cocoa, and honestly, it's just hard.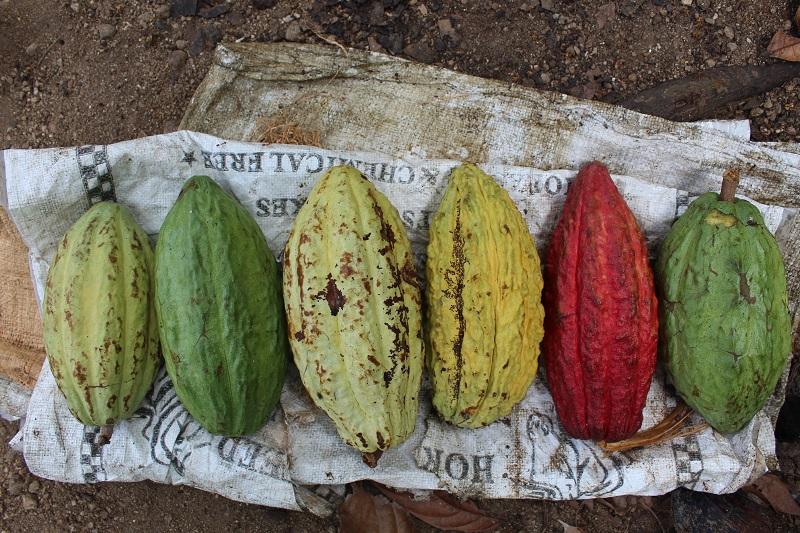 There have been a lot of issues with water supply during the last several years. For Indian farmers, their "mother trees" (the moneymakers) will basically always come first; coconut farmers will gladly cut cocoa to preserve water for their coconut trees. But coconut prices fluctuate, just like cocoa prices, which is why the Ministry of Agriculture is so keen on convincing farmers to add multiple crops to their land. Unfortunately, cocoa just isn't as appealing as some smaller plants and spices.
"I don't see farmers lining up to plant more cacao any time soon. They will do so, I think, only if, in terms of climatic conditions... water resources and in terms of the mother crop enabling them to do so."

Karthi Palaniswami, Co-founder of Soklet Chocolate
Cacao's proper maintenance and processing requires hiring even more workers, a commodity which continues to be in short supply. People just don't want to work on farms, anymore. While there's been a cocoa deficit due to those low prices paid for the cacao, Indian cocoa farmers are actually paid above market price for their cocoa. Cacao companies like GoGround, in Kerala state, are even driving around a few times a week to collect wet beans from the farms they work with.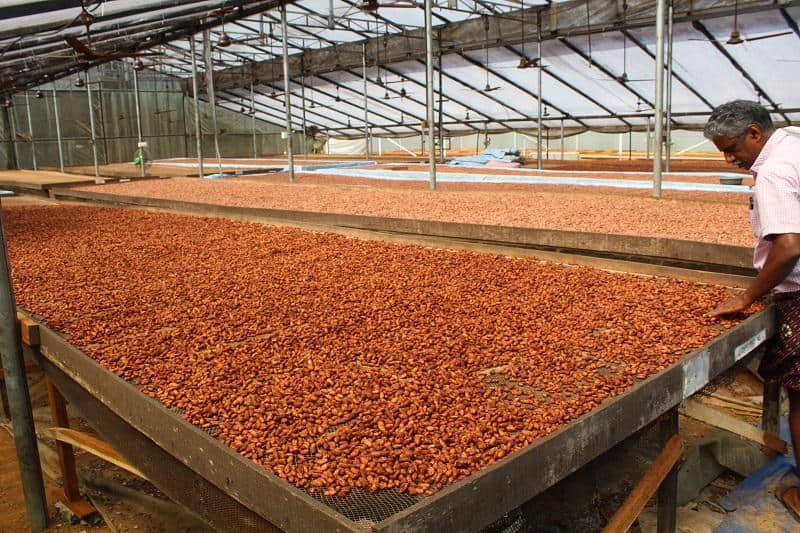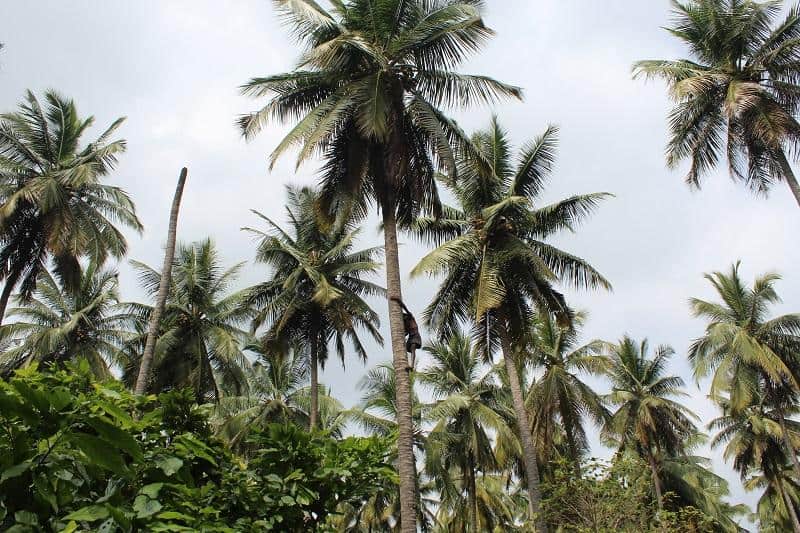 Buyers have historically bought both dried cocoa and wet beans, for their equivalent prices, but companies like GoGround are working outside of the commodity cacao market in India. They pay farmers in cash for high quality cacao collected that same day, and won't pay for anything less. Yet still just over half of the country's cocoa demand is met with imported beans, and with current prices, that proportion is only set to increase.
Right now the company sells both organic and non-organic cocoa, because that's what farmers offer. But they're trying to convince farmers towards more organic production, due to market demand. Organic certifications still mean a lot to consumers, so many of the chocolate makers who buy from them want organic beans. This includes local Indian chocolate makers, doing bean to bar in small batches. But bean to bar chocolate is still a new concept in India.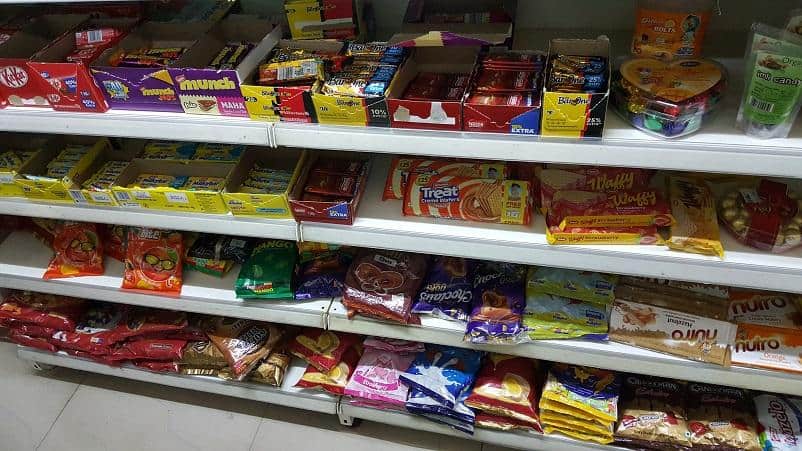 Modern Chocolate Culture in India
Unsurprisingly, one of the most popular chocolates in India is Cadbury Dairy Milk. "We have the British to thank for that," says Karthi Palaniswami of Soklet. The bars are incredibly sweet, containing more sugar and milk than cocoa. The appeal of such a bar is clear when you look at typical Indian sweets, which include a lot of dairy products. This is in part due to the status of the cow in India as a sacred animal, for religious reasons.
It's actually illegal to kill a cow in most parts of the country. So they consume all the excess milk produced; my theory is that this makes milk chocolates naturally more appealing and familiar. The sweetness of the milk chocolates is obvious in its appeal. This is why, if you look at labels for chocolates in an Indian supermarket, most of them list sugar as the first ingredient.
According to the FSSAI (Food Safety and Standards Authority of India), no fat other than cocoa butter & milk fat are permitted in anything labelled as chocolate. But there are ways around this, as chooclate companie sin the West have shown. For example, implying that a product is chocolate without ever explicitly using the word, as in Hershey's "Special Dark" bars.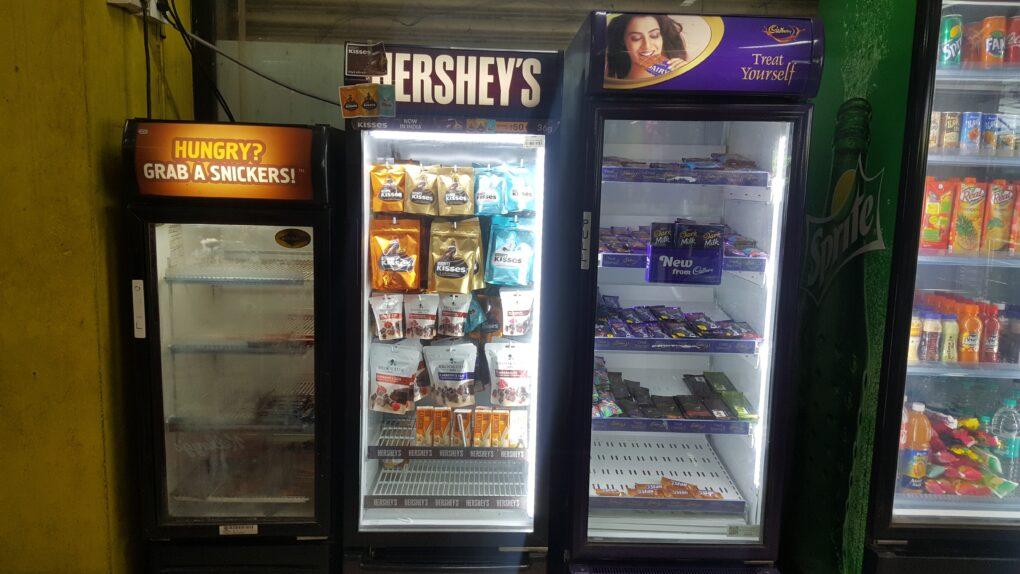 Many Indians are introduced to the idea of chocolate with products which don't contain even a trace of cocoa derivatives, as we saw in Malaysia. Others are introduced via chocolate-flavored drinks or cookies. But this does have some potential to change, as the chocolates in branded fridges are no longer the only players in the market. India has an increasing number of chocolatiers, selling bonbons and chocolate bars made with a smaller number of ingredients.
A large number of these chocolatiers are using Callebaut chocolate, a Belgian brand currently expanding their operations with a factory in India. But Callebaut is not the only company looking to expand. Indeed, their premium market isn't the only sector of the chocolate industry that will expand in coming years. Part of this is thanks to local bean to bar chocolate brands, but it's also because of India's role in the availability of chocolate making machinery.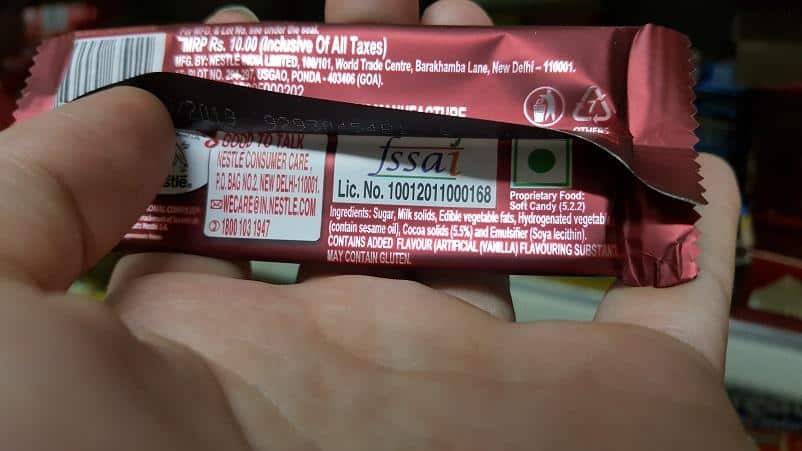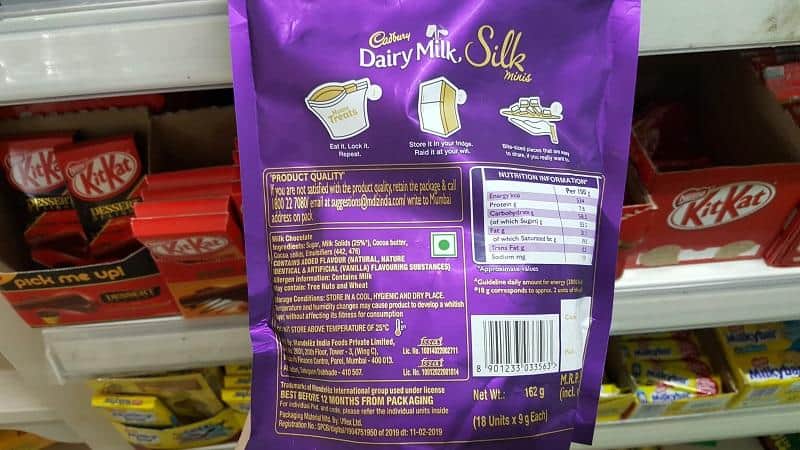 Indian Chocolate Making Machinery
India is the modern center of chocolate machinery production. While most of the world's chocolate machinery was custom-made in Europe during the 18th, 19th, and most of the 20th centuries, modern production has geographically shifted towards Asia. Much of this production is happening in India, with companies like Spectra leading the charge therein. This is an important ingredient in Indian chocolate culture, as it's allowed local chocolate brands to have access to low-cost machinery, while also cementing the country's role in the world's history with chocolate.
The key component which has made Indian wet grinders the go-to for affordable chocolate making equipment is the stone component. Most chocolate refiners either use steel balls or stones to grind ingredients into a smooth paste, with stone being the dominant choice for first-time and hobbyist makers. India just so happens to be the source of the world's best stones for making such machinery; they're so good that even US-based machinery manufacturer Cocoa Town imports them for their refiners.
The epicenter of India's chocolate machinery manufacture is Coimbatore, a city in Tamil Nadu state. Even though India's machinery will undoubtedly grow alongside the global industry in coming years, it's hard to guess whether or not other aspects of the Indian chocolate industry also will.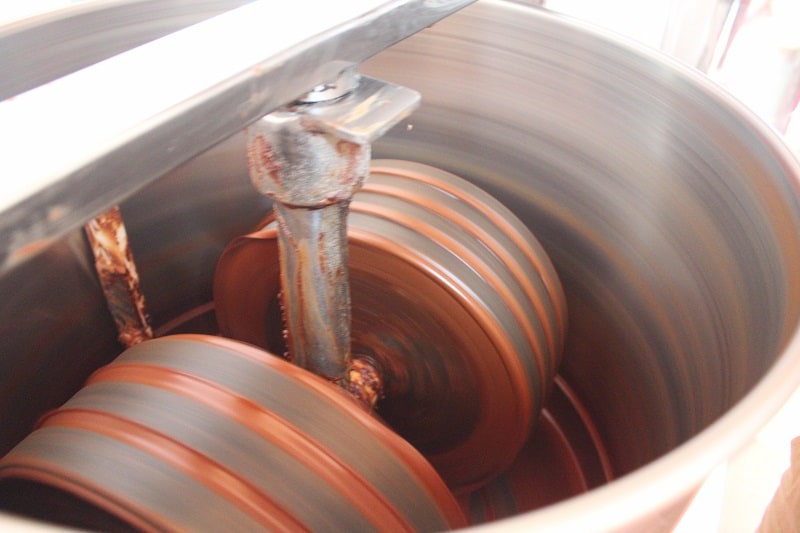 Craft Chocolate in India
Relative to their population, India's craft chocolate makers are lagging behind in number. The United States is said to have at least 300 craft chocolate companies producing on a professional scale, with over 1000 more hobbyist chocolate makers (only producing & consuming at home). In comparison, with four times the population, India has around 12 professional craft chocolate companies, and a few dozen hobbyist chocolate makers. Needless to say, the industry is young.
The first craft chocolate maker in India was Naviluna Chocolate, formerly known as Earth Loaf, which started in 2012. Mason & Co. Chocolate came along in 2014, an operation which has since expanded into Cambodia via two former employees at the company. Things started really picking up when Harish and his brother-in-law, Karthikeyan Palaniswami, started their chocolate brands, Regal Plantations and Soklet, in 2015. The cacao from their farm won an International Cocoa of Excellence award in 2017.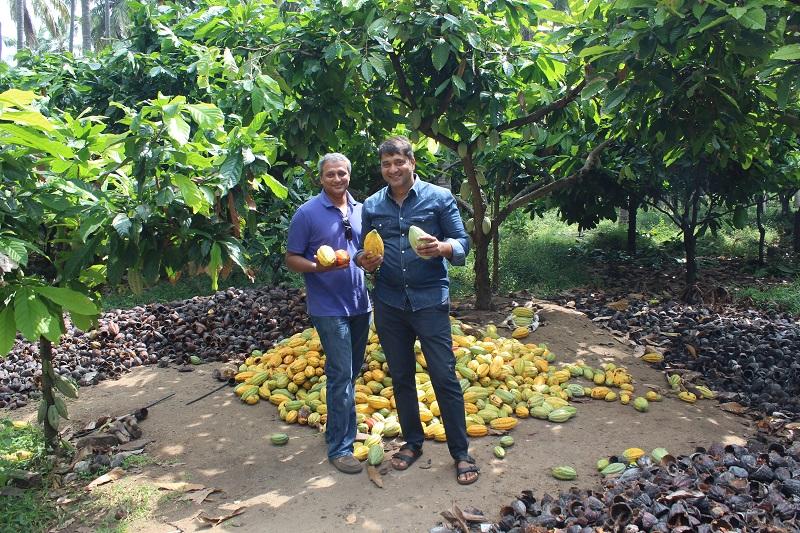 Beyond making the Indian news, I think that splash put Indian cacao on a lot of people's minds. As of publication, every chocolate maker in India is using Indian cacao in some capacity. Some other chocolate makers in India include M & N Chocolate in Ooty, Toska Chocolate in Ahmedabad, Cocoa Mantra in Hyderabad, and Pascati Chocolate and La Folie in Mumbai. Chitra'm Craft Chocolate in Coimbatore is a very young company, started by Arun Viswanathan and his late mother back in 2018.
The company is known particularly for their inventive and uniquely Indian flavors, such as Green Mango & Chilli, Beetroot Halwa, and Mango Lassi. Creativity like this abounds in the local chocolate scene; you can hear more about how these flavors came about in the podcast episode. With unknowable numbers of home chocolate makers in India, many of which will undoubtedly graduate to their own brands in the very near future, the number of Indian chocolate makers is due to increase really soon.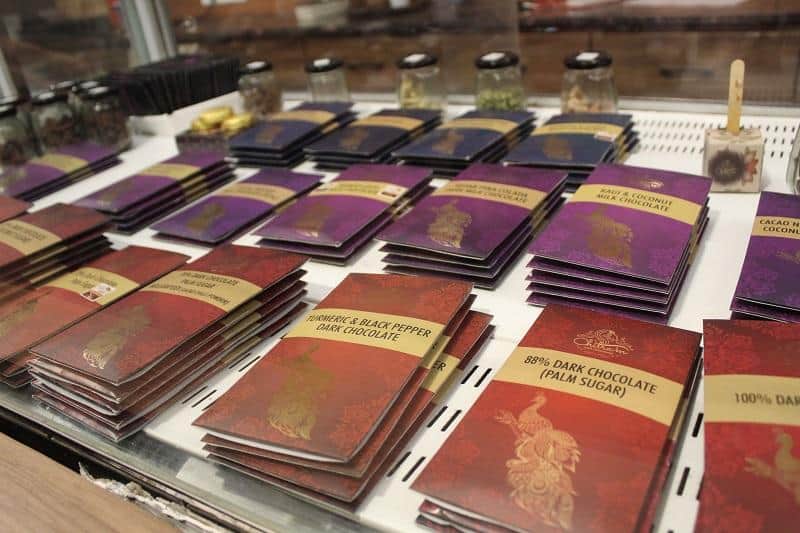 The Future of Indian Cacao & Chocolate
Barring disaster, the Indian economy will continue to grow, with more consumers looking to indulge in so-called "Western" treats like chocolate. Craft chocolate will certainly be a part of this. It's the only type of locally-produced chocolate which celebrates not only the Indian origins of much of the cocoa used in its production, but also the Indian flavors so many locals grew up on.
Even for those makers importing cacao from other countries and processing cacao into "raw" and other non-traditional cocoa products, local production is the answer. Indians take pride in eating foods Indian-made foods, produced in small batches; it makes people feel special. In my interviews on the ground, Karthi, Harish, and Arun all agreed that there will be more chocolate makers coming out of India. But cocoa production? It probably won't change much, unless big price increases are implemented.
"[Current cocoa] prices are not attractive for an Indian farmer," says Harish Kumar of Regal Farms. Even with local chocolate makers excited about using locally-grown cacao, there's still a limit to the amount of high quality cocoa that farmers are willing to invest their time in. Other crops will always be there as competition. Chocolate making machinery is really the only sector up in the air, but with growth projected there, as well, only time will tell how much change we'll see in each part of the Indian chocolate scene.