Cuba is one giant grapevine; you just gotta find out who heard what.
In Cuba they're used to this non-system of just the barest of general information, and the practice of asking around until someone knows something. Someone always does. Just be careful that you trust the person giving you that information, or you may fall prey to the Cuban hustle.
If your casa owner tells you to go to the bus station and ask about trucks to Havana, then just do it. Try not to get frustrated when one person, or three or four, doesn't know the information you're looking for or changes their tale when you ask them again.
What's more, if you don't have a receipt or something written down, don't worry about it; a verbal reservation is often enough, especially when you're the only foreigner. There is a system, as confusing as it may be, and you're just its latest mark.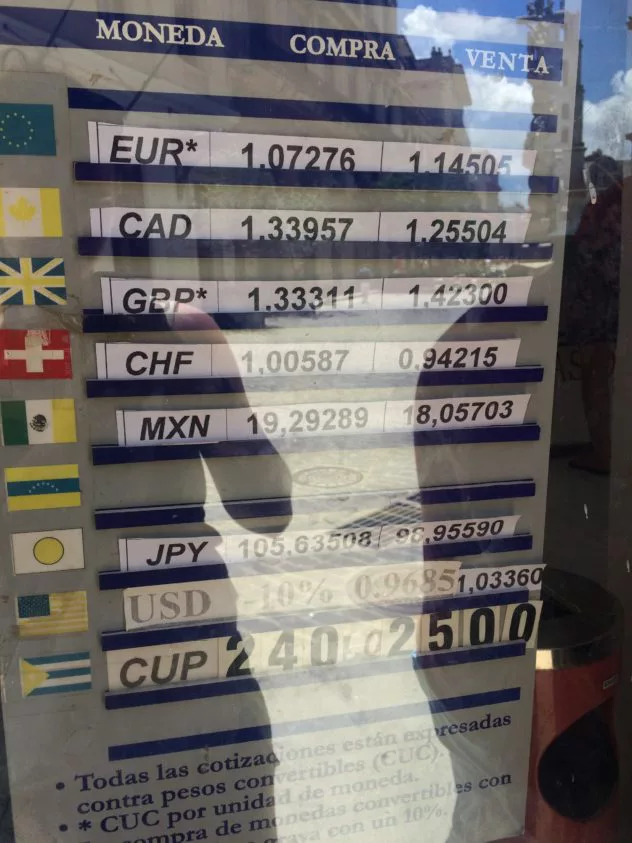 Tourist Transportation in Cuba
The one thing I kept running into a wall with during my Cuban travel research was transportation. To efficiently travel around, first you must buy an offline map. I used & would recommend the Guru Maps app for your phone, not forgetting to download the map for Cuba.
You cannot download or update most iPhone apps from Cuba, so this must be done before your flight.
But even knowing where I was going in Cuba, I still spent a huge range of money on transport. From as little as $0.06 for an hour-long ride to $25USD for a half hour drive to $20USD for a sixteen hour haul, as well as a huge variety in between.
Respectively, those were on a local bus, the airport taxi, and a Cuban long-haul bus.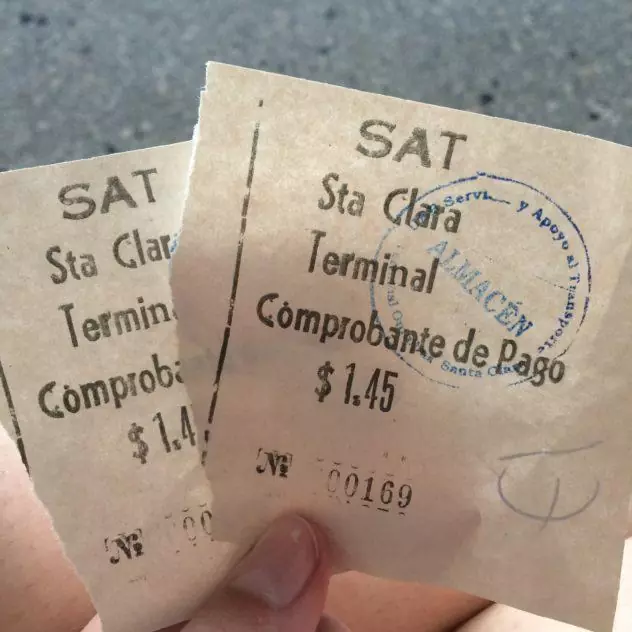 Local Transportation in Cuba
Some people may think that Cuba is expensive, and you're basically right— except the times when you're not. Because in this country there is the insanely cheap option of taking local transport. If you're budget-minded and have the Cuban time and strength of will to endure it, then this can lower your budget significantly.
If you want to take any local transport, you have to speak at least basic Spanish and be familiar with the Cuban accent. However, I found that taking local transport as a young, obviously non-Cuban woman, garnered me a lot of unwanted states of animosity. I can't tell if it helped to travel around with a guy who looked Cuban.
If given the choice again, I would generally always opt for the tourist-oriented transport. As tourists, we can only ride in vehicles licensed to transport tourists, and we can only use shared taxis or the Víazul buses for long-distance travel, both of which are relatively expensive, though usually reliable. The pre-arranged shared taxis generally cost a bit more, but will take you right to the doorstep of your casa.
For the record, I never had any female taxi drivers, nor even heard of such a possibility. Within cities are private or shared taxis, or a bicitaxi. Locals, on the other hand, can travel to any number of towns in vehicles which may or may not have licenses, and in doing so have a multitude of options. Most of these options are uncomfortable and hot.
Locals have access to these ways to travel around Cuba:
big Ómnibuses for cross-country travel
smaller open-window city buses (guaguas)
even smaller open-air inter-city buses (máquinas), which are often just the closed-off bed of a long-haul truck
standing up straight in the bed of a long-haul truck
shared taxis on designated routes or otherwise
private taxis
bicitaxis
motorbikes
bicycles
All of these come at varying prices but are relatively cheap, if unreliable.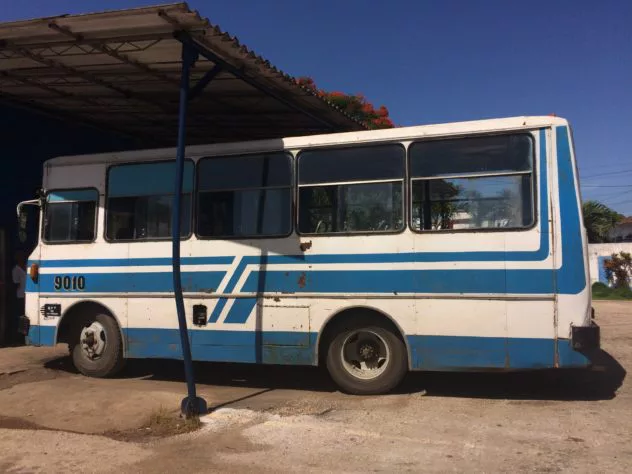 3 Local Routes I Took in Cuba
Havana to Hershey Town: Catch the ferry from Old Havana (go across the street from the Havana Club Museum and ask about the "lancha a casablanca") to cross the water; make sure you're on the one headed to Casablanca.
After the ten-minute ferry ride, leave the port and take a left towards the train station, and if you get confused just ask the security guard where the train station is (it's about 200 feet from where the ferry lets off). The train to Matanzas leaves every day at 4:45am, 12:21pm and 4:35pm.
In Matanzas, there is cheap local Cuban food, cheap buses to the Yumurí Valley and the Bellamar Caves, and easy access to Varadero's famous beaches. A less-scenic alternative for getting to Matanzas is in a $10USD shared taxi.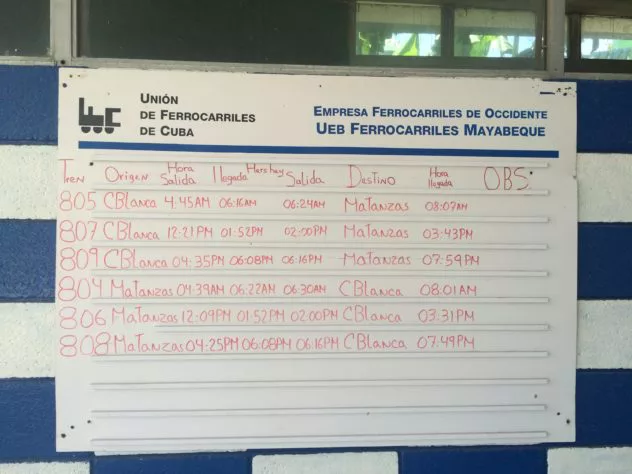 Matanzas to Varadero: Head to the center of town in Matanzas, close to the huge bar where there is wifi and a central plaza. You'll see a highway leading out of town if you walk straight out of that bar, cross the small plaza and continue down the sidewalk until you see a bus stop.
Starting around 9am or possibly a bit earlier, maquinas pick up passengers there for between $5MN-$20MN, and collect the fare about halfway into the hour-long trip to Varadero. Once they get close to the Varadero peninsula, start thinking of where you want to get off.
They'll stop every half kilometer or so and let people off, so just get up and off whenever you want to; you're never more than three blocks from the beach once you hit that hour mark. Make sure to check your offline map, or even a satellite-tracked Google Map of the area, if you're really not sure when you're getting close.
Just, be discrete. In Varadero, the Víazul station is on calle 36, and calle 54 is where you catch the bus or a taxi back to Matanzas, all of which will drop you off at Matanzas train station near the Coppelia. Alternatively, you could stay the night at a Casa in Varadero.
Santiago to Havana: The Santiago bus station is just one big building, and is, like others, broken into a few sections. You want to approach the building from the front and then head to the right of the building, not towards the train tracks but to the other side near the wide open space and the big parking lot.
If you want to take a big uncomfortable bus without air conditioning, but which costs a third of the price of the tourist bus or the taxi, then this is the option for you. In the building's parking lot you will find smaller buses and people trying to sell you a ticket on them.
It should cost $12USD per person from Santiago to Havana, but people will try to convince you that this is impossible and there's no way, but hold your ground. Do not pay more than $20USD per person, which is what we eventually settled on paying.
The two Japanese tourists behind us agreed to pay $33USD each just to go halfway across the country, to Sancti Spiritus. Ouch. Don't be like them and definitely bargain.
The bus will have people trying to sell you food at the stops and you will pay the fair price for them, unlike on the tourist bus, but it could get rather uncomfortable & impossibly to sleep on your 10-25 hour trip cross-county. But hey, you wanted local. Don't say we didn't warn you.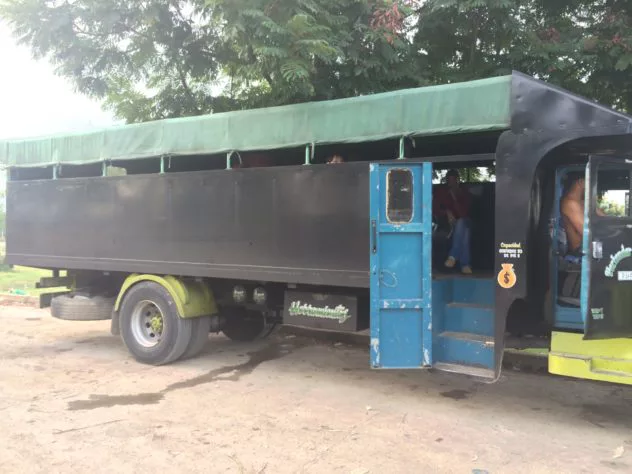 The only time we were really screwed with the Víazul was when we tried to reserve tickets on the bus back to Havana from Santiago during Carnaval. Even on the 25th, 3 days before we were to leave, they were fully booked for every destination until August. A whole week of no tourists going anywhere unless the taxis stepped in for the long haul.
So we had to take a more local form of transport, and settled on the truck pictured above. Almost all of the time the directions you are given by guards, cashiers, clerks, etc. will be vague, like "outside on the other side" or "up that street over there," neither of which is specific enough in a big bus terminal when the bus leaves in two minutes (or is supposed to).
So keep clarifying phrases on-hand, like "and across the street?" (y hay que cruzar la calle?) and "is it a big bus or a small bus?" (y será una guagua o una máquina?).
Transportation in Cuba is hard enough for the Cubans, but if you're really insistent upon using only local transport (except for the government-subsidized long-haul air-conditioned buses, for which you absolutely need a carnet, a Cuban ID), then keep this stuff in mind.
Cuba Bus Travel Timetables (Pictures)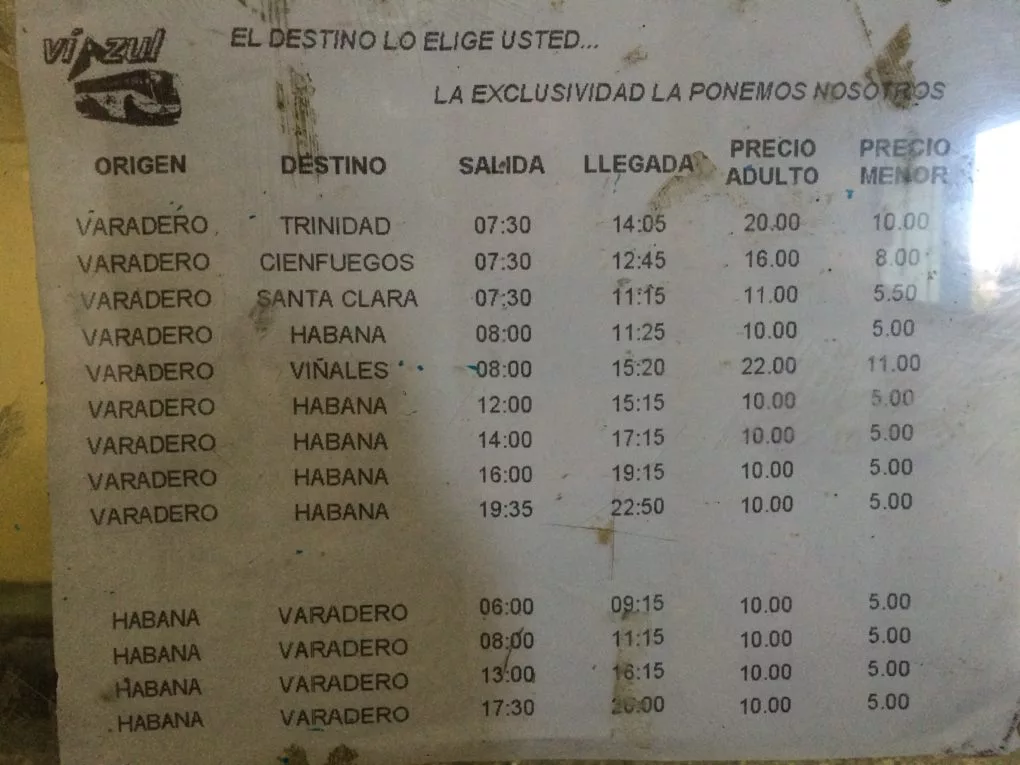 Accessing Wifi in Cuba
Wifi is easier to find and use these days than ever before. It's currently standardized at $2USD an hour, and to purchase wifi access simply look for or ask around about the ETECSA store in your city. All cities that the Viazul bus stops in will have at least one, and the area surrounding that store is the hot spot.
You can use your wifi username/password in any hot spot anywhere in the country, until it runs out. You just need to go into the store with your passport and money, and you can buy as many cards as you need at once, though sometimes the stores run out of cards, almost always before 2pm each day.
That's when you can rely upon the good old Cuban hustle and, especially in Havana & Trinidad, you can just ask around outside about buying a wifi card from a scalper. Their going rate is usually $2.50 to $5USD depending on how desperate and/or uninformed you look.
How to Renew Visa in Cuba
Some of the best words to describe Cuba and it's culture coincidentally also start with a c: communism, casas, conundrum, contradiction… the words could get harsher from there, but you get the picture. Life in Cuba is tough.
But if you think you can stomach it for longer than the 30 days (or 90 for Canadians) allowed on your initial visa, then you're going to have to put up with the bureaucracy (hey, a B!) that the visa renewal process entails.
For me that involved three separate mornings running around trying to figure out how to renew my visa (since internet is neither cheap nor accessible) and speaking in raised voices with workers who tossed rules at me one after the other, each one making everything more complicated. Ah, Cuba.
The gist of it is that you'll almost certainly have to renew your visa in Havana. As I learned to expect, what one person told me the day before might not be correct, or might be withholding information which would change the scenario. Havana is generally the place which tourists leave the country from, and from what I was told, that is the place where you must renew your visa.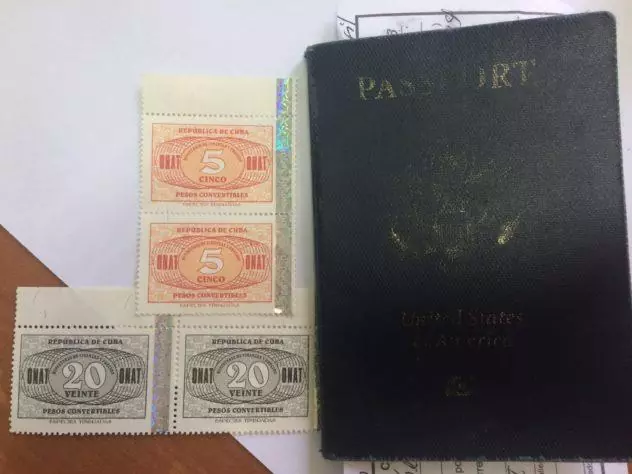 Prepare to carry your wallet and passport with expired visa inside around with you during this whole process, as you will constantly be asked to open both, often simultaneously. For a visa extension of thirty days, which you need whether you are staying for one extra day or the full thirty, you will need five things:
$25USD worth of stamps (They do not accept cash; these shiny stamps, or sellos, must be bought from a bank at some point before you go to the immigration office. Do not believe your casa owner if they say that you can buy the visa in cash or buy the stamps there. They are incorrect, as we learned the hard, and very sweaty way.)
A receipt from your casa or hotel in Havana saying that you are staying there for the rest of the time you're in the country.
Proof of travel insurance (both my friend & I just had our American insurance cards and were not questioned, but if you had to buy insurance from the Cuban government, be sure to bring along the credit card you used to purchase it.).
Your passport with at least 6 months left before expiration.
Your expired visa (they will only renew a visa on or after the day it expires, so if there are national holidays for that and the subsequent days, you'll have to buy your stamps ahead of time, and just renew your visa at the airport before your flight. I was also told afterwards that you're never supposed to renew more than three days after it expires, but I renewed a week after it had expired… oops. But it was also a holiday for nearly the entire week until that days, so I had reasonable excuses and it wasn't a problem.).
The immigration office we suffered at was in Havana on calle 17, between calles J and K. The best advice I have for renewing your visa in Cuba is to not do it. Book a trip that's exactly 30 days, because you will inevitably have to spend a whole day renewing your visa, and it's just not worth it for that last week, though maybe for a last few weeks.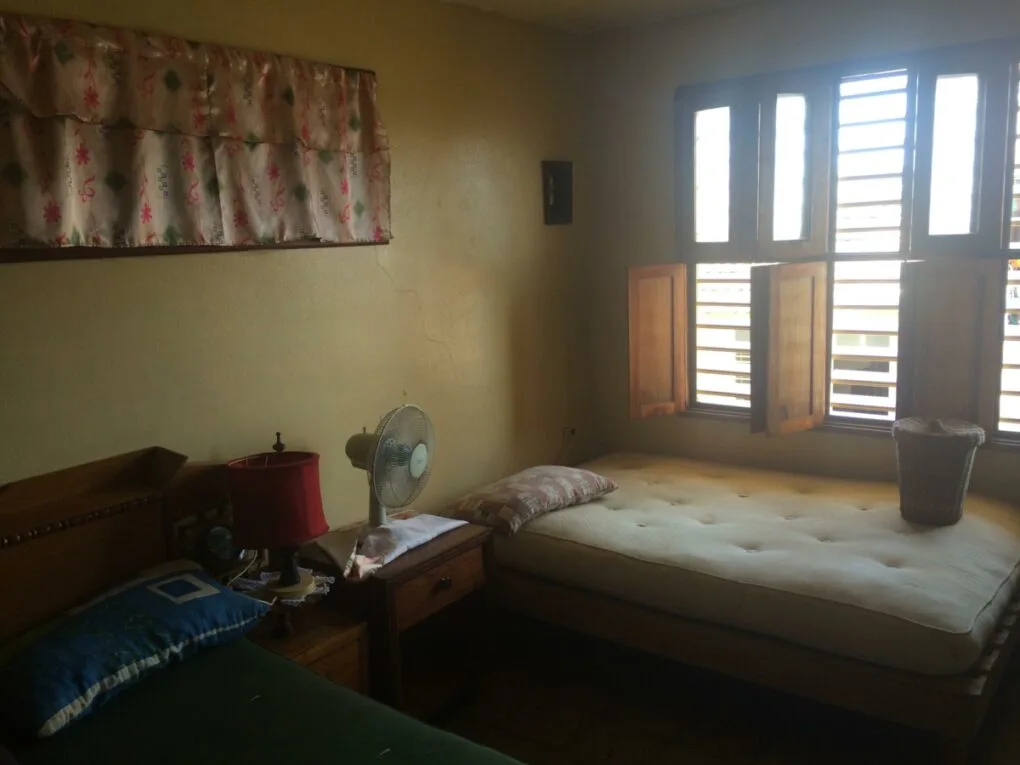 My Love/Hate Relationship with Casas Particulares
Last but not least is the system of renting a room in locals' houses, known as casas particulares, that is legally condoned & encouraged across the country. Even if they call themselves a hostel, odds are that outside of Havana they aren't actually what we think of as a hostel, though this will likely change in the next five or ten years.
A common advertising choice recently seems to be to simply replace the name of your house on your sign with "hostel," even if you only have one room for rent.
All of the houses we stayed in were located favorably in their respective cities; the only time they were a bit far from anything was in the really big cities where EVERYTHING was far from everything else, like Havana and Santiago. When it was on offer, the food we had in all of the casas was delicious, though the couple staying in the house in Vinales said that dinner there left something to be desired.
However, there are dozens of restaurants in all of the tourist cities, so you will never want for food, although you may want the food served in the casas! In Trinidad we ate dinner at the house half the time and breakfast every morning, and in Baracoa we were pleasantly surprised by hot chocolate alongside our coffee and mango marmalade at breakfast.
As soon as we arrived at any casa, we were given a jugo de bienvenido (welcome juice) and asked for our passports for the government guest book. Generally the casa owners spoke at least one language other than Spanish, but this was not always the case, and they told me that sometimes they had to call a friend over to interpret.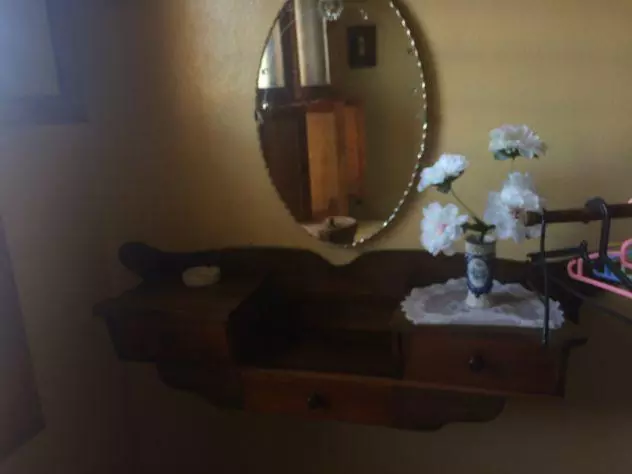 A note on the unspoken unofficial system for casas: the owner of the casa which sends you to your next house earns a $5/night commission on rooms that cost at least $25 a night, which is why that is such a common price (occasionally they will also get kickbacks from casas charging less if it's low season and competition is high for guests).
If you get the casa info from the Internet, then you can call them up from your current house and tell them that you're looking for a casa for $15-20/night and just name the website or whatever; casa owners are already the highest earners next to taxi drivers, so save that $5 a night for buying a souvenir on the street direct from a Cuban.
Below are pictured all of the business cards for all of the casas we stayed at in Cuba (although Olga's house in Trinidad we only toured before she sent us to her wonderful friend Ernesto's house). As you can see on their cards, all of the houses have air conditioning in the room as well as hot and cold water.
Additionally, all of our casas had comfortable beds and private bathrooms with towels & soap provided (Elsa had the nicest towels by far, but the only room with just one bed). Some even offer fridges with beverages for sale and usually some ice.
The husband of the house in Santiago really creeped us out; I would not recommend you stay at the house, but the card is there all the same as another example of how varied the casa business cards can look. Since publication, I've removed all the close-ups of the cards. For more guidance on finding a casa in Cuba, check out this directory.