Cuban street food in Cuba is a mix of absolutely delicious local cuisine, and an entire country just doing their best with what they have. Communism in Cuba didn't end just because Castro died, and Cuban street food is the prime example of how this lack is felt by every single Cuban, every single day.
Many Cubans eat street food to get them through the day while they work their real job (not the one assigned by the government, but the one which feeds their family), so while these are not the tastiest eats in Cuba, it is the cuisine you should look for if you're eating in Cuba on a budget.
From the sweet and succulent to the cheap and gummy, enjoy this visual buffet of Cuban street food bought in moneda nacional. Prices vary based on exact content, but everything cost us under ¢25 each (though there are some more expensive versions).
You can read more about drinking in Cuba here, but suffice it to say that I've never been anywhere quite like it. After reviewing some articles on Cuban street food before our trip, we were disappointed that we didn't see any plantains anywhere— and we spent 6 weeks traveling the entire country— so I figured an accurate overview was called for.
Bear in mind, too, that this is but a small taste of what Cuban cuisine has to offer overall.
Cuban Street Food In Cuba
$1mn = $0.04USD
$5mn…………………………………………….. churros
$free-$25mn…… fruits, especially mangoes
$3-25mn………………………… cuban sandwich
$5-20mn……………………………. personal pizza
$2mn…………………. pastelito with guava jam
$3mn……………..a bunch of mamoncillo fruit
$5mn….. cucuruchu (fruit-flavored caramel)
$1mn………………………………… cone of peanuts
$3mn………………….. granizado (icee/slushee)
$5mn……… pina colada with a splash of rum
*unpictured: cafecito (tiny, strong coffee, $1mn), local beer (tastes like absolute crap, but it's definitely alcohol, $1mn) fresh fruit juices ($1-2mn), ice cream cones ($2-3mn), batidos (milk-based smoothies for $3-5mn), cheap chocolate bars ($5-10mn).
For a complete overview of what it's like drinking in Cuba, including the best Cuban rums and how to find drinking water, read this.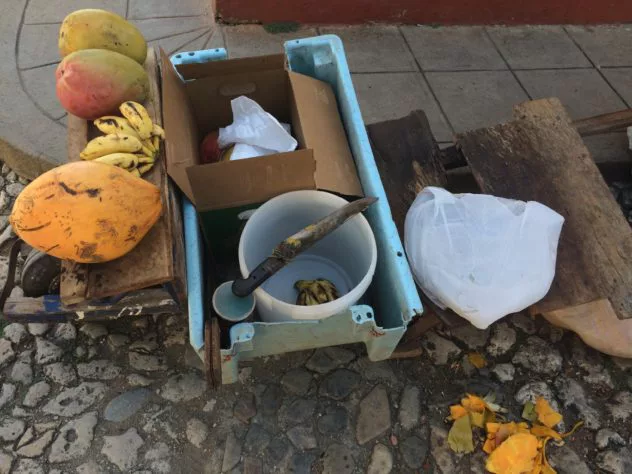 Yes, all of these are real foods I ate during my 6-week journey across the country. The fresh fruit was obviously a treat, but we were also quite taken by the churros, cheese & jam sandwiches, and granizados.
Tip: keep your fresh fruits on ice and wash them carefully before eating them as a sweet & refreshing beach day snack!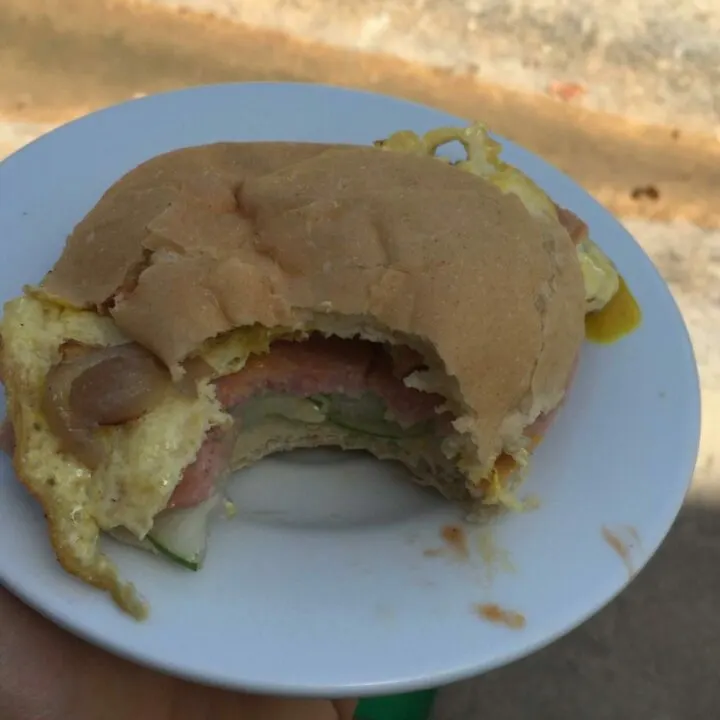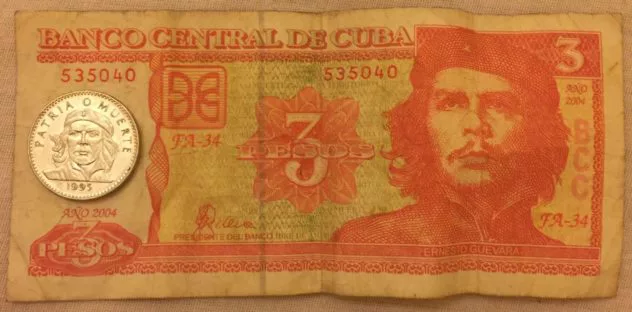 ---
If you found this helpful, please pin it! What's the best Cuban street food dish you've tried?