Podcast: Play in new window | Download
"The vast majority of the farming community still doesn't know that they are actually working against nature… Everything is the latest generation of chemicals."

-Harish Manoj Kumar, Co-founder of Soklet Chocolate & Regal Plantations
Not only is India one of the world's largest economies, but the country has a huge range of micro-climates, even within each of its 36 states & territories. Of these, four are the most hospitable for growing cacao, and Tamil Nadu is one of them. This is where you'll find the farms of Regal Plantations and the tiny chocolate factory of Soklet Chocolate, both of which are operated by brothers-in-law Harish Manoj Kumar & Karthi Palaniswamy.
Over the last five years, Karthi & Harish have built up a successful business processing & exporting fine flavor cacao, and making & selling craft chocolate. In this interview, Harish & Karthi and I dig into the development of the Indian cacao & craft chocolate scene, as well as sharing the flavors of India and how covid is affecting their community. I hope you enjoy listening to our conversation as much as I enjoyed having it.
Note that the general topics of Indian cacao & chocolate were the focus of my interview with Harish & Karthi, with the end product being the podcast episode on Indian Chocolate & Cacao.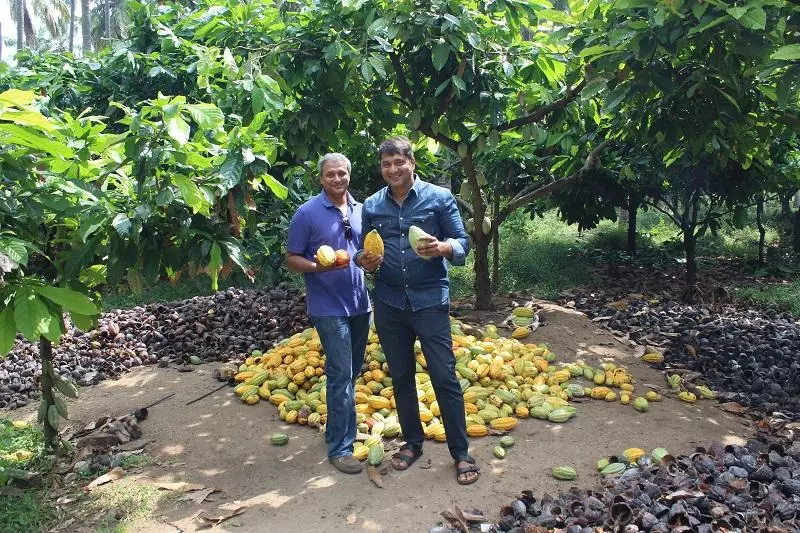 Topics We Cover
how Karthi & Harish got started in the fine chocolate industry, and began their organic cacao farming journey
where cacao grows in India, and what makes Indian cocoa growing difficult
the connection & often competition between cacao and coconut
popular chocolate products in India
what makes a good cacao bean from the producer's perspective
how they anticipate the local cacao market will grow over the next few years
the impact of the pandemic upon their region of India and their business overall
Connect With Soklet Chocolate
Soklet Chocolate's Website.
Soklet Chocolate on Instagram.
Soklet Chocolate on Facebook.
Connect With Chocolate On The Road
On Instagram: @chocolateontheroad
On Facebook: @chocolateontheroad
Show music is Roadtrip by Phil Reavis, and our transition music is We're Gonna Be Around by People Like Us & Sweet Dreams by Lobo Loco.
To listen to the previous episode, click here.