The city of George Town on Penang Island is known for being a UNESCO World Heritage Site, and a foodie's paradise. While there are plenty of local Indian, Malay, and Chinese food options, what we really came to check out was the chocolate. We heard over and over during our 3 weeks in Malaysia that Penang was the chocolate capital of the country. The city has a relatively small number of chocolate cafes, but considering how much cacao is grown in Malaysia, I'm surprised there aren't more.
The options for chocolate in Penang aren't as varied as in their southern counterpart of Kuala Lumpur, but it's still not too hard to find a chocolate shop in Penang. In fact, I found five of them. Check out their in & outs & hours below, and drop a comment in you know of any other chocolate shops in George Town (or elsewhere on the Island).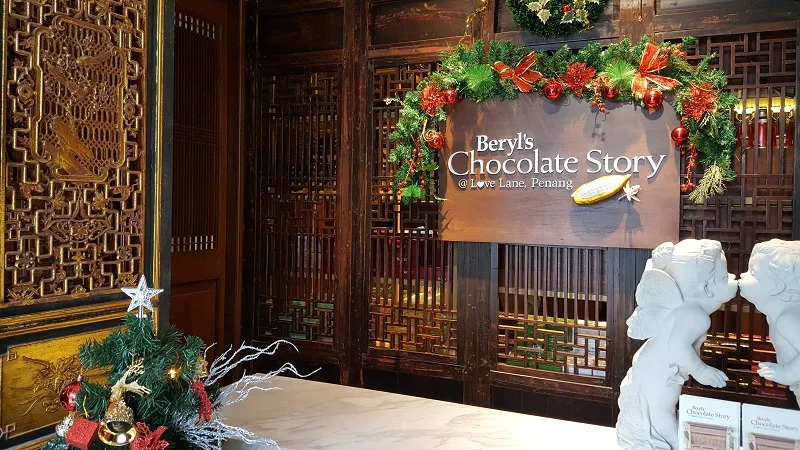 Beryl's Chocolate Story seems to be the most popular Penang chocolate shop of all the ones I visited. When you first enter you'll see that the showroom has a few small displays showing how chocolate is made, and some kitschy classic chocolate advertisements. Inside is a small gift shop, and a long counter to sit at and order drinks. Chocolate options include chocolate-coated freeze-dried berries, nuts, and flavored bars, most of which use palm oil as a "smoother."
However, unlike most of the Malaysian chocolate shops of this sort, some bars bars include use palm oil at all, so be sure to check labels before you buy. You can sample their goods in the gift shop area, though not their shiny new bean to bar line (which I was much more interested in). Overall, the atmosphere of this place was much nicer than that of the other two large-scale chocolate shops in Penang. Note that you must get past the loud doorbell before you can properly enter (to the left).
Address: 5, Lorong Love, George Town, 10200 George Town, Pulau Pinang, Malaysia
Hours: 10am-7pm, daily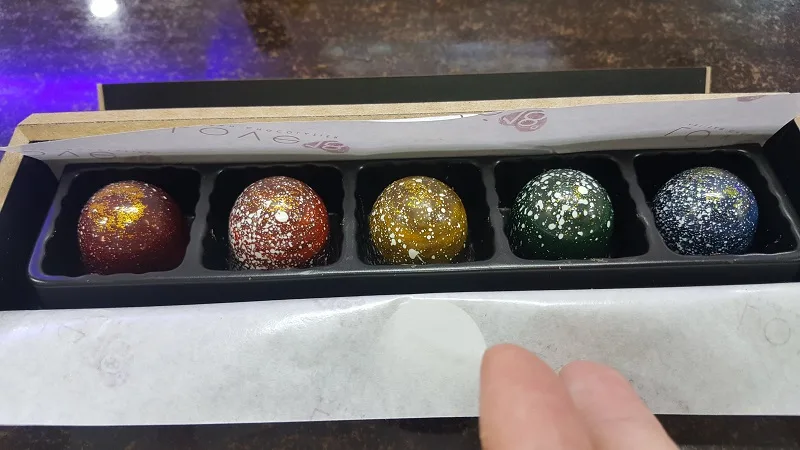 As a small family-run business, Love18 Chocolatier sticks out from the other chocolate options in the city. An employee offered me samples of the flavored pave dark chocolates as soon as I walked in, which was unique relative to the other Penang chocolate shops we went to (though rather common in Kuala Lumpur). However, when I wanted to buy some pave, only bonbons were available, and only in pre-packaged boxes of five.
Love18 uses Callebaut chocolate to make their whole line, which gives the bonbons a strong cocoa-y taste as a base. However, some flavors were too weak and some too strong for me; it was't very consistent. But overall, we liked the orange chocolate bonbon the most, and wish we could have bought a box of the orange pave. Of everything we tried, these were definitely the best chocolates in Penang.
Address: 37b Beach St Georgetown, Georgetown, 10200 George Town, Penang, Malaysia
Hours: 9am-6pm, daily (open until 9pm Fri.-Sun.)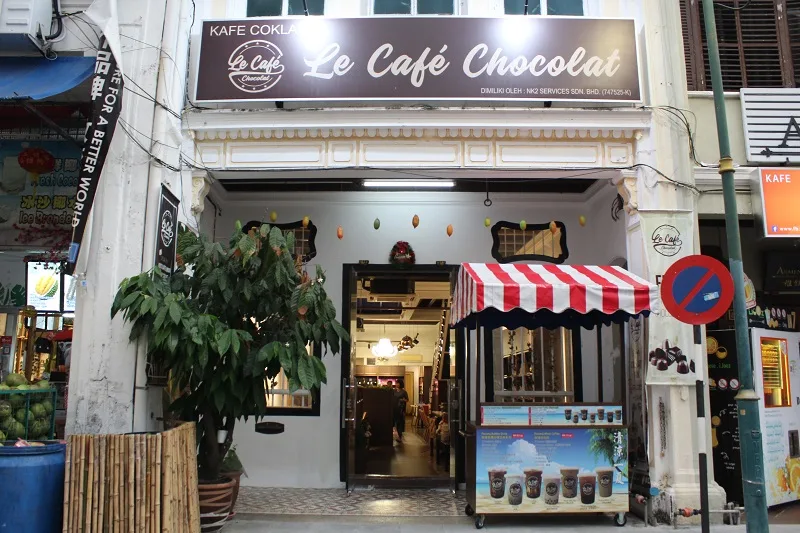 Right near a cluster of Penang's famous street art is this rather tall chocolate cafe. Upon entering you can see all the way to the back, where there are Beryl's & Danson chocolate boxes with free samples. If you don't head right for the back, you can peruse their huge variety of chocolate and tea drinks, as well as a few cakes to choose from.
The ambiance here was quite nice, and while we didn't try any of the cakes, it seemed to us that most people came in for the drinks, anyway. Their chocolate drinks are quite sweet and made from a powder, but not a bad alternative to the strong brewed coffees and teas we had across Penang. While I wouldn't personally go for any of their pre-packaged chocolates, luckily you can judge for yourself.
Address: 31, Lebuh Armenian, George Town, 10200 George Town, Pulau Pinang, Malaysia
Hours: 9am-6pm, daily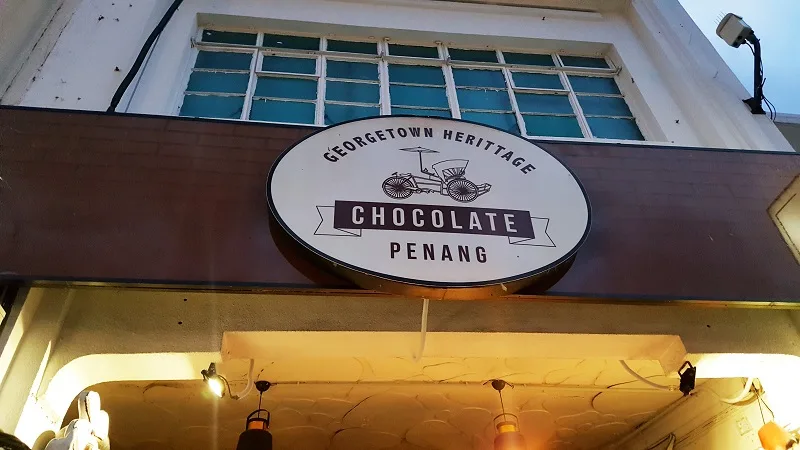 When we stopped by this shop it was under renovation, but from a peek inside & a look at Google reviews, they sell Danson's pre-packaged chocolates and an array of chocolate-covered bites of their own brand. I can't speak to the quality of ingredients or the overall taste, but I have to say that if I made it all the way here, I'd probably duck into China House (across the street) for cakes first.
Address: no 238, Beach St, Georgetown, 10300 George Town, Penang, Malaysia
Hours: 10am-6pm, daily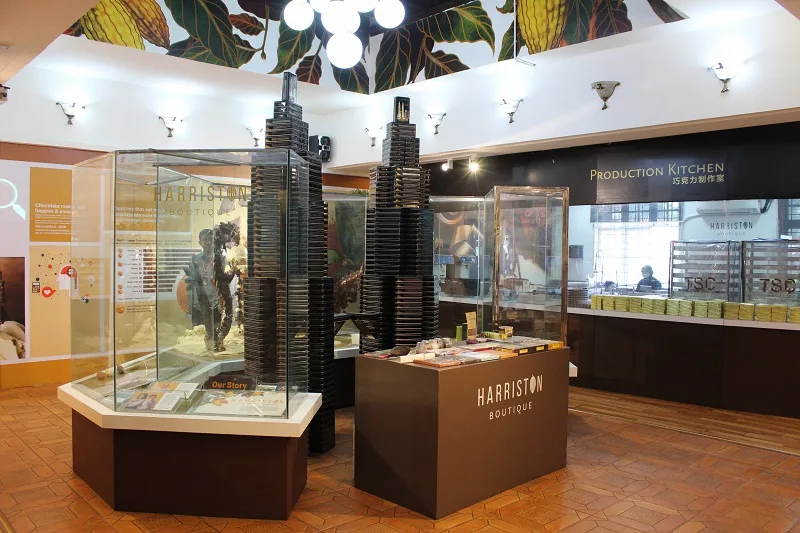 This is the same Malaysian chocolate chain as in KL, with the same tour buses. It's also rather out of town relative to other Penang chocolate shops (in George Town, at least). Harriston's Boutique, also called Harriston's Signature, sells large boxes of chocolates made with palm oil.
These are often taped together and sold in sets, after they've handed you a bevy of samples. I believe this is what's referred to as a "tourist trap." Looking at the ingredients, some of their "chocolates" don't even contain cocoa at all— I cannot ethically or tastefully recommend this shop, either.
Address: 68, Jalan Kelawai, George Town, 10350 George Town, Pulau Pinang, Malaysia
Hours: 9:30am-6:30pm, daily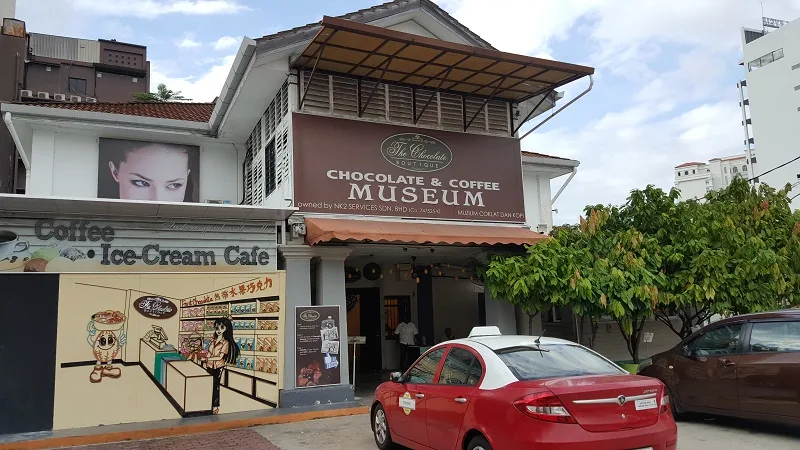 This was a very Malaysian chocolate experience for us, pretty typical of the large manufacturers. As soon as you walk into the museum you get a sticker, and then they take you into a large room to show the chocolate making & coffee processing steps. Well, a simplified version. This is when we learned that the local "white coffee mix" tastes so smooth because of the palm oil creamer in each packet. Not a pleasant surprise.
Next you're led into the gift shop to try samples of a few different top-selling treats, including chocolate-covered almonds and tiramisu pave, all dipped in couverture made with palm oil and other additives. We were told rather immediately not to take pictures inside, for reasons nobody could explain.
Bars range from 60MR for 70g of "70% chocolate" to cheaper palm oil blends (more expensive than any of the bean to bar makers in the country) in larger bags. Outside of the shop is their drink cafe and ice cream shop, with various flavors of tea, juice, and coffees. Remember to tell them if you don't want extra sugar added. Or better yet, maybe check out a different Penang chocolate shop. I do not recommend coming here.
Address: 22 Leith Street Georgetown, Georgetown, 10200 George Town, Penang, Malaysia
Hours: 9am-6pm, daily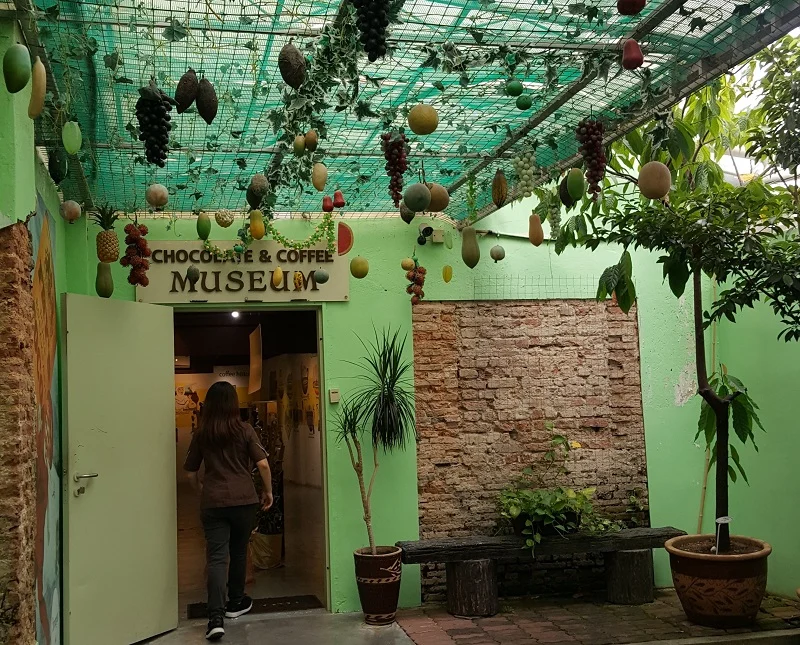 Penang Travel Tips
Beyond the bevy of chocolate shops in Penang's George Town, the area is also known for its copious street art, stunning haphazardly placed jetties, as well as bike rental stands all over. While we didn't personally do any bike trips around the city, we saw tons of groups and families going around on two wheels. The city is certainly small enough that you could see most everything in just a couple short afternoons.
As food-obsessives, some spots we loved were China House for cakes, Jawi House for dinner, and Tea Kadai for masala chai (tea). Little India is a great spot for Nasi Kandar, which are Indian/Malay spots where you can try a variety of dishes for a very affordable price. You can also find even more Penang food tips here, on my friend Joanne's Malaysia-based food site. Follow her Penang journey to the T, if your stomach is prepared!
Penang Chocolate Shops Map