In Kuala Lumpur, chocolate shops are numerous and varied in nature. The only thing they really have in common is that all of them carry chocolate made in Malaysia, mostly using Malaysian cocoa. Similar to Tokyo, most Kuala Lumpur chocolate cafes & shops are found in malls scattered across the city.
Unfortunately, there's no single area where you can find several in a cluster, as in Seoul or Seattle. I went to a dozen chocolate shops in KL, and while Malaysians definitely seem to love big stores with pre-packaged chocolates, there are some serious gems here.
The Malaysian bean to bar chocolate scene continues to grow slowly, and there are a number of chocolatiers making delicious bonbons. But I've also noticed a remarkably high number of references to cacao in places where it's not the main star.
For example, there's a Singaporean Chocolate company called The Cocoa Trees, which sells "premium" commercial chocolates in gift baskets. Many of these chocolates contain little to no cacao. There are also a number of Royce, Leonidas, and Godiva stores in KL, hugely popular despite selling no chocolate from Malaysia.
Unfortunately, almost all chocolate in KL Airport is also imported; if you're just passing through on a layover, you won't find any local options. Malaysians are proud of their cocoa, though they sure aren't consuming much of it.
But while finding decent chocolate in Kuala Lumpur Airport might be struggle, once you get into the city it's a breeze— if you know where to look.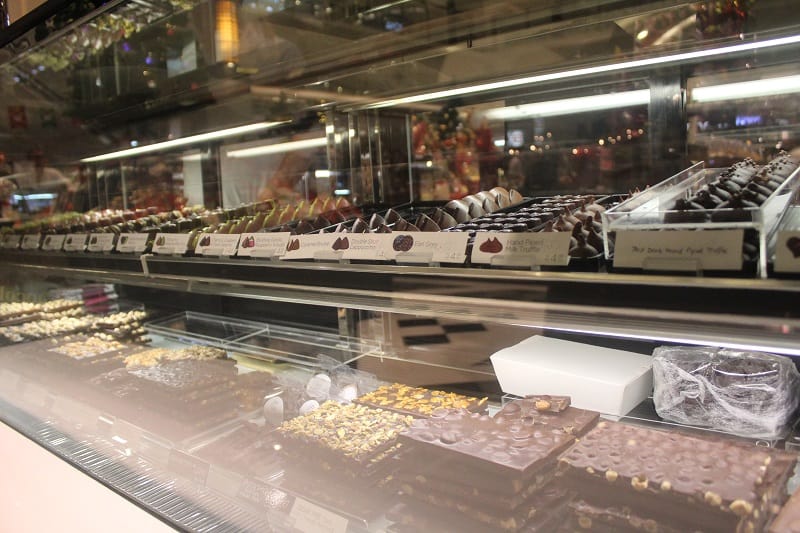 Malaysian Chocolate Museum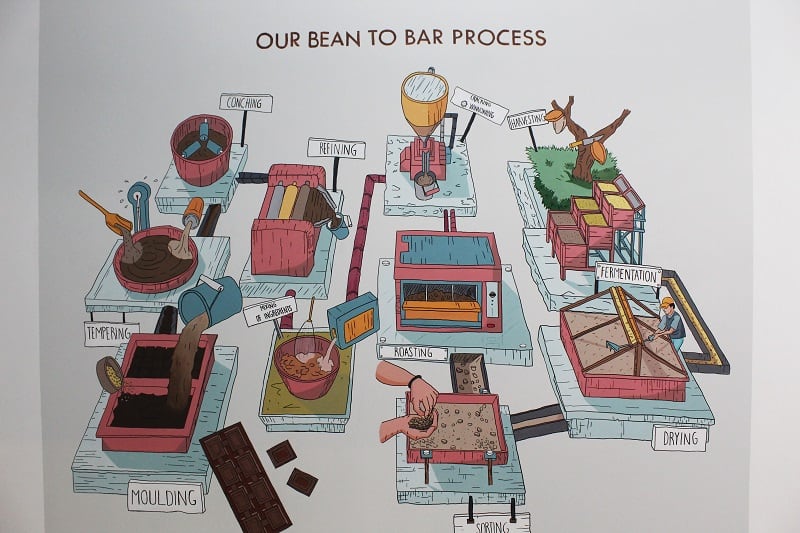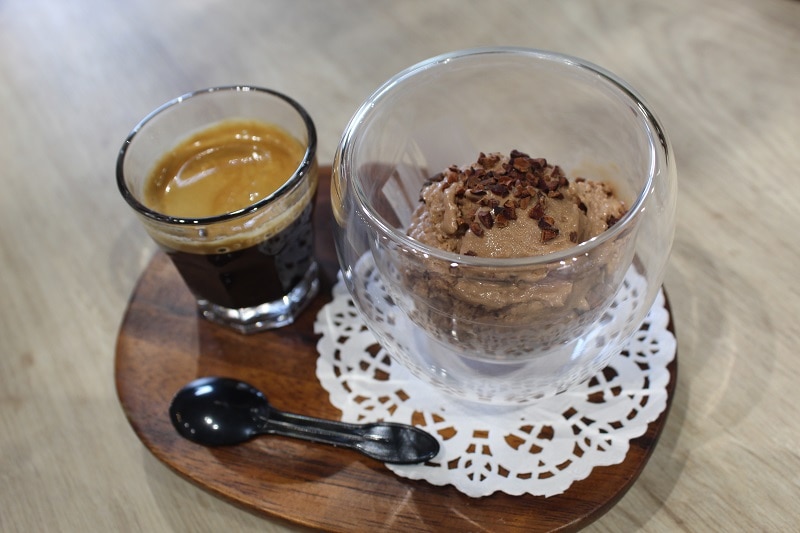 Before digging into the chocolate shops in KL, I have to give a shout out to Benn's Ethicoa. I've been following along on the owner, Wilfred Ng's, journey with specialty chocolate making for years now. At the end of 2019 he opened Asia's first open-concept chocolate factory, detailing each step of the chocolate making process in a clear & concise way. The gorgeous factory, part museum and part wonderland, also has an attached cafe.
In the cafe you can buy chocolate drinks, bonbons, single origin chocolate bars, and various cacao-based products. Everything is crafted on-site with cacao from five Asian origins, including Malaysia, Vietnam, and the Philippines. Depending on the origin being produced at the moment, you can taste a fresh chocolate, straight from the conching machine. Of their pastries, my favorite is by far the ginger cheesecake filled with single origin chocolate mousse.
Although there is another chocolate factory in KL (see below), this experience is not to be missed. Touring the chocolate factory is free for kids 12 & under, and costs 25RM for Malaysian nationals and 50RM for non-Malaysians. The tour includes tastes along the way and a free pastry or drink at the end— but if you ask really nicely, they may offer you a bonbon tasting flight instead.
Address: Lot no. 6, Jalan Cj ⅙c Kawasan Perindustrian Cheras Jaya, Batu 11, 43200 Cheras, Selangor, Malaysia
Hours: 10am-6pm, Tue.-Sun.
---
Bean to Bar Chocolate in KL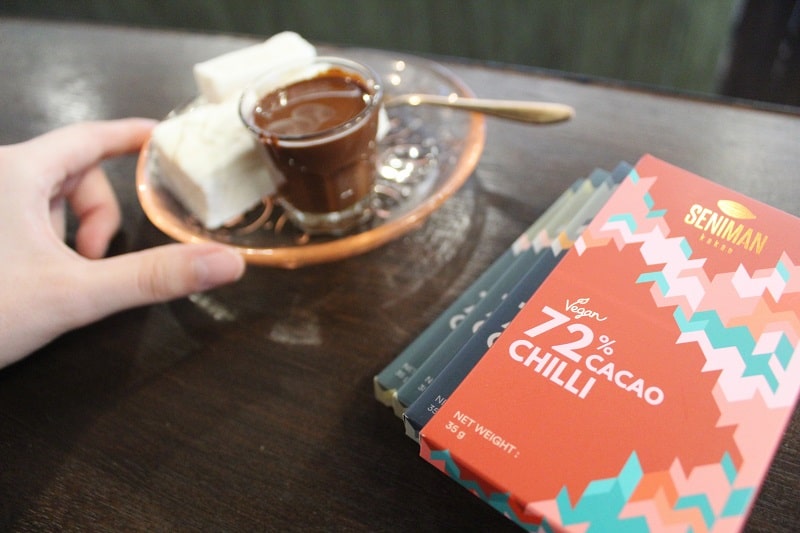 This mostly vegan-friendly chocolate cafe specializes in both bars and bonbons, with a fair number of options for all types of palates. I found the staff to be very helpful, and well trained in explaining their process; someone approached me within one minute of walking in to help me understand their selection. Each bar is made with one of their 3 or 4 single origins (which can change depending on availability), and you can check the back of the bar to see which one. And yes— there are samples.
At any given moment, in addition to their generous food & drink menu, there are also a few pastries, several flavors of bonbons & truffles, and a half dozen bar options. If you can only try one thing, their marshmallow shot creation is stupendous (though not vegan), and I loved the salty chocolate chip cookie.
I wish the seats in the air conditioned cafe space were more comfortable, but there's plenty more seating outside where you can relax and enjoy a meal or a drink. Note that the kitchen closes at 4:30pm on weekdays.
Address: 29, Jalan Pudu Lama, Bukit Bintang, 50200 Kuala Lumpur, Wilayah Persekutuan Kuala Lumpur, Malaysia
Hours: 8am-7pm, daily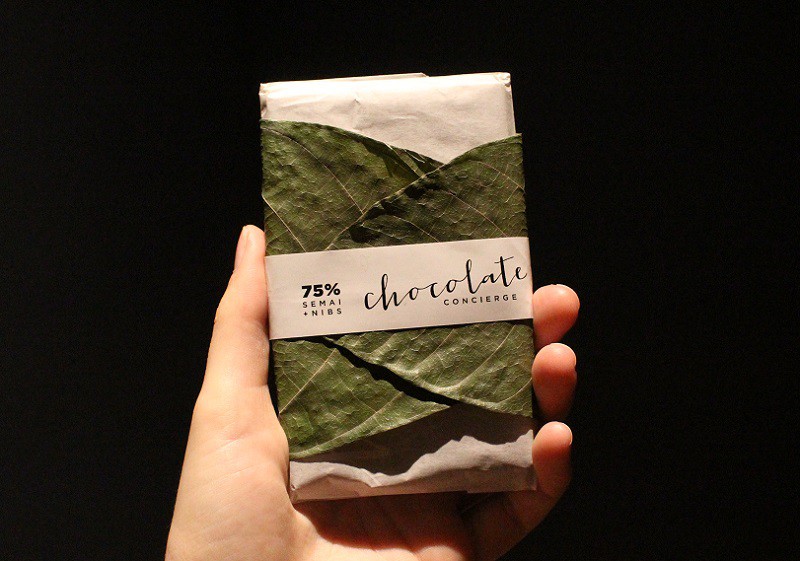 Chocolate Concierge is the creative brand of cocoa farmer & fermenter Ning-Geng Ong. Working with cacao farmers across peninsular Malaysia, Ning brings out beautiful flavors in Malaysian cacao, which he then uses to craft single origin tree to bar chocolates. At this outlet you can buy his chocolate bars, barks, and over a dozen flavors of bonbons.
After trying his chocolates (right after visiting Harriston's Boutique no less!), I got to meet Ning to learn more about his conservation work with local indigenous groups, but let's be honest— you wanna know about the chocolate. He has 3 to 6 different bars of single origin dark chocolates at any given time, as well as 6 to 10 different chocolate barks.
Recently he released a set of 5 Malaysian-inspired bonbons, including Onde Onde, Cendol, and Laksa; you can also order all of his chocolates on his website. This location is in the basement of BSC mall, though a standalone shop is in the works for later in 2020. This is where you can buy some of the best chocolate in Malaysia; Chocolate Concierge is a can't-miss for anyone who considers themselves a chocoholic.
Address: Street Level of Bangsar Shopping Centre, Jalan Sena, 59000, Kuala Lumpur, Malaysia
Hours: 10am-10pm, daily
While Ben's isn't actually a chocolate cafe, they are a great place for true chocolate lovers to shop. They have a decent chocolate selection, including some bars from local maker Benn's (pictured above) and Switzerland's Milkboy Chocolate, as well as a nice selection of restaurants nearby. If you have limited time, this is somewhere you can buy several brands at once.
Address: Publika, Lot 1A, 83-95, Jalan Dutamas 1, 50480 Kuala Lumpur, Wilayah Persekutuan Kuala Lumpur, Malaysia (there are various locations; we only marked this one on the map)
Hours: 9am-10pm, daily
---
KL Chocolatiers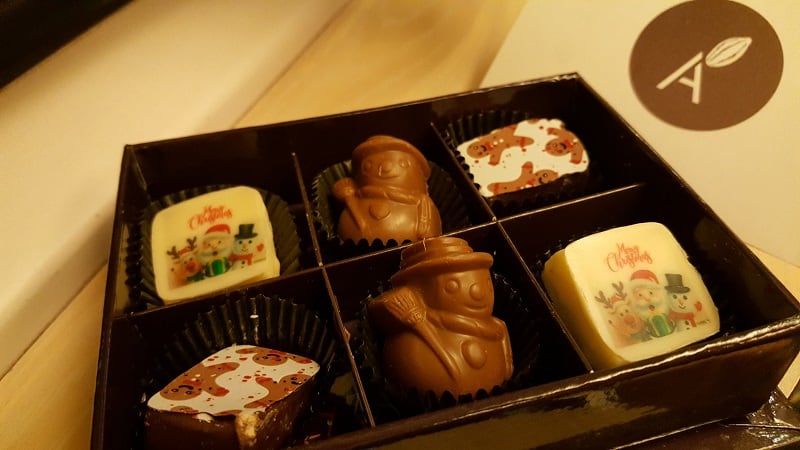 This chocolate shop is located inside Le Meridien Hotel, right across from KL Sentral Bus Station. The cafe is right in the lobby, with immediate seating for 6 people, and more options further out. Art Cacao seems to specialize in cakes and chocolate drinks, though I personally came for the bonbons.
During my visit, all they had on hand were the Christmas pralinés, which included solid milk chocolate snowmen, speculoos cookie milk chocolate bonbon, and herbal mint white chocolate truffles. The employees who helped me were very accommodating to the rush I was in, and the truffles were delightful (except for the plain snowmen, which were fine but boring). I'd certainly come again if I could choose which flavors of truffle go in my box.
Address: 2, Jalan Stesen Sentral 5, Kuala Lumpur Sentral, 50470 Kuala Lumpur, Wilayah Persekutuan Kuala Lumpur, Malaysia (inside Le Meridien Hotel)
Hours: 7am-8pm, daily
While I didn't have the chance to visit Signature while in KL, from what I can tell, they sell couverture chocolates molded into shapes. Some of these include tools, flowers, and tobacco pipes, in quite spectacular fashion. They also sell soft serve ice cream in chocolate-dipped waffle cones, complete with a chocolate spoon you can eat with and them finish off yourself. When I'm back in KL, I'll have to check out their more unique shapes, but for now, I can't vouch for the quality of the chocolate being used.
Address: LGC-33, Mid Valley Megamall, 81, Lingkaran Syed Putra, Mid Valley City, 58000 Kuala Lumpur, Federal Territory of Kuala Lumpur, Malaysia
Hours: 12pm-1am
This is the same shop as you'll find in Penang, and just outside downtown KL. Love18 is a family-owned business specializing in nama chocolates (like ganaches) of both the plain and flavored varieties. The company also sells pure chocolate truffles and bonbons in a number of flavors, including orange, mint, and pure milk chocolate. All of the chocolate used is Callebaut Belgian chocolate.
Address: Lot LGC-15, LG Floor, Mid Valley Megamall, Mid Valley City, 58000 Kuala Lumpur
Hours: 10am-10pm, daily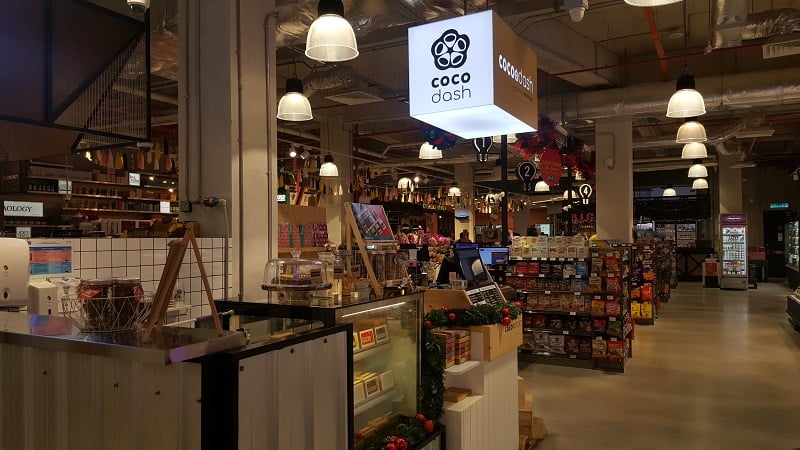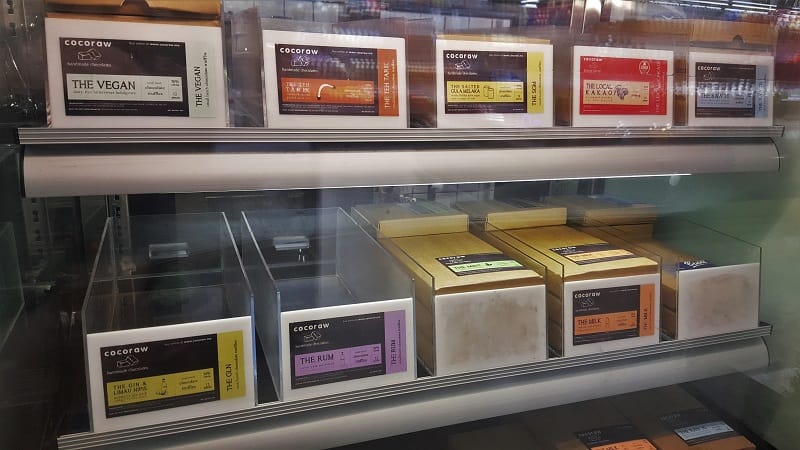 This brand specializes in boxes of nama chocolate, basically a chocolate smoothed out with cream so that it melts in your mouth. Their 10 flavors were all showcased in the display case, with Salted Gula Melaka and Rum flavors standing out immediately.
We tried a few of their flavors after asking the young employee about samples, and he graciously answered our every question. I was most intrigued, however, by their collaborative chocolates. Two of their nama chocolates use chocolate from Benn's Ethicoa in Selangor and from Seniman Kakao in central KL.
Both of these are darker options (including a 70%), but happily show a commitment to working with local producers. We loved their plain milk chocolate box, which was sweet but perfect for pairing with lattes from a nearby the cafe.
The brownie was fine, but focused more on the chunks of chocolate inside than the flavor of the brownie itself, which made it taste less rich than we wanted. But the homemade marshmallows ended up being a fun extra gift to take home, at just 2RM apiece.
I'd come back here for a box of the milk nama chocolate or a Salted Gula Melaka if I'm really craving sweets. Note that you can also buy Seniman Kakao bars from Cocodash's online shop.
Address: Bangsar Village 2, 2nd Floor, CzipPetit, Jalan Telawi 3, Bangsar, 59100 Kuala Lumpur, Malaysia (multiple locations; this one is inside a mall)
Hours: 11am-7pm, daily (closed on public holidays)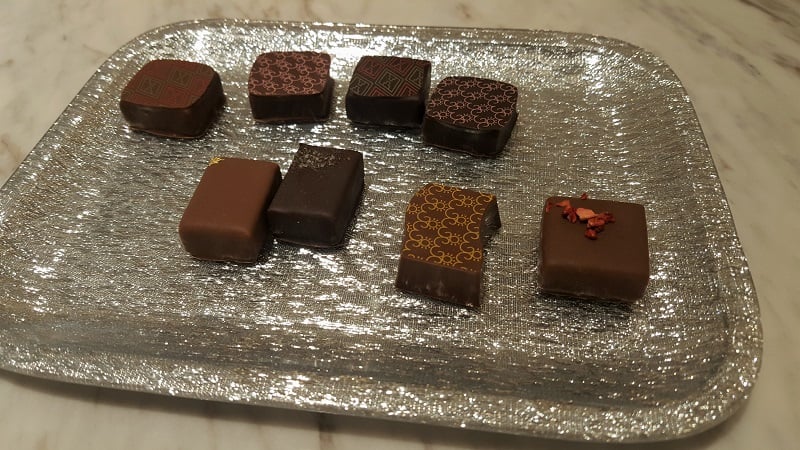 Japanese chocolate seems to be capturing interest throughout Asia. This particular shop is located inside the Isetan Japan store, itself inside Lot 10 Shopping Center. The large kiosk shows a few stages cocoa beans go through on their way to becoming chocolate, and then showcases their wares, leading me to think it may be a bean to bar chocolate maker, but I'm not really sure. So it's classified under chocolatier until otherwise clarified.
The shop sells a couple of cakes, chocolate-dipped nuts, and large and super mini chocolate bars. They have over a dozen flavors of bonbons, including both dark and milk versions of their single origins, largely made with Asian cacao. We enjoyed the bonbons we tried, with the Philippines dark chocolate coming out as the crowd favorite.
Address: Malaysia, Federal Territory of Kuala Lumpur, Kuala Lumpur, Bukit Bintang, Jalan Sultan Ismail, ISETAN The Japan Store Ground Floor, LOT 10 Shopping Center
Hours: 11am-9pm, daily
---
Tourist Chocolate Shops in KL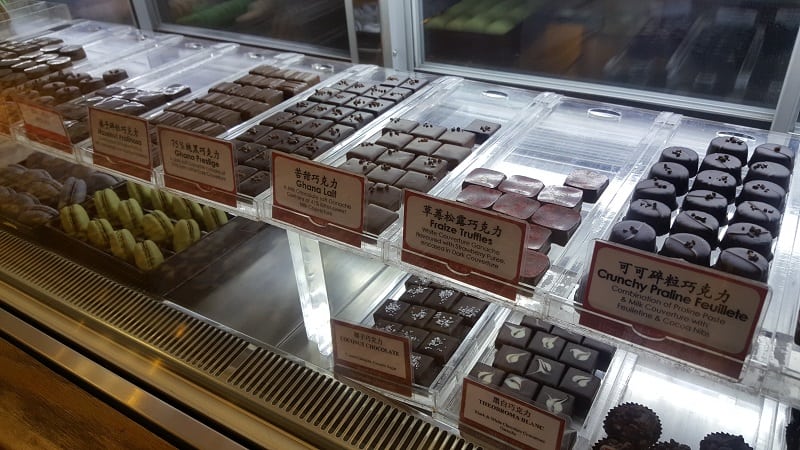 Formerly known as Beryl's Chocolate Kingdom, this so-called chocolate kingdom has become a tourist destination over the years. Or, I should say, it was built in the hopes of attracting tourists. The shops is incredibly out of the way, and when I went there are at least 3 tour buses of people (mostly speaking Chinese dialects). Once you collect your entrance sticker at the door, you'll walk into the main retail area.
Inside there are several rooms of chocolates of all different flavors, shapes, and sizes but with one thing in common: they're made with palm oil (often blended with sunflower oil). At the tops of the shelves were short explanations of some historical chocolate facts, referencing aztecs, chocolate drinks, and where cocoa is grown. Otherwise, there wasn't much teaching to it all.
They offer a "cocoa drink" for 5RM and sweet, moderately strongly-flavored bonbons for 8RM each (much more expensive than at the specialty chocolatiers). There were also macarons in the case, but I didn't try them. I would recommend purchasing chocolates from elsewhere, as it will be cheaper and tastier.
Address: 38, Jalan Utara, Imbi, 55100 Kuala Lumpur, Wilayah Persekutuan Kuala Lumpur, Malaysia
Hours: 9am-6pm, daily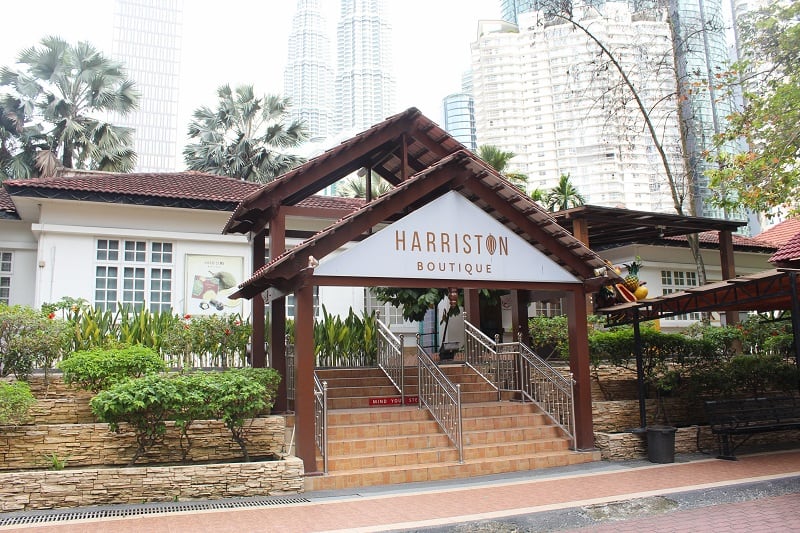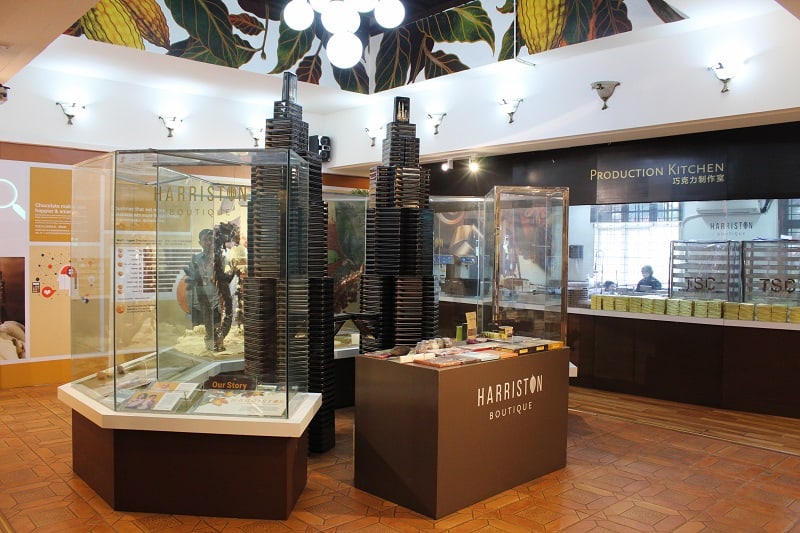 When we arrived, a tour bus was parked out front. We were immediately offered samples of a cocoa powder drink which tasted like chocolate pudding, and then some chocolate-coated nuts made with compound chocolate. Walking around the displays at the store entrance, it was more obvious than ever that the tour bus out front is a regular occurrence. After all, this is one of the only places to buy ruby chocolate in Malaysia.
Despite being in one of the top cocoa-producing countries in the world, Harriston Cocoa uses primarily sugar and vegetable oil and cocoa powder to make their chocolate coating. After trying the chocolate for myself, I could never recommend coming here when there are so many better places to buy high quality, locally-crafted chocolate for the same price. Think 110RM for 4 boxes here vs the same price for 10 chocolate bars at Seniman or 5 at Chocolate Concierge. But feel free to try all three makers and judge for yourself.
Address: Malaysia Tourism Centre, 139, Jalan Ampang, Kuala Lumpur, 50450 Kuala Lumpur, Wilayah Persekutuan Kuala Lumpur, Malaysia
Hours: 9am-8pm, daily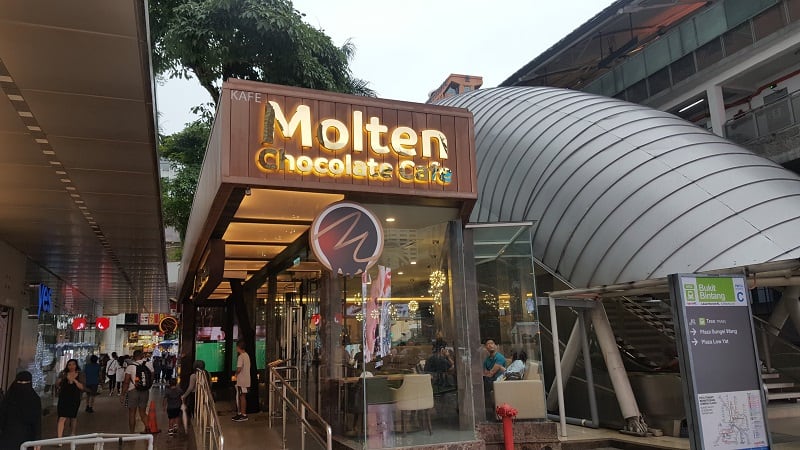 Malaysian Chocolate Cafe Culture
We ended up going on quite a few wild goose chases for KL chocolate shops that either no longer exist or only appear seasonally. Those are not on this list. But neither are the bevy of chocolate-centric cafes in KL, of which I found at least half a dozen while I was researching this guide. For example, spots like Molten Chocolate Cafe, Dip n Dip, and Salon Du Chocolat Malaysia, which serve chocolate desserts and fondues. But, they have no hand in the chocolate making process themselves, nor do they serve bonbons, as a chocolatier most often does.
We had a nice experience at Chocoloco Cafe in Publika, but since they only serve desserts including chocolate rather than chocolates themselves, they don't count as a chocolate shop (but for the record, I'd go back for that sweet chocolate crepe). Additionally, there are a number of chocolate shops in Kuala Lumpur which re-sell packages of mass produced chocolates. I've selected a few of the more well known and longstanding ones for this list, for those of you who may simply want to buy chocolate made in Malaysia, but places like this seem to be a dime a dozen.
2021 Update: It's been brought to my attention that in the original version of this guide, I incorrectly asserted that Chocolat World had closed, but they are indeed open and operating as normal. I didn't have a chance to try their chocolates on my visit, but they offer chocolate cakes and confections made with Belgian couverture chocolate, in addition to some seasonal goodies each fall and winter. Hopefully I can give them a try on my next visit, when the world is something more like normal!
Luckily, there are still several delicious chocolate shops & cafes to choose from. Which of these do you think would be the best place to buy chocolate in Kuala Lumpur?
---
Kuala Lumpur Chocolate Map