Compared to the more-visited city of Bangkok, chocolate in Chiang Mai is rather scarce. But it's not impossible to find. There are three chocolate makers in Chiang Mai, and a few makers transitioning onto the scene, set to debut sometime in 2020. For a current list of Chiang Mai chocolate shops, see below.
Chiang Mai Chocolate Cafes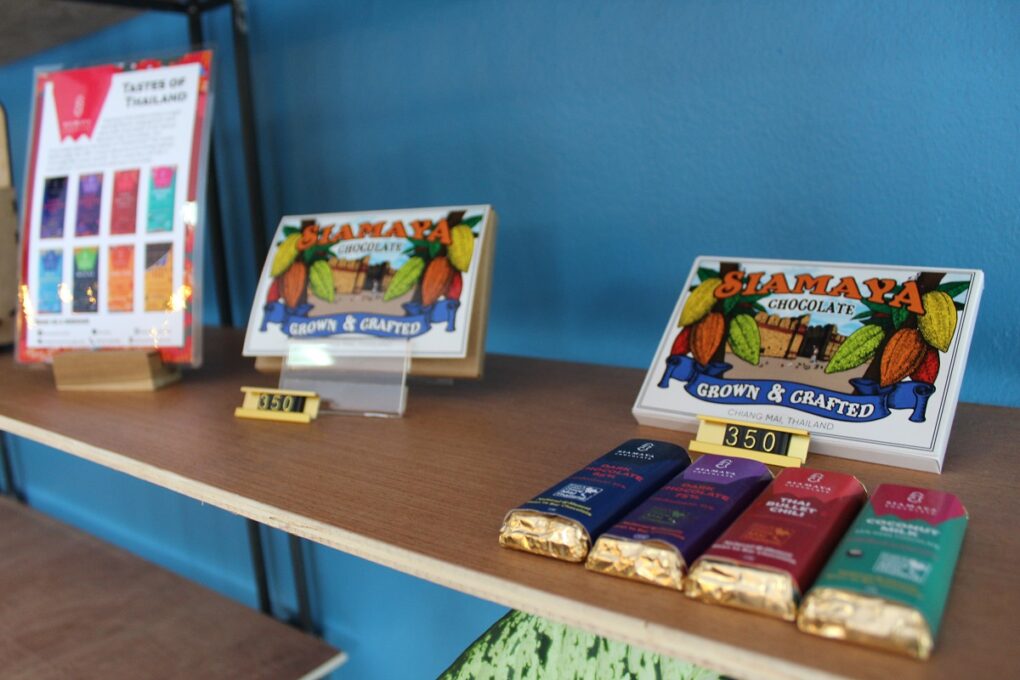 Pronounced "sah ya mah ya." This little chocolate house on the edge of town opens every weekday to welcome guests looking to learn more about how their chocolate is made. The company started back in 2017 with just 4 bar flavors, slowly expanding to 12 flavors, cocoa powders, and a storefront with drinks. I found their staff to be pleasant & helpful. I'd recommend an iced chocolate with a milk + coconut truffle if you can find them, and a nice long conversation with one of the owners.
I found the white chocolate drinks to be much too light in flavor, but I enjoyed exploring the Thai-inspired bars with a mini tasting. There's space for 7 or 8 people to sit down in the cafe, but if you can't make it on a weekday you can check their website for a list of local stockists.
Address: หมู่ที่ 1 103/19 Mae Khua Mung Rd, Mueang Chiang Mai District, Chiang Mai 50300, Thailand
Hours: 12pm-6pm, weekdays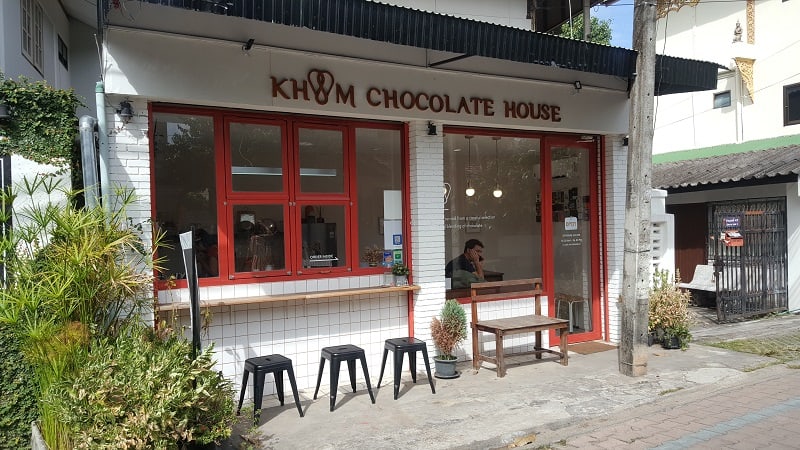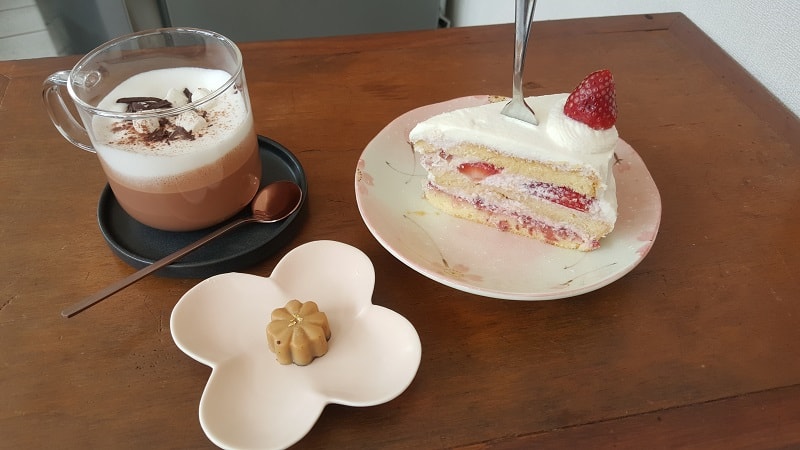 Right inside Old Town Chiang Mai is this very small chocolate cafe, with 3 tables and seating for ten people. At the front is a small selection of cookies, and just next to it a refrigerated case of cakes and bonbons and takeaway chocolate drinks. If you place a drink order, the proprietor will prepare it for you in front of your eyes; chocolate options include white, dark milk, and very dark chocolates.
Inside the menu you'll find a description of how chocolate is made, and the differences between various types of cocoa powders. There's wifi and air conditioning, sound-tracked by light piano music and the chatter of anyone else popping in at the time. I ordered a piece of strawberry shortcake in addition to my drink and bonbon, and was delighted to find real cream and tangy strawberries; the chocolate drink was rich, but too bitter at 80% for my taste. The bonbons are fine, but I'd get another piece of cake before another bonbon.
Address: 4, 2 Sinharat Rd Lane 3, Si Phum Sub-district, เมือง, Chiang Mai 50200, Thailand
Hours: 10:30am-6pm, Thu.-Tue.
Chiang Mai Chocolate Makers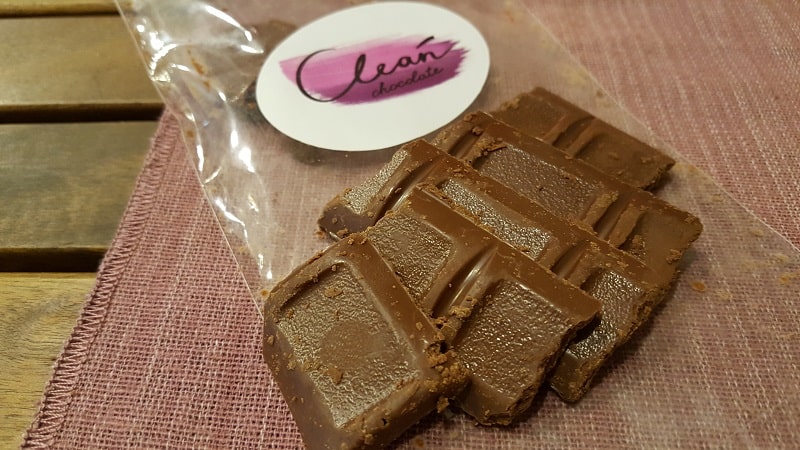 Though there are only 2 chocolate shops in Chiang Mai city center, there are more than 2 companies making chocolate in Chiang Mai. Started by Elena in 2018, Clean Chocolate is a vegan chocolate brand with a focus upon dark chocolate bars & nut butters. At the moment Elena only sources Thai cacao, and strives to use only Thai ingredients, like the coconut sugar she sweetens her bars with.
Although she focuses on dark chocolates, Clean Chocolate is working on coconut-based milk chocolates for those with a sweet tooth. See her website for a list of products. For a complete list of stockists, check out Clean Chocolate's Facebook page.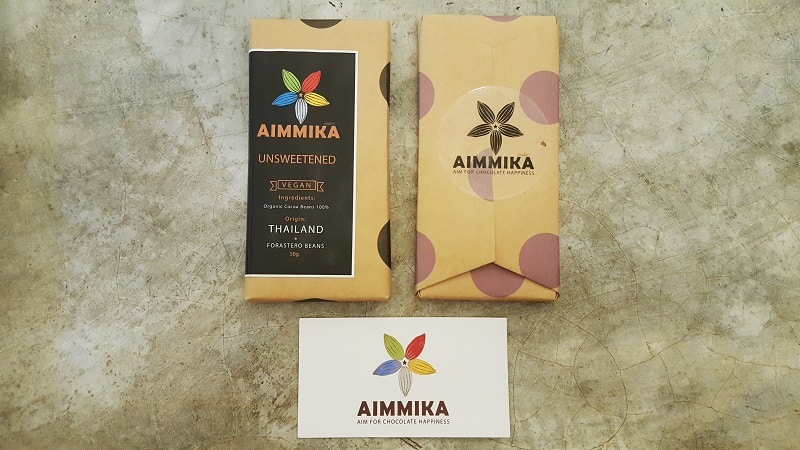 I've grouped MarkRin Chocolate and Aimmika Chocolate together because they've both been associated with Chiang Mai, but their products are hard to find within the city. Aimmika sells at one vegan cafe in the city, and MarkRin seems to only sell at the Cocoa Center Thailand, but takes weeks to reply to messages & is located far from the city center.
Chocolate Workshops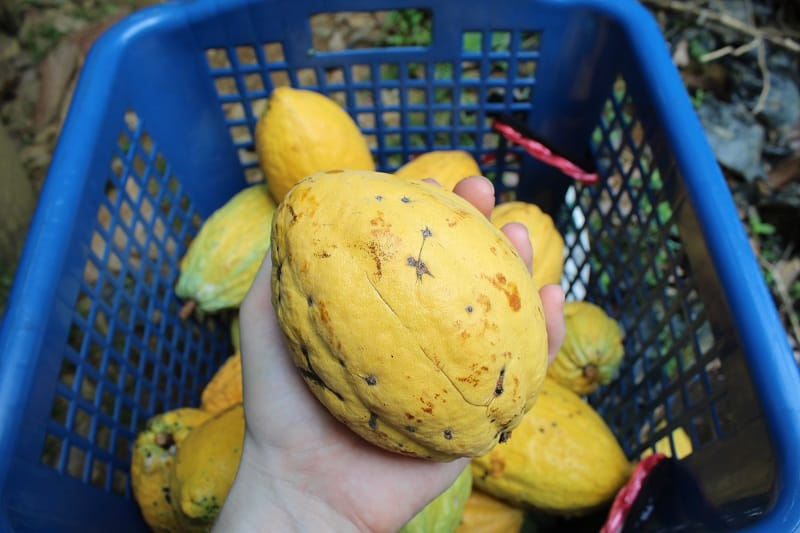 This is another type of grouping. Mae of Bean Blah Blah (whom I interviewed in this podcast episode) is working on chocolate events in Chiang Mai for 2020, but with a focus on farming. New chocolate maker Kanvela, which has a cacao farm outside of the city, is working to open their cafe in the same year.
Beyond that, there is continually more cacao being planted in & around Chiang Mai & Chiang Rai. I predict that in 2020, Chiang Mai and the rest of northern Thailand will see the same sort of chocolate growth that Bangkok saw in 2018, and I'm really looking forward to it.
This article will be updated again in late 2020.