Cambodia is curry, dusting clay, ancient temples and even older souls, each backdropped by endless green trees. Until it wasn't, anymore. During the decades since the country opened up to visitors, there have been starts and stops in development, framed by the horrors of genocide and civil war which everyone would rather forget.
Amongst it all are forward-thinking projects, each working to invest in growth that secures a better future. Fighting against them are short-term monetary gains, exemplified by the rubber trees with their pungent sap that leave a stain in your nose. While rubber and palm trees are a problem across Asia, they're a relatively new addition to the Cambodian landscape, albeit no less problematic.
But the team at KamKav Farm has a vision for remedying this. In the heart of Mondolkiri Province, in eastern Cambodia, they're establishing the country's first cacao region. They're working with local farmers to build a future alongside people who are sometimes too afraid to trust in its existence.
To listen to a podcast version of this episode, click here.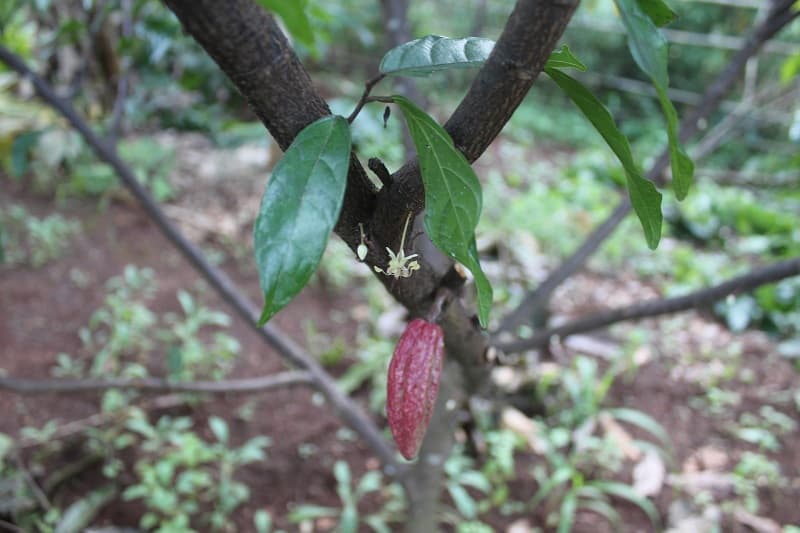 History of Cacao in Cambodia
Lol none.
Kidding. Sort of. In reality, the history of cacao in Cambodia is very short, less than two decades long. Current records— or lack thereof— indicate that even during the French occupation of the region, there were never any attempts to grow cacao in Cambodia. Unlike cacao in neighboring Vietnam, Cambodian cacao has a short history, beginning with a few scattered trees along both the Thai and Vietnamese borders. These trees were planted sometime in the last two decades, and are so few in number that they're almost not worth mentioning.
But starting in 2014, one company sought to go from a few scattered trees to tens of thousands across the eastern part of the country. While KamKav Farm (pronounced Kem Kau) is nowhere near that number right now, the thousands of trees they've already helped put into the soil are laying the foundation. The farms connected to KamKav may not be the first recorded planting of cacao in the country, but they are the first attempts at any relevant scale. They're aiming to make that scale part of a thriving eco-tourism industry in the province, and an overall appreciation for Cambodian-grown products.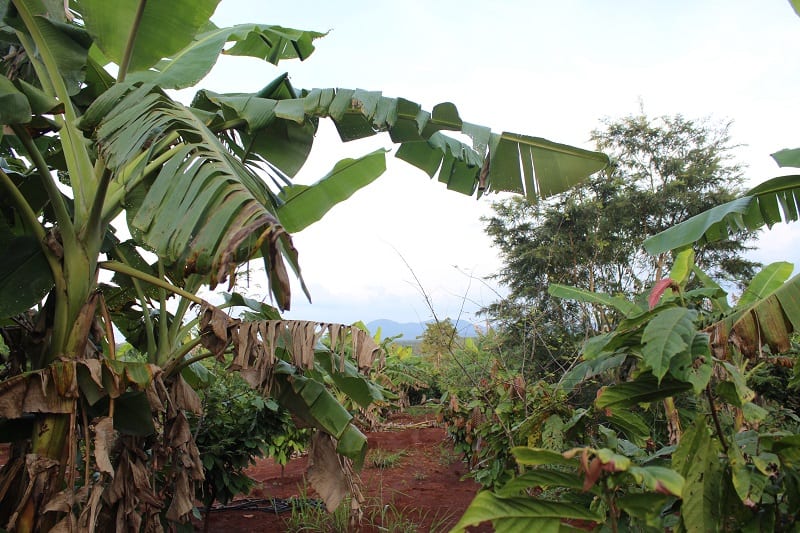 Growing Cambodian Cacao Farms
But let's start back at the beginning. KamKav Farm started as a vision, back in 2013. Stefan, one of the co-founders, moved to Cambodia specifically to start the project. He and co-founder Chanthol spent a full year studying cacao cultivation, particularly in Vietnam. That's where they sourced their first seedlings, which come from a stock of four varietals chosen because of their ideal suitability for the soil. Fast forward two years and the project is in crisis.
Their 1-year-old cacao trees are dying of thirst as a drought ravages their eastern province. El Niño weather patterns have been a problem in the region for decades, but they hit so hard that year that all but a few hundred trees were wiped out. Once those trees began to fruit, they decided to use the seeds to make more seedlings and expand their operation. Unfortunately, without proof of concept from selling processed cacao beans, it's been difficult to convince other farmers to plant.
KamKav Farm now works with 10 local farms, with most farmers under 40 years old and a fair number of females. Very few of the farmers in Mondolkiri are from the region, so from a long-term viewpoint, almost everyone there went in pursuit of a better life. Chanthol and Stefan know this could be part of that life.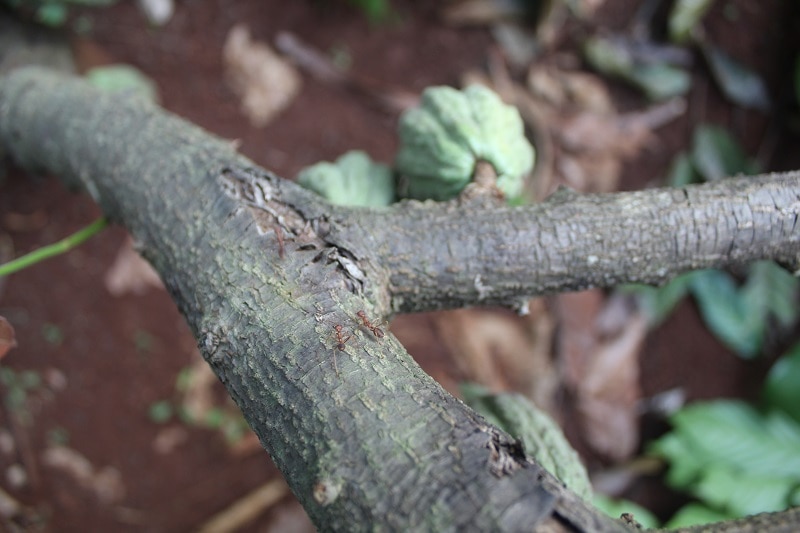 Right now, many farmers are only using their land to plant one crop, often rubber or banana or timber. The deforestation left in the wake of those choices has even changed the climate of Mondolkiri, not to mention getting rid of most of the larger wildlife. Chanthol, who's lived in the region since 2004, has said that it's only gotten hotter for longer with each passing year and each fallen tree. But reforestation is only one motivating factor.
I checked in Vietnam [in 2013], in Buon Me Thuot, and the one that really shocked me in the good sense was a cacao farmer who had 1.5 hectare coffee & 1.5 hectare cacao... and the guy had a new house, a new small family car, electricity and water, everything. And that one example, I always remember [it] when I came to Mondulkiri, because the condition is almost the same... and I think 'Oh my God, if they can live like [that] there, then it would be possible in Mondolkiri as well.'"

Stefan, Co-founder KamKav Farm
Stefan continued on to illustrate the mindset they're dealing with in Cambodia, with the story of a farmer in her seventies. She had 10 hectare of land, but remained poor because all she had planted was banana trees. Having lived through unspeakable horrors during the war and genocide and the starvation which followed, she's one of many Cambodians wary of unsubstantiated promises of a better life. She wants, no she needs you to show receipts for that potential. The fear is in her genes.
Fear Is In Their Genes
The civil war and then the genocide has had ripple effects throughout Cambodia. It would be a disservice to the country if I didn't speak of them directly. During the genocide alone, from 1975-1979, an estimated 1.5-2 million people died, not to mention those who starved during the years of dictatorship which followed. That level of prolonged fear bakes itself into your bones, and is passed on for generations. It requires an opposing culture of prolonged trust, and people willing to build it.
Chanthol and Stefan have had to alter how they present their cacao, in order to earn that trust. They keep their own farm and the operation headquarters nearby farmer partners', selling them seedlings at an affordable price and helping with any problems. Part of their mission is to shift perception toward the land as a place for long-term projects, so that farmers start looking further in the future than just the next harvest.
Even though there was no chocolate made in Cambodia until 2019, KamKav is doing their best to bring non-Cambodians to the farm, to help prove that the fine cacao market has legs. Now that their first harvest is complete, the company is looking to expand into neighboring Rathanakiri province over the next year, as the next step towards reforesting the entire region. There's a chance of expanding to other parts of the country in the future, but even after half a decade, the project is only in its infancy.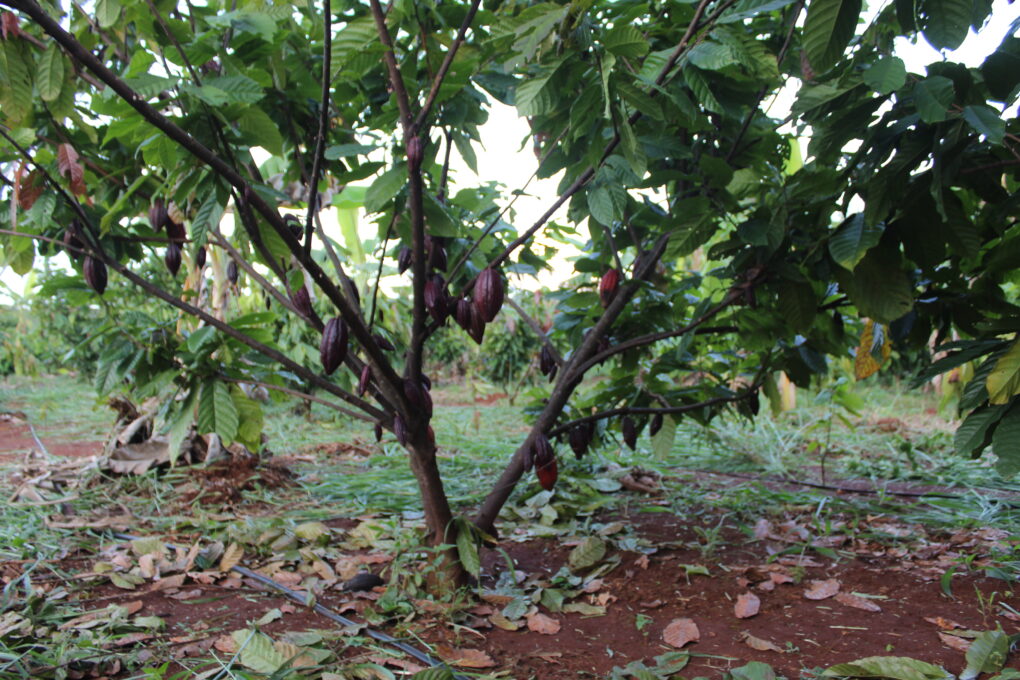 Building Cambodian Chocolate Culture
Possibly the biggest positive sign for KamKav Farm has been the establishment of the country's first bean to bar chocolate maker: Wat Chocolate. From the beginning, Wat in a larger-than-average chocolate making facility, as they already knew the motions of chocolate making; they just needed to get their hands on some local beans. Once they received their first shipment of Cambodian cacao in July 2019, they immediately began experimenting and getting to know the beans.
Shortly thereafter, farmers got to taste the first chocolate made with their cacao, many of them trying real chocolate for the first time. Most of the sweets offered in Cambodian convenience stores and bakeries are merely chocolate flavored, lending a superficial taste to Cambodians' idea of a chocolate bar. Even Chanthol from KamKav only tried the flavor of chocolate for the first time in 2008, and it would be years more before he tried a real bar of chocolate.
At $4USD each, Wat Chocolate's bars are way out of the price range of most Cambodians— for now. But luckily their surroundings of Siem Reap and Angkor Wat receive millions of visitors a year, many of whom look specifically to bring home locally-made products from their visit. On top of straightforward dark chocolate bars, they're also offering locally-inspired flavors like Salted Peppercorn and Crunchy Peanut, with more Khmer expressions on the way.
While they hope to employ a much larger team in the future, the 3 of them & their eastern cacao source are doing quite a fine job on their own.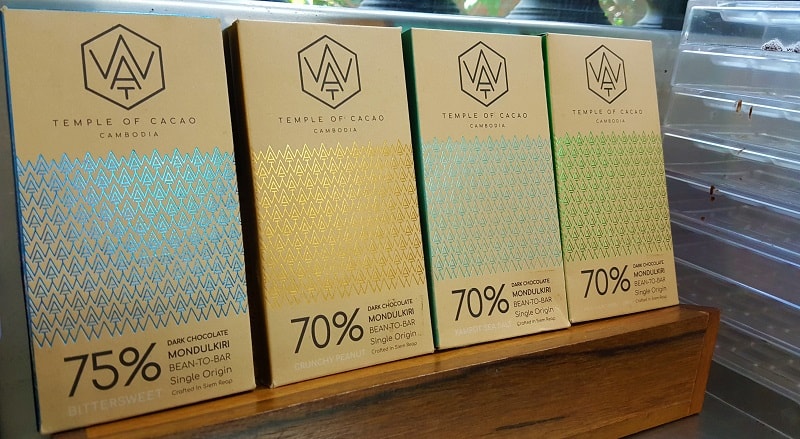 The Future of Chocolate in Cambodia
When I was on the minibus to Mondolkiri, I ended up in conversation with a young Cambodian woman. She spoke in American-accented English and just graduated from University last year, and she was born and raised in Mondolkiri. She comes from a small community that is an ethnic minority in Cambodia, and knows the closed-mindedness that can come from not being exposed to ideas from outside. So as part of her volunteer work, she travels there to do job training and cultivate potential in girls who share her background.
She once learned that it just takes one person to turn your perspective upside down and lengthen your vision from one year in the future to a whole lifetime, and then generations beyond. This is the kind of impact KamKav hopes to have on their farmer partners. It's the reason why protecting the good name of Cambodian cacao is so important, and must be a group effort because it will be a group benefit.
Hopefully an ongoing business doing good for both the economy and the environment will prove to other young people what good they can do in the area. Because as Cambodians begin to look more towards the future, they picture it as bright & as full of life as far as they let themselves.
If you're interested in purchasing samples of Cambodian cacao beans, feel free to reach out to co-founder Chanthol Chean, at chanthol[at]cfarm.asia.