Podcast: Play in new window | Download
"When you already have a product, you now have a story to tell about how this product came to be & where it all started."

-Wit Holganza
Most countries around the world have more than one small-batch chocolate maker. In fact, you can make chocolate anywhere you can find electricity to power the proper machinery. Those raw materials of cacao beans & cane sugar (the most common sweetener), however, are only cultivated in the tropics. So why isn't more chocolate made in the tropics?
It comes down largely to money. But in the fine chocolate industry, there is a slow shift in interest within countries of origin to be making their own chocolate. Beyond doing all the work of raising and processing the cacao, they also want to be able to reap the rewards of making & selling chocolate.
In this episode, we hear two related stories about cacao in the Philippines, talking to 3 tree to bar chocolate makers about the many steps involved in making chocolate from the cacao bean to a finished product. But beyond that, we take a long hard look at what's next for cacao farmers, and how to make that future happen sustainably.
To read the article version of this episode, click here.
Topics We Cover
Chocolate making and traditional cocoa processing in the Philippines
The history of Eyeth & Nhel's farm, and what it's like to farm cacao in Davao City, Philippines
The 5 phases of tree to bar chocolate
The struggles and joys of growing a chocolate business in a developing country
How agrotourism can & should play a role in developing interesting fine, local chocolate
Show Timeline
0:00-2:57~ Background on the location of interviews & today's topic
2:57-12:00~ Phase 1 of tree to bar chocolate (cacao cultivation & harvest)
12:oo-16:41~ Phase 2 of tree to bar chocolate (post-harvest processing of cacao)
16:41-22:20~ Phase 3 of tree to bar chocolate (actually making the chocolate)
22:20-24:25~ The struggles of being a chocolate maker in a developing country
24:25-36:15~ Agrotourism in Davao City and on working cacao farms in general
36:15-38:05~ Final thoughts
More About Our Guests
Eyeth & Nhel Belviz: founders of Rosario's Chocolates in Davao City, Minadanao, Philippines, where they run a cacao & durian farm started by Nhel's parents in the 1970's. Check out Rosario's Chocolates' Instagram, and buy their products in one of their small stands in Davao city or at the Pasalubong center in downtown Davao.
Wit Holganza: manager & farm architect at Gran Verde Family Farm, started by her parents in the 1960's. There she grows cacao & other local fruits, which she then sells or turns into value-added products. Check out Gran Verde's Facebook and Instagram to stay up to date on events & new products.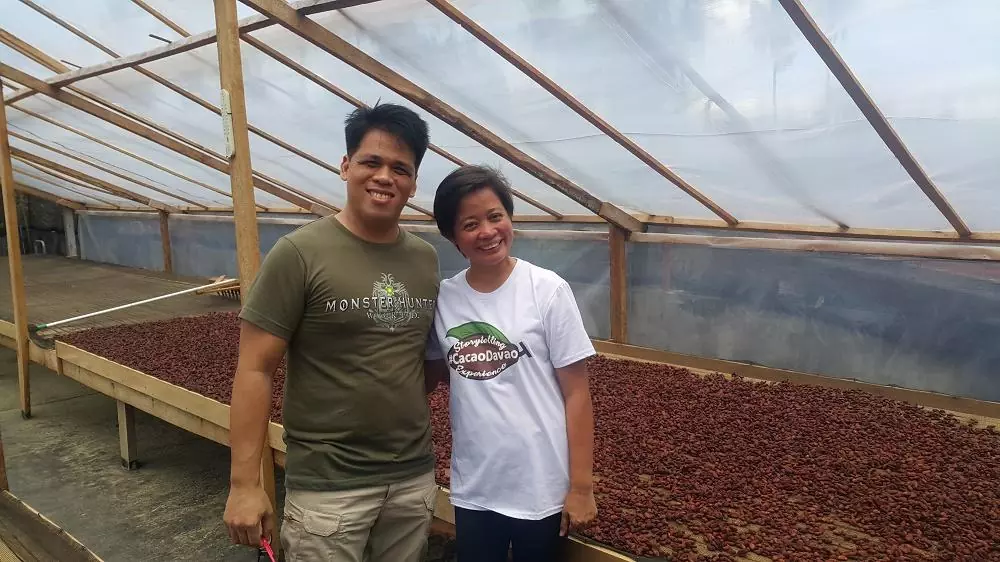 Connect With Chocolate On The Road
On Instagram: @chocolateontheroad
On Facebook: @chocolateontheroad
Show music is Roadtrip by Phil Reavis, and our transition music is We're Gonna Be Around by People Like Us.
To listen to the previous episode, click here.