Looking to satisfy your sweet tooth this Halloween? Whether you're hosting a haunted gathering or spooking trick or treater's taste buds with spine-chilling sweets, these devilishly delectable delights are bound to make this spooky season truly spell-binding.
From enchanting cupcakes to ghoulish cookies, I've conjured up a bewitching array of desserts fit for your Halloween table or trick or treat goodie bag. This selection of 50+ Halloween desserts will surely leave you shrieking for more. Read on!
Spooky season is upon us, which means it's time to make all things Halloween! So get into the Halloween spirit and try making these fun Halloween treats!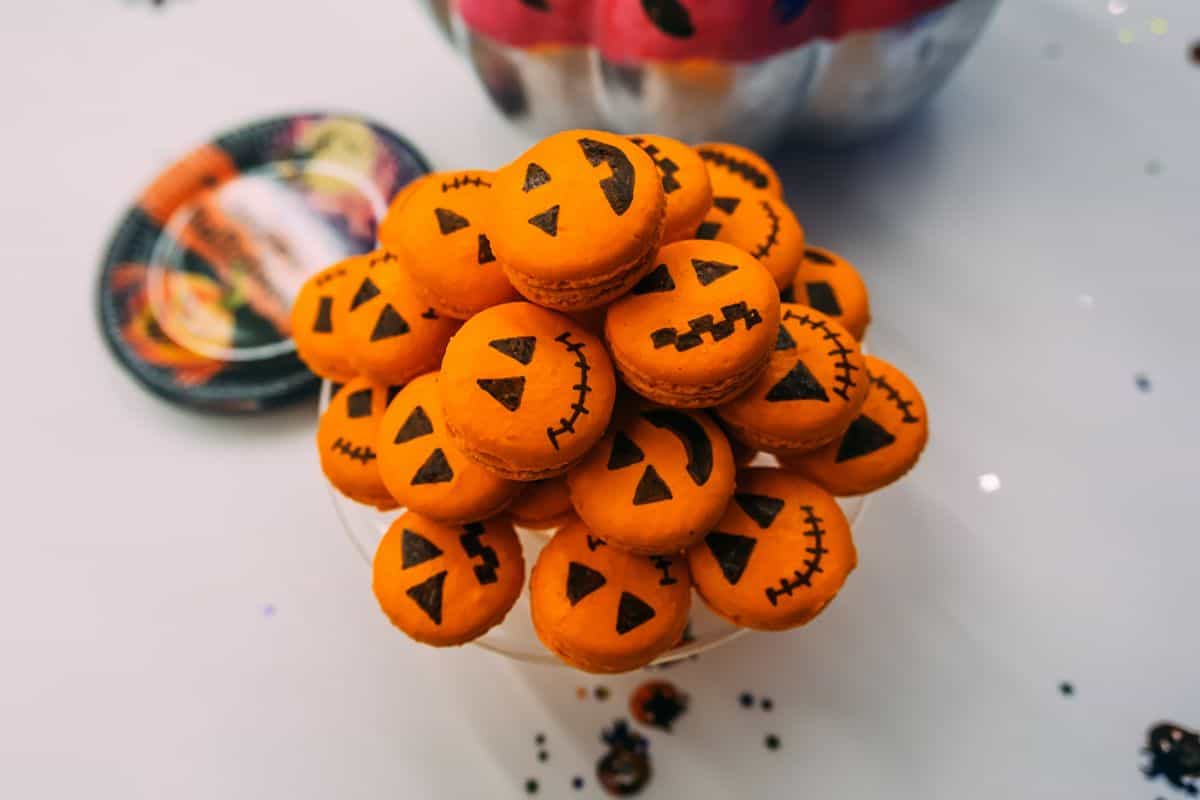 Jump to:
Kid-Friendly Halloween Snacks
Easy Ghost Halloween Pretzel Rods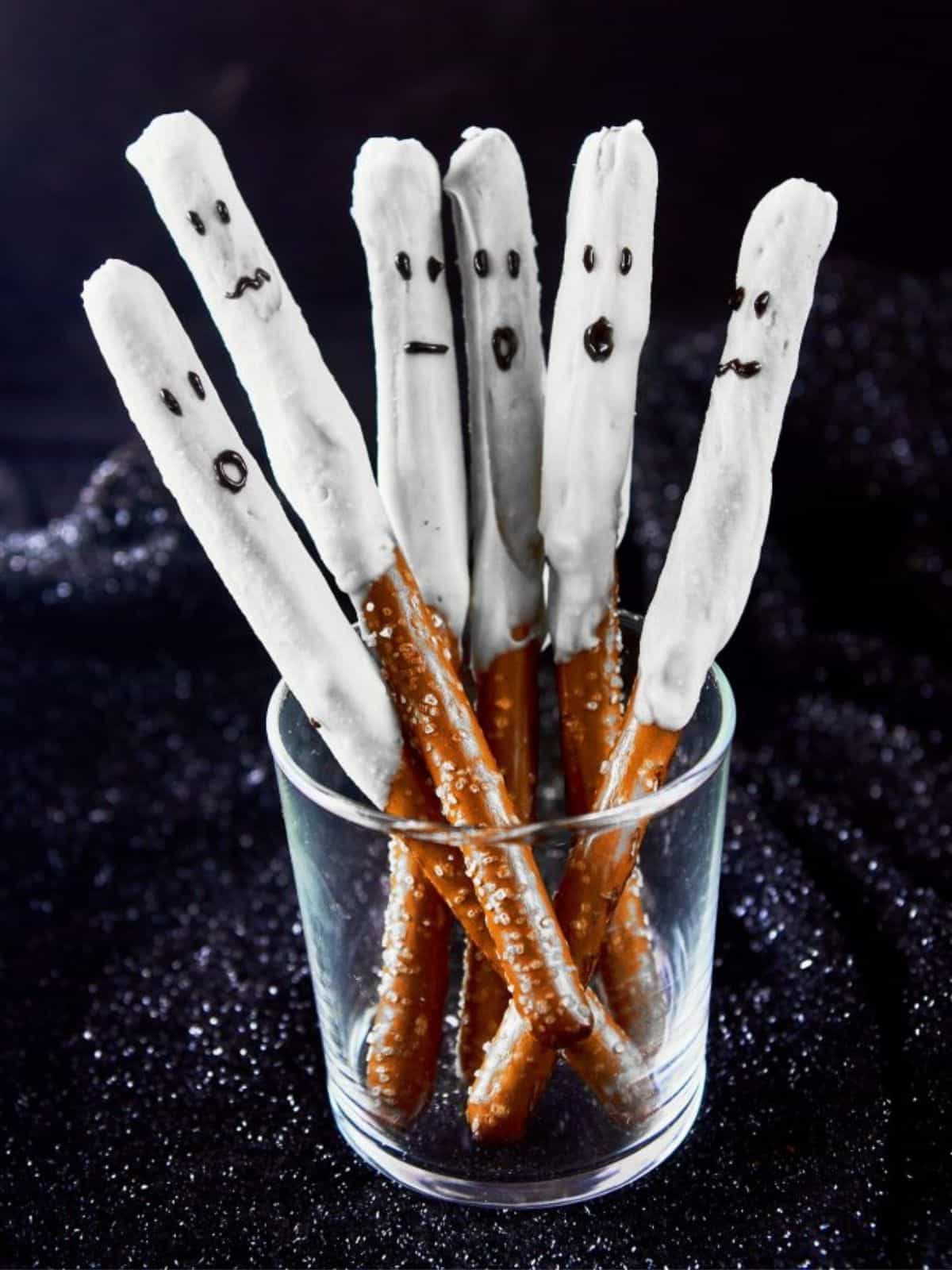 These ghost Halloween pretzels rods are so cute and easy to make. Plus it's an easy Halloween activity for kids during this festive season. Simply melt white chocolate, dip pretzel rods and decorate with faces.
With the perfect blend of salty and sweet, both kids and adults won't be able to resist munching on these vegan and ghoulish home-made "pepero" at your spooky gathering.
Kid-friendly Halloween Snack Board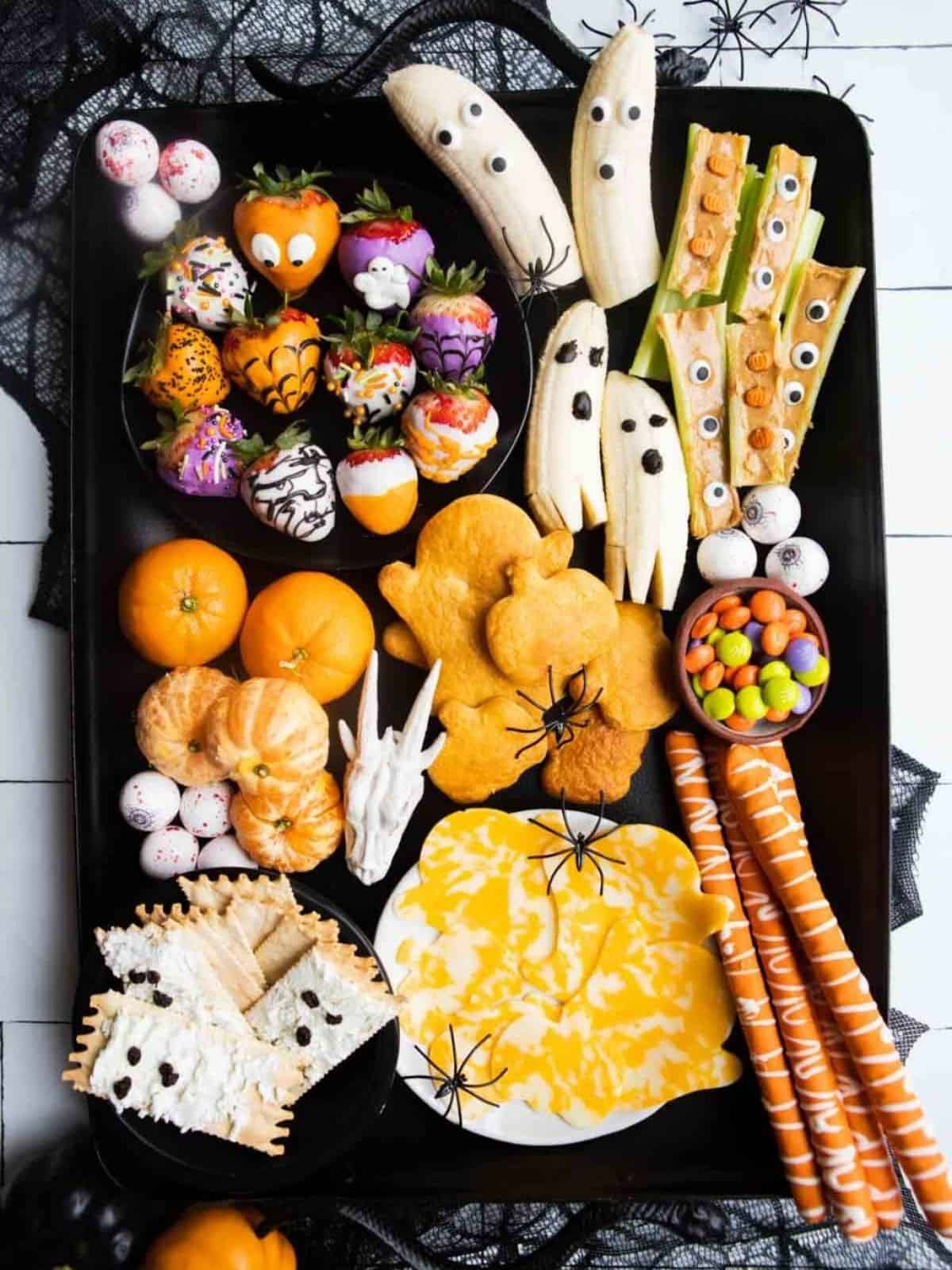 I've always been a fan of graze and charcuterie boards, ever since I can remember. This kid-friendly Halloween snack board will surely make All Hallow's Eve more spectacular.
With a good mix of sweet and salty snacks, it's a kid-approved festive snack board that's enchanting and delicious for oodles of Halloween fun. Make your own fun Halloween board this spooky season. Feel free to whip up your favorite tried and tested Halloween cookie recipes for this.
Halloween Rice Krispies Treat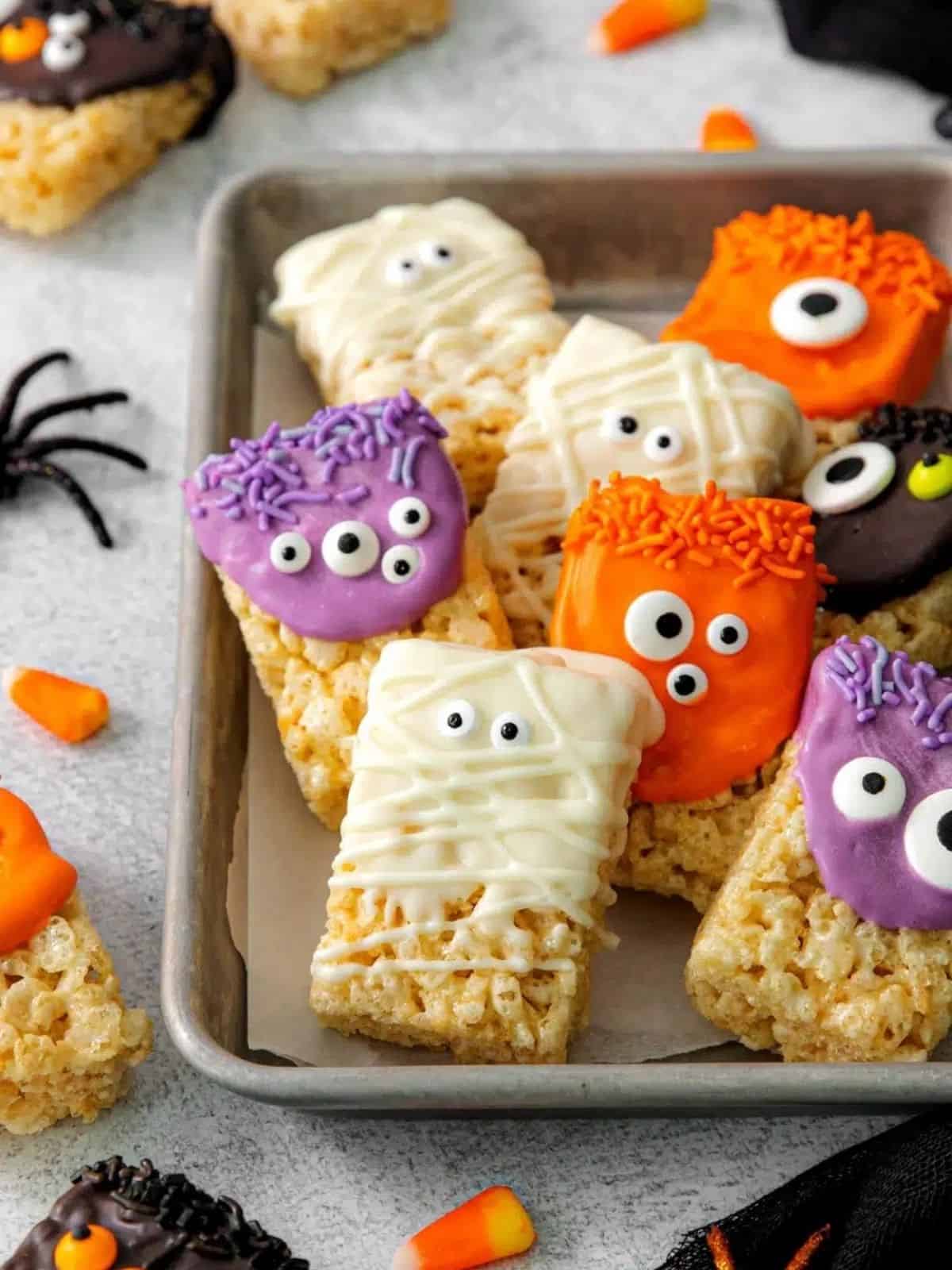 These rice krispies treats are a super fun and cute Halloween treat! Made from scratch or a box of store-bought rice krispies then you can add some frighteningly fun details to these sweets that lean more towards cute than creepy.
Made for a spooktacular party or as wonderful home made trick or treat candy. These perfectly edible spooky snacks are a delicious treat for any little witch or wizard.
Jack-O-Lantern Twinkies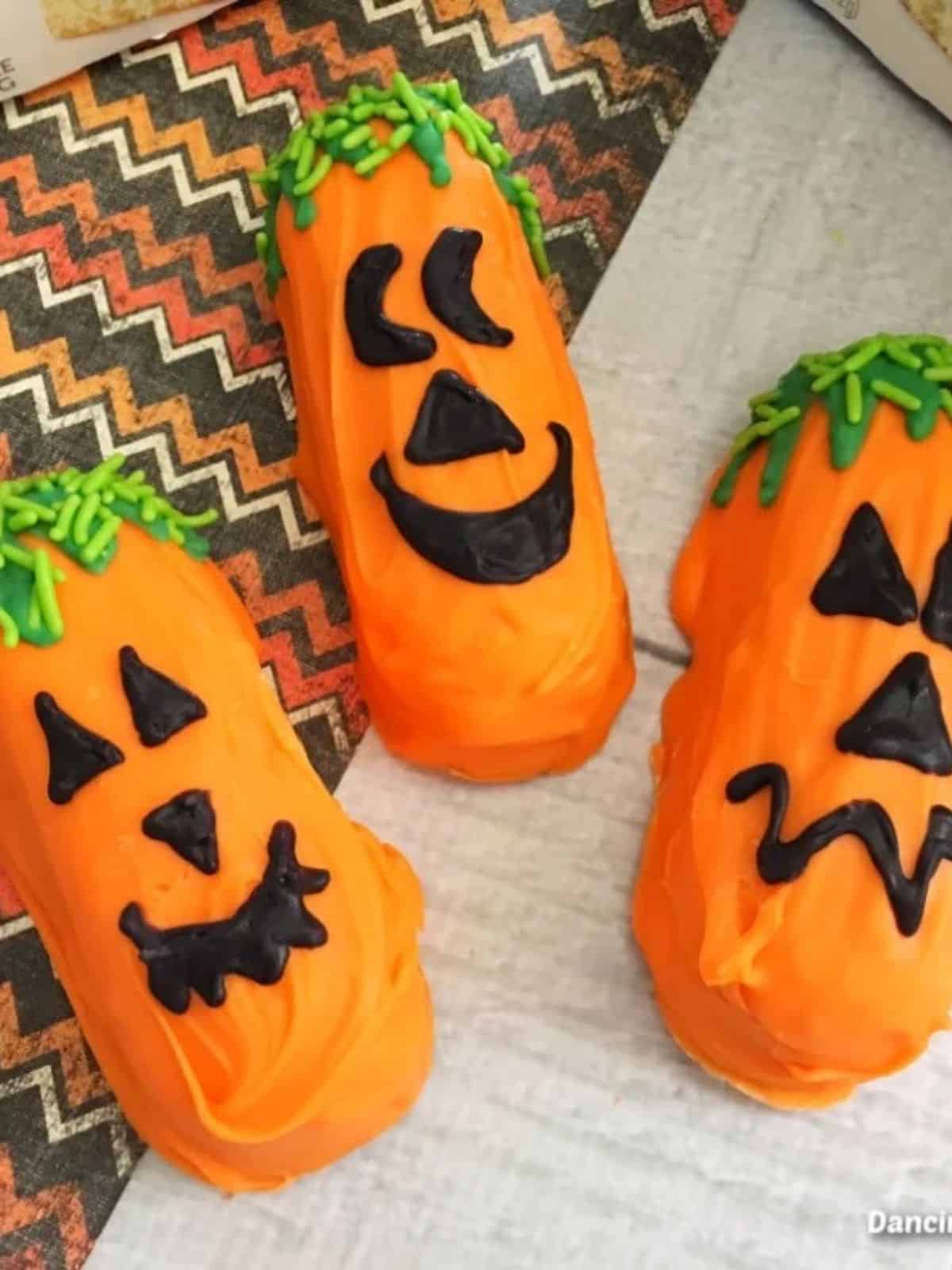 Have you heard? Your Twinkies want to dress up for Halloween as well. Try these no bake Halloween Jack O' Lantern twinkies if you want an easy Halloween dessert to make.
These joyful Jack 'O' Lantern Halloween snacks, with tasty cream filling and orange, green, and black candy melts, are a fantastic Halloween party food or school treat. Serve them at your next Halloween party for something a little more yummy and less creepy!
Mummy Oreo Truffles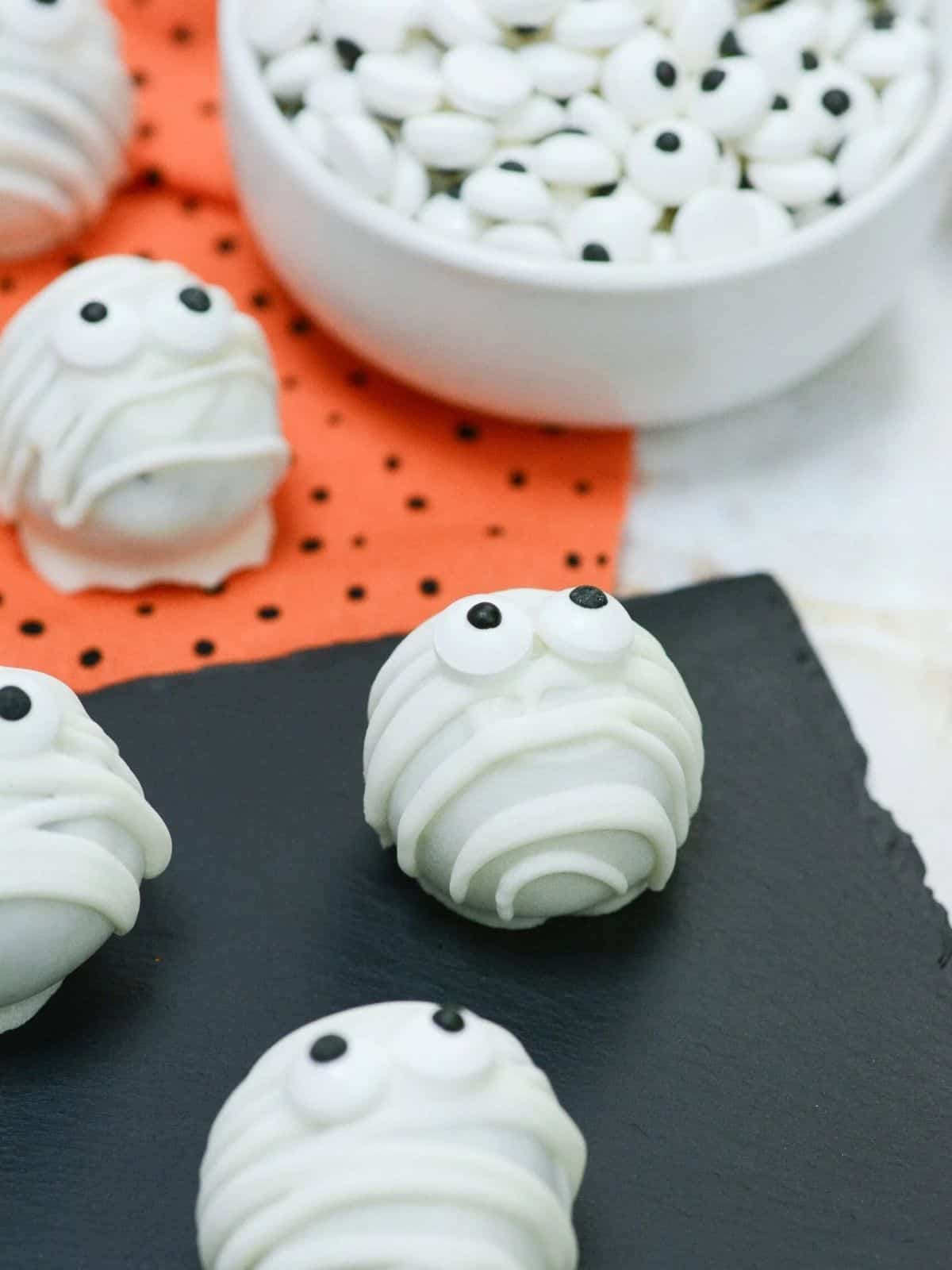 These mummy-inspired truffles are almost too cute to consume, almost. Only four ingredients are needed to make these easy and cute mummy oreo truffles for Halloween.
Additionally, it's an easy, make ahead recipe that's also great for another Halloween baking activity with the kids. No need to turn on the oven for this recipe. Make them in advance and with the kids to feed the trick or treaters.
Ghost Halloween Rice Krispies Treat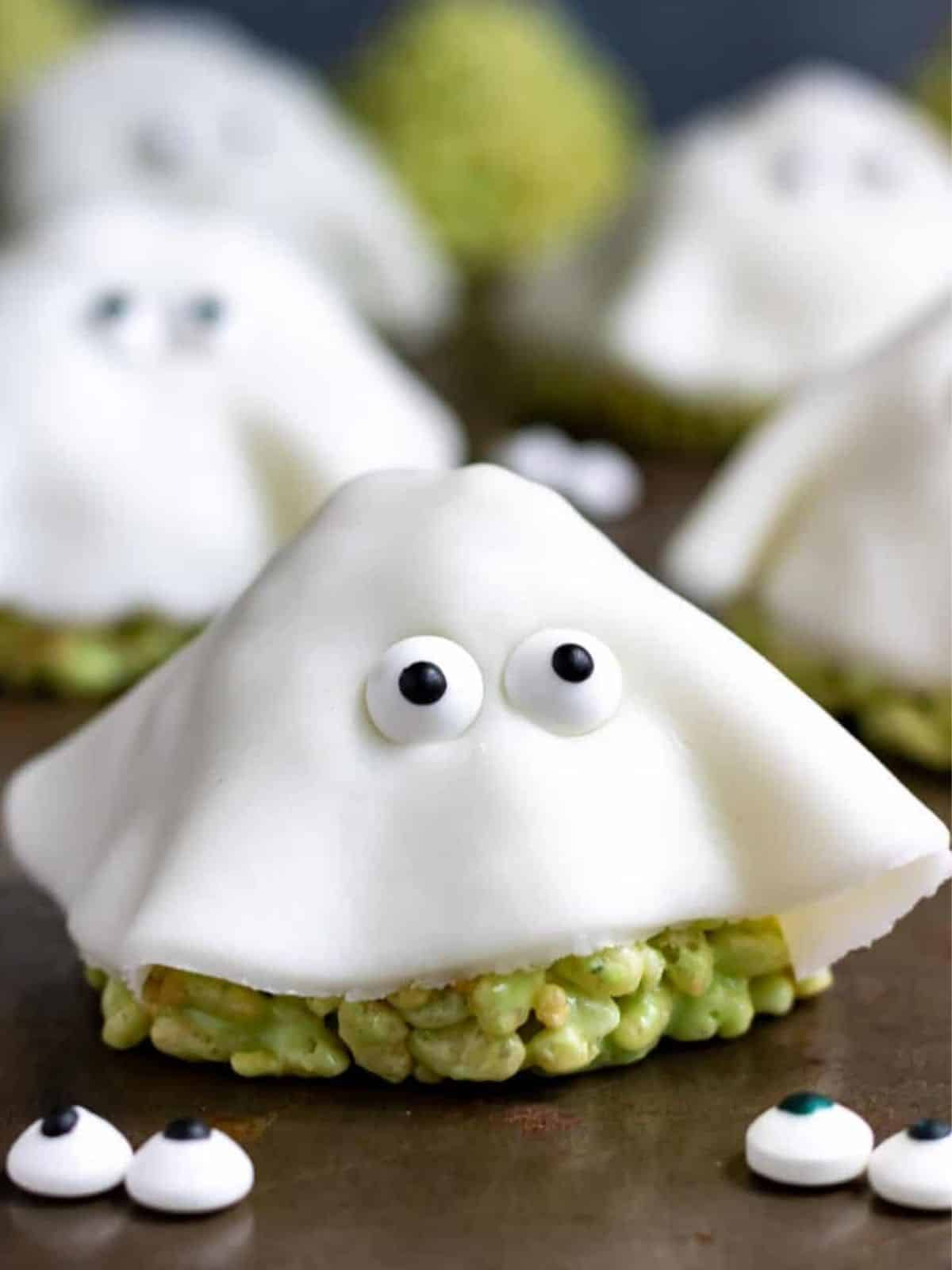 These ghost Halloween rice krispie treats are a ghoulishly sweet twist on classic rice krispies snacks. This unique recipe transforms the basic flavor of rice krispies treats into spooky ghosts.
To make the ghosts come to life, a layer of white fondant is delicately placed over rice Krispie treats and topped with creepy eyes. Enjoy the eerie elegance of these all-time kids' snacks that are almost too adorable to eat!
Halloween Trail Mix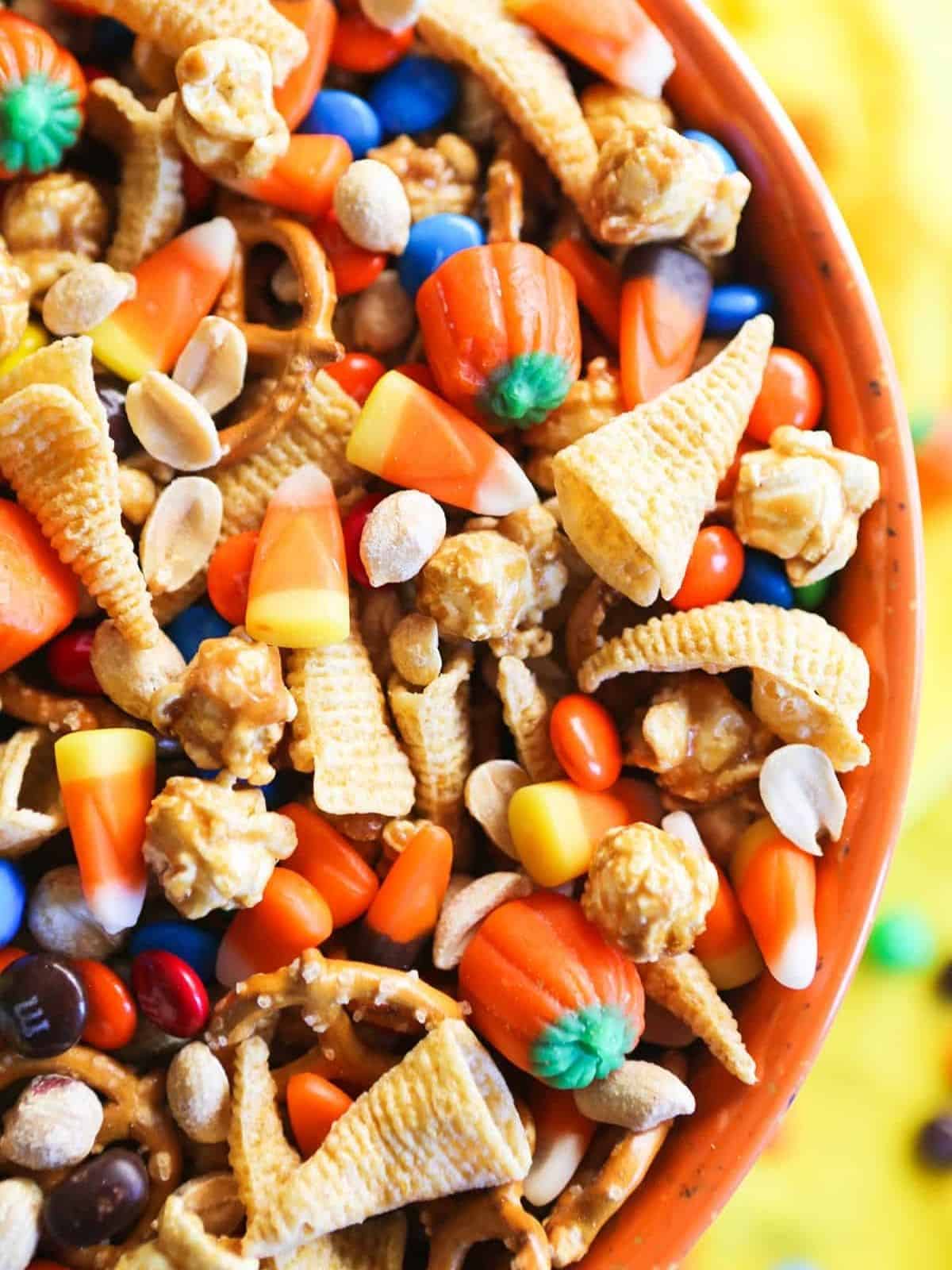 I'm all about celebrating Halloween with an equal amount of spooky goodies and fun whimsical treats. Not all the recipes need baking skills and oven power. This Halloween snack mix is a great snack to have on hand.
Use pretzels, chex mix, classic chocolate chips or colorful candies like M&Ms, caramel popcorn, and any kind of fall or Halloween themed treats. With only 6 ingredients and 10 minutes of your time, they're a sweet and festive addition to any fall feast.
Halloween Chocolate Treats
No-Cook, 2-Ingredient Chocolate Truffles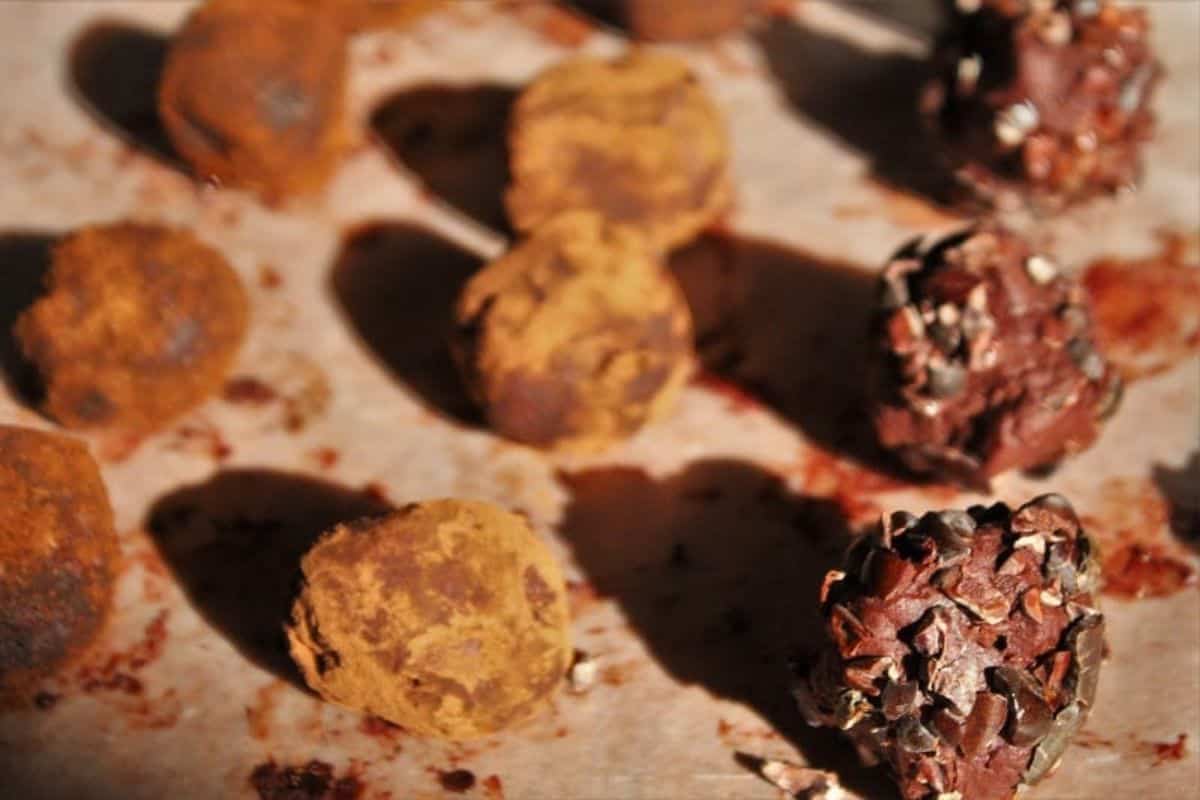 They're not spooky but, these no-bake truffles deserve a spot on your eerie spread. The result of almost two decades of recipe development are these no-cook, 2-ingredient chocolate truffles that you can fully customize to suit your fancy.
My truffles are such an easy, delicious and sophisticated treat to make for any season. I love coating them in chopped nuts, more chocolate or even cacao nibs. If you've got nibs in your pantry and are looking for more ways to use them, here are even more cacao nibs recipes for you to try!
6-Ingredient Dairy Free Dirt Cups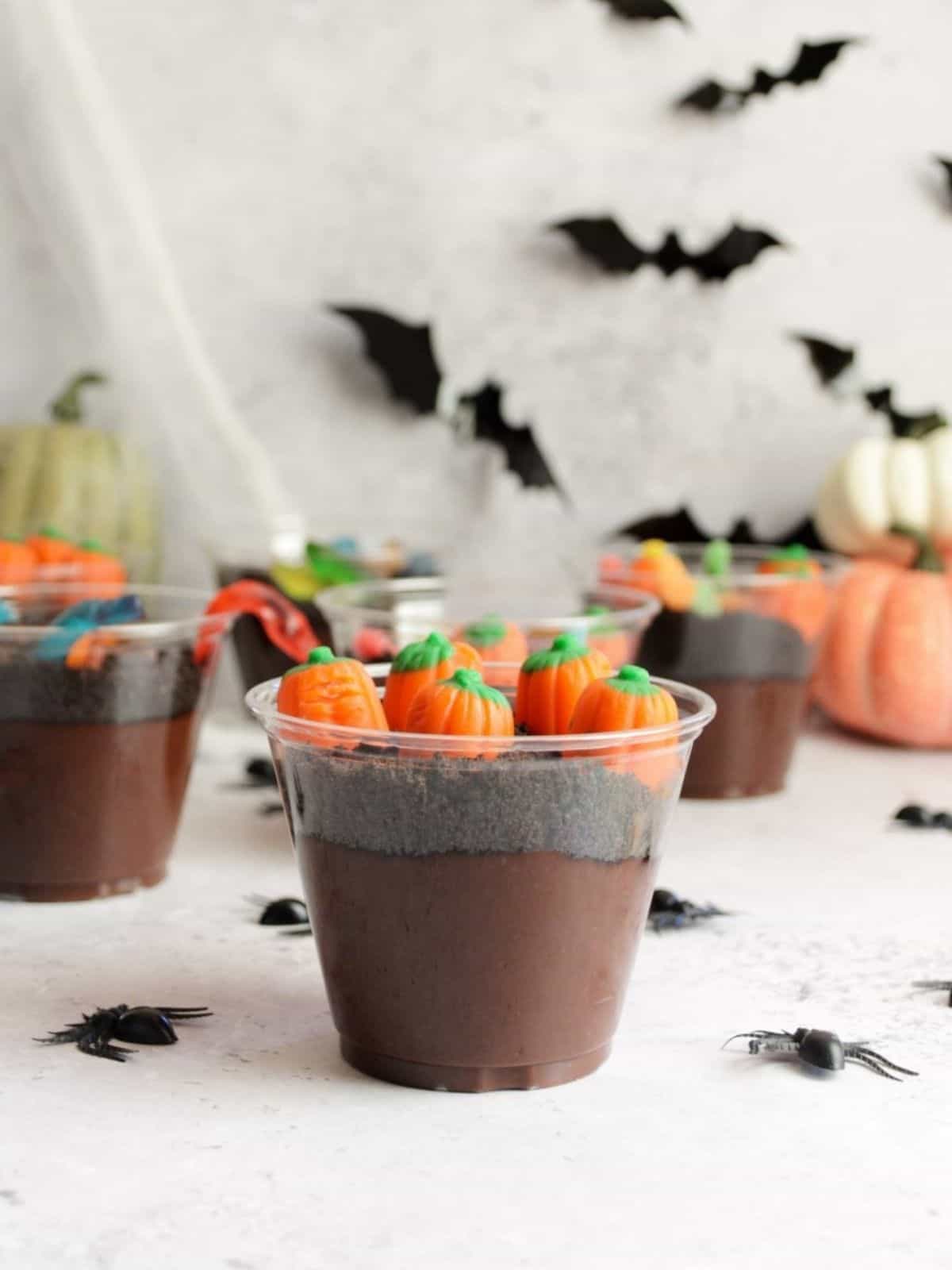 ​​These dairy-free dirt cups are a fall classic, with creamy chocolate pudding and crunchy Oreo cookies, there's nothing better! These dirt cups are made with homemade vegan pudding that's ready in 15 minutes, classic Oreos (did you know that they're dairy-free?!), and vegan gummy worms!
The dairy-free chocolate pudding is so much better than store-bought pudding. Topped with the cute gummies, this is a winning recipe right here.
Haunted Halloween Brownie Brittle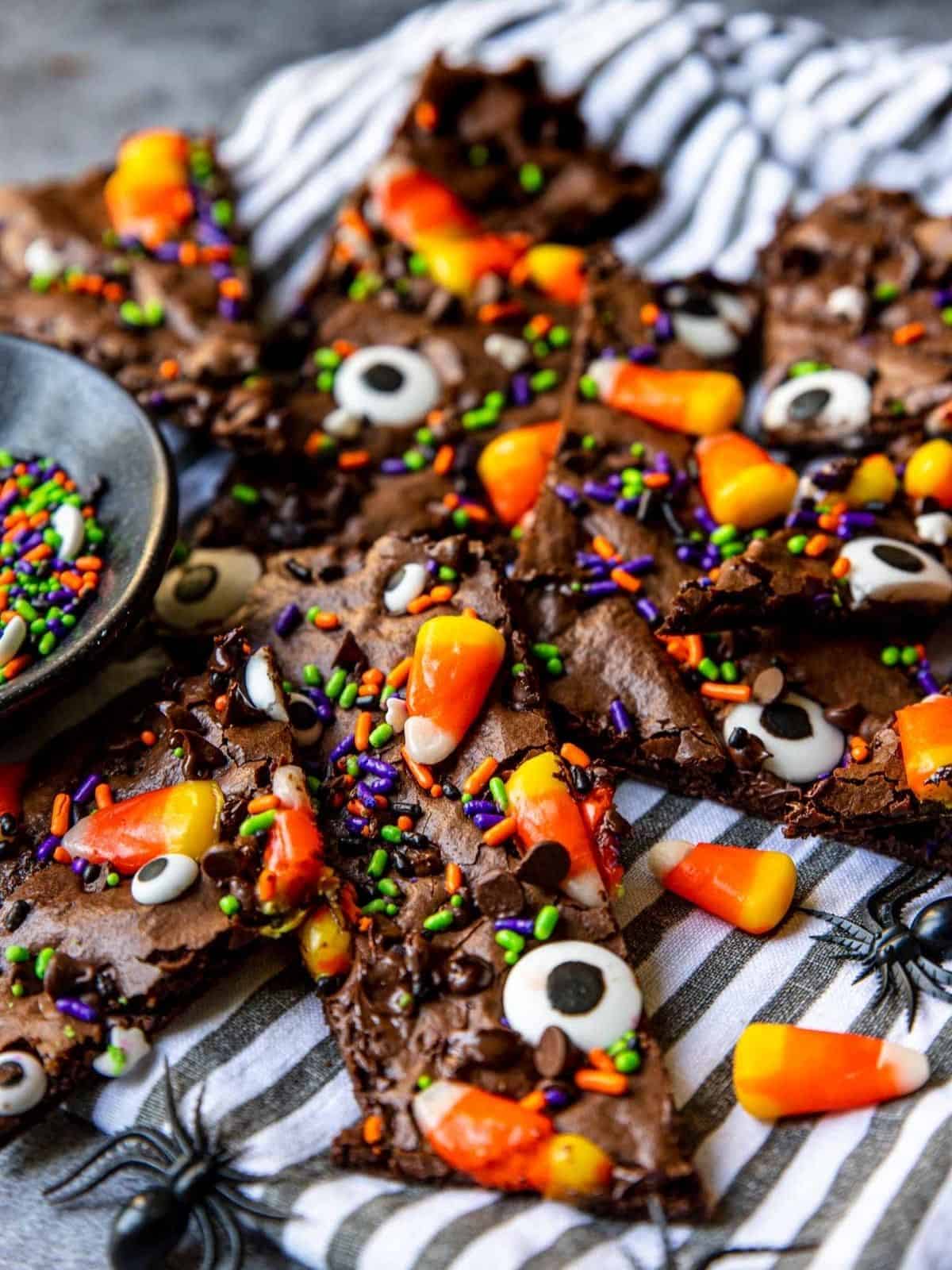 Halloween brownie brittle is a crunchy, chocolaty, and delectable treat dressed for the occasion. With three types of chocolate ingredients: cocoa powder, bittersweet chocolate, and micro chocolate chips, this brownie brittle recipe gives you supreme chocolate goodness and extra crunch.
On the brittle, you can use edible candy eyeballs, Halloween sprinkles, candy corn, or anything you have in your cupboard or can find at the grocery store. Transform crisp brownie brittle into eerie sweet treats for a delightful, festive way to celebrate Halloween!
Halloween Rocky Road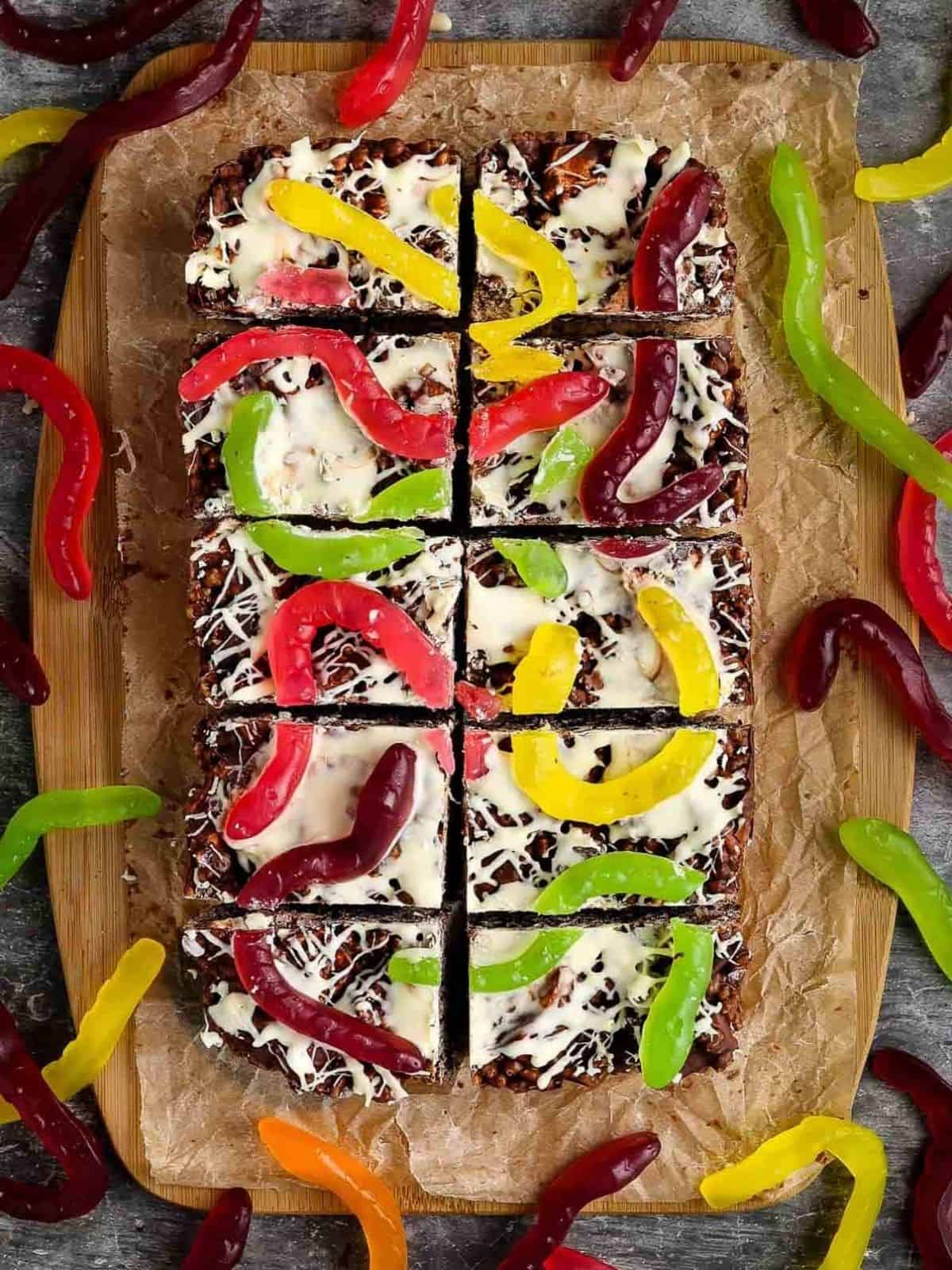 Halloween rocky road is a fun and delicious sweet treat for the season of spook. Dark and milk chocolate are mixed together with rice bubble cereal, marshmallows, and snake lollipops then decorated with a spider web of melted white chocolate and creepy crawlies (gummy worms)!
This recipe requires tempering chocolate. If you have not melted chocolate before, here's how to go about it step-by-step. Chocolate lovers will enjoy this no-bake treat.
Mummy Brownies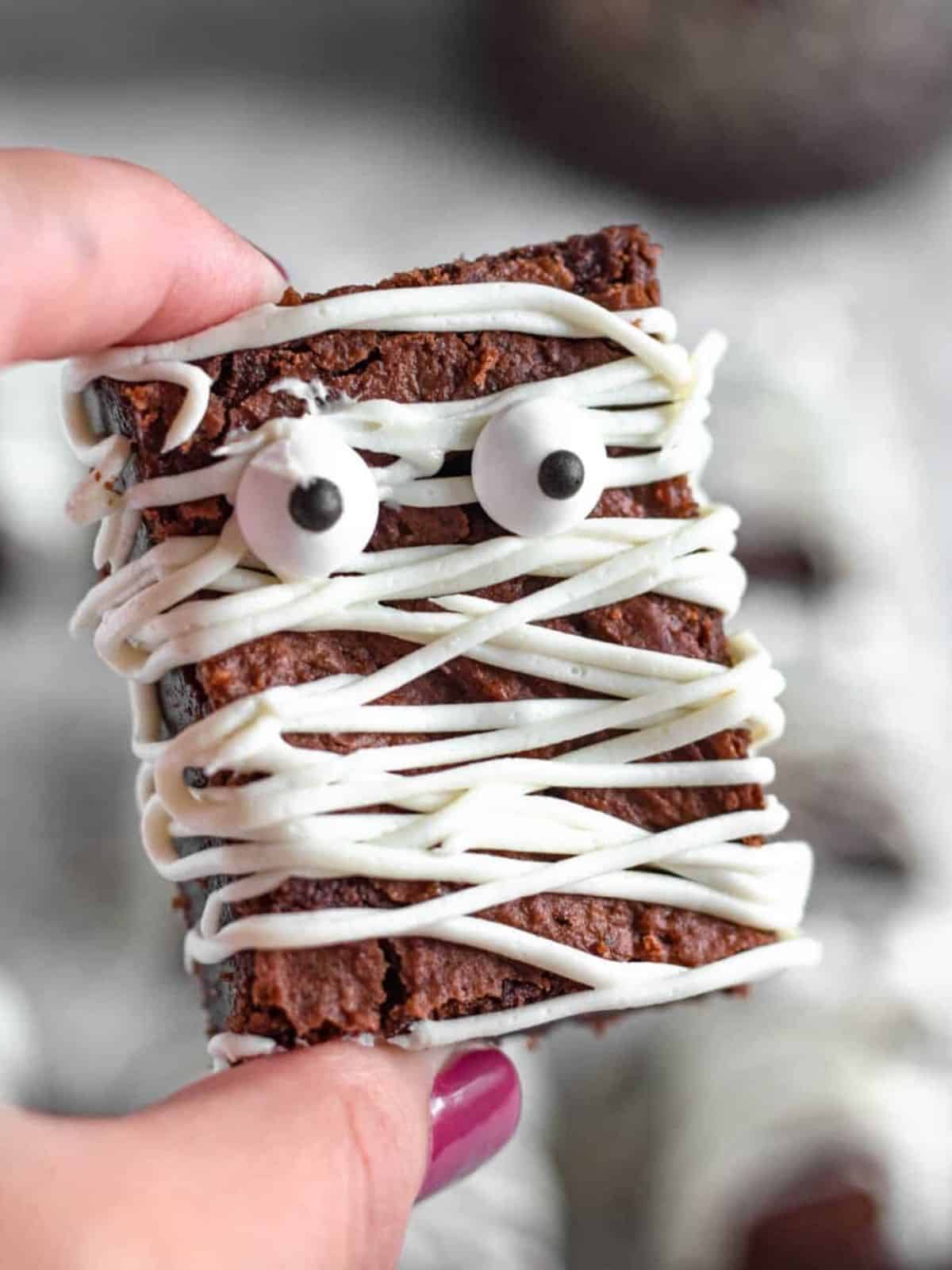 Indulge in mummy mystic flair with these eye-catching and delicious mummy brownies. With a classic brownie recipe, white chocolate frosting, and candy eyes, turn simple brownies into these adorable Halloween brownies in the shape of a mummy!
This Halloween dessert is the perfect festive, tasty, and fun treat for your Halloween celebration.
Eggless Chocolate Mousse Graveyards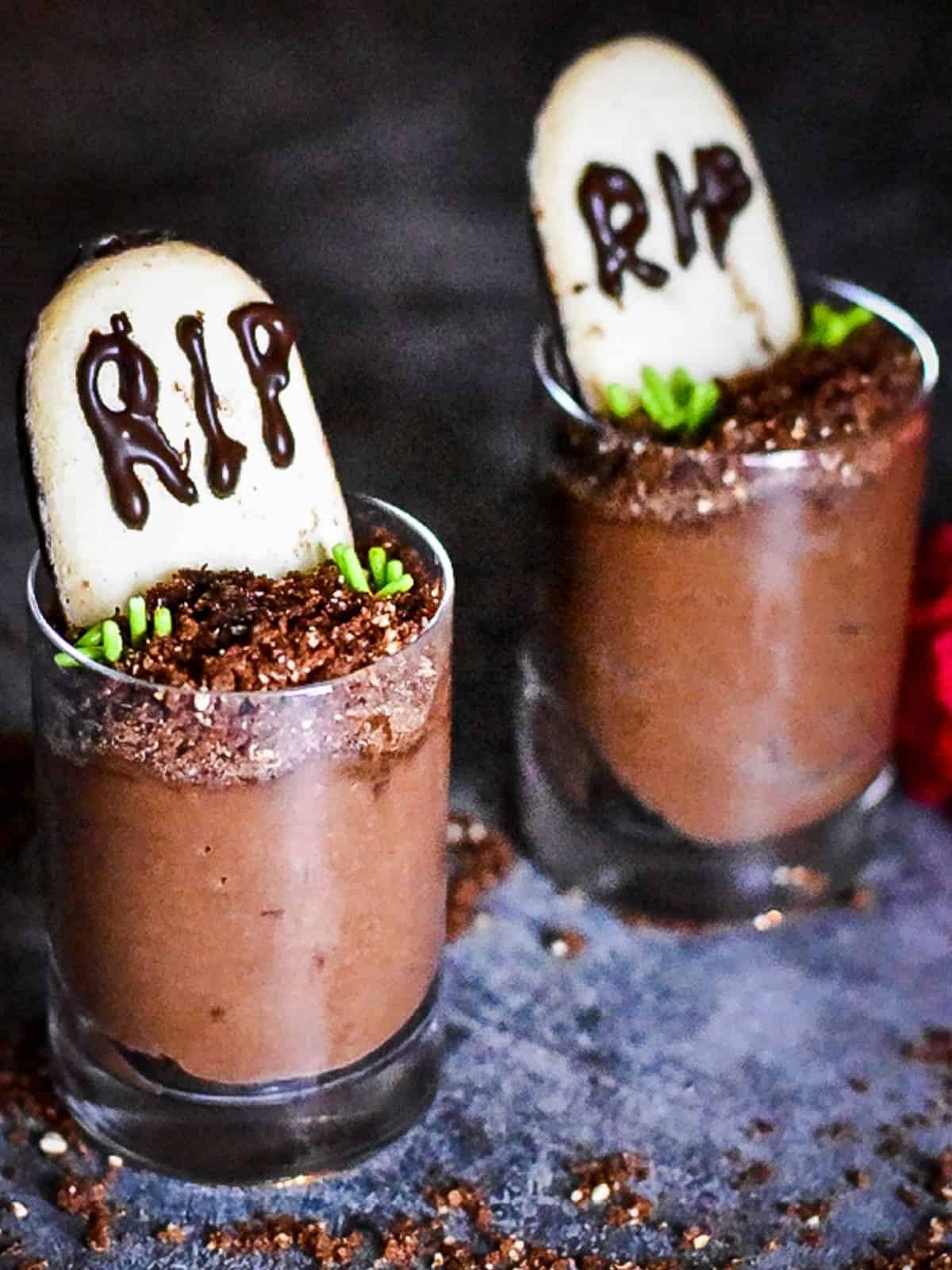 Summon the delicious darkness with this decadent chocolate mousse recipe. Rich, decadent, and silky-smooth mousse in shot glasses topped with chocolate cookie dirt and vanilla cookie gravestones make for the perfect Halloween sweet ending.
Whip up this no-bake, eggless, and fuss-free dessert for some family fun this season!
Creepy Halloween Cakes and Cupcakes
Ghost Cupcakes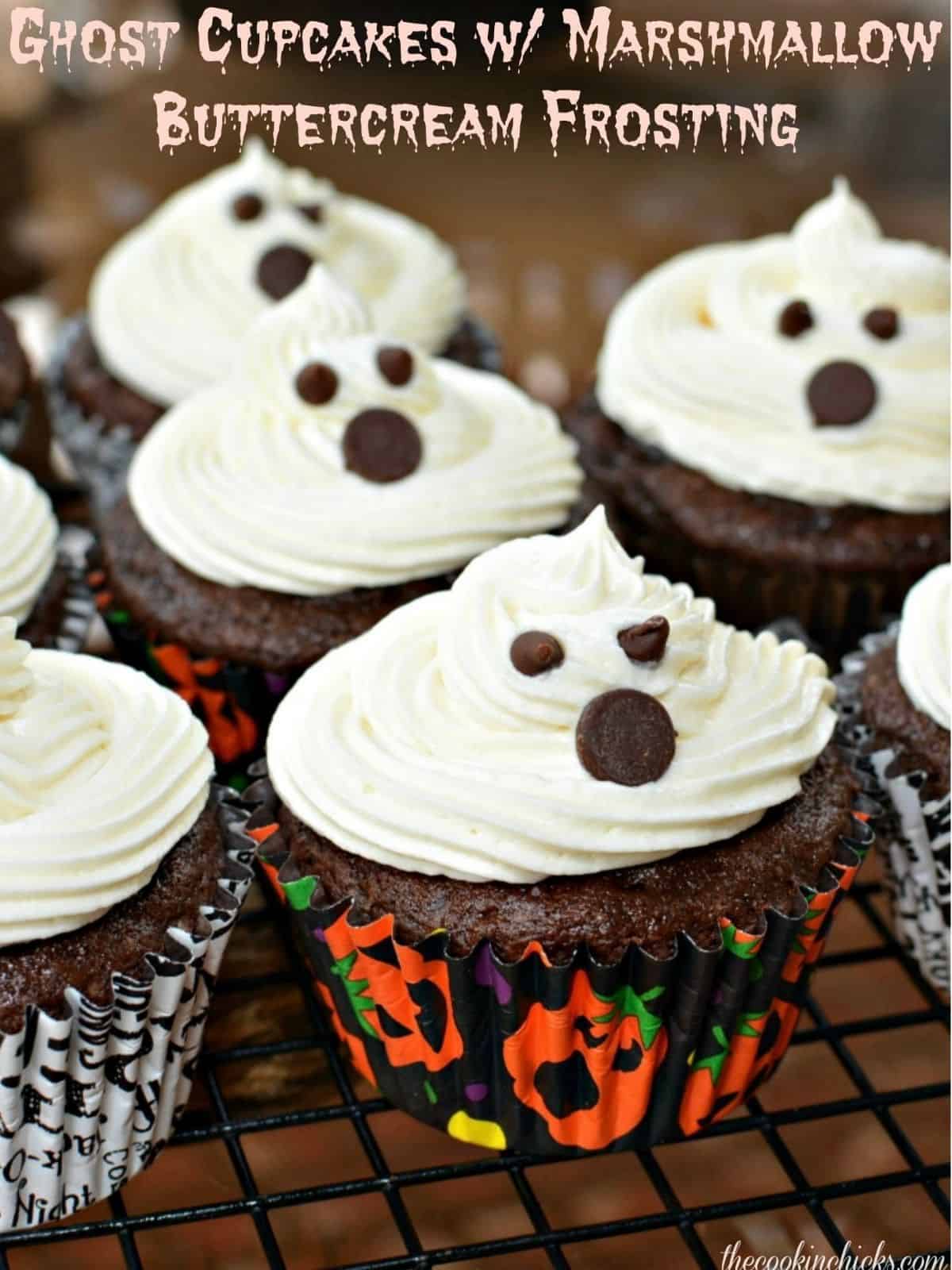 Delight in the whimsy of edible ghost cupcakes with marshmallow buttercream frosting that are sure to haunt your dessert dreams. With a delectably fudgy chocolate cupcake base, and a sweet and velvety white marshmallow buttercream frosting, this Halloween dessert will be the best-tasting treat in spooky town.
My fave part is the icing recipe that's not excessively sweet and tastes like a giant marshmallow. Add some adorable decorations and you've got yourself a smash hit Halloween dessert!
Frankenstein Cupcakes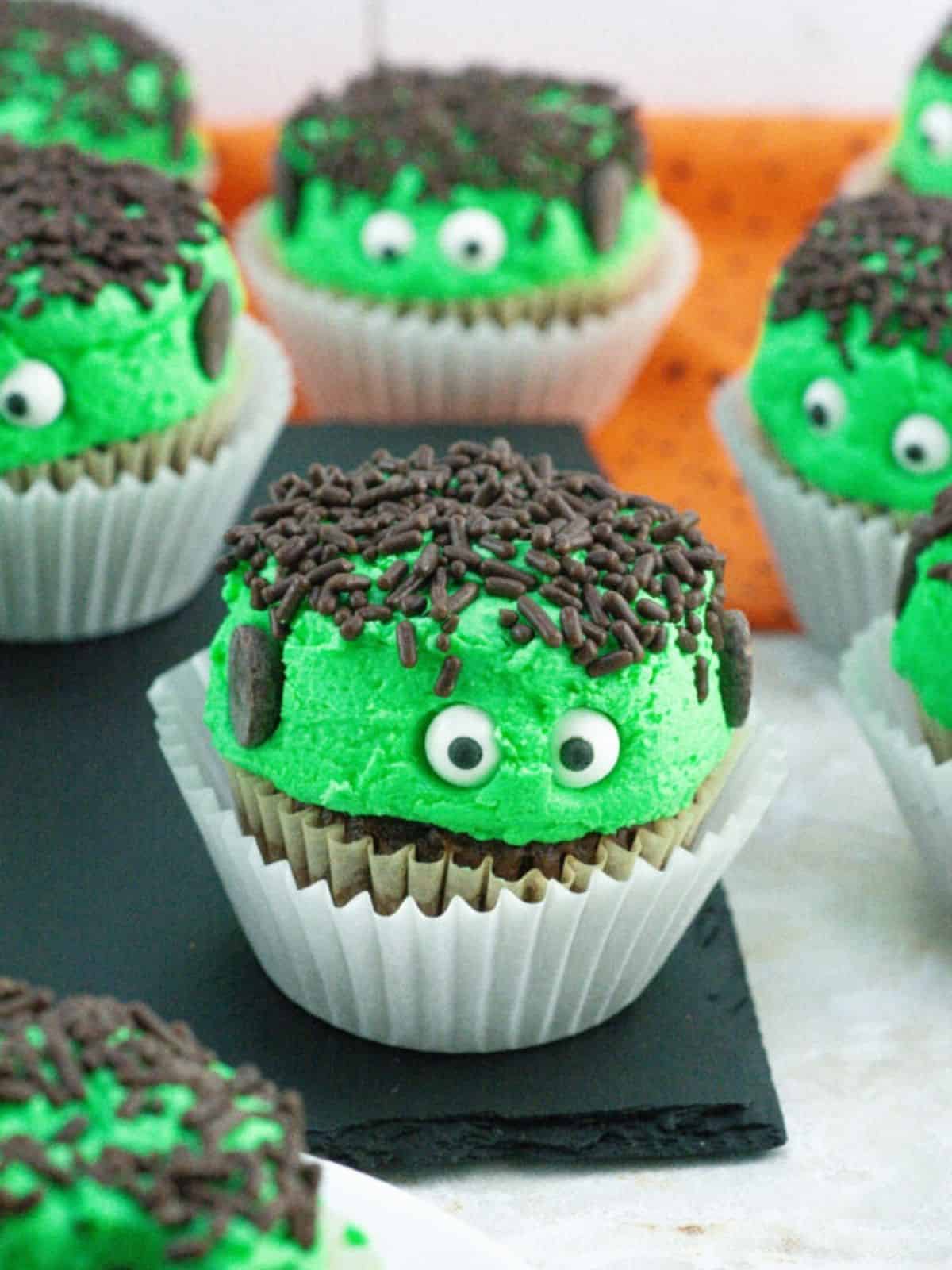 Indulge in horrific joy with this electrifying spooky creation - Frankenstein cupcakes. Start with a tasty chocolate cupcake base then frost the top with green icing will thrill all your spooky guests. Best of all, they're incredibly easy to make.
Unleash your inner mad scientist in the kitchen as you bake these monster cupcakes, loaded with a burst of creativity worthy of Dr. Frankenstein!
Bleeding Black Cupcakes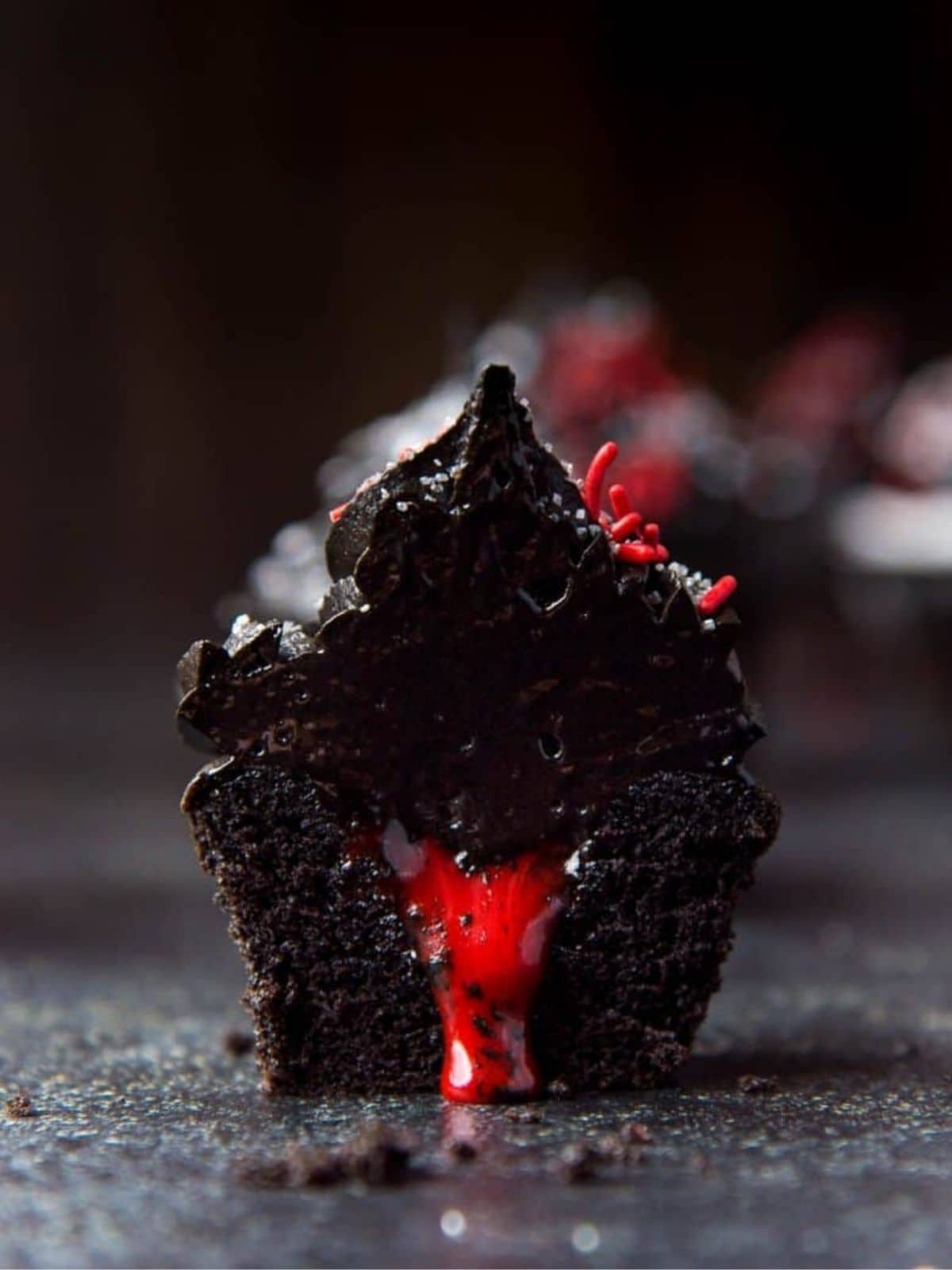 Indulge in the darkness of these delectable bleeding black cupcakes this Halloween. Dark chocolate cupcakes filled with rose-flavored white chocolate ganache that will ooze out like blood when bitten into.
What's more, it's topped with a delicious black-tinted chocolate buttercream. Swap black cocoa powder for Dutch processed to achieve that hauntingly beautiful darkness to these cupcakes.
Halloween Cake Pops Recipe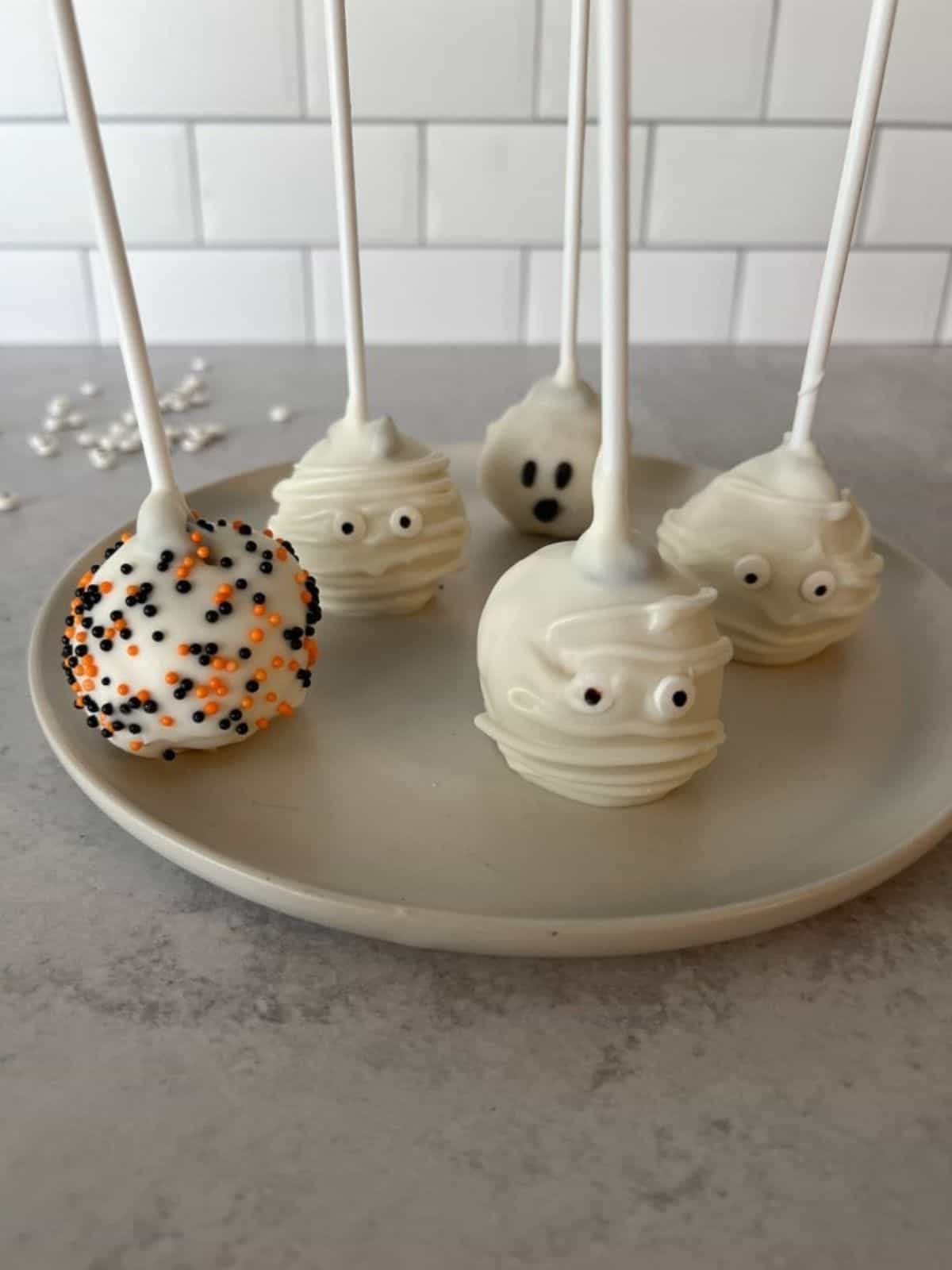 Who doesn't love buttery yellow (or chocolate) cake mashed into small balls then dipped in chocolate? Cake pops for Halloween are a no-brainer. They're simple and you can transform them into eerie sweet treats.
While boxed cakes are quick and easy, feel free to use your go-to cake recipe. But make sure you try making the honey, yogurt, and cream cheese frosting in this recipe rather than using the store-bought kind.
Ghost Graveyard Cake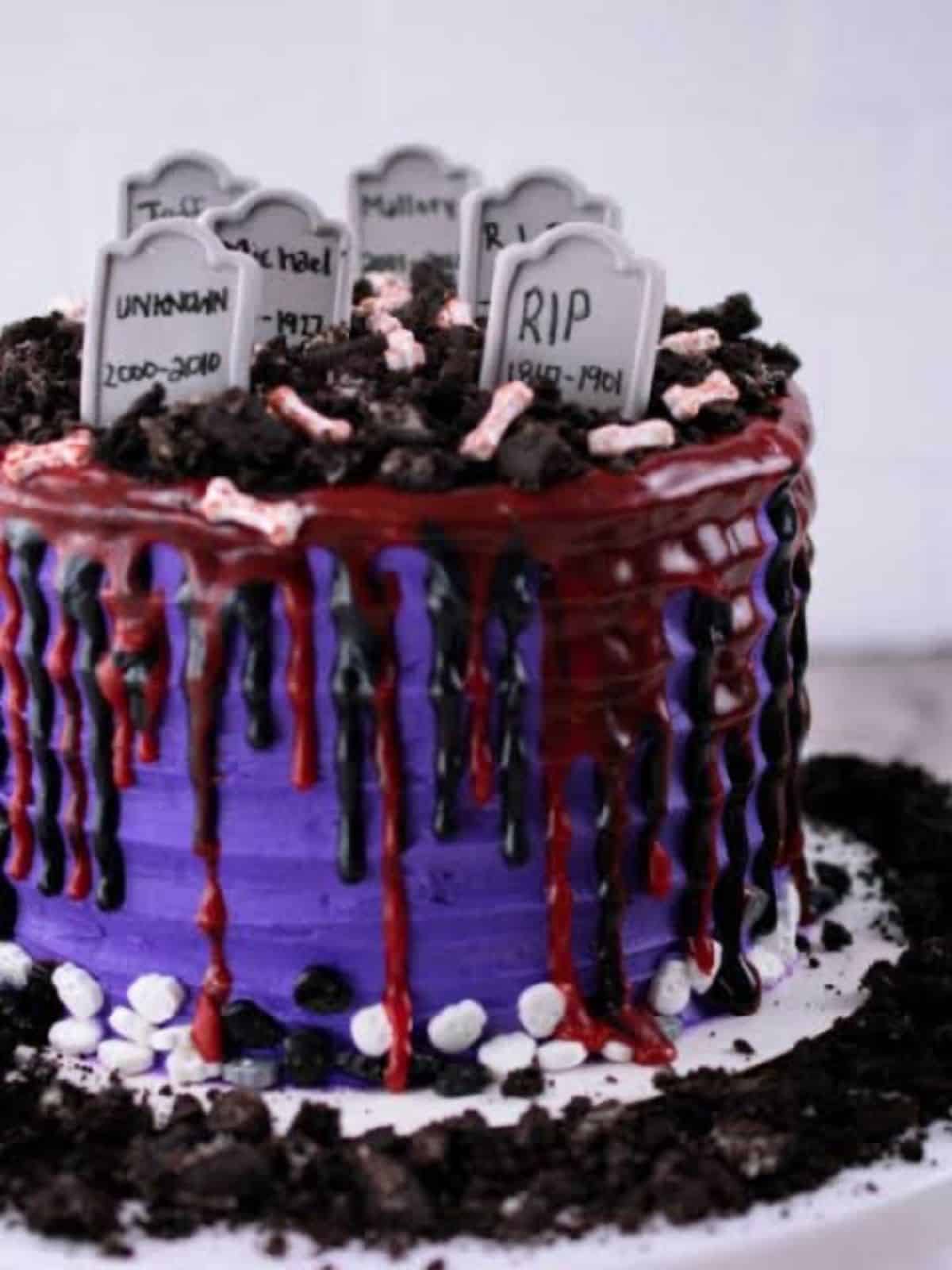 BOOOO!! This Halloween ghost graveyard cake recipe will surely make the season feel so much more special. This ghostly graveyard cake takes a simple boxed cake mix and turns it into a dessert graveyard that's so delicious, it'll have you begging for more.
Get everyone to lend a hand to make the cake spookier with tombstones, skulls and spooky icing daring all to try a bite.
Gluten-Free Black Velvet Cupcakes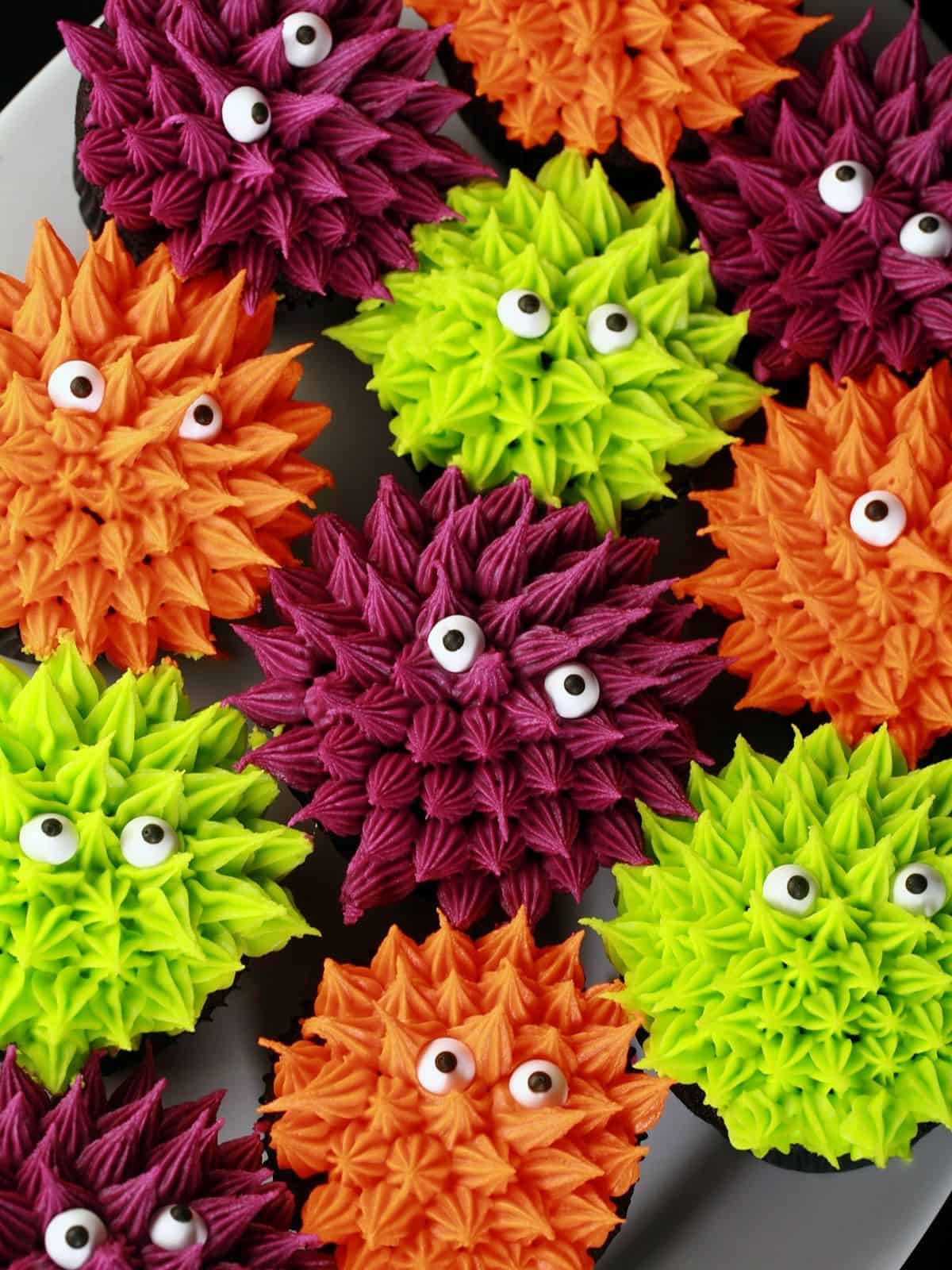 Up the usual red velvet cupcakes for black velvet in true Halloween style. These black velvet cupcakes taste & feel like they were made 'regular' flour, but they're definitely GF. The secret is the pudding mix that "fool proofs" this recipe by adding and maintaining moisture.
These cupcakes are soft, tasty, and a bewitching potion of colors and flavors for your Halloween celebration. These are perfect for 'booing' the neighbors!
Black Velvet Cake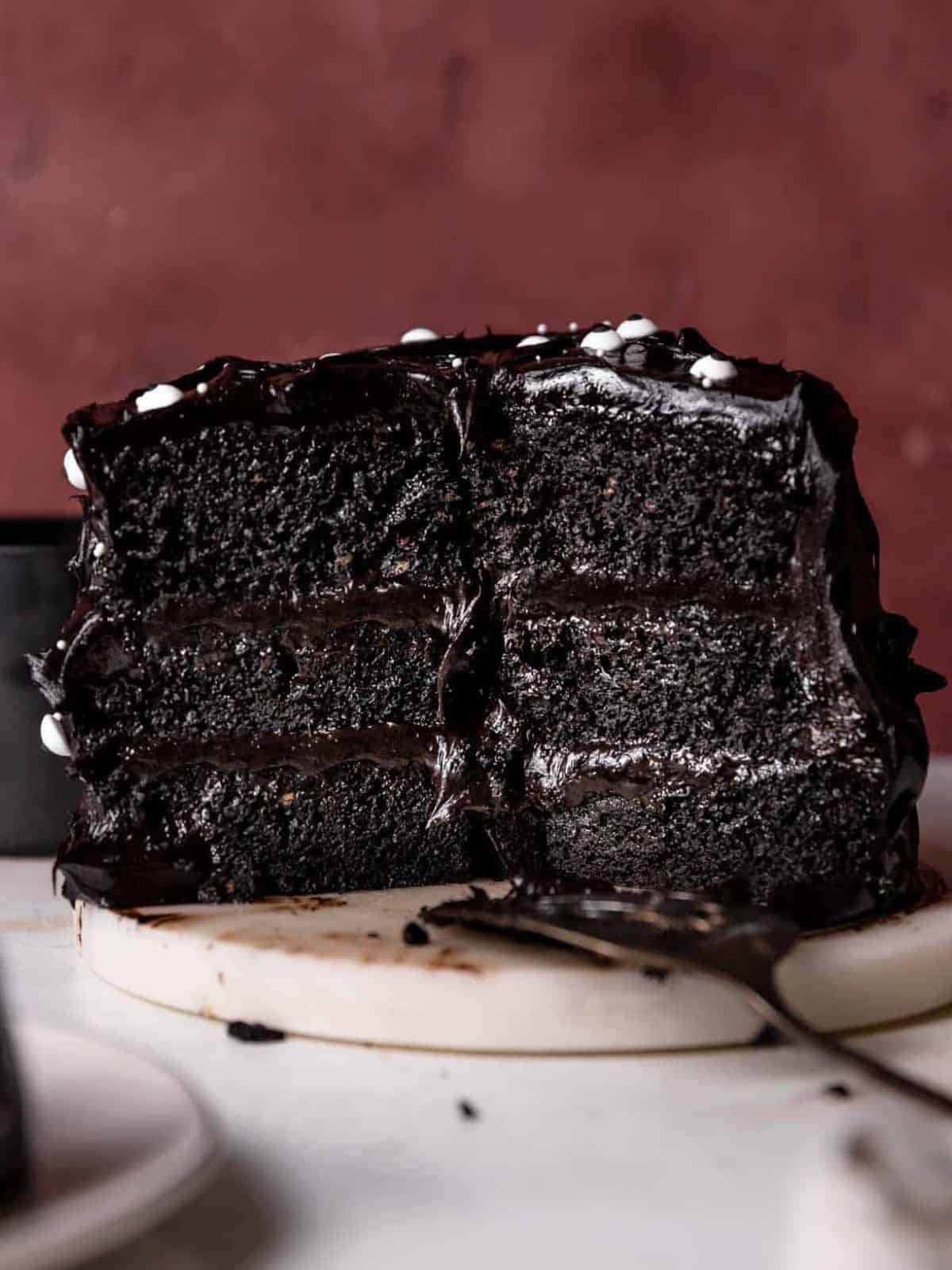 Enjoy a cauldron of chocolatey enchantment that'll put a spell on your taste buds with this black velvet cake recipe. A delicious chocolate cake recipe that's naturally colored with black cocoa for a unique Oreo-like flavor topped with black fudge icing.
Black cocoa gives this cake a rich flavor and a striking black hue that will not stain your tongue or teeth. Simply add candy eyes to make it into a creepy but luscious Halloween dessert.
Bloody Halloween Cupcakes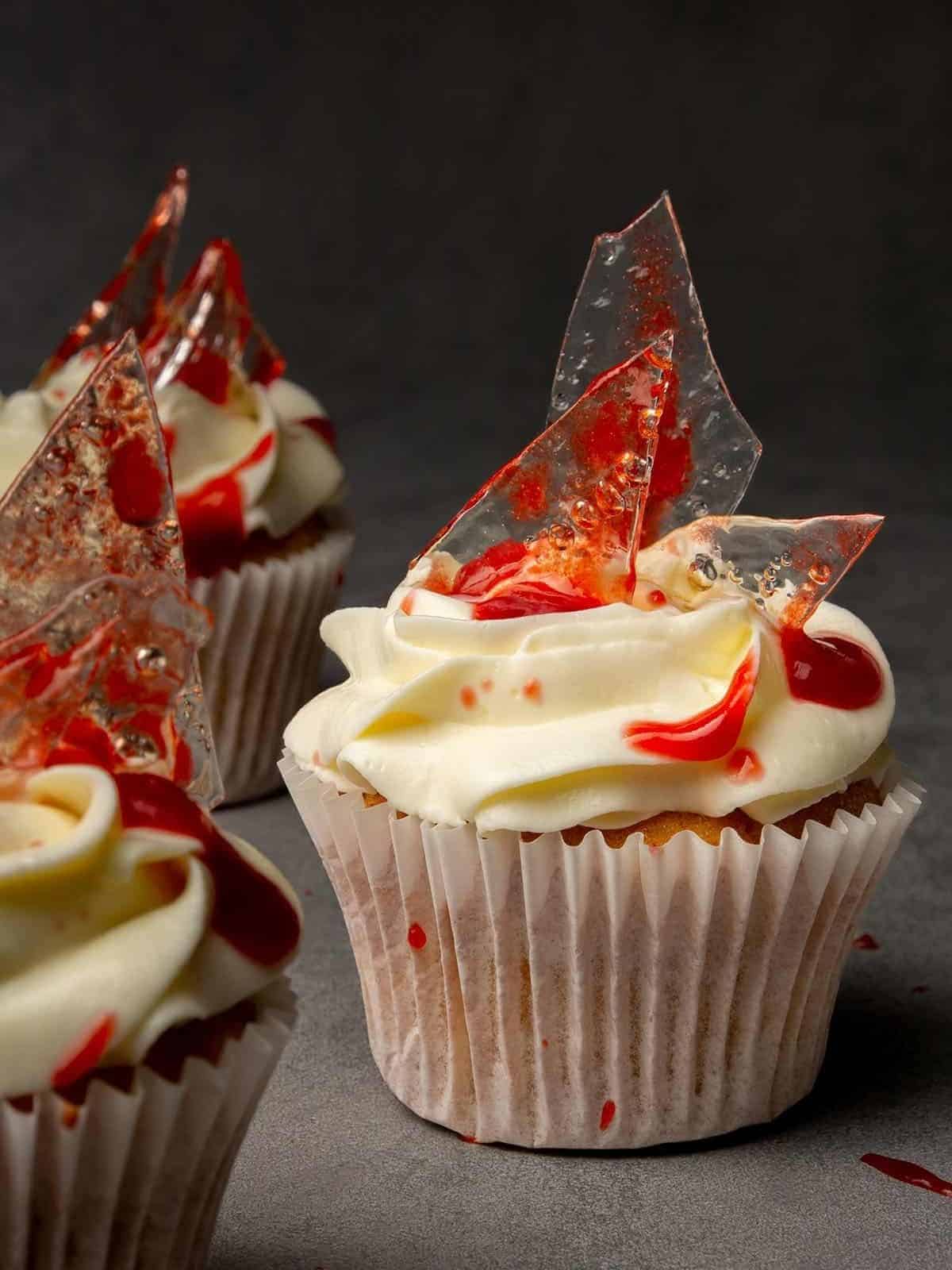 Uncompromising on taste yet super quick and easy to whip up, these bloody Halloween cupcakes will be the star of your Halloween gathering. Classic vanilla cupcakes with cream cheese frosting and a blood spatter design make for a hauntingly beautiful Halloween treat.
Moist, fluffy, and delicious, the cupcakes have a strawberry cheesecake flavor from the cream cheese icing and sweet strawberry sauce. Sink your fangs into this gory, blood splattered Halloween dessert that's sinfully good.
Bloody Eye Ball Halloween Pavlova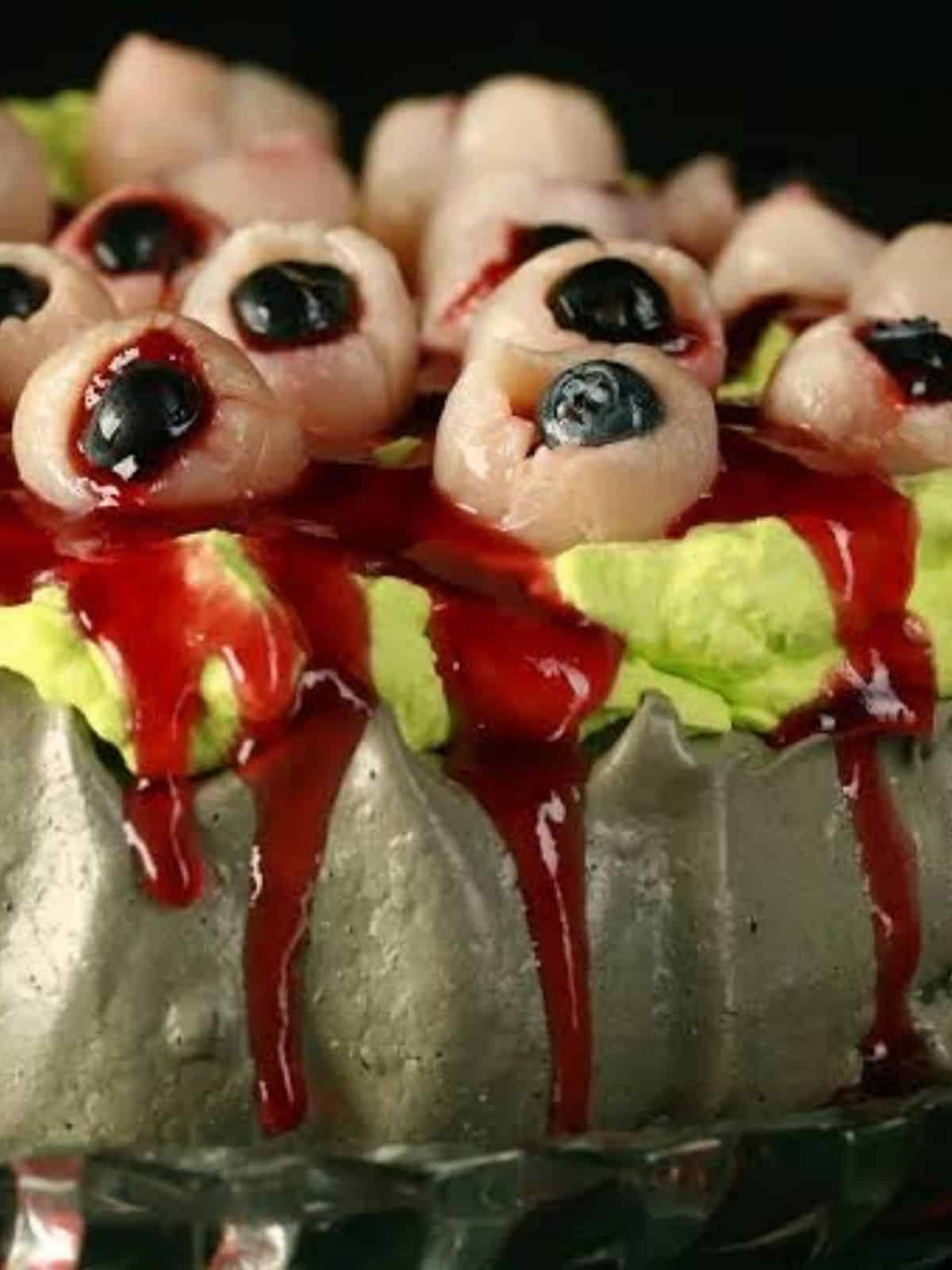 Looking for something simple to prepare yet visually gorgeous (and truthfully, somewhat gross) for a Halloween spread? Here's a gory twist on classic pavlova that's perfect for the occasion.
Classic pavlova meringue tinted in green with whipped cream, then drizzled with fruit sauce and finally piled high with ghoulish eyes - lychee stuffed with jam and blueberry. Despite oozing with the creepiness, you'll actually want to devour this delicious Halloween dessert.
Lemon Sugar Skull Cakes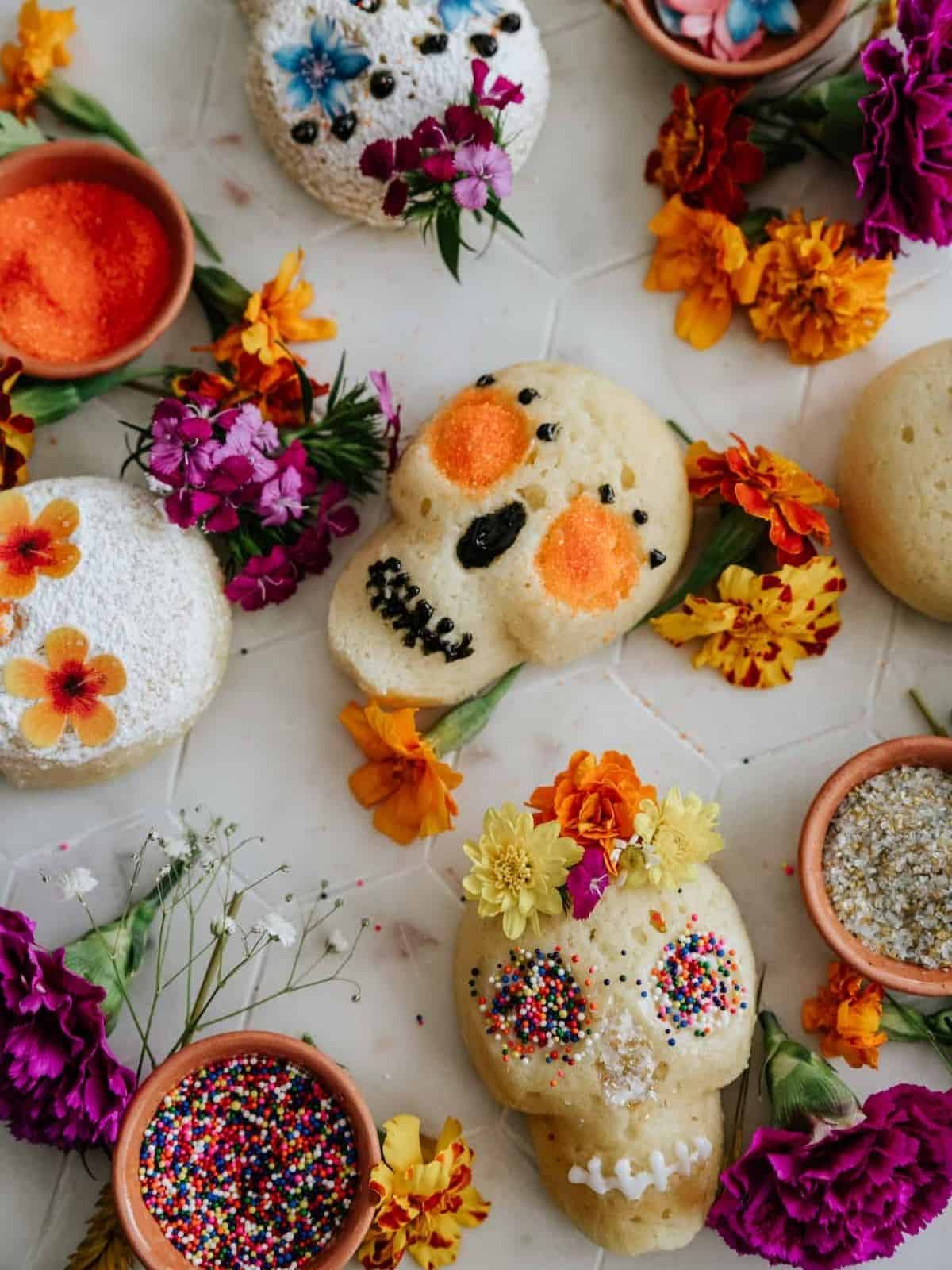 Celebrate the spooky season with an exceptionally delicious and beautiful dessert borrowing from Dia de los Muertos traditions. These light and fluffy mini cakes have a delectably tangy citrus flavor from a triple threat of lemon juice, lemon zest, and lemon extract.
Apart from being filled with bright and sunshiny flavors, they're very simple to decorate – no fancy piping skills are required. Sprinkle them with powdered sugar, highlight the mouth with store-bought writing gel, then decoratd them with edible cupcake toppers, sprinkles, and marigolds.
These hauntingly beautiful lemon sugar skulls are almost too pretty to eat.
Halloween Cakesicles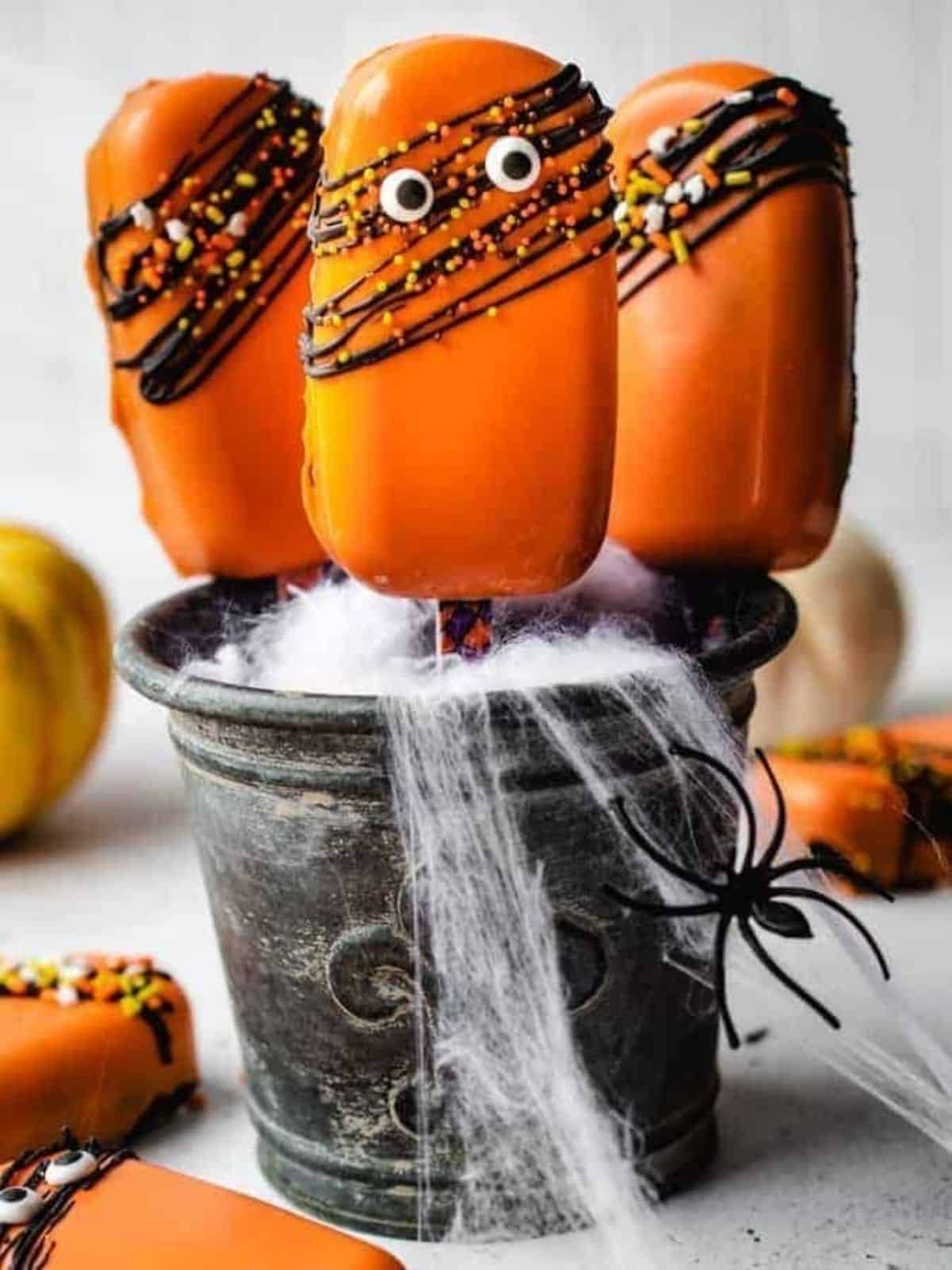 If you want to celebrate Halloween with both creepy delicacies and joyful creative snacks, this Halloween cakesicles recipe will be your new best friend. They're a lot of fun to make with excellent baking tips, and will add a tons of whimsy to any fall event.
Bring out the Halloween sprinkles and candy googly eyes to give these cake popsicles a spooky personality.
Pumpkin Desserts
Pumpkin Dessert Board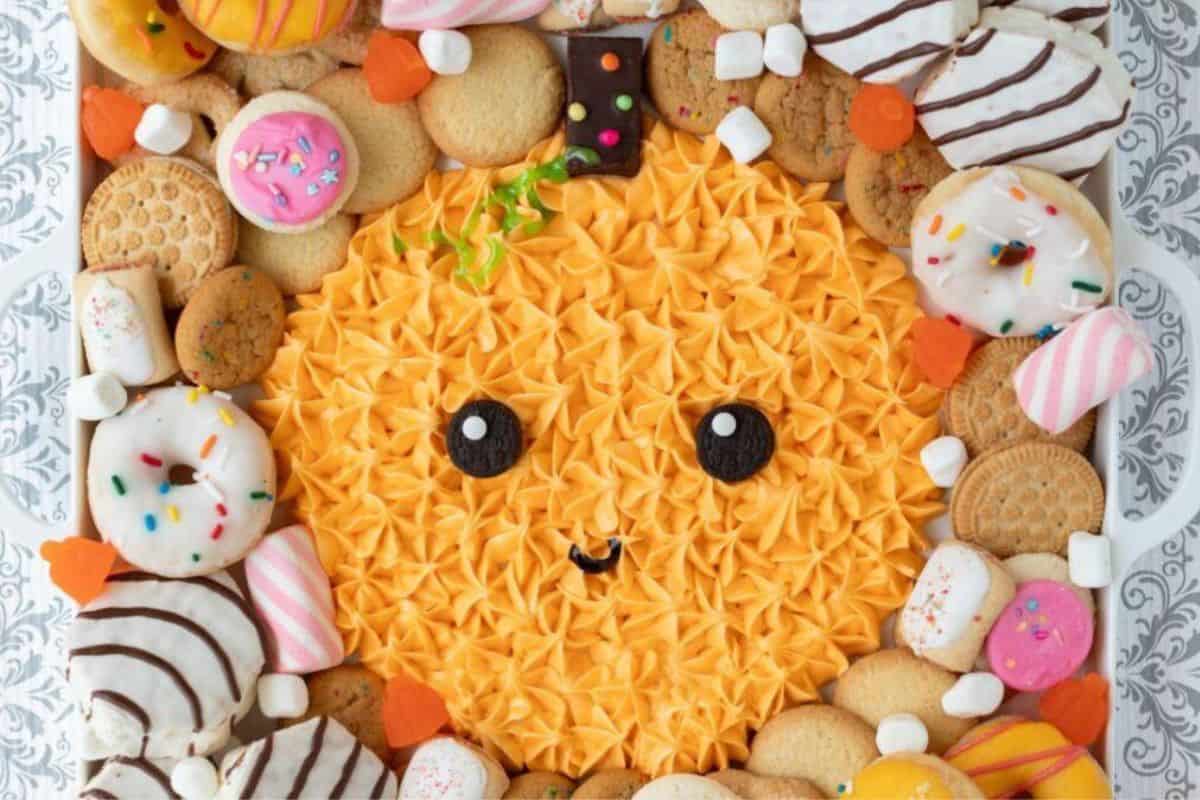 Whether you're a seasoned cook or a rookie in the kitchen, this recipe is your golden ticket to a celebration full of food, laughter, and love. This pumpkin frosting board is more than simply a seasonal dish; it's a stunning display that adds merrymaking and memory making all in one.
Pipe orange frosting into a pumpkin shape in the center of your dessert board, then dip any and all of your favorite fall treats into the icing, including fruits, pastries, candies, and cookies. From the twirl of orange icing to the creative arrangement of goodies, every detail on the pumpkin dessert board is a delight.
Monster Eye Pumpkin Cheesecake Bites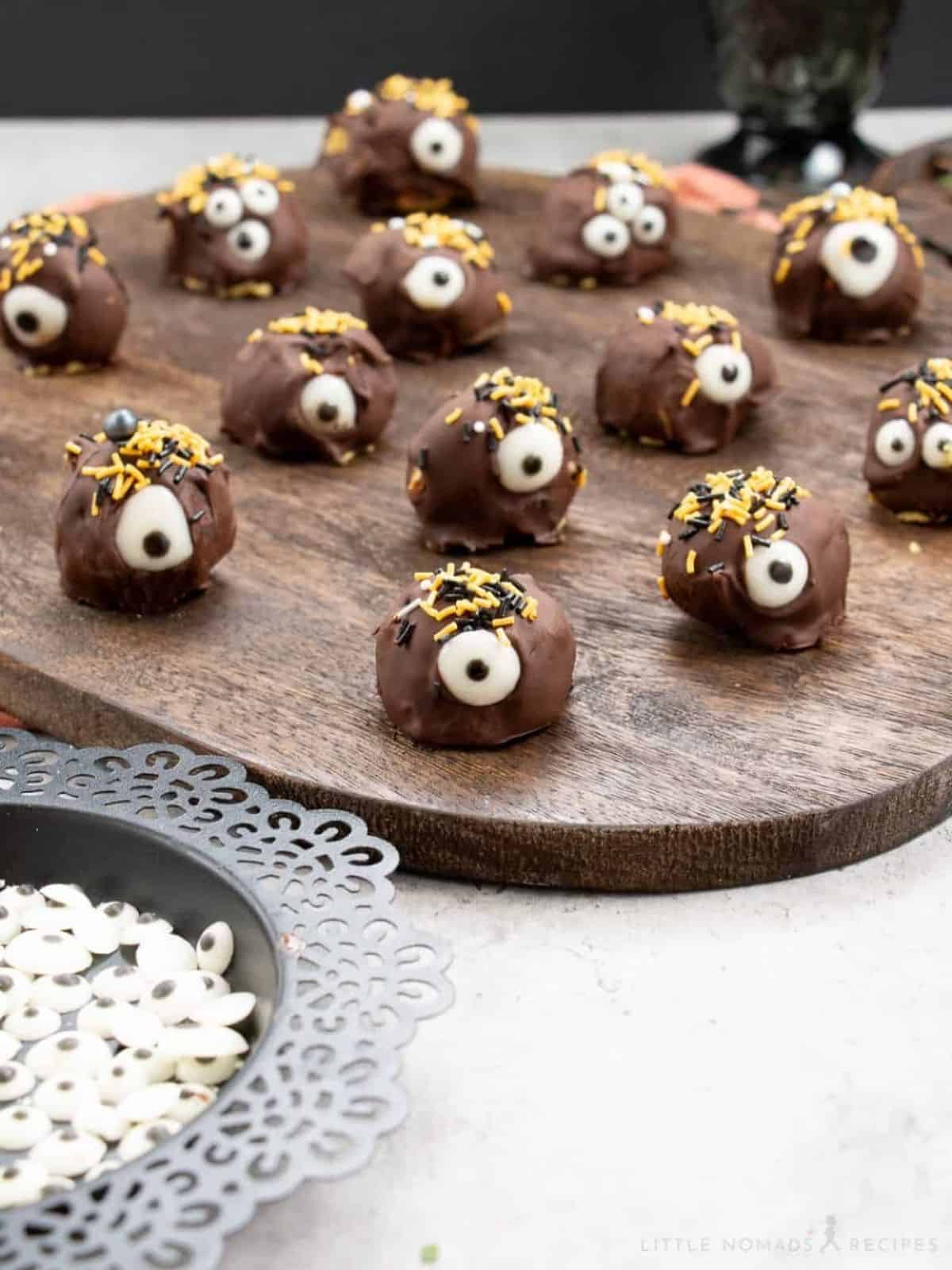 Savor the flavors of fall with these pumpkin-inspired, spiced cheesecake turned Halloween one-eyed monsters. Monster eye pumpkin cheesecake bites are filled with spiced pumpkin cheesecake.
These truffles feature a vibrant orange pumpkin puree and spice cream cheese filling encased in a dark chocolate coating and topped with googly eyes and sprinkles! The texture is smooth and almost airy, with a light sweetness. Enjoy a burst of spooky, pumpkin flavor in every bite of these decadent Halloween treats.
Pumpkin Spice Hummus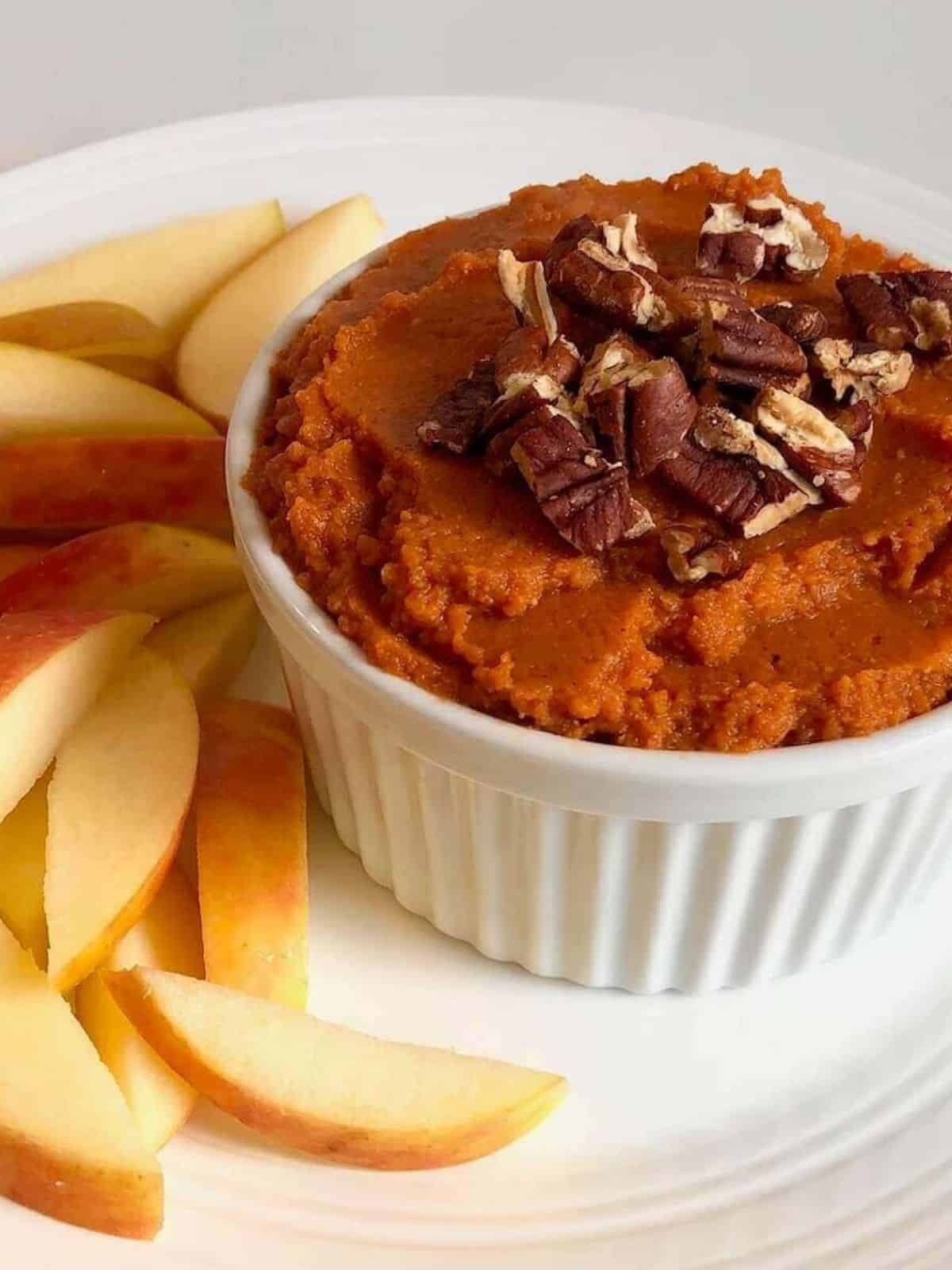 Here's a unique Halloween dessert recipe you should make for your haunted gathering - Pumpkin spice hummus. As the name suggests, pumpkins are the star of this dessert. It's a vegan and gluten-free recipe using canned pumpkin puree (swap fresh pumpkin puree anytime) that's easy and nutritious.
Serve this distinctly fall dip with apple slices, bread sticks, or even waffles. Unleash the wickedly sweet magic of pumpkin spice in every bewitching bite.
Pumpkin Cheesecake Bars
Ahh the flavors of fall - pumpkin and spice. Layers of graham cracker crust, vanilla cheesecake, and pumpkin cheesecake combine to make an outstanding and elegant pumpkin cheesecake bar for the season.
Savor these delectable Halloween dessert bars that are easy to make and elegant to bring to a fancy fall soiree. They're so gorgeous I can't wait to make these show-stoppers this season!
Pumpkin Panna Cotta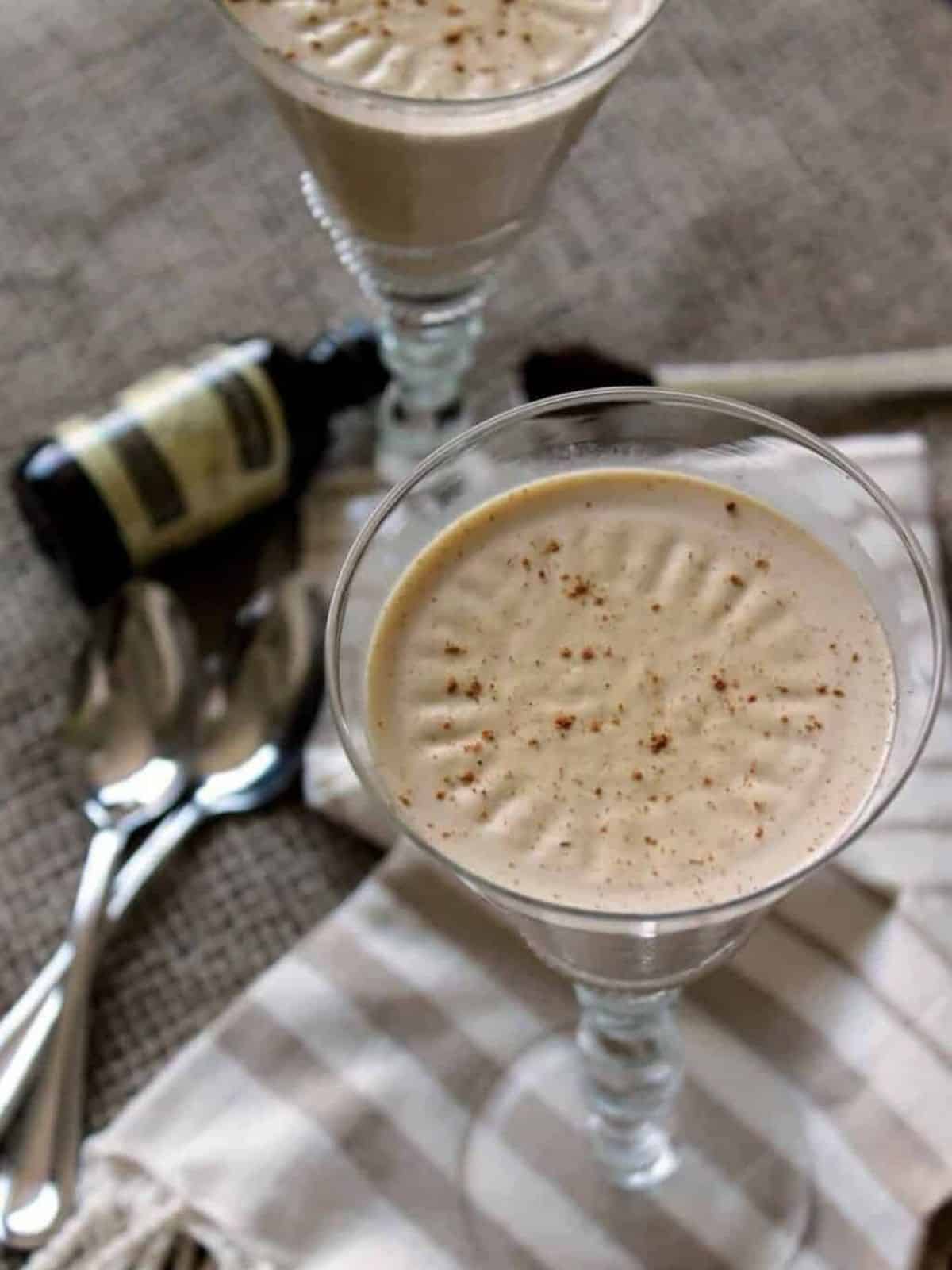 Nothing quite spells fall than a pumpkin spiced dessert. This pumpkin panna cotta is the epitome of fall desserts with a sweet and custardy pudding-like texture and the right amount of pumpkin spice.
Add a fall touch to your Halloween dessert lineup with this perfect make ahead pumpkin-flavored panna cotta.
Halloween Desserts With Fruit
Easy Halloween Chocolate Covered Strawberries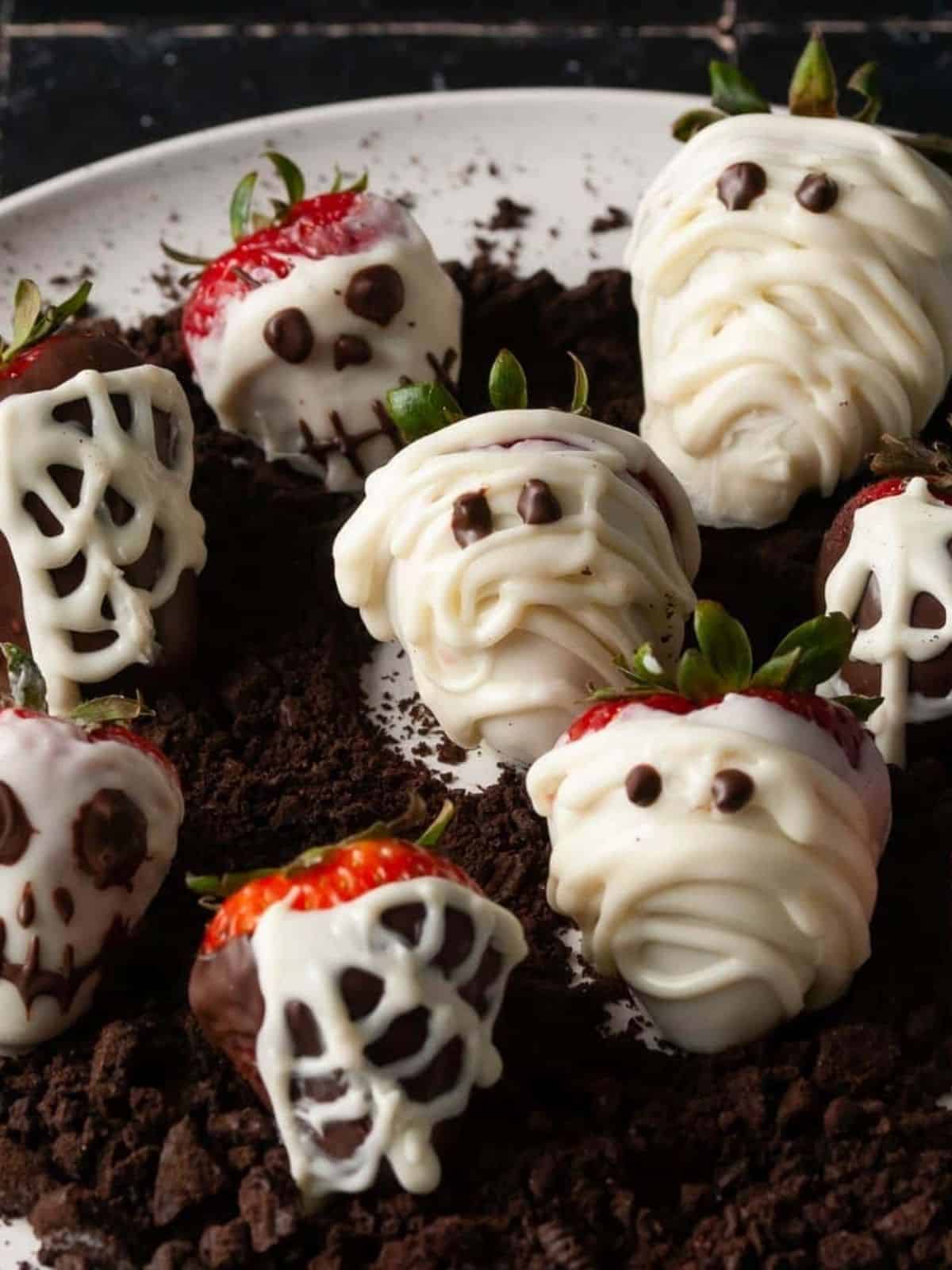 These Halloween chocolate covered strawberries are make a seriously great spooky season snack. Sinking your teeth through the creamy chocolate and into a juicy strawberry is a sheer delight.
Put a scary spin on strawberries by using melted chocolate wafers or candy melts to bring out the eerie essence of the season. Chocolate wafers or candy melts are compound chocolates that can simply be melted and utilized whereas chocolate requires tempering to achieve a good gloss.
Apple Monsters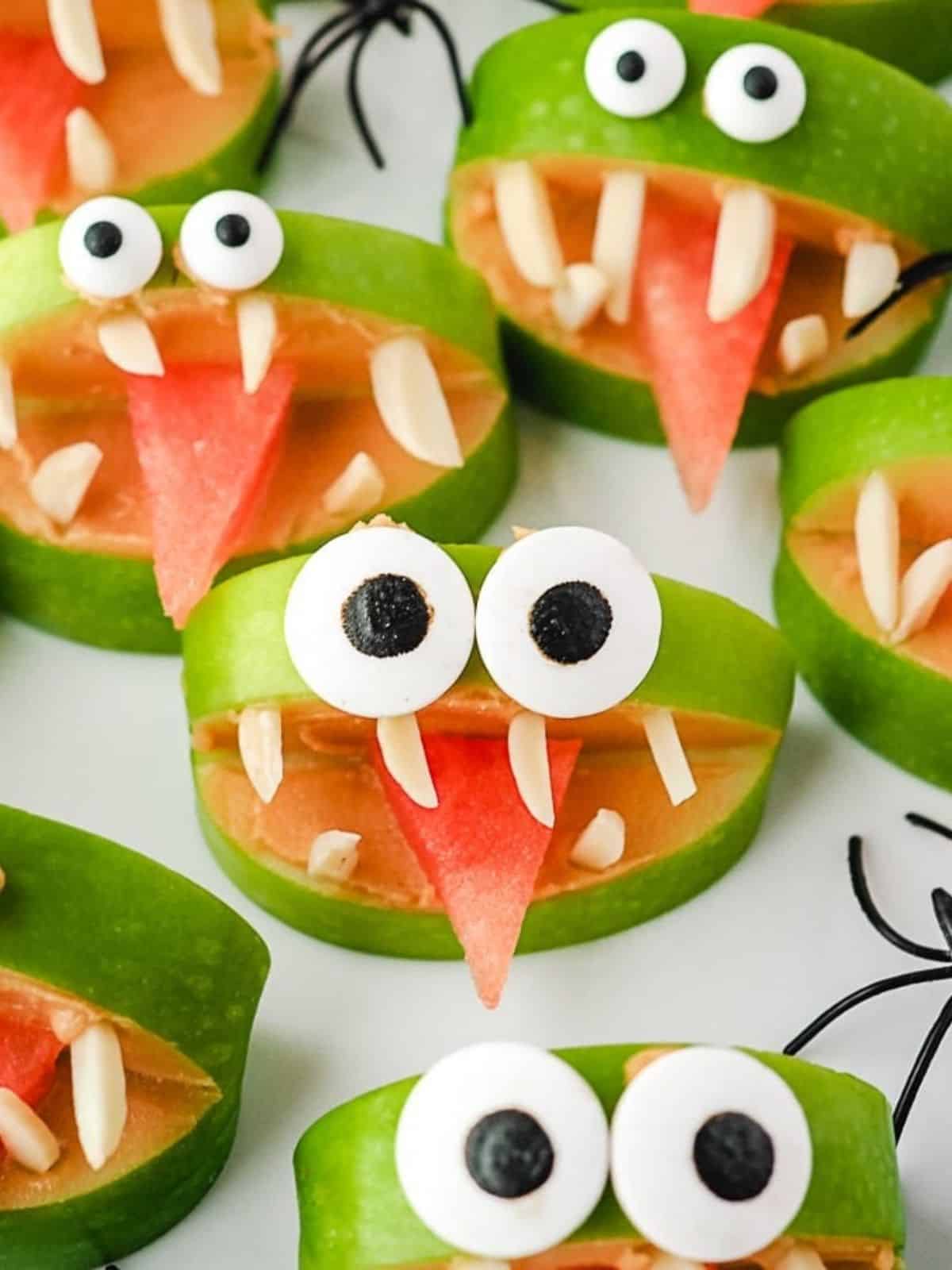 They're cute, they're fun, they're green, and they're a monstrously filling snack. They're apple monsters!
Make green apple monsters for an easy and healthy Halloween dessert. With just six ingredients, they're ready in a flash and perfect for a party or spooky snack.
Strawberry Halloween Monsters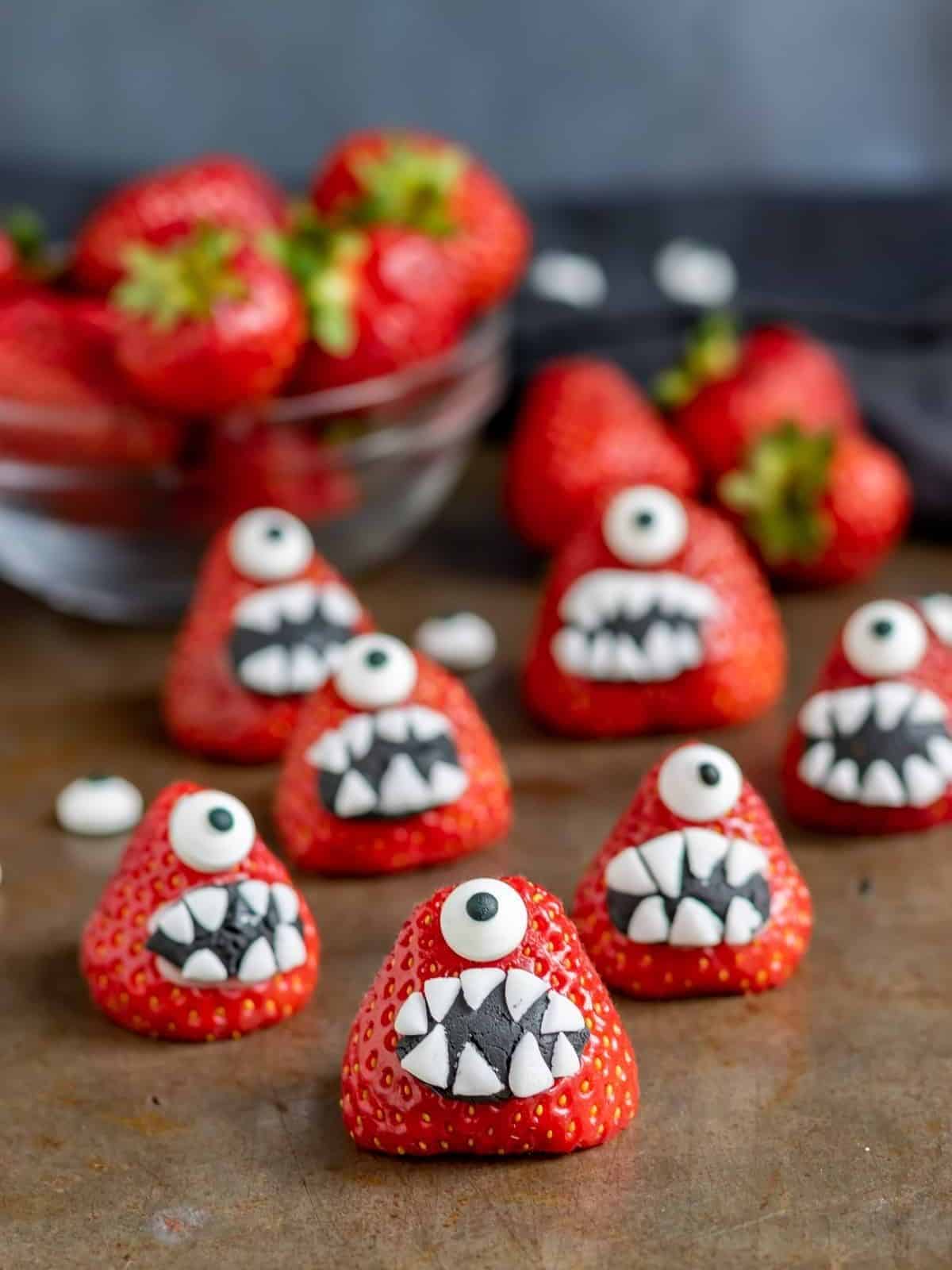 Tired of sugary sweets? Opt to make these fang-tastic strawberry monsters for Halloween! Ripe strawberries, sugar eyes, and fondant icing are used to make these nutritious fruit monsters.
They're simple to make, a lot of fun to create and eat! Best of all, they're nutritious enough to consume as a snack but sweet enough to be a treat!
Halloween Candy Apples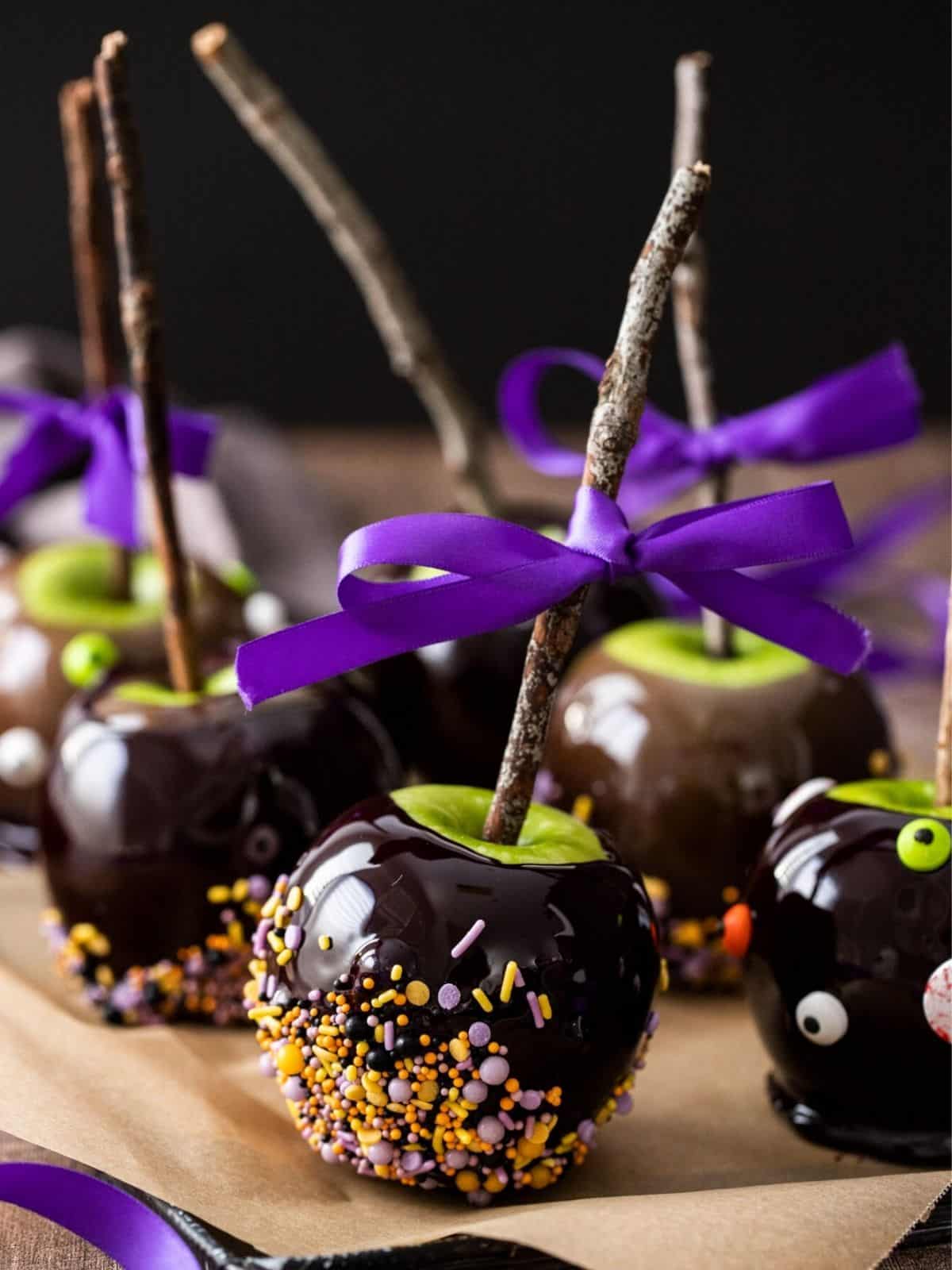 These Halloween candy apples are made with sour green apples that have been coated in a sweet, crunchy black toffee coating. You can adorn them with any color or decoration you like to make them absolutely creepy treats.
These Halloween apples are ideal Halloween treats! These frightening, tasty apples will cast a spell on you and are ideal for Halloween parties or trick-or-treaters.
Spine-Chillin' Halloween Cookies
Frankenstein Chocolate Whoopie Pie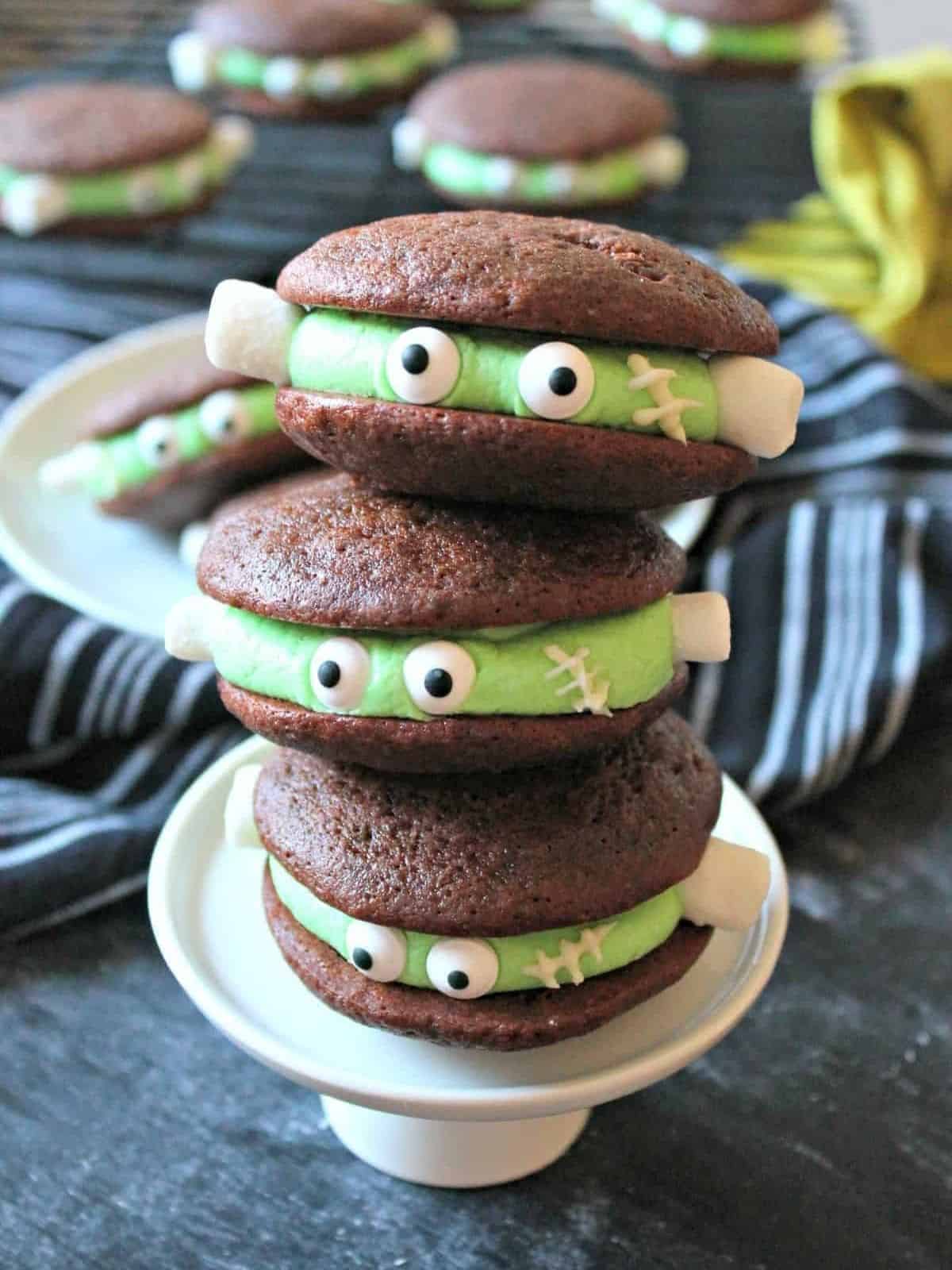 Who's up for some sweet, creamy buttercream filled sandwiches? Me for sure! These Frankenstein chocolate whoopie pies are rich, decadent and naturally vegan.
The classic, chocolate whoopie pie gets a Halloween monster makeover in these delicious, hand-held treats! Two soft, cakey chocolate cookies encase a velvety green buttercream decked with candy eyes and marshmallows for a Frankenstein treat.
Consider bringing them along to the season's many potlucks and festivities.
Vegan Halloween Cookies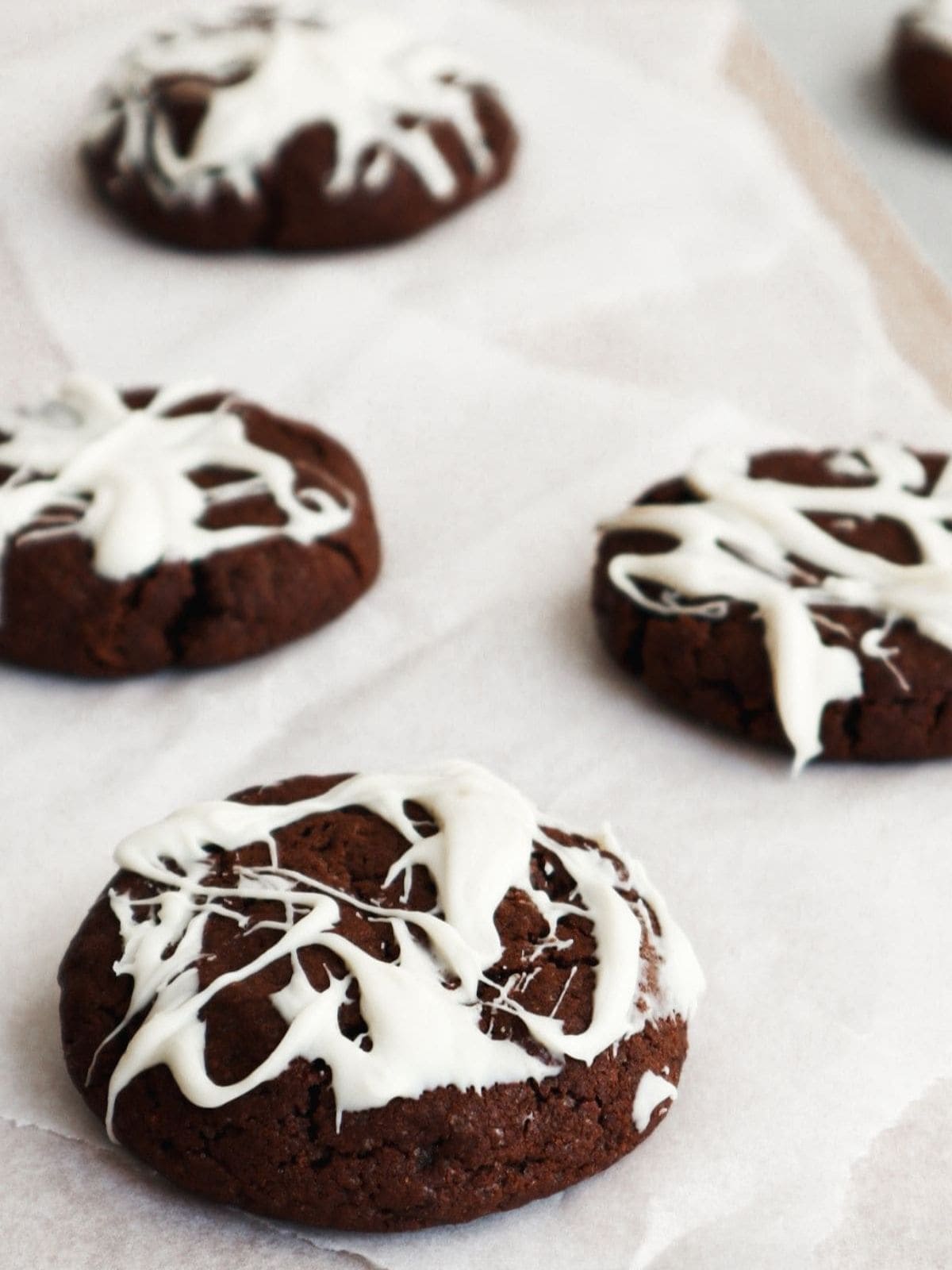 These eerie, edible spider webs are the perfect addition to your spooky soiree. With a soft, chewy, GF, and vegan chocolate cookie recipe, decorated with a spider web design using melted white chocolate, these are the perfect Halloween treat.
Make these cookies with cocoa powder, and they are ready in less than 20 minutes!
Halloween Monster Cookies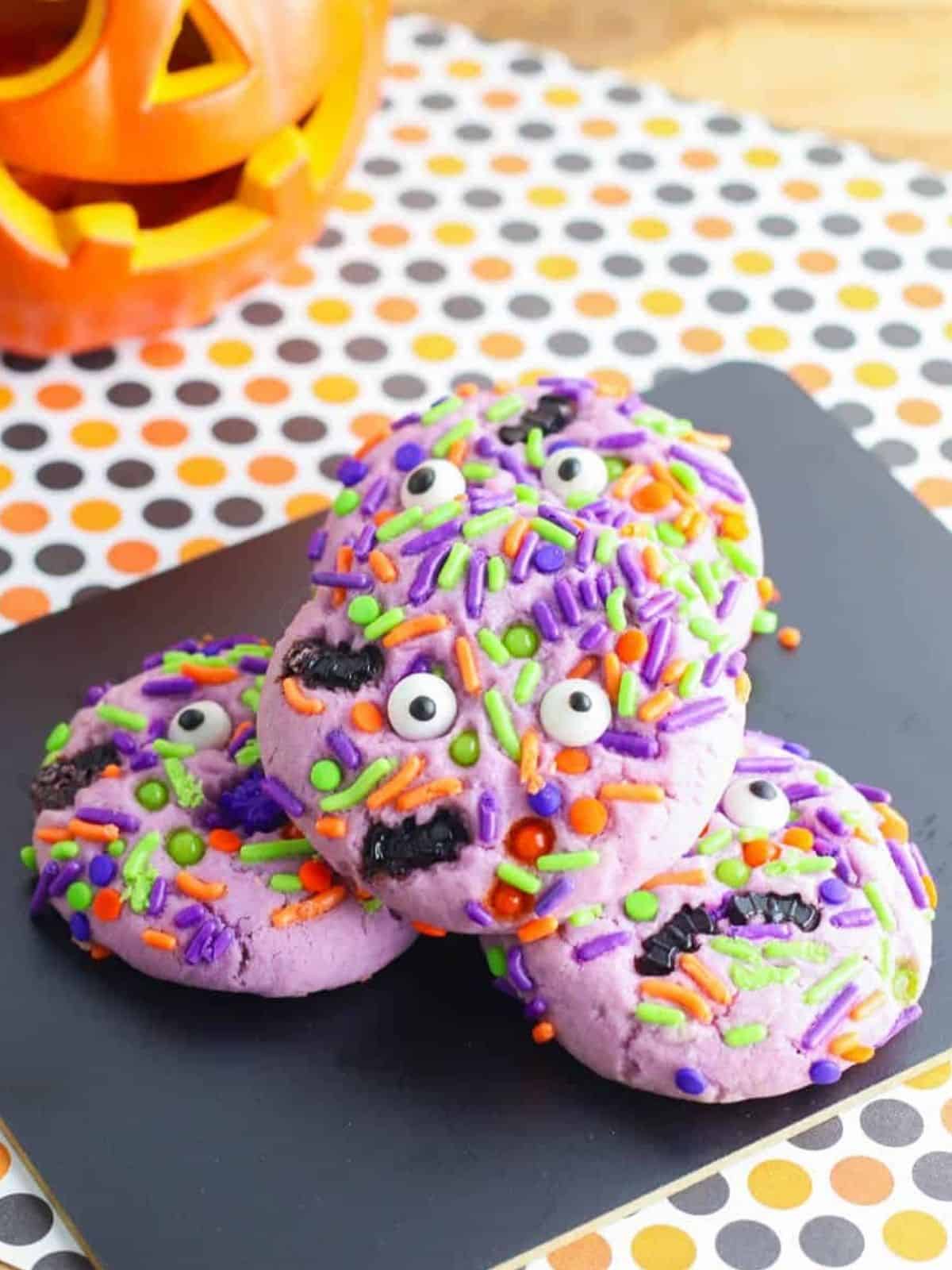 Make these cute, creepy and delicious monster cookies for a festive and fun Halloween treat. Classic sugar cookies made with whole wheat flour, natural food coloring and candy sprinkles get a sinisterly sweet twist in this recipe.
These Halloween monster cookies strike the ideal blend between terrifying and charming for a scary and fun Halloween party dessert.
Witch Finger Cookies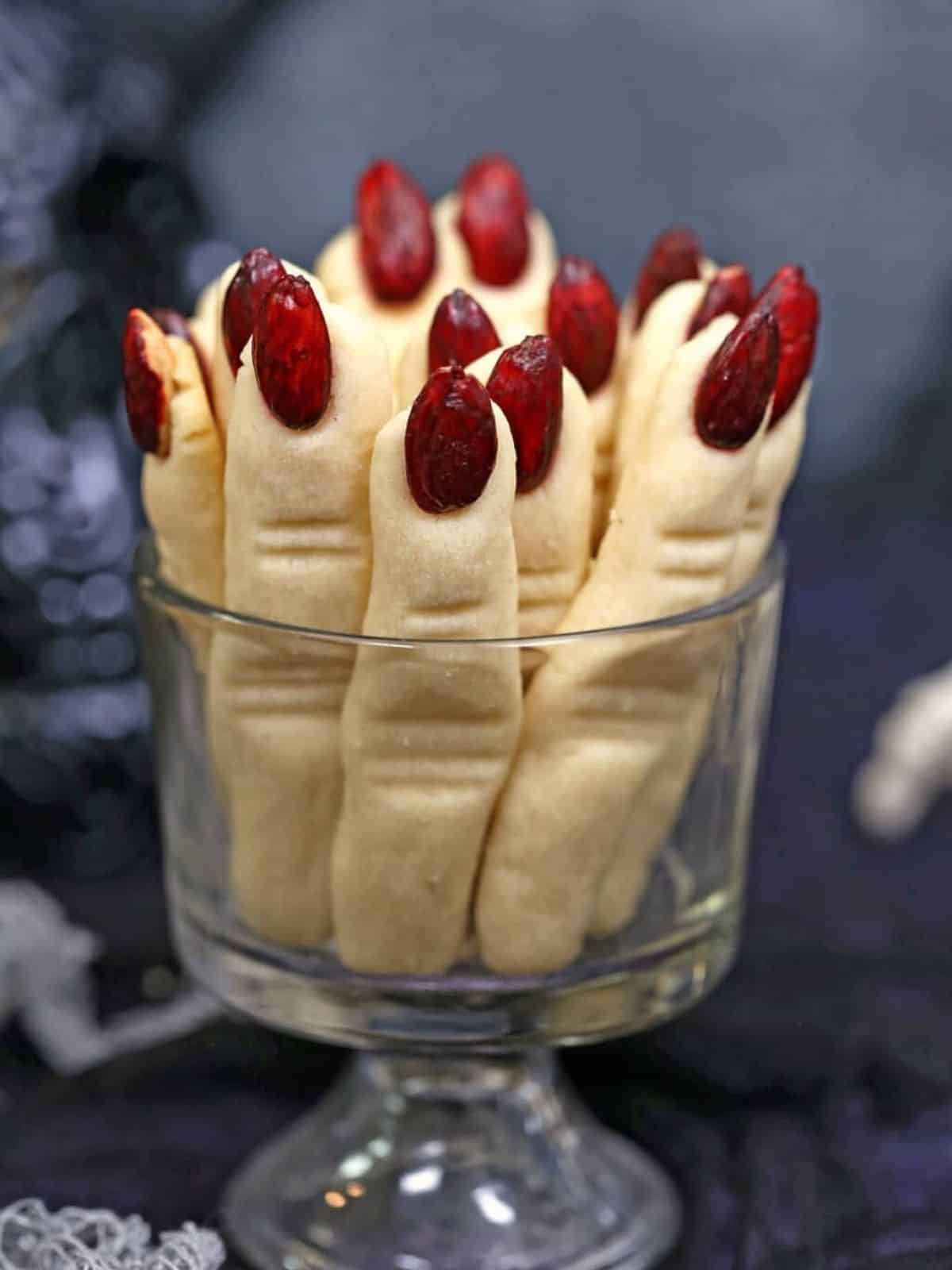 Witch finger cookies are such a spine-tingling Halloween treat! These tender almond-flavored sugar cookies are spooky shaped into fingers and topped with a blood-red almond fingernail for a creepy finishing touch.
Made with almond extract, flour and whole almonds, they have a soft and tender texture with a bit of a crunch. If you can get past the creepiness, these sumptuous witch's finger cookies will have you cackling with delight.
Maple Cinnamon Cookies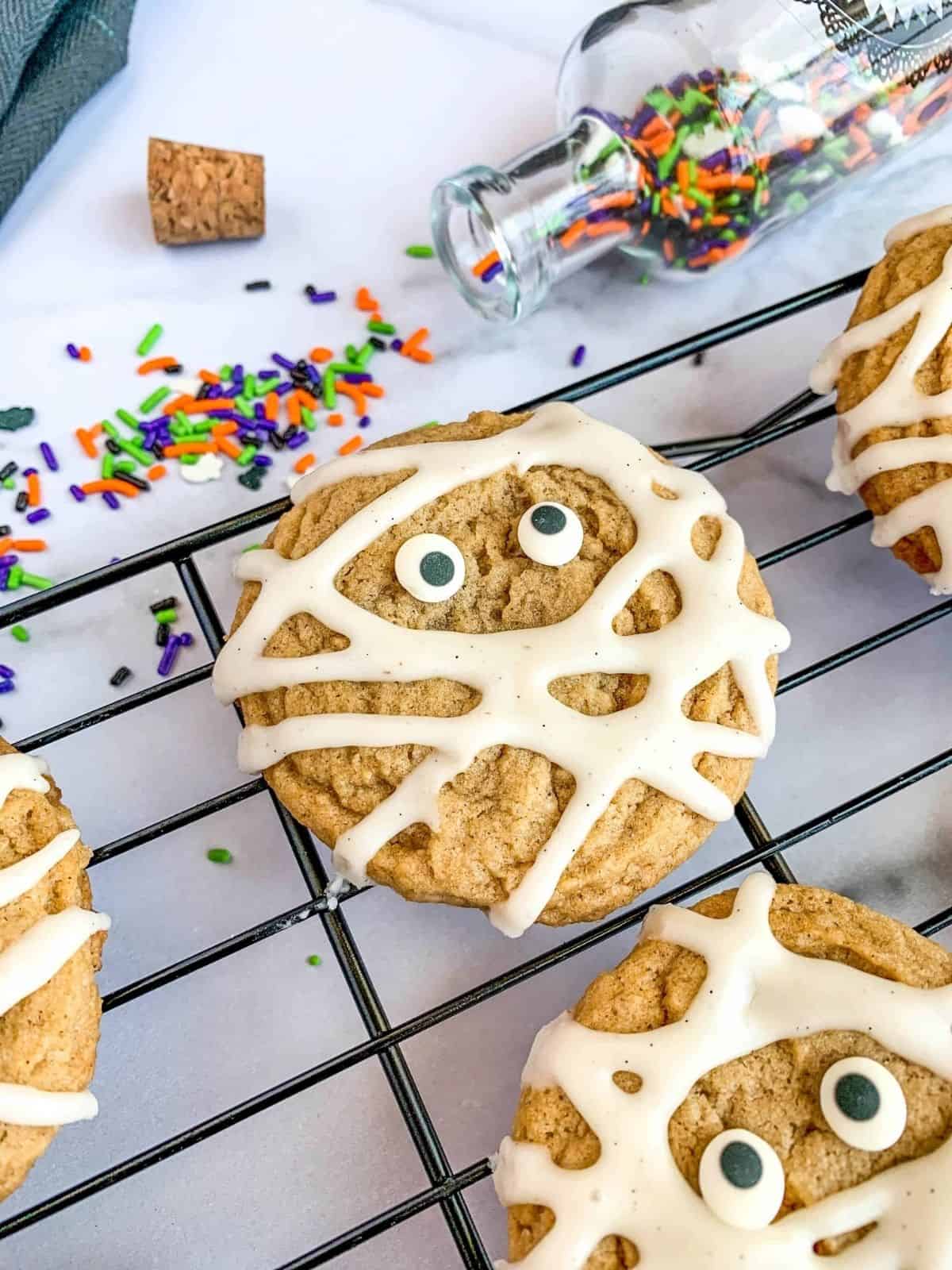 Soft, chewy, and delicious with the warm flavors of the season, these maple cinnamon cookies are pretty damn lit. Maple syrup, cinnamon, and brown sugar can all easily be found in your pantry to make this simple recipe.
Best of all, they're dressed for the occasion! The maple vanilla glaze mummifies the cookies while candy eyes transform and lend a spooky glare. These mummy-approved cookies will wrap you up in delicious, cinnamon-scented maple-sweetened delight.
Meringue Ghosts with Almond & Chocolate Filling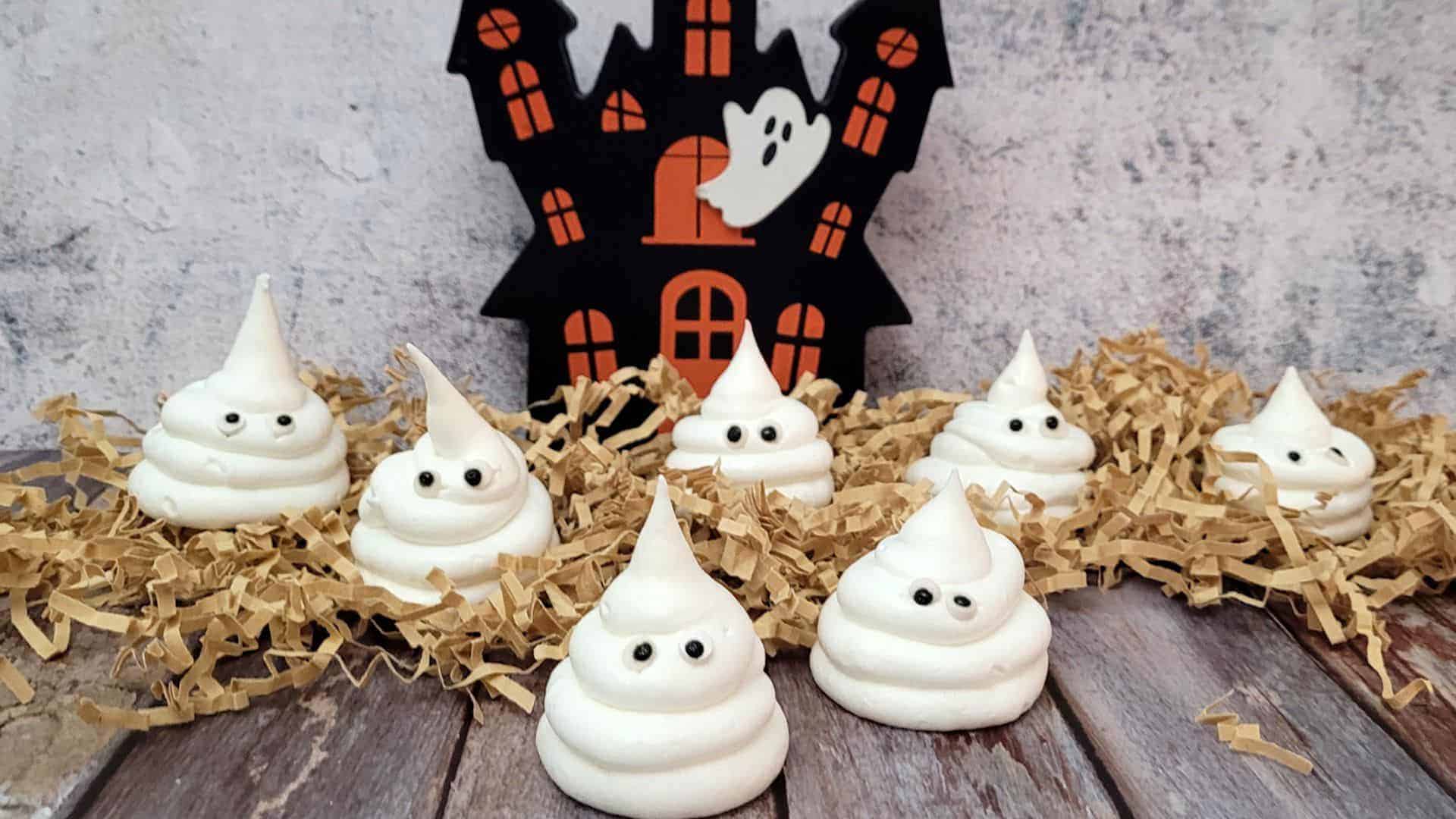 Haven't had enough spook for Halloween? If you're still looking for more scary treats, this meringue ghosts recipe is for you! It's easy to make and requires simple ingredients that you can find in your home.
These meringue ghosts have a crisp exterior, a light and fluffy interior, and a surprise almond and chocolate filling on the inside. These ghastly sweets are sure to send a shiver down your sweet tooth's spine.
Pumpkin Chocolate Chip Cookies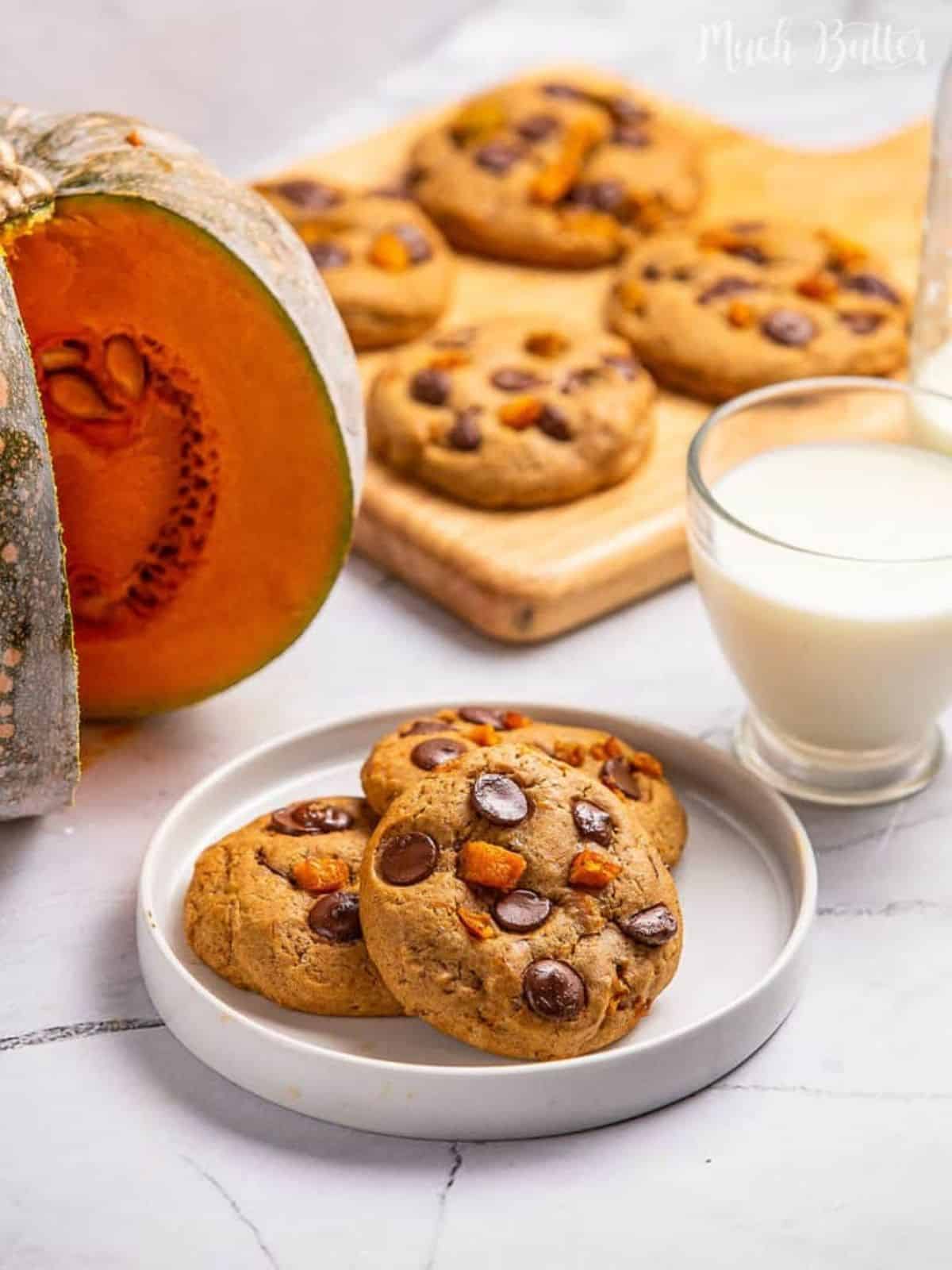 Pumpkin chocolate chip cookies are a traditional and comforting Halloween dessert. This life-changing cookie recipe features a smooth, fluffy, chewy, and crunchy on the outside texture from the pumpkin puree.
Aside from the more moist and softer than usual dough, with a crunchy edge cookie, the flavor and color are fantastic. Sink your claws into this delectable pumpkin chocolate chip cookies that's pure autumn magic.
Zombie Pumpkin Patch Cookie Pizza
Sweet pizzas are a sure thing for Halloween. To make a zombie pumpkin patch cookie pizza, roll out a homemade or store-bought cookie dough on a baking dish, pipe some grass, then add candied pumpkins, worms, and zombies.
This haunting pumpkin patch will surely have you howling with delight at your Halloween bash.
Biscoff Pumpkins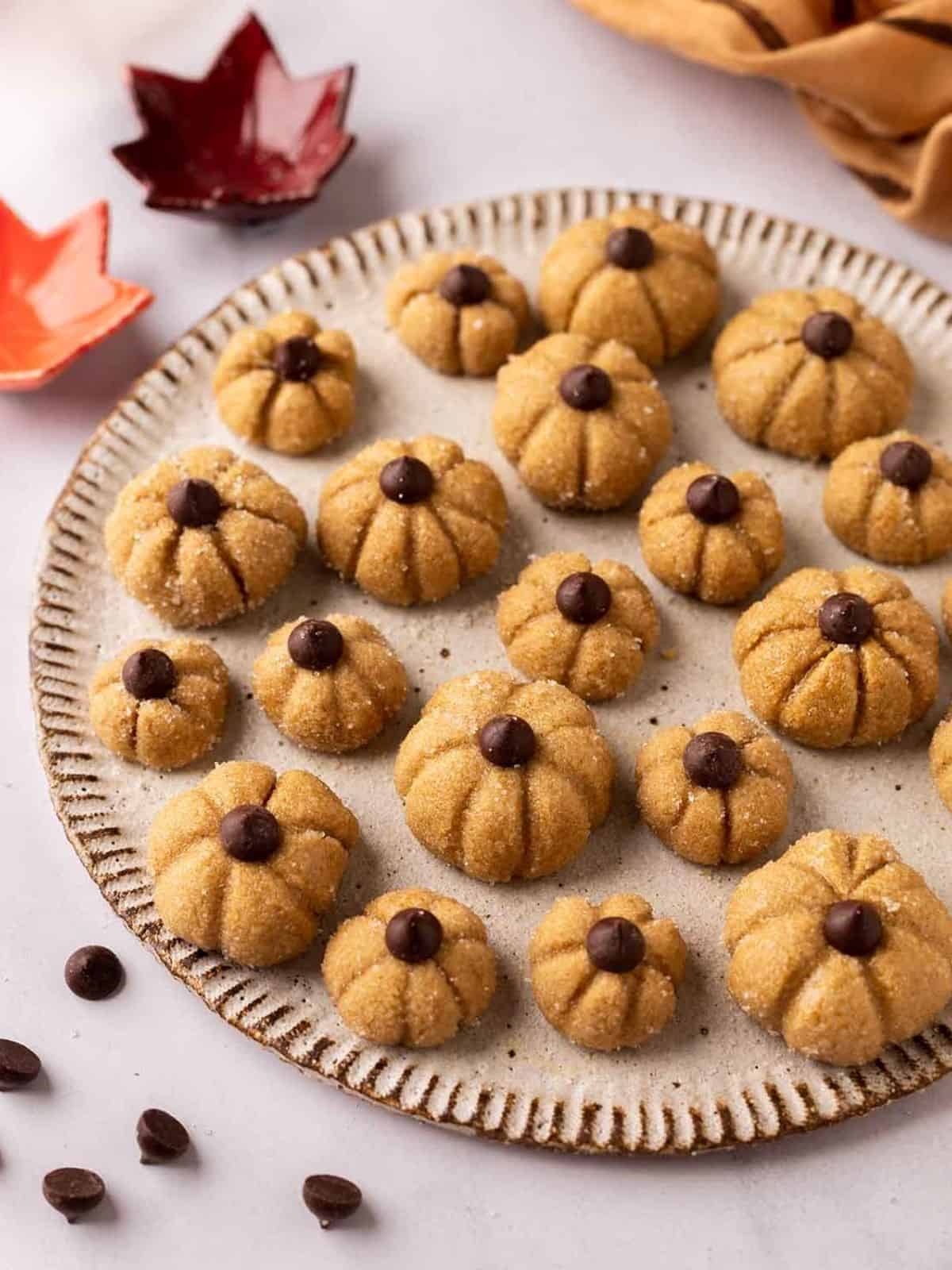 These biscoff pumpkins are adorable and delicious snacks for Halloween! Not to mention that they're completely vegan.
They consist of three ingredients that come together in a bowl and are so fun to make. These edible pumpkins are wonderful to bring to gatherings as they are but they'd make excellent cupcakes or cake toppers for a festive fall dessert.
Peanut Butter Cup Halloween Spider Cookies
There will always be at least one peanut butter and chocolate combination on any dessert lineup, especially mine. Peanut butter cup Halloween spider cookies for all the chocolate and peanut butter stans out there!
Chocolate peanut butter cups perched on soft, chewy peanut butter cookies with chocolate legs and candy eyes make for an eerily delicious peanut butter cup spider for an eerie and delicious Halloween treat. These spooky spider cookies are as intricate as they are irresistibly tasty.