Growing up in the US, going to Whole Foods was a special occurrence, reserved for birthdays and whenever I convinced my mom we needed fancy hummus.
As I grew older and began doing all my own grocery shopping and cooking (fancy hummus occasionally included), I quickly learned that when it comes to health food stores, Whole Foods' chocolate selection is consistently one of the best.
Not only do they maintain many brands nationally, but they also always have a local section for much smaller makers. Their consistently good selection has continued even after their acquisition by Amazon, and I don't see it changing anytime soon.
So while I know it sounds strange for a fine chocolate expert to recommend a bunch of $4 bars, many of the chocolate bars in Whole Foods are ethical and affordable. I'll admit that they don't tend to have the most complex flavors, but they're light years ahead of the sugary crap I had as a kid.
Since getting into fine chocolate nearly a decade ago, I've learned that the Milky Way® and Aero® bars I grew up eating were more like chocolate-flavored sugar than actual chocolate. They contained cacao, sure, but calling them chocolate bars is like calling orange soda a fruit juice.
There's just something inherently wrong about that statement. A good chocolate is not a candy. It's a dessert, for sure, but it's not sugar-based— it's cacao-based. The following chocolate makers understand this, and make a point to base their treats in quality cacao rather than cheap sugar.
So the next time you walk down Whole Foods' chocolate aisle, it will be with a clear conscience and a specific goal in mind: quality, ethical chocolate that really tastes good.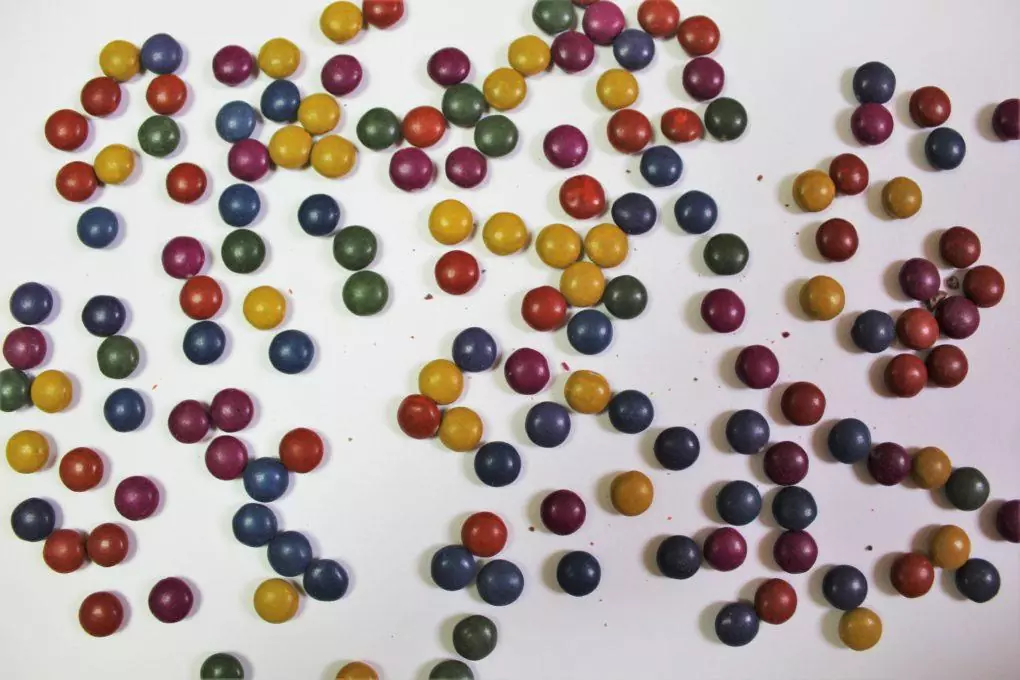 Best Chocolate At Whole Foods
Beyond Good Chocolate (Madécasse)
Must Try: Sea Salt & Nibs 63% (dark chocolate)
Price Range: $4-$5USD
Madécasse Beyond Good Chocolate is a Madagascar-based company founded in 2008, using Malagasy cocoa & now also Ugandan cocoa to make chocolate at origin in Africa. However, recently this has changed.
Due to civil unrest and fighting in Madagascar at the moment— thanks to huge economic dips and rises in vanilla & cocoa prices— Beyond Good chocolate production is currently happening off the island (still using Malagasy ingredients).
Also because of the aforementioned unrest and thievery, the price of Beyond Good vanilla has also gone up substantially over the last few years, making anything but the imitation stuff almost out of reach, unfortunately.
So if you still want to get a taste of Madagascar's most famous exports, I'd highly recommend picking up a Beyond Good chocolate bar. Their line includes exclusively dark chocolates at four different percentages: 63%, 70%, 80%, and 92%.
The latter two chocolates are only available as plain bars, while the lower percentages can be found with interesting flavors like the mint crunch or the honey crystal dark bars.
You'll find Beyond Good chocolate to be on the fruitier side, and even their highest percentage bars are still smooth enough to be eaten plain. These are affordable dark chocolate bars for the connoisseurs among us.
Click here to see recent prices for Beyond Good bars on Amazon.
Equal Exchange Chocolate
Must Try: Dark Chocolate Orange 65%
Price Range: $3-$4USD
For a very long time, this was one of my go-to eating chocolates, great for munching on or satisfying a sweets craving without making me feel horrible afterwards. Equal Exchange as a brand is known for coffee, chocolate, and tea, among other things, but I really think that their line of chocolates is the most impressive of them all.
Started in the 1980's and still going strong with their worker-owned business model, Equal Exchange maintains fair trade with dozens of co-ops around the world, and I encourage you to go down the rabbit hole reading about their partnerships on their website.
As for the Equal Exchange chocolate bars themselves, if you're a dark chocolate lover but have tough time finding a palatable high cocoa content bar, go for their 80% Panama chocolate or their 88% dark chocolate blend. Count yourself lucky if you find a store which carries the Equal Exchange milk chocolate minis.
Click here to see recent prices for Equal Exchange bars on Amazon.
Raaka Chocolate
Must Try: Vegan Coconut Milk 60%
Price Range: $6-8USD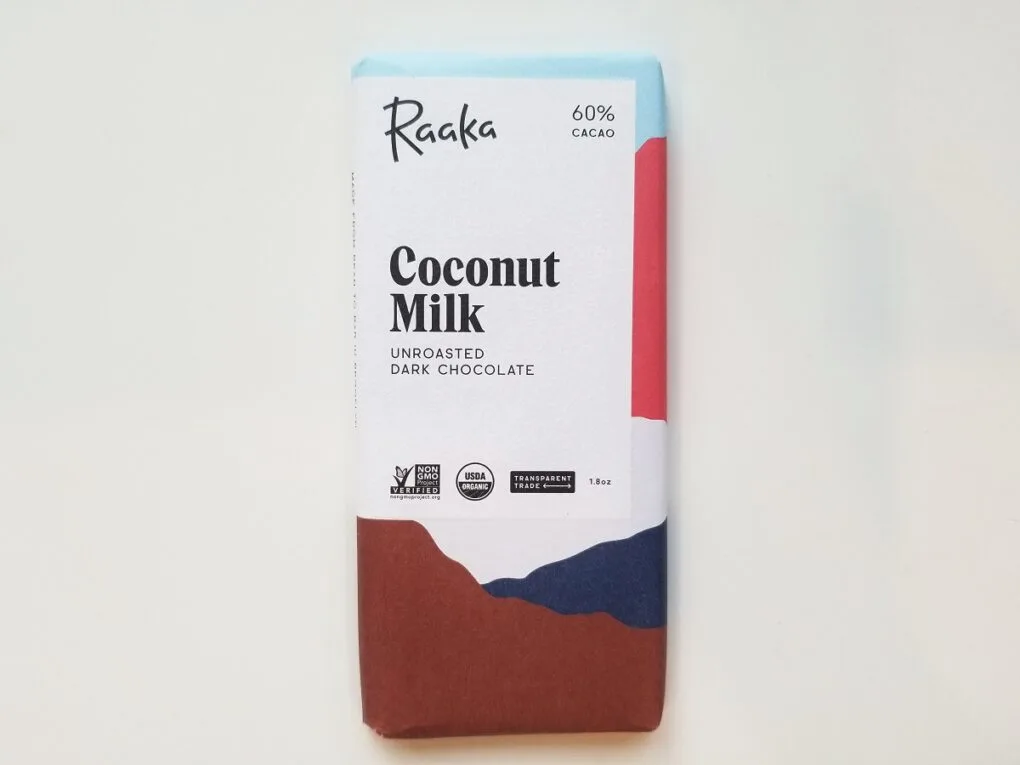 By far the most innovative maker on this list, Raaka chocolate is a name you'll not only see much more in the future, but also won't easily forget. All of their chocolate is vegan and unroasted, meaning that the ingredients they use are animal product-free.
The cacao they use was not exposed to the super high heat at which most all cacao is roasted. Since they opened in Brooklyn in 2010, the two-man team behind the brand has been bringing fine vegan chocolate to all of New York City and beyond, slowly building up a lineup of bars and farmer partnerships that benefit everyone in the value chain.
Yet if you look through their basic bar offerings— as in the ones they always sell, not their special edition bars— you'll find bars ranging from 60% coconut milk to 82% bourbon cask aged. Some of the bars in between are the 68% smoked chai and the 68% bananas foster bars, just some of the Raaka bars that tend to stick out on the shelf.
The earthy undertone I taste in all their bars definitely doesn't appeal to everybody, so I'd recommend trying the most delicious-sounding of their bars first before committing to a tasting of their entire line-up.
Alternatively, if you find yourself in Brooklyn one Saturday or Sunday, you can head over to Raaka chocolate factory in Red Hook for a tour, tasting, and learning experience.
Click here to see recent prices for Raaka bars on Amazon.
Theo Chocolate
Must Try: The Seattle Bar 45% (plain milk chocolate)
Price Range: $4-$5USD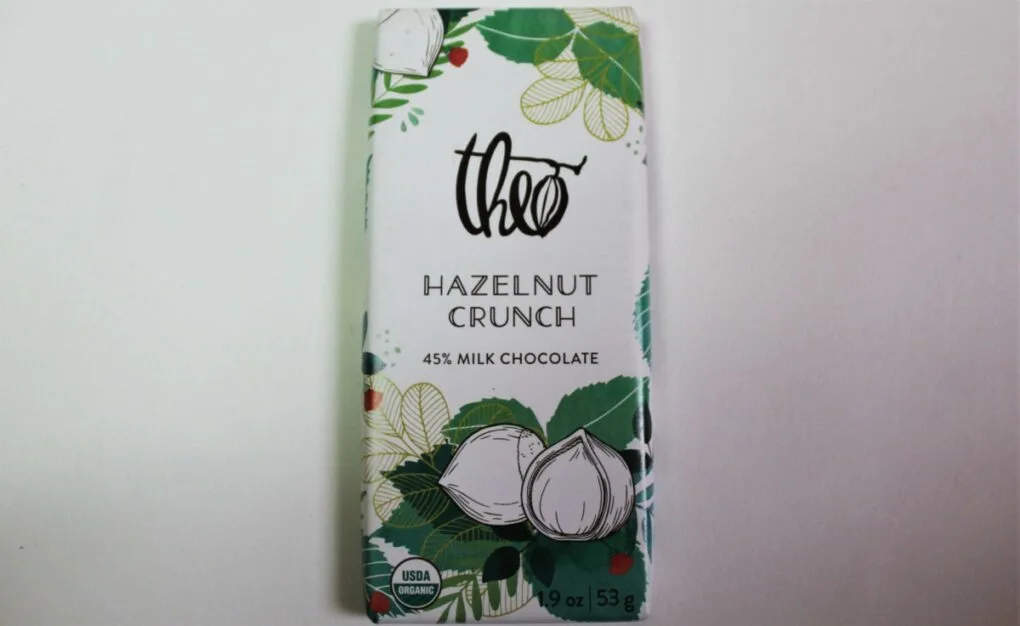 Interestingly enough, Theo is another chocolate company that changed hands in 2018, though in a decidedly less dramatic fashion. The owner stepped down as acting CEO of the company, but still owns a large portion of it, generally a good sign of continued ethical practices.
From their founding in 2005, Theo has been one of the most open and transparent larger chocolate companies out there. They have continued to work with cocoa farmers in the Democratic Republic of Congo, sourcing a full 100% of their cacao from the region in 2021.
Additionally, they maintain an open door sort of policy at their Seattle-based chocolate factory, running daily tours and a variety of chocolate classes. Their range of bars has grown over time, as well, with their lowest percentage of cacao being in their 45% milk chocolate.
The fact that you can't find a Theo chocolate bar with less than 45% of the ingredients coming from the cacao bean is legitimately impressive. Their milk chocolate is creamy and rich, and every season brings its own specialty bars ranging from the horchata to the fresh lemon flavors.
Theo's 70% dark chocolate is a sweet but not overwhelmingly flavorful base for most of their bars, however, which also rise up to an 85% dark chocolate. For those interested in peanut butter cups, Theo's are definitely my go-to, and available in both dark and milk chocolate.
Click here to see recent prices for Theo bars on Amazon.
Lake Champlain Chocolate
Must Try: Toffee & Almond Crunch Dark Chocolate (57%)
Price Range: $4-$5USD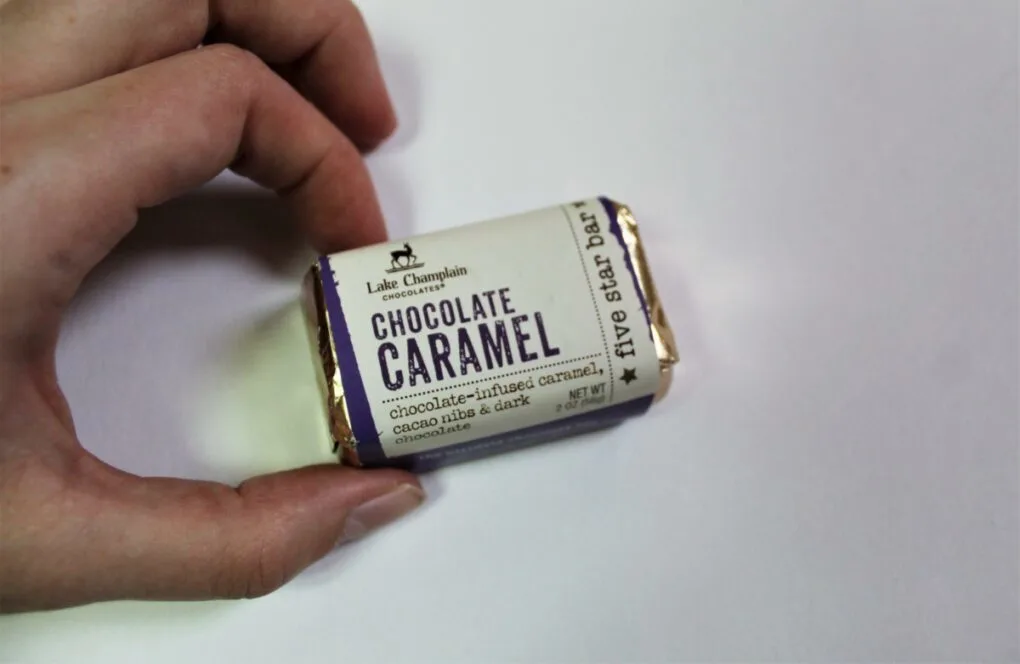 If you've been to the Whole Foods dark chocolate section, you've probably seen a Lake Champlain chocolate bar. This larger producer has such a large range of products that you may not have even realized that those tiny "Five Star Bars®" are also made by Lake Champlain.
Based in Burlington, Vermont, the company has been in business since the early 1980's, and even though it's not obvious on their packaging, they're a certified B Corporation. This means that they have paid for an outside company to come in and audit how they run their business.
Ultimately that certification means that their business meets certain standards of social and environmental performance, as well as accountability and transparency to consumers. Of all of Whole Foods' chocolate brands, Lake Champlain may offer the widest selection of percentages, flavors, and types of chocolate products.
In my experience, their hot chocolate mixes and their darker bars with inclusions (non-chocolate ingredients added for flavor) are the most worth it, though by no means by favorite. But judge for yourself, especially if one of their many sweet flavored chocolate bars piques your interest.
Click here to see recent prices for Lake Champlain bars on Amazon.
TCHO Chocolate
Must Try: Mokacchino Milk Chocolate
Price Range: $4-$5USD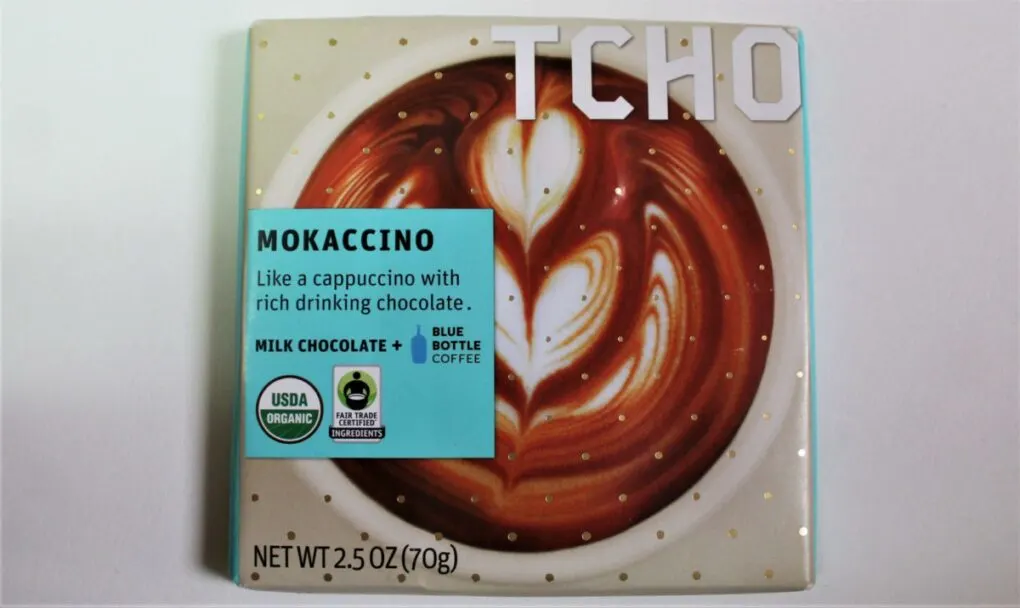 A longtime staple of the health food chocolate scene, TCHO was founded in the Bay Area in 2005, and sold to Japanese company Ezaki Glico in mid-2018. Ezaki Glico is best known for making Pocky, a chopstick-shaped biscuit covered in chocolate-flavored coating.
So while I'm concerned about the direction in which new ownership may take the company, I'm willing to continue recommending them for now. Japan's fine chocolate scene has been on the rise for over a decade now, and foreign-seeming brands are definitely winning the game and continuing to increase their share of the chocolate market.
TCHO built its name on making chocolate which celebrates the different flavors naturally found in cacao, and built up a line of flavored bars from there, an approach which I think appeals to chocolate lovers from all over the world.
They still have the "nutty" and "chocolatey" bars in their line-up, but gone are the "fruity" or "earthy" bars you may have been able to find half a decade ago. Now I think you'll be surprised with how kid-friendly their milk chocolate flavors are, while still being made with a 53% cacao base (most milk chocolates are under 30% cacao).
My personal favorites are the pretzel crunch and the snicker doodle, though I do have a sweet tooth. Check out their recently-launched "Maker's Series" bars with single origin and unique flavor combinations, though this seems to be available online-only for now.
Click here to see recent prices for TCHO bars on Amazon.
Alter Eco Chocolate
Must Try: Dark Velvet 55% (milk chocolate)
Price Range: $3.50-$5USD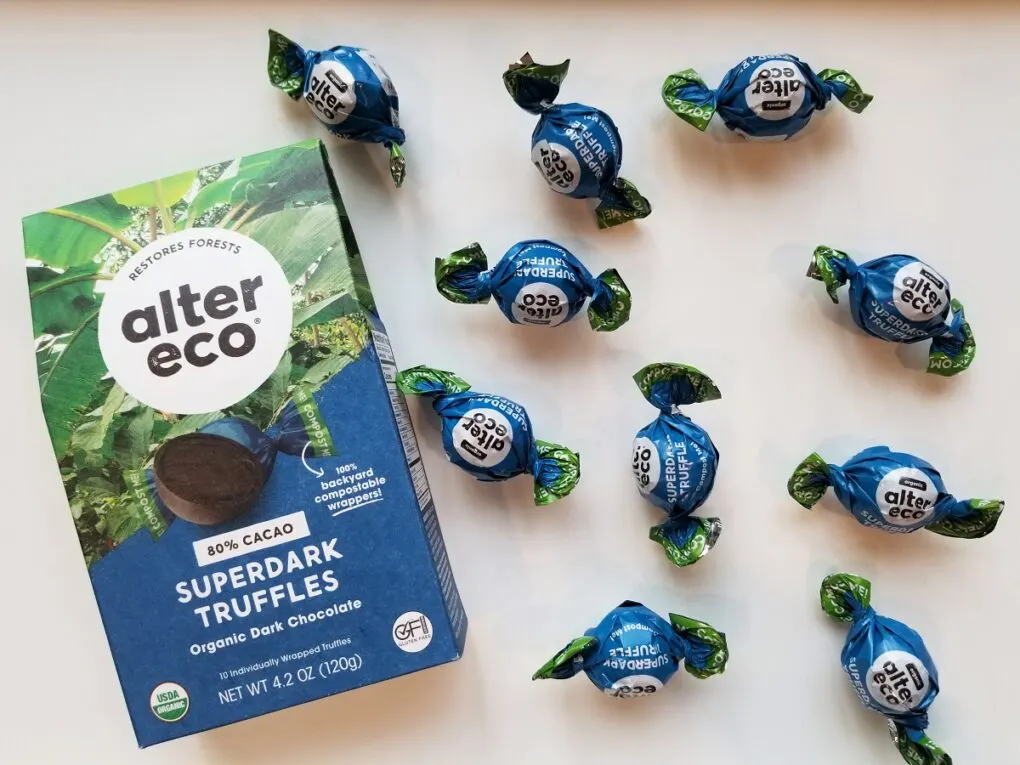 Long since a favorite of mine, Alter Eco has recently undergone a packaging rebrand, and I think it's for the worse; the new bright colors make the products look cheap. However, the chocolate inside is still worth investing in, and each bar is made with organic cacao sourced from farmers said to be working to re-forest their land.
I'm not generally a huge proponent of organic certified farming, considering how expensive the certification process is. But with a company as big as Alter Eco I can understand the desire to commit themselves in such a way rather than using one specific cacao brand or purchasing their own farms.
"Organic" still holds a lot of power for their customer base, and it's a lot easier to say than trying to explain a direct trade relationship with farmers who practice organic-style farming, sans certificate.
Alter Eco has a wide range of percentages of both dark and milk chocolates, with a nice mixture of inclusions, from butter caramel to sea salt. Try their truffles for something extra decadent.
Click here to see recent prices for Alter Eco bars on Amazon.
Divine Chocolate
Must Try: Milk Chocolate with Toffee & Sea Salt 38%
Price Range: $3-$5USD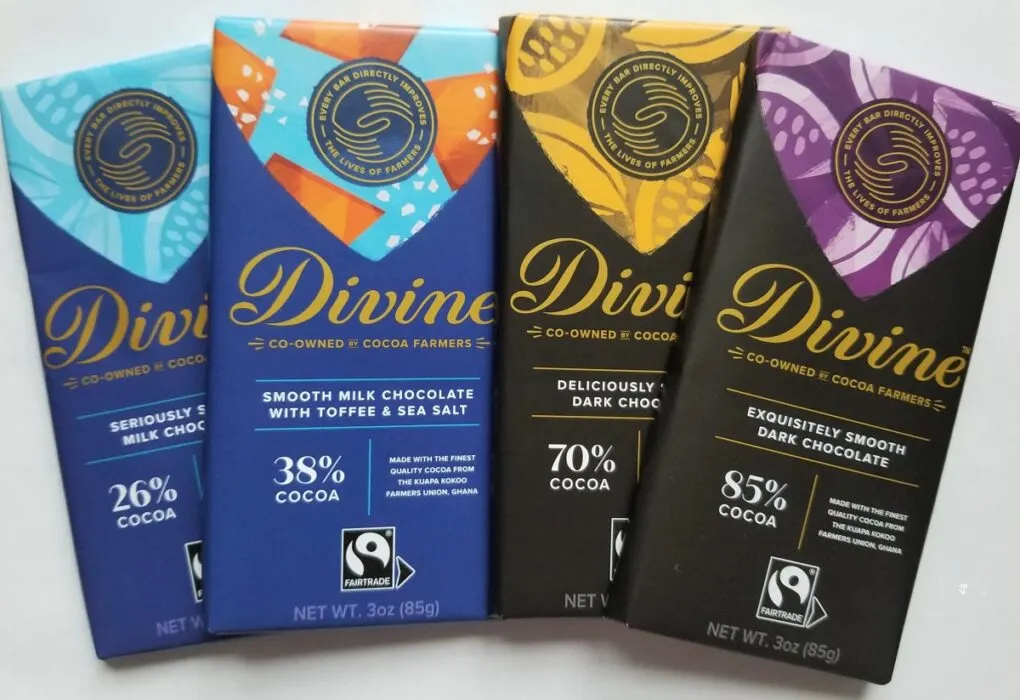 Divine is a UK-based chocolate maker using cacao exclusively from a cacao cooperative in Ghana. A cacao cooperative, or co-op, is a group of farmers who contribute cacao to a centralized collection place, leading to higher quality cacao since each farmer only has to harvest when their crop is ripe (in this case, thousands of farmers).
In fact, the co-op is part owner in the company, which recently launched a whole new line of bars. Their chocolate is Fair Trade certified (meaning it's also certified organic), and with farmers holding 44% ownership, their board meetings are certainly some of the most diverse in the industry.
They make some of the most mild and sweet 70% dark bars available, as well as some of the smoothest milk chocolates. For a high-percentage milk chocolate or a dark chocolate with inclusions (ingredients added for flavor), Divine would be one of my first recommendations.
The company also has a small line of white chocolates, though they're a bit tougher to find.
Click here to see recent prices for Divine bars on Amazon.
Unreal Chocolate
Must Try: Milk Chocolate Gems (41%)
Price Range: $4-$6USD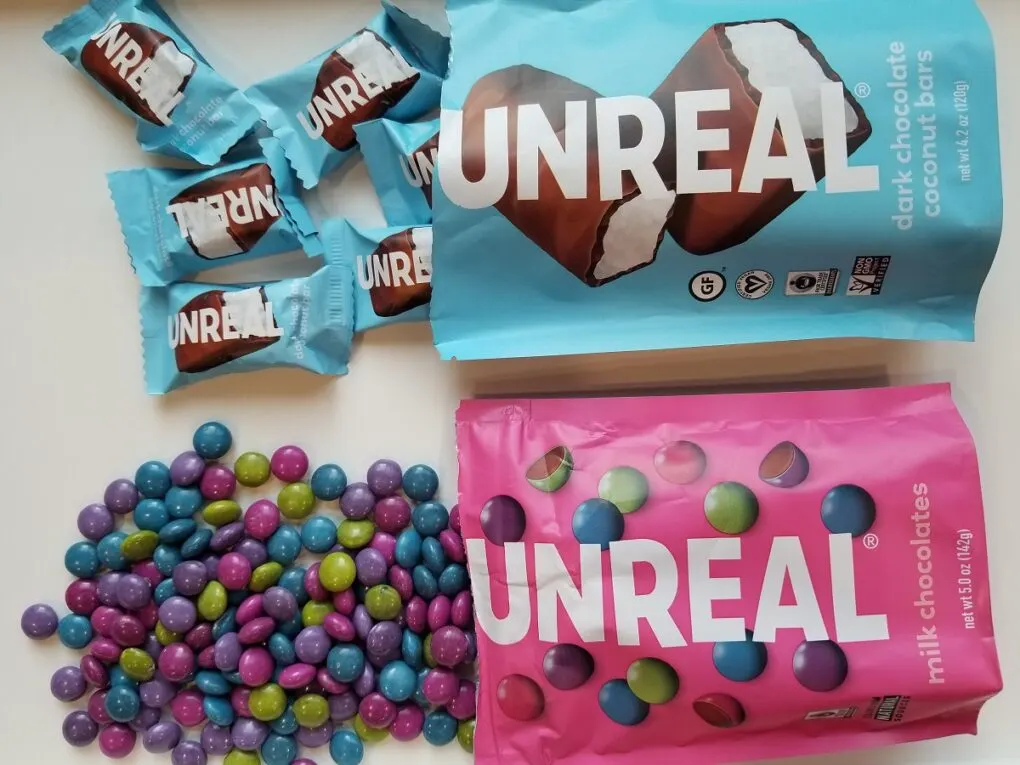 Relatively new to the Whole Foods chocolate aisle, Unreal Chocolate was started by a pair of brothers who wanted to re-make their childhood favorites, sans preservatives and artificial flavors.
A noble goal, this is easier said than done, and I've been impressed by both the flavor of their chocolate and the fact that their products are soy-free & mostly organic. They describe their treats as "chocolate snacks," and I have to agree.
They don't make any bars at the moment, but their line of nut butter cups and "gems" (high quality M&Ms®) are quite good. Especially for those looking to add a sweet little something to packed lunches or trail mixes, investing in one of their brightly-colored packs is the way to go. They're re-sealable, too.
Click here to see recent prices for Unreal Chocolate products on Amazon.
Whole Foods Chocolate Video Reviews
Do you have a favorite Whole Foods chocolate bar I haven't mentioned here?
---
If you found this article interesting, please pin it for later!