Did you know that Ecuador has a thriving viticulture sector? I certainly didn't realize this until last month, when I met a man in the cafe who started me talking on chocolate (surprise, surprise), and ended up with my email address and website name. Then he took me out for wine.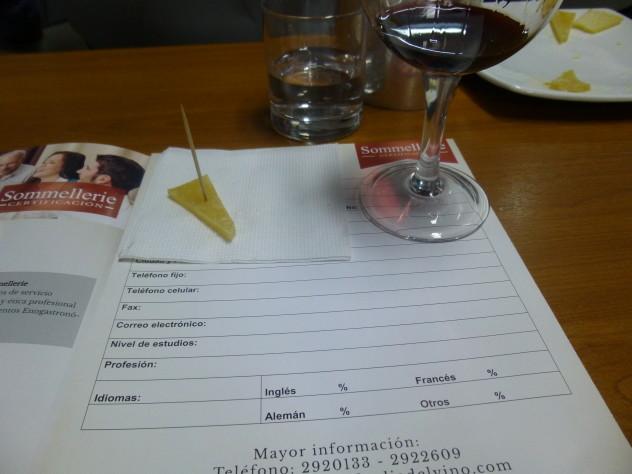 Growing a Fine Food Scene in Ecuador
It's not exactly what you think, though it is, but it's really not. About a week after we met, I received an email from this man— Esteban is his name— inviting me to a wine & chocolate tasting. It actually doubled as insight into the growing fine food scene centered on Ecuadorian, and some European products. Chocolate has been an important factor in its recent growth, though the chocolates tasted at the event were produced in a more commercial style. The featured & sponsoring maker was Caoni Chocolates.
The very informative session we attended beforehand was focused on an upcoming partnership between the Cofradía de Vino (Brotherhood of Wine) and the Universidad San Francisco de Quito (USFQ; the same university responsible for collaborating with Carolina to build the Galapagos Science Center on San Cristobal Island). The two institutions are starting a Sommelière certificate program through the university, as a sort of post-graduate certificate program for those already immersed in other careers, or a vocational training for recent high school graduates.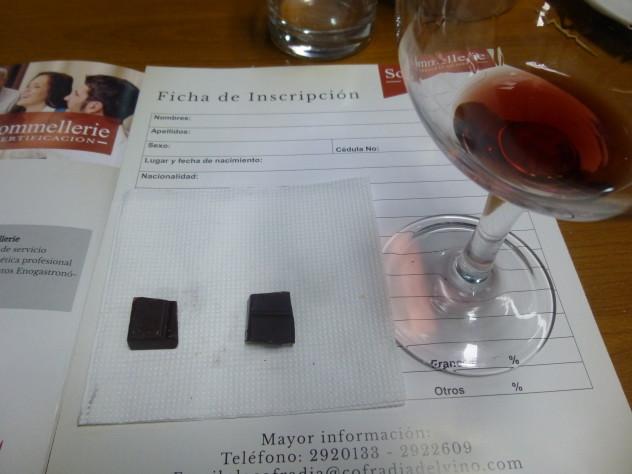 About the Sommelière Program
Esteban, the friend who took me to the presentation a couple of Thursdays ago, is very interested in the program, and after seeing what they have put together, so am I. Too bad I would have to wait until next November to start such a program, considering I haven't graduated university, yet. But after finally seeing some of northern Quito, the newest area of the city, and experiencing some more of the foodie things the city offers, I could see myself moving here for such a program, as well as a job in chocolate.
Understandably, the certificate takes nearly two years to complete (so that your palate can be properly trained over time). But it's only two nights a week, and much less expensive than programs of comparable quality I have seen offered. Though bear in mind, that it is completely in Spanish. You need Spanish fluency to participate.
The program is food for thought, however, even if you choose not to be involved. Its mere existence has huge implications for the future of the food culture in Ecuador. We all know that Ecuador is made of fertile ground (& mountains). There are fresh fruits and vegetables and herbs here that you will not find anywhere else. But what is remarkable is the emerging fine food culture within the country where roses are $2 a dozen and avocados are sold by wandering vendors, 6 for a $1.
Food for Thought & Expression
Whereas the fine flavor foods such as chocolate, wine, coffee, cheese, spirits and charcuterie used to be scarcely available in Ecuador, if present at all, there are now whole publications for it. Groups and stores in the capital city of Quito are dedicated solely to the enjoyment of such earthly pleasures. Recently, fine French pastries are falling from my lips to my hips faster than I can name them.
Previously restricted by price to the more developed countries of Europe and North America, fancy French bakeries and wine tasting clubs are popping up around the world. There are sometimes led by expats who have moved there. But more often they are started by an agricultural expert in that area, keen on informing their fellow patriots of the strong points of their country's food. Coming from backgrounds that start with the soil and may continue into serving food in a restaurant or a bakery, these experts in their field are turning towards the benefits of appreciating their country's agricultural bounty for themselves, and sharing those slow food observations with others.
The final goal is often not only to appreciate the small percentage of fine flavor foods produced in the country, but to improve overall quality of the versions already produced in the country. By appreciating and pointing out the high quality versions of otherwise everyday foods, they are publicly demonstrating the potential in this region, already being realized by a small percentage of producers. This is most evident in Ecuador's fine flavor cacao & chocolate industry, which I literally got just a taste of at the Sommelière event.
Appreciating Some Damn Good Wine
In the presentation two weeks ago, as well as the wine tasting and art show I went to last night, I saw a diverse group of people appreciating what their own country has to offer, as well as the options coming out of other countries. Both nights I tried two different wines, and was surprised at how much I enjoyed them, not having previously considered myself a wine person. The star overall was definitely the Sauvignon Blanc from last night, however, which showed chocolate-like qualities in its evolution.
Over the course of the ten minutes I took to savor it, the nose and flavors complemented each other, spanning from floral to citrus to berries to roasted coffee. As the wine opened up, I learned more about its history and origin, noting details that I would not have understood the significance of without Esteban's help. "That roasted coffee that comes in very lightly near the end, that's probably due to the fact that it was aged in barrels for some time before it was bottled. That's what the designation of reserva means."
He was full of such tidbits all night, and you could just tell from the vibe in the room that everyone was really enjoying themselves. The bartenders knew what they were talking about down to the proper cheese pairing, and everyone had an interesting story to share related to how they got into wine. Though really, who needs an excuse?
Overall, it was a very good experience, and I cannot wait to come back to Quito in the near future and explore even more of the various cultures of this historic city, as well as make even more unforgettable friends. I'll see you soon, Cofradía!
Have you ever met a stranger that introduced you to something unexpectedly fascinating?