Unlike in coffee, the chocolate industry has relatively few large conferences open to the public. The industry is still quite secretive, except for one segment— craft. The specialty, or bean to bar chocolate industry is a subset which has built its customer base on the standard of transparency.
So it only makes sense that one of the few large conferences honoring bean to bar is so accessible. The new Craft Chocolate Experience in San Francisco and the established NW Chocolate Festival in Seattle are the other two main bean to bar-centric festivals.
Most other chocolate festivals around the world are open to whomever is interested in buying a booth; the global Salons du Chocolat come to mind. But Chocoa is pulled together each year in pursuit of one thing: a better system for chocolate.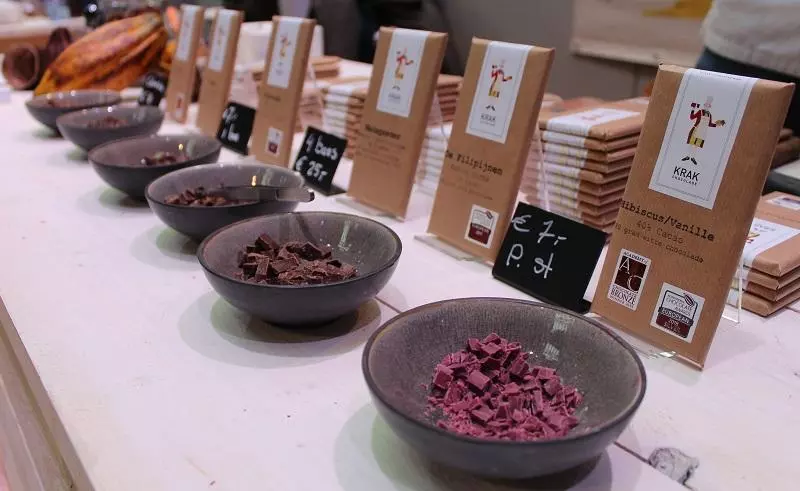 About Chocoa & The Netherlands
From its start in 2012, Chocoa has limited itself to ethical chocolate-related businesses. This year, in 2020, the festival saw a range of businesses, from cacao juice & cacao bean producers to vegan bean-to-bonbon makers offering chocolate drinks.
The chocolate festivities lasted 5 days in late February, from Wednesday the 19th to Sunday the 23rd, in beautiful downtown Amsterdam's Beurs Van Berlage. Even if you only had one day in Amsterdam, I'd recommend spending part of it exploring the bustling surrounding area and its many coffee shops!
The festival itself saw a variety of options for consumers, professionals, and those interested in eventually working in chocolate. While there were several chocolate makers and chocolatiers from the Netherlands, the vast majority of the businesses which attended came from outside the country, and many from outside of Europe.
This is a part of the festival's aim, embodied by their slogan 'good cocoa, better chocolate.' Right now, this is one of very few chocolate festivals in Europe which has any focus on the origins of the cacao used to make chocolate, much less the cocoa farmers themselves and their needs as businesspeople.
Click here to read more about the festival's overall goals. The festival's home country of The Netherlands is actually one of the world's top processors and importers of cacao, with Amsterdam being the main hub.
As a port city, Amsterdam has a long history of receiving raw materials for Europe's many craftspeople to turn into artisanal goods. Chocolate, of course, has been one of these. But the Dutch government is working with cocoa importers to transform the supply chain to be 100% sustainable by 2025; educating consumers is one of the first steps in achieving that goal.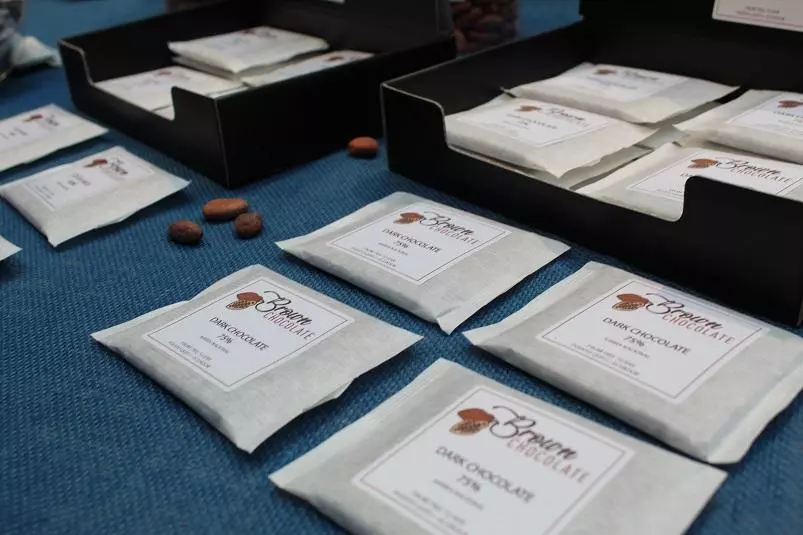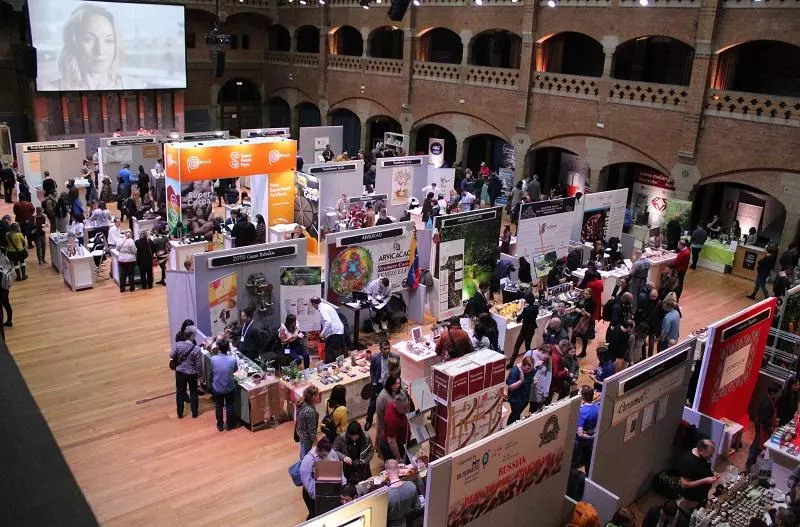 Chocoa Festival Schedule & Events
While the Chocoa schedule of events changes and expands each year, everything generally takes place over the course of 5 days, Wednesday to Sunday. First is a few miscellaneous events on Wednesday, from the Women in Cocoa & Chocolate event to the European Markets Academy workshop, which introduces potential buyers & sellers to the main European markets.
These events vary from year to year, but the schedule always takes place in the few days before a weekend, when the chocolate festival is open to the general public. From Thursday to Friday is the main professional events: the conference and the trade fair, as well as some specific talks from various professionals.
This year's talks included topics such as fermentation techniques from Brazil, cultural exchange & the Philippine diaspora, and spirit pairings with aged chocolates. The final schedule for the conference was released the week of the event, and while I didn't attend the conference, I had a wonderful time at the trade fair.
There was about 20-30% overlap between the exhibitors at the Trade Fair and those at the public festival, so I was glad to be able to attend both. At the Trade Fair you saw a lot more cacao producers and importers, some machinery manufacturers, and several chocolate makers looking for more global distribution.
Those attending one of the three tracks of the conference were taken around the trade fair early in the morning, and then often taken to other cacao-related spaces near Amsterdam (according to some friends who attended).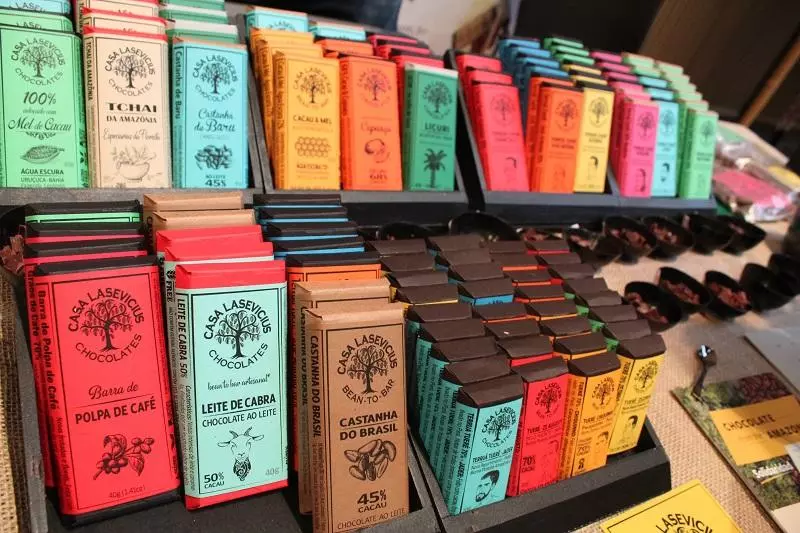 During the public festival on Saturday and Sunday, thousands of consumers walked through the many halls of Beurs Van Berlage. The same two large halls used for the trade fair are utilized for the festival, with the other hall still open for meals, resting, and a few kid-friendly activities.
There was also karaoke, though I stayed far away from that. Along the right side of the wall, festival-goers could pay €1 to taste & rank five hot chocolates entered into friendly competition; I was too full of samples to even consider participating.
Some of the extraneous events which took place over the latter three days include a barista master class, the professional dinner, an FCCI cacao grader's intensive, the chocolate makers' forum, and the cocoa auction. Most of these events weren't announced or finalized until the last few weeks or even the very week of the festival.
When I tried to attend one of the talks, I was told I needed to go to the front to check in and get some kind of ticket for the speakers. It was all really confusing and hard to figure out, honestly. If you plan to visit the Chocoa Festival in Amsterdam, then I recommend you book flights & accommodation early, and trust that it will be good.
Plan for an extra few days to see other cities in the Netherlands, and deal with any disorganization as part of the way art echoes life. Personally, I was exhausted just looking at all the options, and I can't even imagine trying to organize & execute all of this. My hat off to the organizers, and I'll definitely come back better prepared next year (or maybe the year after).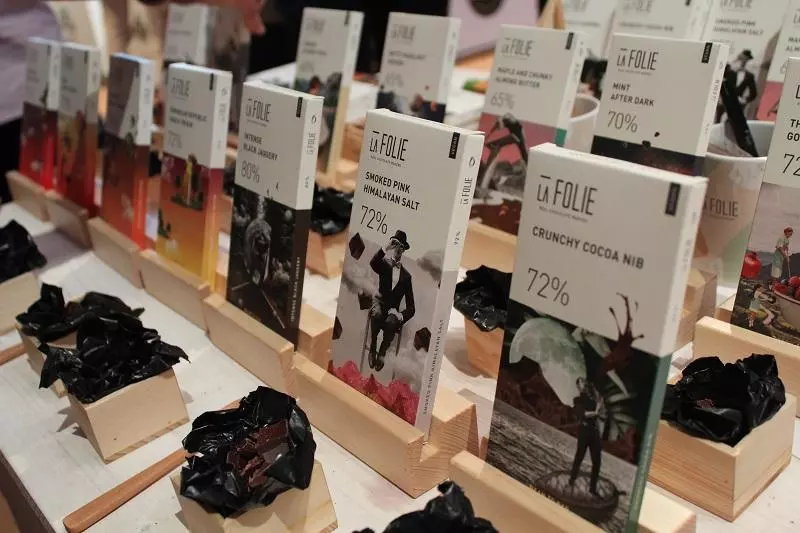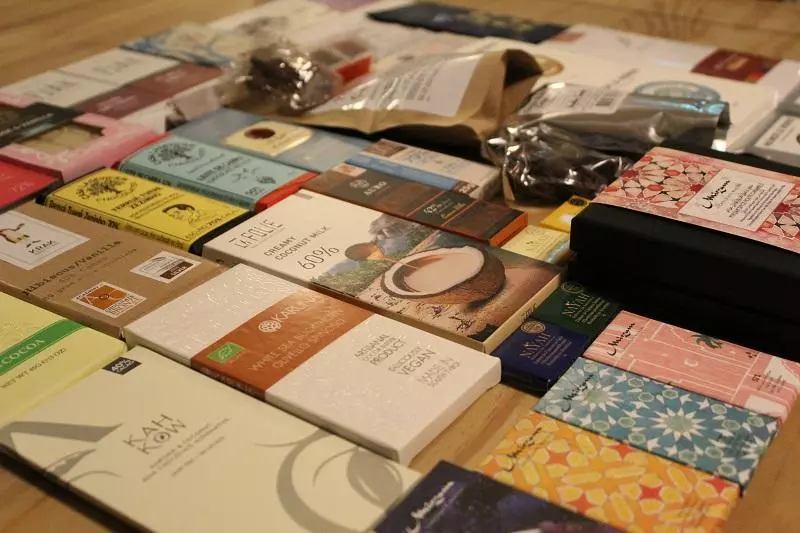 Recent Chocolate Trends
This was my first time in Europe in seven years; back then the closest things I could find to craft chocolate were a few chocolate museums in Barcelona and elsewhere. But I've kept up with trends online, and in the Americas and later in Asia.
Relative to the festivals I attended in 2019, and what I've been seeing online, I saw a lot more white chocolates at the public festival. Beyond that, I noticed many more uniquely-flavored or otherwise manipulated cocoa butter-based chocolates, milk alternatives, and bags of cacao beans, in addition to the more typical single origin chocolates.
Craft chocolate makers are also now having to be more careful with labeling, as they rub up against the edges of legal definitions for chocolate. This is particularly relevant when it comes to chocolates made with milk alternatives, like oat, almond, and coconut milks.
Note that there was basically no presence of ruby chocolate at Chocoa. Every exhibitor's packaging & presentation was very well done, in general— people knew they were there to sell, and that people buy with their eyes first.
It was heartwarming to see so many chocolate makers and cacao producers from outside of Europe & the US coming to the festival. I was particularly impressed by Venezuelan chocolate maker Arvicacao, cacao juice processor Koa Impact, and Indonesian cacao importer Biji Kakao Trading.
All three of those companies have stuck in my mind as enterprises to keep an eye out for, and not just because their products are damn tasty. During Chocoa 2020 there were also premieres of Freebird cacao juice, cacao pod necklaces, cacao pulp-based pates de fruits, single estate cacaos from tree to bar chocolate makers, and many new single origin bars.
If I were to list each individual product out right here, though, we'd be here for hours. My recommendation is that you come next year and see for yourself! Remember to bring both cash and card to the event, as some vendors only accept one or the other.
It's also advisable to bring your own re-usable bag to carry purchases, as well as a plastic bag for bonbons or brownies or other loose treats, so as to be less impactful upon our environment. To read another perspective on Chocoa (from someone deeply involved in the festival), check out professional chocolate writer Clay Gordon's post on Chocoa.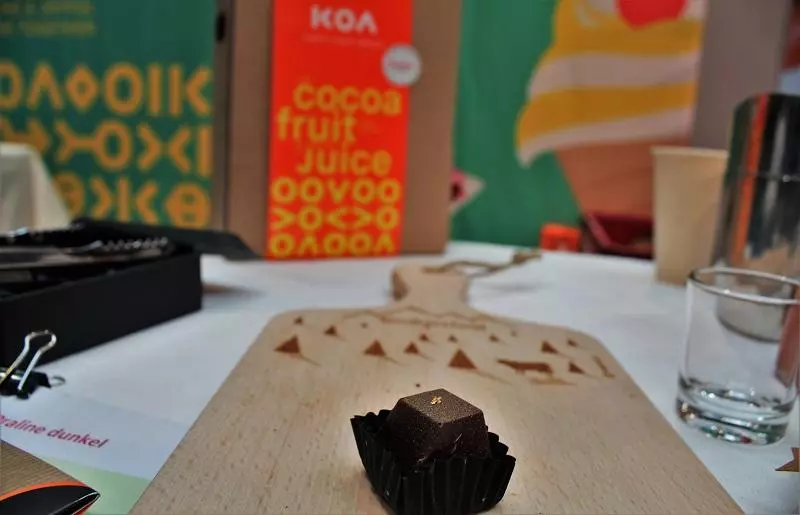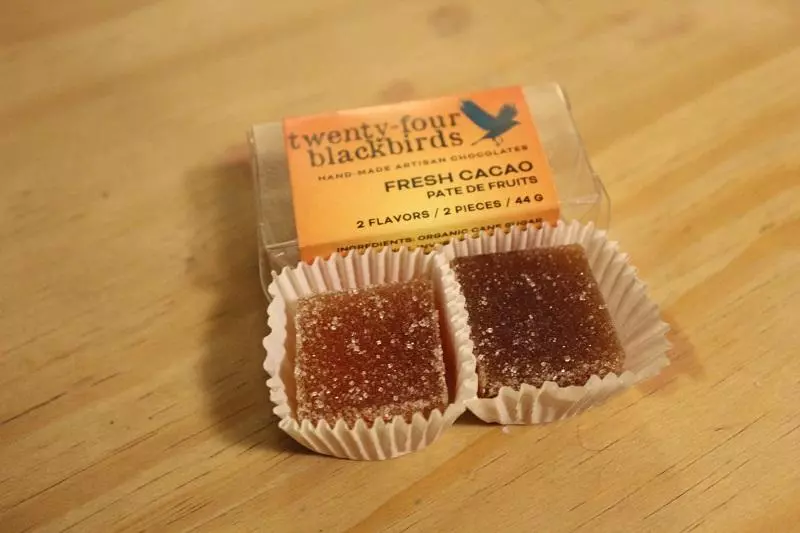 A huge thank you to the Chocoa organizers for making it possible for me to attend the pre-festival Trade Fair at no cost; all other tickets and all chocolate & cacao products were purchased by me. I'm looking forward to attending the conference portion in 2023 or 2024!