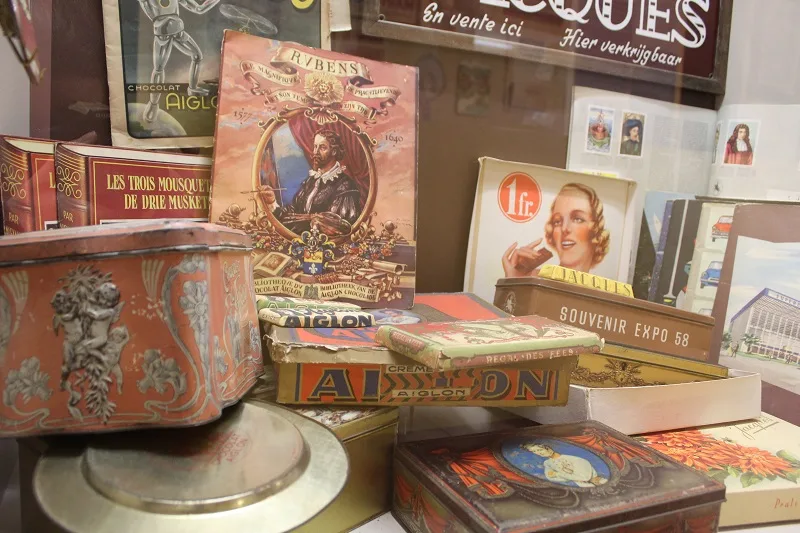 The first thing I did upon starting my weekend in Bruges— after a 4-hour bus ride from the Netherlands— was begin visiting the best chocolate shops in Bruges. This is normally an activity reserves for after you've seen the requisite castles and museums, but, well, this pilgrimage was for one purpose: Belgian chocolate.
A friend I interviewed in India had actually worked at a Bruges chocolate shop years back, and his former place of employ is still said to be the source of the best chocolate in Brugge (see below).
The northern city (pronounced "brooj," and also spelled Brugge in Flemish) is one of Belgium's most famous tourist destinations, known for amazing waffles and French fries, as well as museums and castles on every corner.
While the waffles and pommes frites are a can't miss in Belgium, so is their chocolate, which has become famous the world over thanks to a few enterprising national brands. But you won't find any of the (copious) Neuhaus, Leonidas, Galler, or Godiva shops in Bruges on this list.
Even though they're arguably the most famous Belgian chocolate brands out there, that definitely doesn't make them the best. In fact, I think almost all of what they sell is mass-produced crap, though it's not like Brussels is any better. So I set out to find which ones are.
I visited 20+ chocolate shops in Brugge (and nearly made myself sick a couple of times), but I finally narrowed it down to 15 shops worth visiting on your trip. Here are the winners (I've starred my 3 favorites)!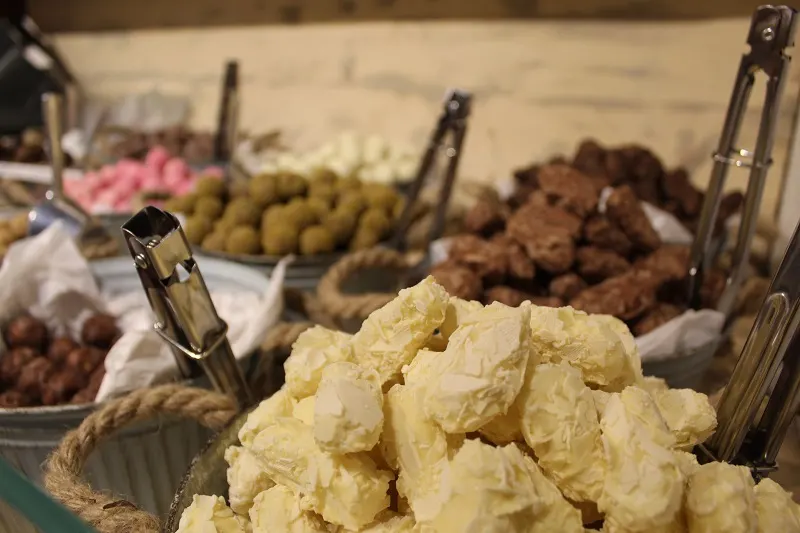 About Belgian Chocolate in Bruges
But first, a quick note. If you're not familiar with Belgian chocolate— as in, technically, any chocolate sold in Belgium— then there are a few things you should know before you buy. First off, chocolate shops in Bruges are generally close together and walkable.
Surprisingly, I found more variety in Brugge than in Brussels, even with them all being so close together. A friend also recommended I check out Chocolatier M, a bit outside of the city, but it snowed so hard every day I was there that unfortunately I never made it out of Bruges proper.
In the north of the country, where Brugge is, they speak a dialect of Dutch called Flemish, while in the south everyone speaks French. One of the reasons that Belgian chocolate has become so famous is because the famous Belgian chocolatier Neuhaus (pronounced "noy haws") invented the praline in the late 1800s.
Eventually they began exporting them globally in large quantities. In France & elsewhere, pralines are called bonbons. But I found that that's not as common a term in Belgium, even in French-speaking regions in the south. Belgian pralines are almost all sold by weight, even in the most famous shops.
But if you decide to buy only a few pralines, then the price is per piece, often with a limit of 3 or 4 before pricing shifts to a weight-based system. Some unexpected flavors I found very commonly in Brugge chocolate shops are: raspberry candy (cuberdon), eggnog (advocaat), manon (fresh cream with praliné), and speculaas (spiced cookie).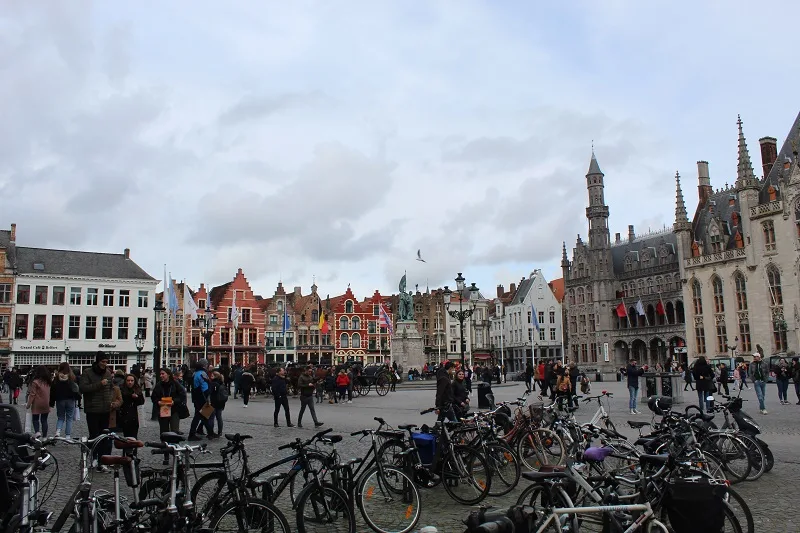 Another somewhat surprising thing you'll learn about the Bruges chocolate scene is how crappy most of the chocolate is. People generally want to support small family businesses on their travels, which I'm 100% on-board with, but most of the chocolate shops in Belgium use couverture chocolate.
This type of chocolate is made from cocoa beans or cocoa mass by large chocolate manufacturers, usually making for a flat flavor and dubious cacao sourcing, at best. This chocolate base material almost always comes from huge corporations, which themselves care more about profit margins than small holder farmers.
Consider visiting a small bean to bar chocolate shop in Bruges called The Chocolate Line, which produces all of their chocolate from cacao they import themselves (as opposed to importing the finished chocolate).
You can read more about them in the Brugge chocolate guide below, but no matter which shop you choose to visit, remember to be curious! Over the decades, the country's many chocolate brands and manufacturers have built up Belgium's reputation as a famous chocolate destination.
But many producers are taking advantage of this. My rule of thumb is that if the pralines come in a prepared bag, they're probably going to taste like sugar and plastic.
Make sure you're always choosing the flavors you like, and if you can see them preparing the fillings for the pralines & truffles, even better. Now onto the chocolate! All shops are listed roughly in order of when you'd encounter them when entering old town.
Bruges Chocolate Shops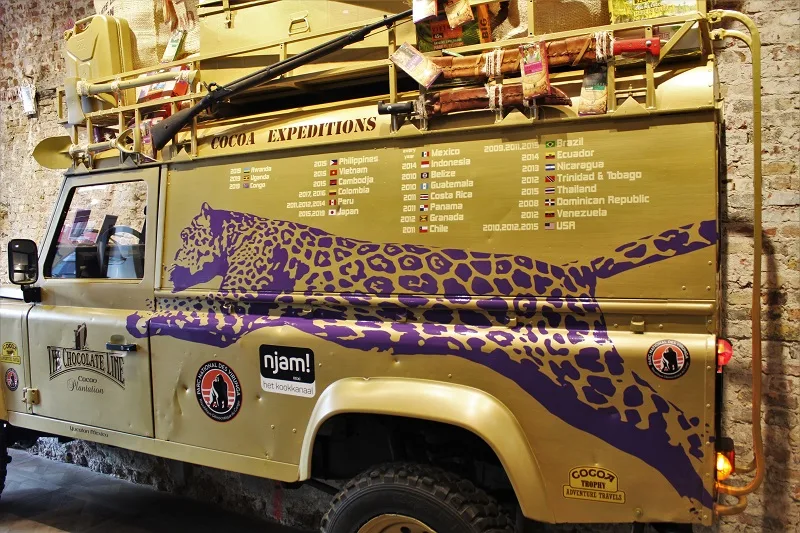 One of the most famous chocolate shops in Bruges, this bean to bar chocolate maker has become rightfully famous for their huge variety of delicious cocoa-based products. Most customers come for their chocolate bars and bonbons, as well as their selection of allergy-friendly chocolates.
But along the back wall of their retail space, they also have chocolate letters, customizable chocolates, and mega boxes with over 100 bonbons. You know, for those really big parties.
Since they do bean to bar chocolates, when you bite into one of their pralines you don't just taste the high quality filling, but you taste the cocoa solids and fats in the chocolate, and the creaminess of the milk.
I found the experience of enjoying the bonbons from here versus from other chocolatiers in Bruges to be completely different, in a very delicious way. Their chocolates are about the same price as the other Bruges chocolatiers on this list.
However, their flavor combinations are some of the most creative, and the execution is undoubtedly the best. This is the first place I'll return for chocolates in Bruges.
Address: Simon Stevinplein 19, 8000 Brugge, Belgium
Hours: 9:30am-6:30pm, daily (opens at 10:30am on Sun. & Mon.)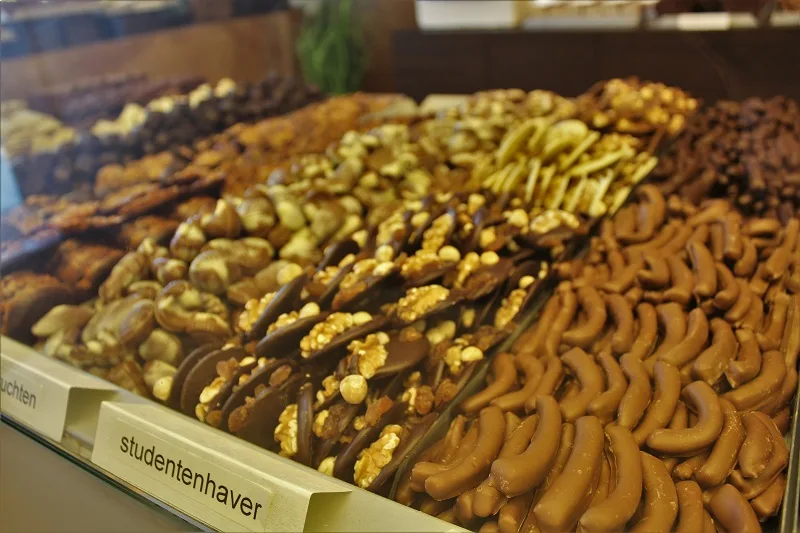 This was one of the few spots I visited that actually had a line to go in! While they offer bonbons in a few packages, this is clearly a spot where most customer choose individual flavors to build their own bag.
Beyond the bonbons they carry hot chocolate spoons and some other confections, but since they're cash only, most patrons stick to the pralines and truffles. Their bonbons are unusual in that they also have single origin ganache options, though they are not a bean to bar chocolate shop.
Trying the bonbons I bought, they're not overly sweet, but the listed flavors and tasting notes fall rather flat, even in the single origins. I'd choose to buy a nut-based bonbon from here if I ever needed a pick-me-up sweet treat, but I wouldn't go too far out of my way.
Address: Mariastraat 34, 8000 Brugge, Belgium
Hours: 10am-6pm, daily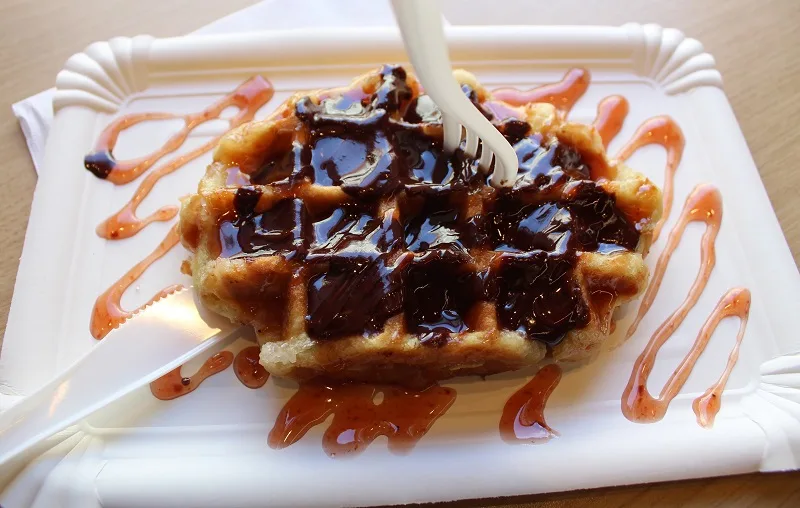 Pol Depla uses the same chocolate supplier as The Chocolate Brothers down the street (see above), but with one key difference— next door they have a beautiful waffle & coffee shop using their chocolates and selling pieces from their shop.
While I'd recommend stopping into their official shop if you have a strong preference for any particular flavors, their waffle shop outlet has a perfectly good selection, and even uses their chocolate in their waffle topping. Overall, their flavor selection is decent, but neither the best nor the worst in town.
Address: Mariastraat 20, 8000 Brugge, Belgium
Hours: 10am-6pm, daily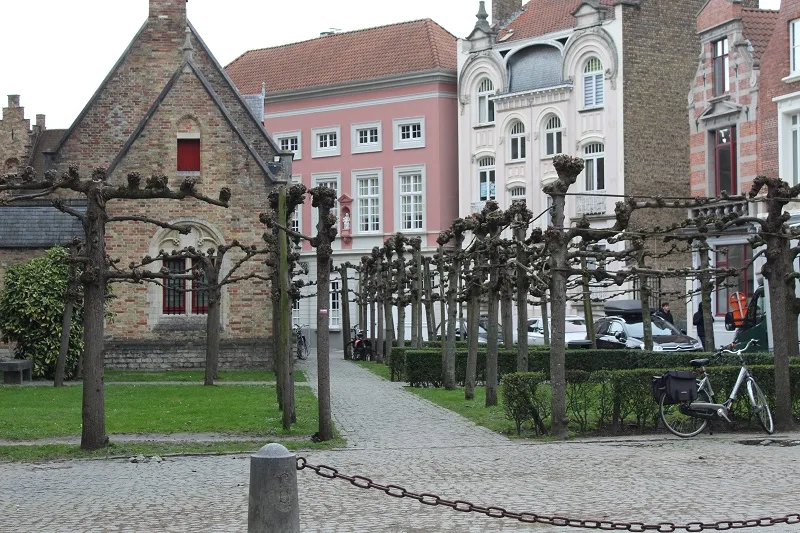 The Chocolate House looks the most like an old Belgian chocolate house, dating back to the 17th or 18th century. They run a hot chocolate operation out of the attic, while the ground floor is dedicated to a long line of bonbons.
That praline display is across from a large number of molded chocolates, honeys, chocolate-covered sweets, and candied confections. After the very professional presentation of the chocolates (and from the staff), I had pretty high expectations of The Old Chocolate House.
But of the four bonbons I bought, I only finished one; everything was very sweet and flat, with each flavor falling short of expectations. The pralines I tried were all very sweet, and unfortunately that only worked well for one of the flavors. The hot chocolate smelled good, though.
Address: Mariastraat 1a, 8000 Brugge, Belgium
Hours: 10am-6pm, daily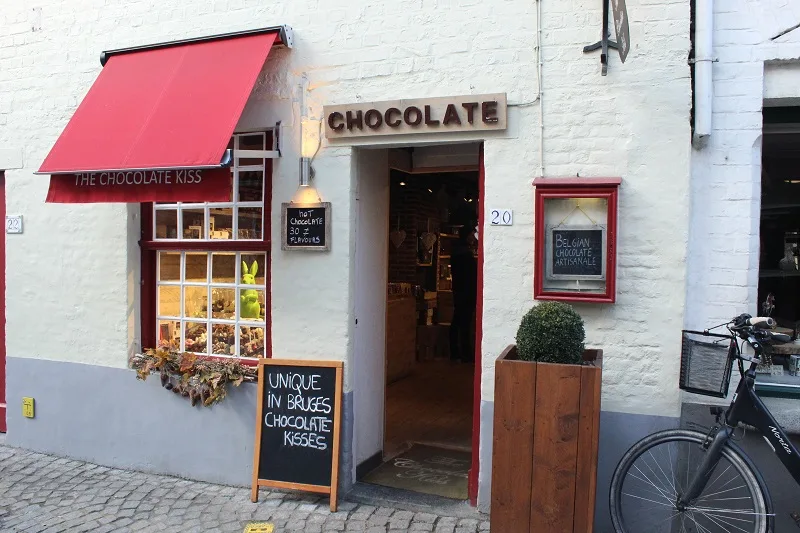 This was the first chocolate shop in Bruges that I managed to duck into. At first glance, I took in the homemade slides of marzipan, trays of truffles, and packs of pre-packaged chocolates, and thought I'm home.
Then I walked into a second room of bonbons and other assorted treats, including candy canes, ale, and hot chocolate spoons, and I realized that I'd walked into a representation of tradition. After a quick conversation with the owner, I gleaned that they use Callebaut couverture to make their confections.
Honestly, that's probably better than most of the chocolatiers in Brugge. In the back of the shop, there's space for just over a dozen people to sit and enjoy a Belgian waffle or a hot chocolate and some truffles.
The truffles are super sweet, with some having soft cream centers and others with hardened ganaches. They're good like a candy bar, but I wouldn't buy them again.
Address: Wijngaardstraat 20/22, 8000 Brugge, Belgium
Hours: 10am-6:30pm, daily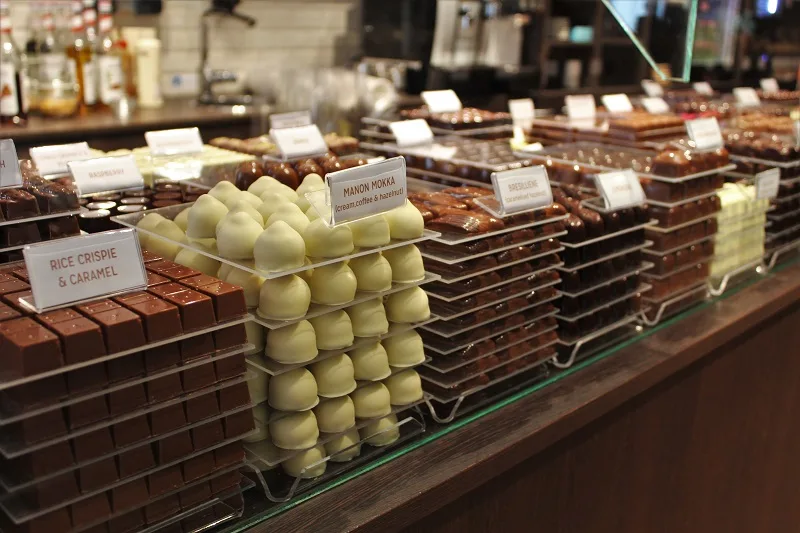 Located just off the main square, Oliver's is known for their chocolate letters, bagged chocolate bits, and packages of pre-chosen pralines, in addition to numerous shaped & molded chocolates. The majority of customers visiting while I was there had come for hot chocolate or coffee, done in the traditional style of melting pure chocolate into steamed milk.
But what caught my eye was the huge bonbon selection, composed of several dozen flavors. While they were quite sweet, the flavors were decent. I wouldn't go out of my way to buy them, though.
Address: Sint-Amandsstraat 14, 8000 Brugge, Belgium
Hours: 11am-6:30pm, daily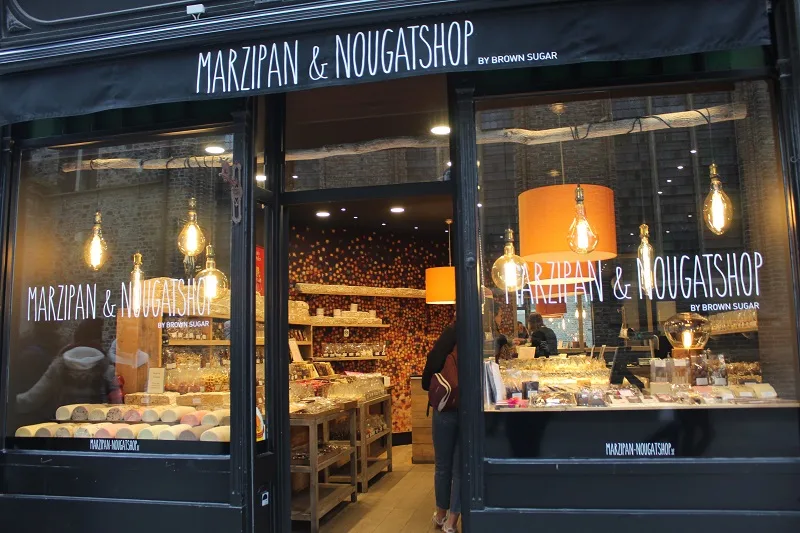 A lesser-know chocolate shop in Brugge, Brown Sugar offers a huge array of marzipans and nougats— both flavored, and chocolate-dipped & plain— and a selection of chocolates. While the shop itself is tiny and there isn't anywhere to sit, there is no shortage of options in the chocolate department.
I got some nougat and some of their chocolates, which were both quite sweet but overall good. When I'm back in the city, I'll return for a chocolate-dipped nougat, getting the best of both worlds, and for a lower price.
Address: Mariastraat 21, 8000 Brugge, Belgium
Hours: 10am-6pm, daily (open until 8pm Sat. & 7pm Sun.)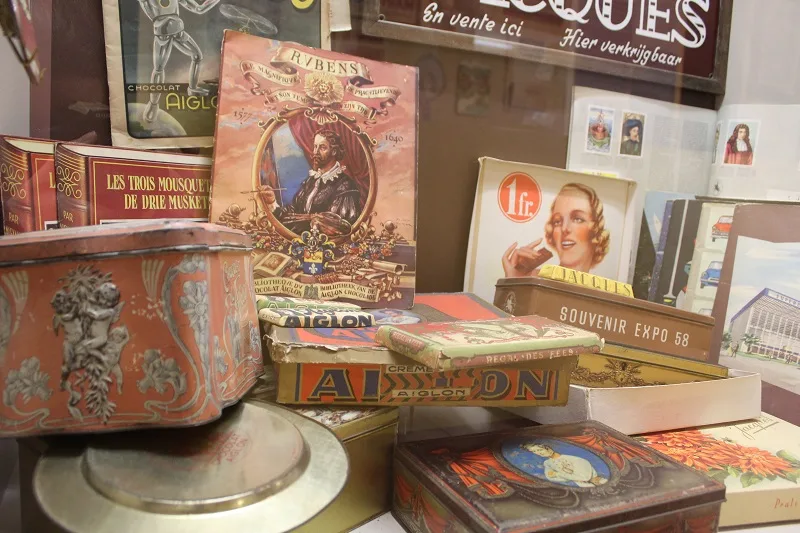 This is the famous chocolate museum in Brugge, with two stories of information on chocolate making and its history in Belgium. On the ground floor there are three rooms with chocolate history written in Dutch, French, and English, a short video outlining the history of chocolate, and then a room with huge chocolate sculptures.
But you should start your tour by heading upstairs. Following instructions on the page given to you when you entered (along with a chocolate bar), the modern story of chocolate begins on the third floor. From the beginning of the tour to the end, the Brugge chocolate museum covers an incredible amount of the known history of chocolate.
They begin with Mesoamerican cultures and cacao, and then the Europeans' spiriting away of the good. On the ground floor, at the end of your tour you can watch a demonstration of tempering & molding chocolates, while employees pass around different origins of Belcolade brand chocolate pastilles.
Everything seems to be sponsored by Belcolade, to be honest, but their history is pretty up-to-date. The museum is not handicap-accessible. But still, this is one of the best chocolate museums I've ever been to, despite the fact that the top floor is mostly dedicated to a video on how Belcolade manufactures their chocolate & sources their cacao. Entrance costs 9.5EUR per adult.
Address: Wijnzakstraat 2, 8000 Brugge, Belgium
Hours: 10am-5pm, daily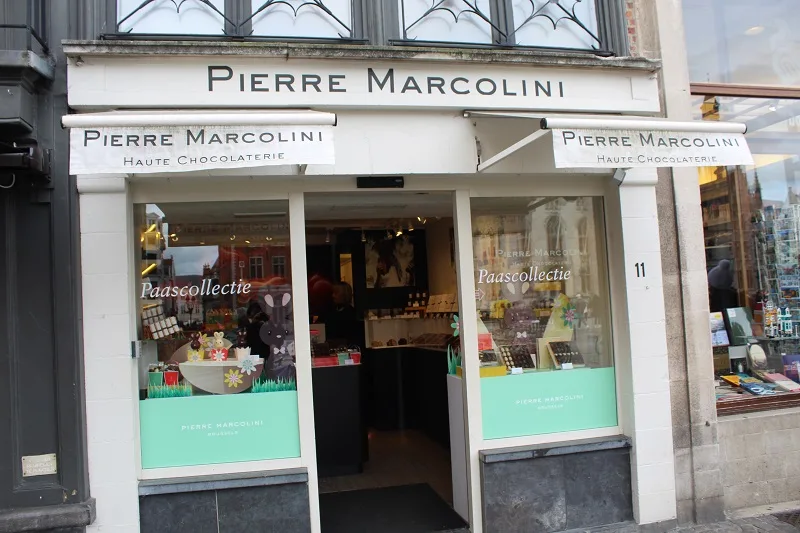 You can't miss this Brussels-based Maitre Chocolatier. Each of their locations carried a selection of 15 flavors of bonbons available in bags, or pre-cooked selections in boxes along either wall. Their macarons, chocolate spread, and thin chocolate bark are some of their small selection in the particular outlet I visited in Bruges.
The bonbons themselves are good, with mostly clear flavors and higher quality chocolate than most chocolate shops in Bruges. But not every note came through super clear, and I'd buy his caramel and floral flavors again before I'd buy any others.
Address: Steenstraat 10, 8000 Bruges, Belgium
Hours: 1pm-7pm, Fri.-Sun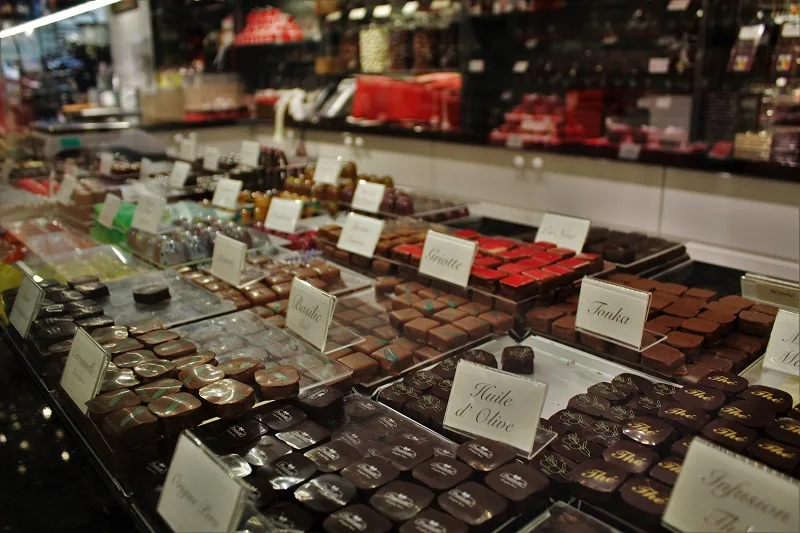 Since I visited during winter, they had chocolate-dipped waffles for sale at the entrance, which is a lovely smell to greet you when coming in from the cold. Unfortunately, that kind of where the excitement fizzled out for me.
They carry a lot of the same molded chocolate products as other chocolate shops in Brugge, in addition to around four dozen individual & inventive flavors of chocolate.
After trying several unique and varied flavors, I found myself disappointed at the proportions of flavoring in each of their sweets. Some were overly strong while others were very faint, and it was truly hit or miss, buuuuuut I'd still come back for uniquely flavored bonbons in a very large selection.
Address: Wollestraat 31, 8000 Brugge, Belgium
Hours: 9am-6:30pm, daily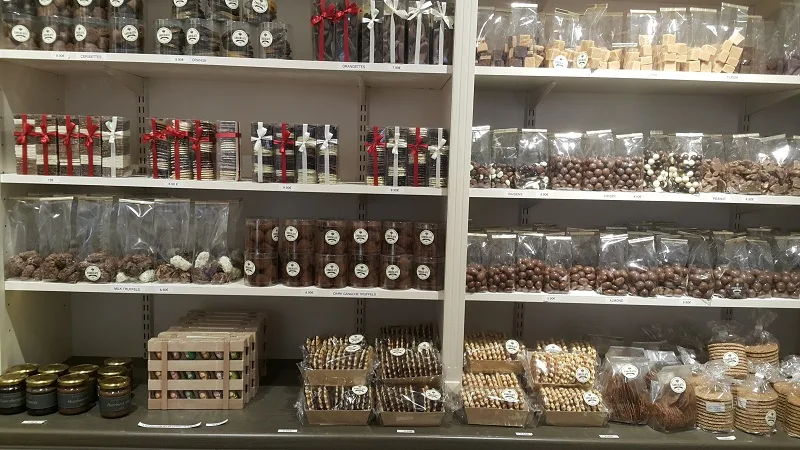 Honestly, I wasn't expecting much from this riverside shop. It looks just like all the others, bragging about their "homemade" Belgian chocolates, and they've got the requisite smattering: chocolate bars, nougat bits, waffles, chocolate sauces, chocolate-dipped fruits & nuts, and a dozen flavors of bonbons in each type of chocolate.
Trying my chocolates as I left, I found the bonbons themselves to be flavorful and rich, and even though they're on the sweet side, I was pleased with each one I bought. That, in and of itself, was a pleasant surprise.
The caramels are especially good, made in the cooked sugar style of the French, lending a rich flavor that's not overwhelmingly sweet.
Address: Huidenvettersplein 13, 8000 Brugge, Belgium
Hours: 10am-6pm, daily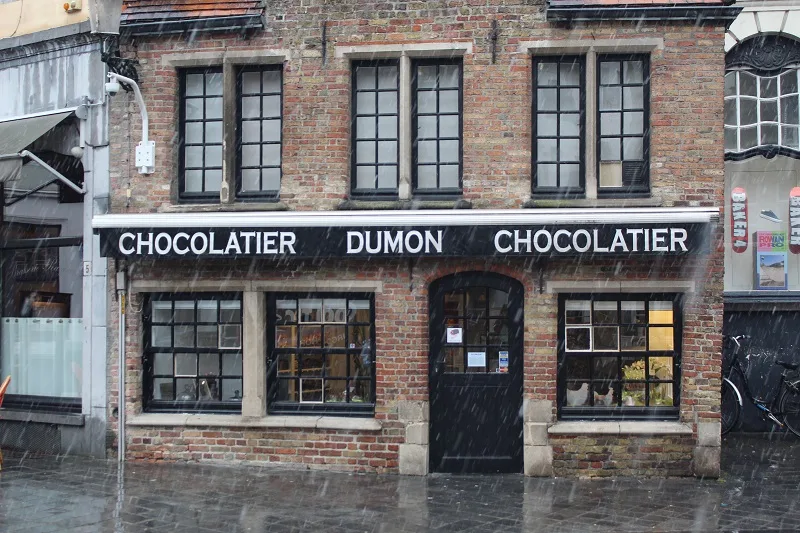 This is one of the most famous chocolatiers in Brugge, with the outside of their shop likely one of the most photographed places in the city. Their selection of bonbons is fairly large, maybe two dozen, while their shop is one of the smallest you'll find in town.
Note that unlike most of the other shops, none of their flavors are labeled. You have to either ask the family member at the counter to pick out a selection for you, or to name them all individually (I opted for the latter). I hope you're up on your French or Flemish, though!
The chocolates themselves are fine, with the sweet milk chocolate hitting me best, but nothing special; I really don't get the hype.
Address: Eiermarkt 6, 8000 Brugge, Belgium
Hours: 10am-6pm, Wed.-Mon. (closes at 5pm Sun.)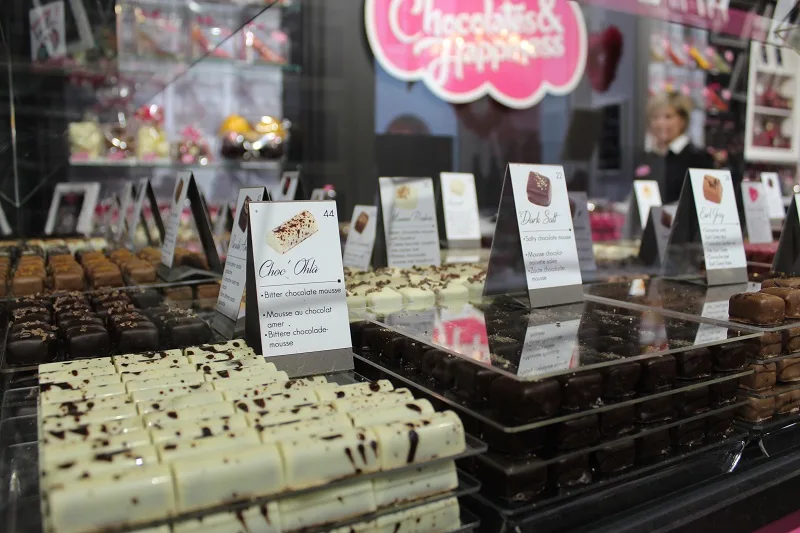 From the modern pink-painted outside, I had high hopes for this beautiful selection of chocolates. In fact I wandered into this shop completely randomly, but unfortunately most of the bonbons fell flat, excepting the Earl Grey, which I'd buy again in a heartbeat.
However, they also carry beer-shaped chocolates, and various molded chocolates in shapes like high heeled shoes. If you're already here to pick up one of those cute kitschy items, I'd also pick up a bag of little goodies, but I'd go for the cookies before the pralines.
Address: Wollestraat 16, 8000 Brugge, Belgium
Hours: 10am-6pm, Wed.-Mon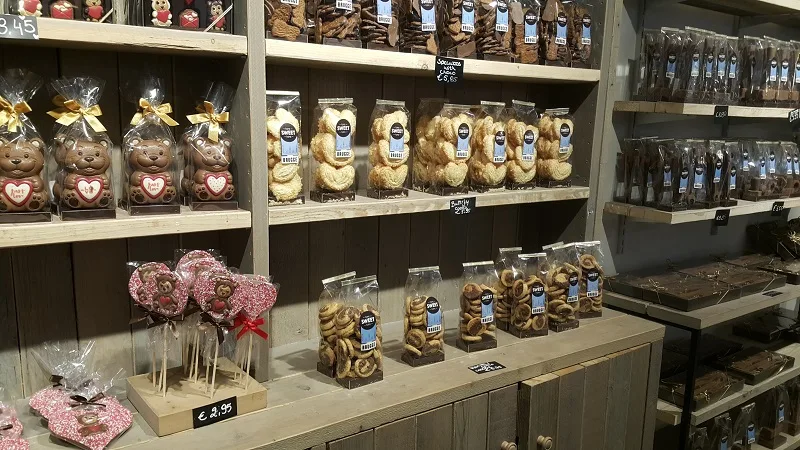 Insofar as sheer number of distinct chocolate products, Home Sweet Home has the largest selection in Bruges. From sugar free chocolate bars to chocolate-dipped nuts and alcoholic truffles, there's not much you couldn't find here.
Their selection also includes bonbons both pre-packaged and in self-chosen form, and over a dozen flavors of nougat. Along the back wall you'll notice several dispensers of flavored chocolate-covered nuts, sold by the bag, just like their cookies and caramels.
In the very back you can find their liquor-filled chocolate selection, as well as an open-air factory space. The bonbons themselves are on the sweeter side, but the flavors are straightforward and rather varied. If someone bought me a box of them, I'd probably eat most of them.
Address: Katelijnestraat 34, 8000 Brugge, Belgium
Hours: 9am-7pm, daily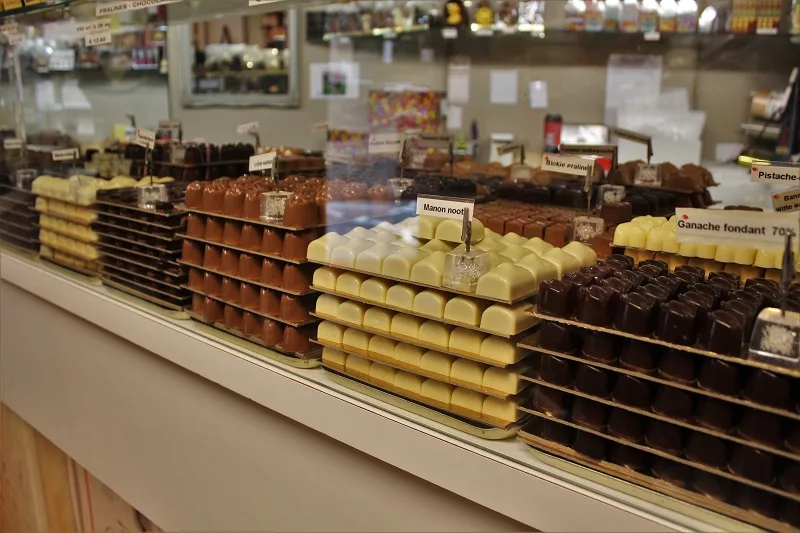 What initially drew me into this shop was the window full of truffles. It's a great marketing tactic, not to mention common in Belgium, yet still remarkably effective. Inside, they maintain a smaller display of bonbons and an array of packaged truffles and chocolate-covered sweets.
My favorite part is that they also have phallic & other erotic molded chocolates; don't bring your kids in, if this bothers you. The owner is incredibly knowledgeable about the history of chocolate in Belgium, and how important Belgian chocolate is in the global market.
However, I really didn't like their pralines. All four of the very different flavors I tried were incredibly sweet, and flavored with oils or pre-made mixes, to the point that the appearance is there, but the flavor is completely lacking. I'd go back to learn more history, but only buy a penis chocolate as as a courtesy.
Address: Sint-Amandsstraat 3, 8000 Brugge, Belgium
Hours: 10am-6pm, Fr.-Tue.
Map of Bruges Chocolate Shops
---