Podcast: Play in new window | Download
"Most Asian people care about their health. And the dark or black [chocolate] means health."

-Joyce Lee, Founder & Chocolate Maker of JL Chocolate
Taiwan has developed immensely over the several decades since Japanese occupation ended, often referenced as one of the Four Asian Tigers. The country is now better known for bubble tea & soup dumplings than for a raging fine food culture, but it's there, bubbling under the surface (if you'll pardon the pun). Taiwanese chocolate and whiskey are on the upswing, and have been winning awards for the last few years.
As a tropical island, Taiwan is actually suitable to grow tea, coffee, and cacao, as well as sugar cane. It's got all the ingredients for the perfect chocolate bar, right at its treetops. But that pesky economic development seems to be putting the cost of agriculture a little too high for locals. At least, for now. Today's episode is a look at how Taiwanese locals are bringing tree to bar chocolate to the public, and what's holding them back from producing more.
To read an article version of this episode, click here.
Topics We Cover
some historical background on Taiwan and the country's agricultural history
how cacao first came to Taiwan
the first tree to bar chocolate makers on Taiwan
motivators for local cacao farmers & the Taiwanese government's support
consumers' largest motivation for buying local chocolate
bringing Taiwanese chocolate to the world
African cacao on Taiwan & non-local production
Show Timeline
0:00-1:55~ Episode introduction to Taiwan as a country and cacao origin, and the format of the episode.
1:55-8:50~ History of cacao on Taiwan and the country's first tree to bar chocolate maker, as well as some of the earliest chocolates eaten on Taiwan. (Ming Song & Julia Chiu)
8:50-15:15~ The current struggles and benefits of being a cacao farmer on Taiwan, from growing to selling at a living wage & beyond. (Arleen Huang, and Joyce & Siong-Goan Lee:)
15:15-22:10~ Warren Hsu on starting his business, expanding to sell Taiwanese chocolate internationally, and the Taiwanese concept of "Leisure Farms."
22:10-28:55~ The African origins of K'in Cacao, sourcing from small farmers abroad, and connecting their Taiwanese audience to the family's African roots, plus the common issues all chocolate makers are facing: education. (Vivian & Angela Yang)
28:55-31:20~ Other cacao-based businesses in development on Taiwan, and the direction of the Taiwanese chocolate industry. Also, the end of the episode.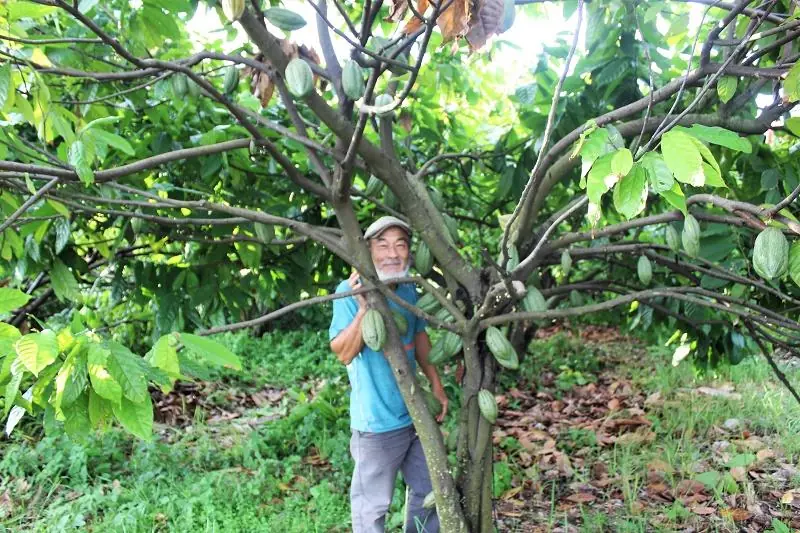 More About Our Guests
Ming Song & Julia Chiu: Father & Daughter team at Choose Chiu's Chocolate, a tree to bar chocolate maker in Pingtung, County, Taiwan. Check out Choose Chiu's Facebook, Instagram, and Website.
Arleen Huang, and Joyce & Siong-Goan Lee: Founder of the Pingtung Cacao Growers Association, and chocolate maker & cacao farmer at JL Chocolate, respectively. Check out the Lees' Facebook and Instagram.
Warren Hsu: Co-founder of FuWan Chocolate, a bean to bar & pod to bar chocolate maker just south of Kaohsiung, Taiwan. Check out their Instagram and Website.
Vivian & Angela Yang: Co-founders & chocolate makers at K'in Cacao in Taichung, Taiwan, where they use African cacao to craft delicious and creative chocolates. Check out K'in Cacao's Instagram and Facebook.
Further Reading
Connect With Chocolate On The Road
On Instagram: @chocolateontheroad
On Facebook: @chocolateontheroad
Show music is Roadtrip by Phil Reavis, and our transition music is We're Gonna Be Around by People Like Us & Multiple songs by Lobo Loco.