Japan is known for its innovation in technology, but a tastier field of Japanese innovation is in their fine chocolate sector. There's a good reason Belgian chocolate manufacturer Callebaut chose to debut their famed Ruby Chocolate in Japan.
While Japan's fine chocolate culture is still relatively young, it's been on the up & up for decades, since European chocolatiers first entered the Japanese market in the 1970's. Yet it wasn't until the early 2000's that these chocolatiers began seeing competition in the market for bonbons. Chocolate gifting holidays like Valentine's Day began rising in popularity, and social networking made a chocolate's aesthetics more important than ever.
You can read more about the history of Japanese chocolate here, or even listen to the podcast.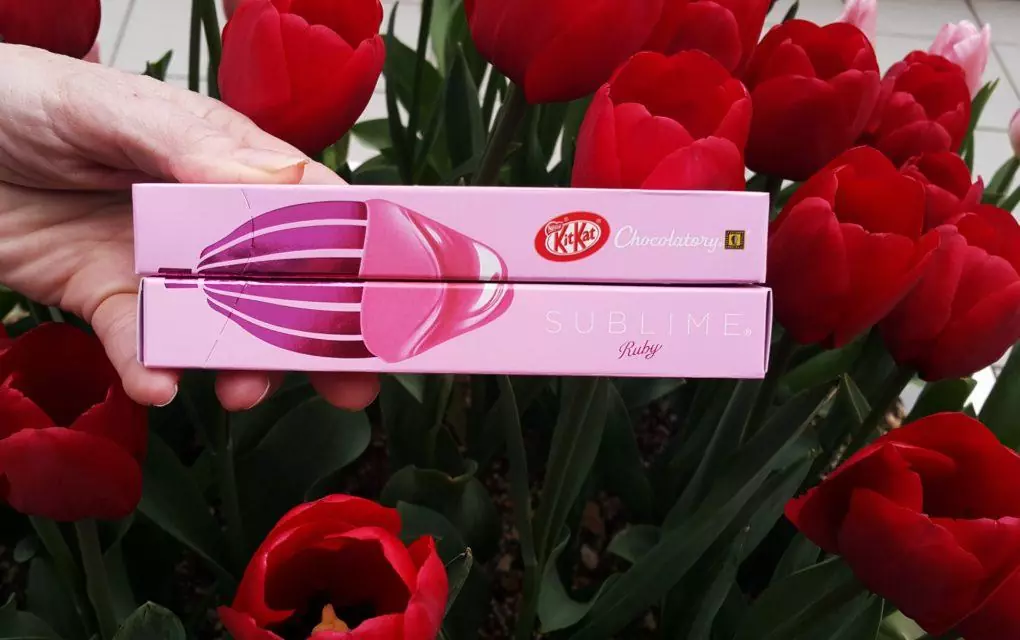 Context Of The Craft Chocolate Market In Japan
For years, European chocolatiers have been trying, and largely succeeding, to snag a piece of the growing fine chocolate market in Japan. But over the last ten years, there's been another type of chocolate competing for a spot at the top: craft chocolate. However, craft chocolate brands tend to be small by design, barring many of them from showing at Japan's typically large chocolate events.
While well-known chocolatiers & larger chocolate makers or chocolate manufacturers have made it a point to appear at shows like the Salon Du Chocolat, the cost is unbearable for the vast majority of Japan's many craft chocolate makers. This is especially true during the last couple of weeks of January, when makers are trying to sell as much as possible, not spend more money on a booth.
After all, the timing of all Japanese chocolate festivals isn't coincidental. They largely fall between mid-January and mid-February, high season for chocolate thanks to Japanese Valentine's Day. In fact, crowds at local chocolate festivals can number in the thousands; the obsession with fine & niche foods can be a huge culture shock in Japan.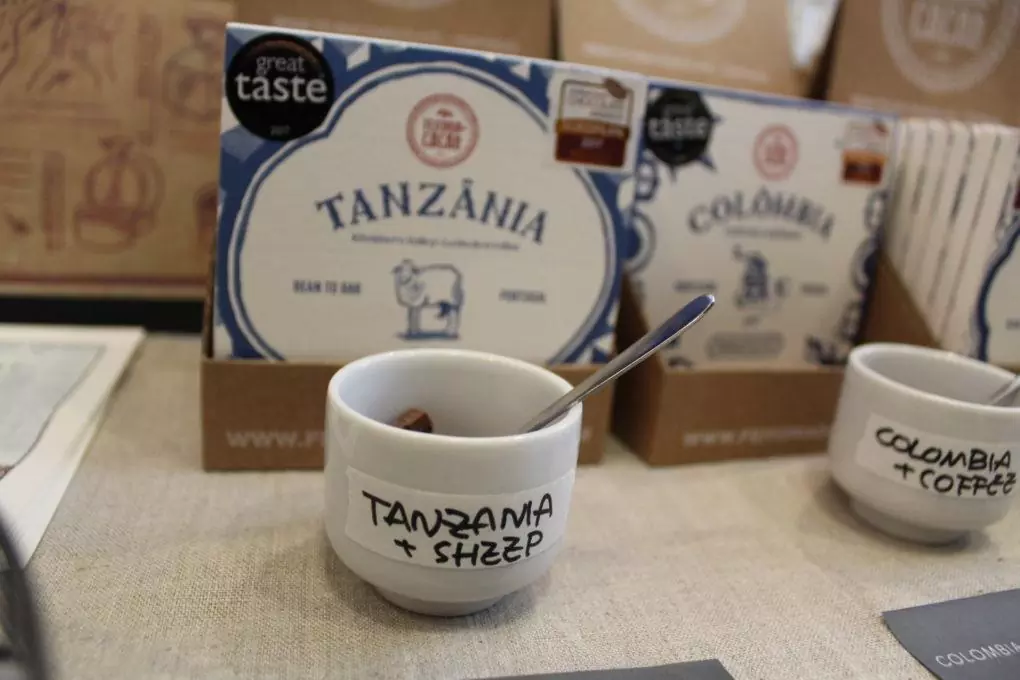 Yet with the proliferation of international craft chocolate makers in Japan, a solution has arisen. Tokyo alone has nearly two dozen small-batch chocolate makers, making it the logical home for Japan's first fine chocolate festival, started in 2016: The Craft Chocolate Market. A three-day affair with a Friday night reception and market days on Saturday and Sunday, the "CCM" has become a focal point of high season for chocolate in Japan (& around the world, for that matter). Like all Japanese chocolate festivals, the CCM is absolutely packed at all hours.
Yet unlike other Japanese chocolate festivals, which include pop-up markets around the bigger cities, this one is invite-only instead of pay-to-play. Makers still pay a fee in order to show at the Craft Chocolate Market, but unlike the Salon Du Chocolat franchise, which has shows in all major Japanese cities every winter, this festival is only for small-batch chocolate makers. No chocolatiers or chocolate manufacturers allowed, much less coffee or cosmetics, as is common in the Japanese Salons Du Chocolat.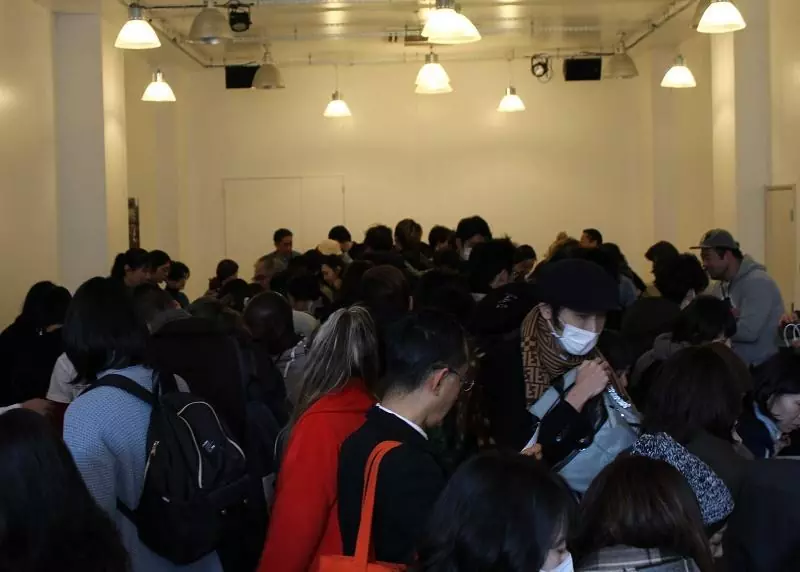 Why A Craft Chocolate Festival?
As the major chocolate shows in Japan since they started in 2003, the Salon Du Chocolat Japan has set the standard for shows, with lectures & seminars, tastings & pairings, and a chocolate-themed fashion show. Their shows are three to four weeks long, open daily, and the show in Tokyo requires you to purchase entrance by the hour. Of all of these characteristics, the only one that the CCM maintained is the entrance tickets. The Craft Chocolate Market is incredibly small, located outside of central Tokyo, only 2 days long, and has no organized events outside of the reception (as of 2019).
But these distinctions, in a way, reflect the very goals of the craft chocolate industry as a whole: keep it small & controlled, working only with carefully-selected components. That doesn't mean that the event isn't still pretty packed, but it does represent an alternative to the Salons, while giving makers & consumers a more affordable venue in which to mix.
Additionally, it gives Japanese consumers more exposure to international craft chocolate makers, a real deficit across Japan. There's almost no infrastructure for international makers to access the Japanese chocolate market. Online shopping in Japan is extremely underdeveloped, and there are very few shops selling a variety of makers' bars anywhere in the country. This leaves those who want to access the market to either have to show up at events or give up. And we can't have people giving up on fine chocolate.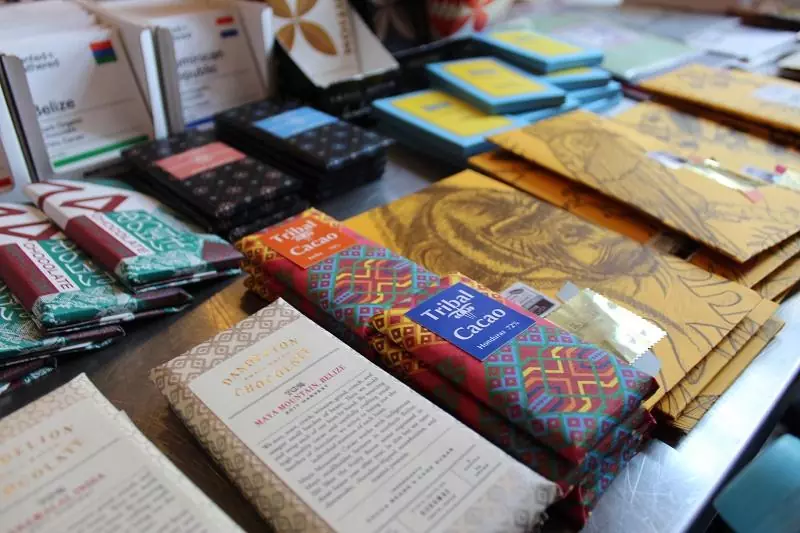 The Pros & Cons Of The CCM
Jumping into the show itself, this was a very crowded event. This is despite the fact that many of the makers who were supposed to come, according to the website, just had bars representing themselves. But to be fair, we did come first & foremost for the chocolate. And some makers really impressed me with their delicious and creative offerings. Particularly impressive ones include St. Nicholas, Atypic, and IMALIVE.
Unfortunately, the international makers could only bring in 3 bars each, unless they were already importing into Japan, so the Japanese makers had a leg up. Luckily, a few of the visiting makers brought along "personal" bars for sharing, and I managed to snag or taste a few of these. It was a nice way to get to taste a range of their offerings, if asked, and it definitely makes you feel more involved in the show (plus getting a better sense of their skill sets).
The venue itself, the Fleming House, is quite small. It's nothing compared to the massive department store halls in which the Salons Du Chocolat are hosted. But it's expensive to rent any space in Japan, so it makes sense why it's held there. Tickets are available per 50-minute time slot, with a 10-minute period to clear out stragglers and take photos at the end of each, which is reasonable if you just want to shop, but harder if you want to do anything else.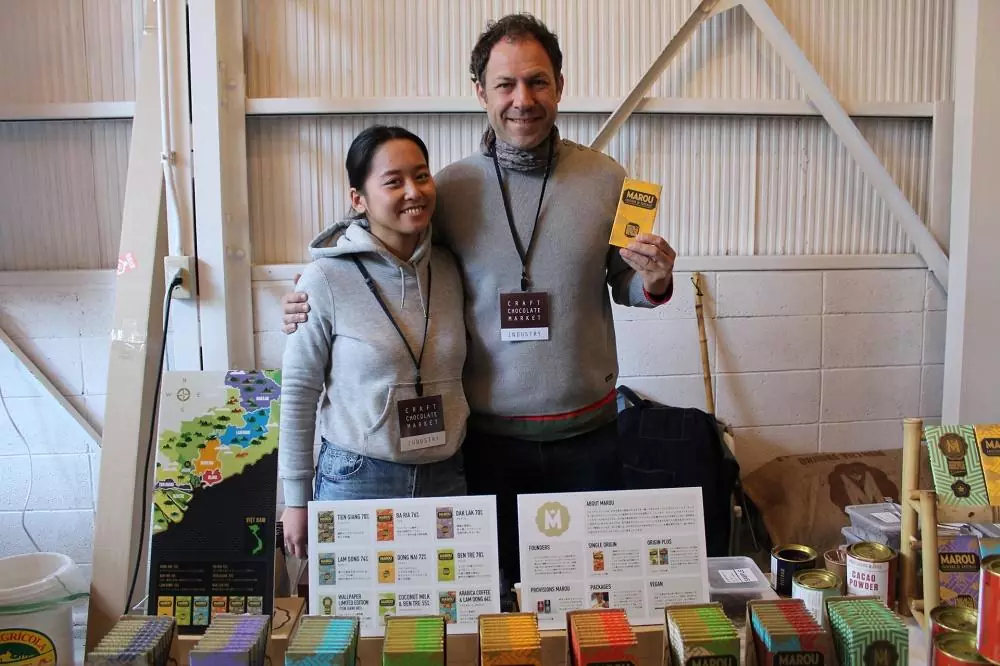 At around $6USD per hour, it's not expensive by any means, but it is frustrating to not have tickets for sale until just one month before the event.
I didn't even know that there was a reception the Friday night before the event until months after I'd bought my flights to Tokyo!
The tickets are more so for controlling the size of the crowd than for making much money off of the displays, but they're still necessary for entering the event, and do get sold out for the earlier time slots (so be sure to start checking for their posting in November).
The event is hosted by Dandelion Chocolate, itself an international craft chocolate maker embedding itself in the Japanese market, and quite successfully I might add. While they could use more timeliness in getting information out to attendees, Fleming House is close to public transportation as well as another chocolate maker in Tokyo (Artichoke Chocolate).
Craft Chocolate Market Trends & Takeaways
Having someone there to represent your bars seemed to make a huge difference, and most makers didn't make the trip, unfortunately.
Since the show is invite-only, the number and type of makers wasn't limited by who could pay, but by skill. So unlike at the bigger shows in Japan, there were lots of newer makers, some of them even showing outside of their home country for the first time. There was a noticeable presence of tree-to-bar and value-added chocolate makers (not necessarily the farmers themselves, but chocolate makers located in the same country as where the cacao was grown).
The Japanese chocolate makers at the show all had something which made them stand out from the crowd, and for some of them that meant a direct relationship with farmers in one country. For example, Japanese chocolate maker Cacaoken, which works with farmers in Vietnam.
Cacao nibs and "raw" chocolate have also become quite the trends as the Japanese public turns towards chocolate as a health food. The public's interest was definitely directed towards growing regions with less public exposure, like Taiwan, India, and the South Pacific, as the same uniqueness which attracts craft chocolate fanatics around the world also attracts Japanese consumers. We all want to feel as if we've "discovered" something before our friends.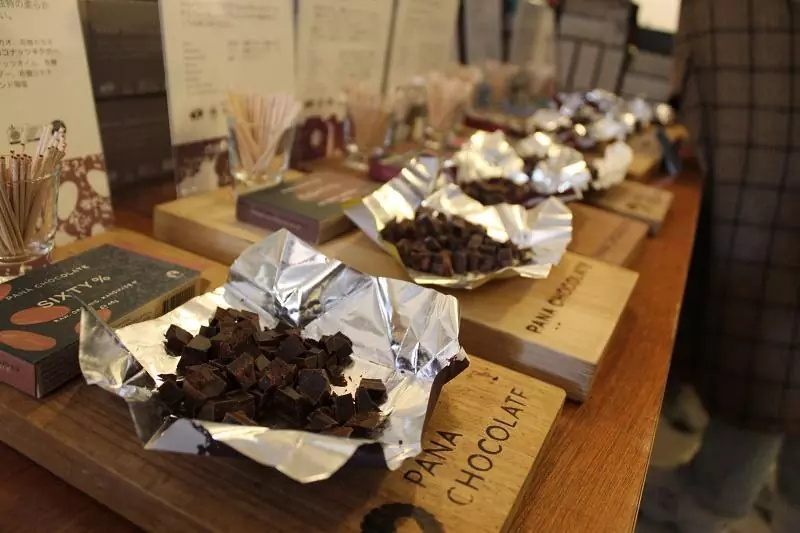 Tips For Visiting The CCM
The hall itself is incredibly small and so it gets incredibly loud & crowded, much like other chocolate festivals in Japan. I highly recommend bringing a small bag for your purchases, and otherwise limiting yourself to the bare necessities.
Even just having my camera felt crowded, and other than right at the end of the sections, it was hard to get any pictures. To be able to sample and work my way through all 20 or so makers took three 1-hour sessions, but if the event gets any bigger I'll need to invest in an extra ticket.
If you're interested in meeting some of the international makers, the night before the 2-day event there's a ticketed reception for makers and members of the public. When I attended, there were chocolate makers from Korea visiting Tokyo for the weekend, and they used the opportunity to make connections with makers from around the world. Even if you're not producing anything in the industry, the ruckus created around an event brings a fair amount of people interested in the same community as you.
It's an opportunity that's hard to pass over!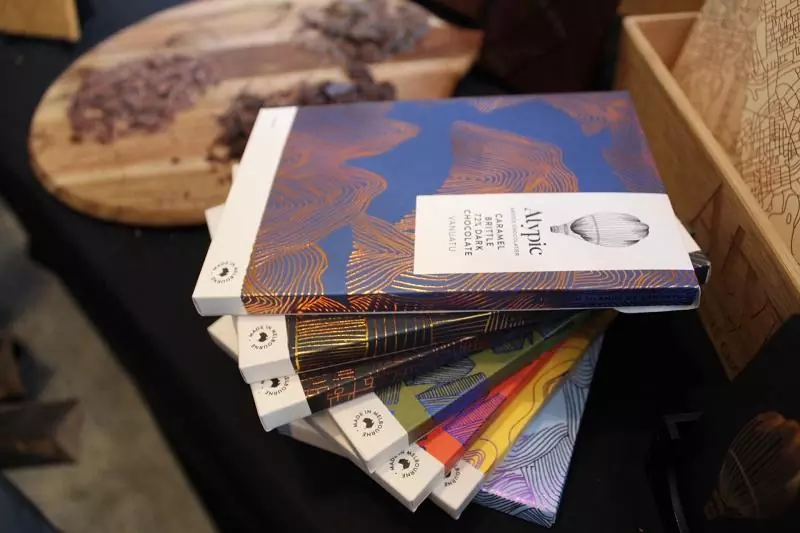 How To Visit The Craft Chocolate Market
Next Show Dates: January 2020 | 11am-5pm Saturday & Sunday (keep an eye on the website for exact dates & makers, and to buy tickets)
Cost: ¥700 per ticket (one ticket needed per hour)
Location: Fleming House, near Kiyosumi-Shirakawa Metro Station
Address: 2 Chome-6-10 Miyoshi, Kōtō-ku, Tōkyō-to 135-0022, Japan