Whether you're looking for the perfect book for a chocolate-loving reader in your life or a nice coffee table book for your new apartment, you've come to the right place.
This collection of chocolate books is my own collage-like ode to the genre of chocolate, compiled over years of people asking me "what's the best book about chocolate?" Now I can finally just link them to this post.
Because just like generic questions about ruby chocolate, cacao nomenclature, and vegan chocolate bars, there's always more to the query than meets the ears.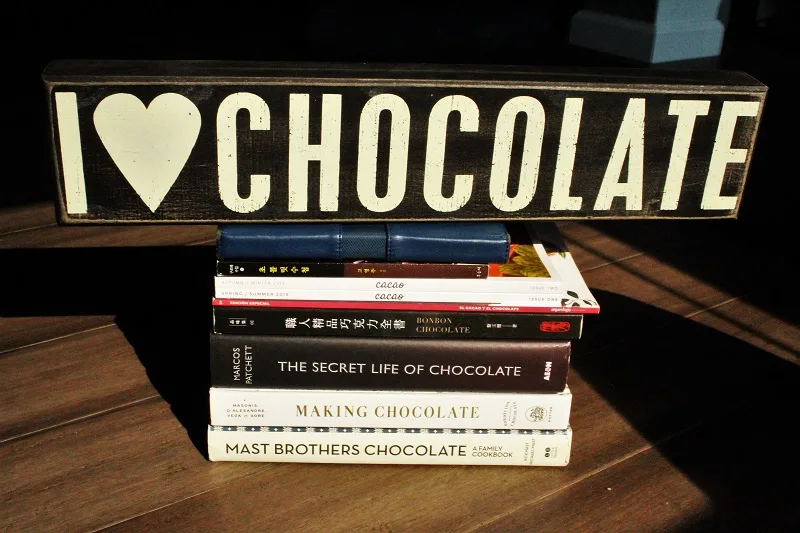 About Chocolate Books
You won't find Charlie and the Chocolate Factory on this list of books about chocolate, because this list was crafted to help you learn about how chocolate is made, consumed, and revered. The best books for chocolate lovers include a solid balance of beautiful food pictures & practical and/or entertaining information.
This includes books on chocolate recipes, the cultural significance of chocolate, how to make chocolate, and cacao cultivation. Consider this a modern guide to books for chocolate lovers, kept up-to-date by someone tired of getting the same question.
There's a category for any chocoholic who loves to read, whether they savor the weight of a book in their hands or value the eco-friendly demeanor of an e-reader. My emphasis in this list of books for chocolate lovers errs on the side of craft, bean to bar chocolate.
I believe that it's my duty to make sure you're reading only the most correct, modern, and thoughtful understandings of chocolate, and your loved ones deserve the same. Even if you can't visit them in person right now, consider sending a beautiful book and some craft chocolate to someone you love.
I promise it's worth the smiles. There's even a children's book on how chocolate is made!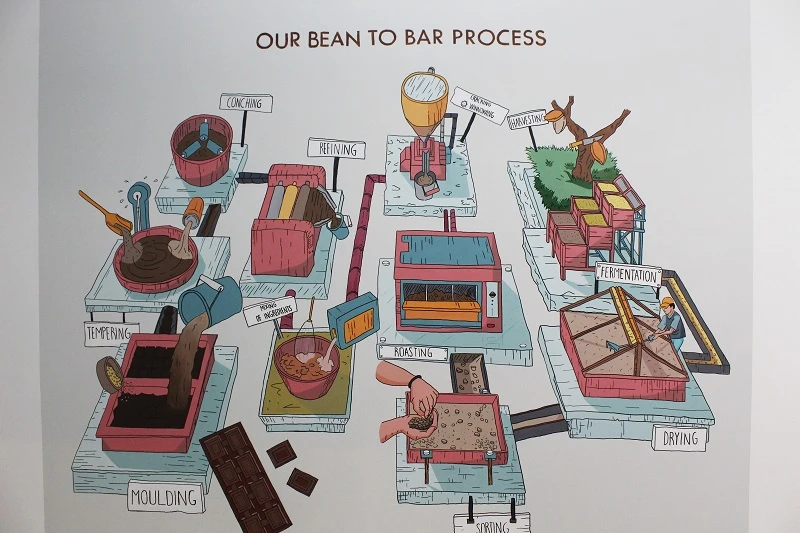 Books About Chocolate Culture
by Simran Sethi, 2016
While this isn't strictly a book about chocolate (Sethi insists it's a book about love, and I don't disagree), I assert that it should be required reading for every chocolate lover. Not only is it captivating from the introduction until well past the moment you finish the book, but it does a great job of capturing the intersectionality of chocolate.
Starting with a tale of TCHO in the introduction and continuing through wine grape vine placement and the anatomy of an octopus, this book connects foods in the way only a food writer can. Bread, Wine, And Chocolate imparts the importance of the simplest foods, of the dishes we build our personal narratives around— whether we realize it or not— and their own multiplicity of stories.
Above all, Sethi is a beautifully-expressive author, and I really hope she sees this and starts to produce another season of her chocolate podcast, The Slow Melt. We miss you, Simran!
Click here to see Bread, Wine, and Chocolate on Amazon.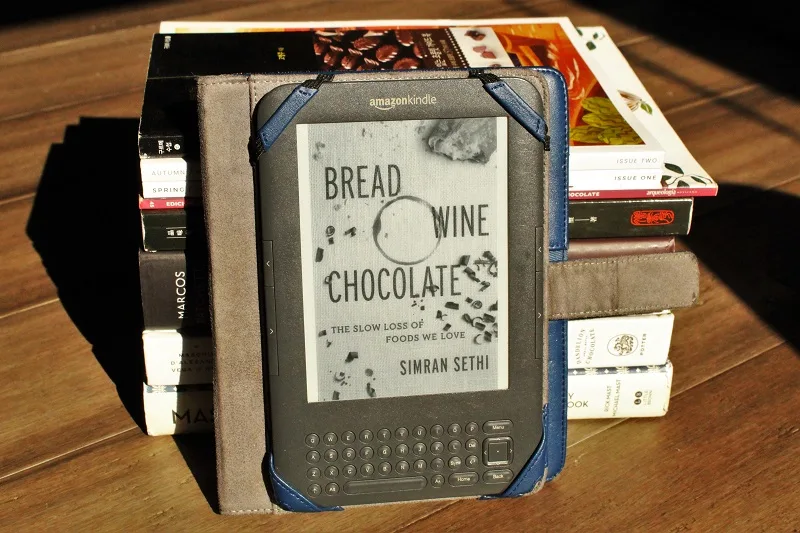 by Megan Giller, 2017
Starting with the basics of cacao and chocolate making, Megan Giller uses this platform to formally introduce the world to the American craft chocolate scene, circa mid-2017. I bought this book shortly after it was released, and while the beginning offers a thorough overview of cacao, chocolate making, and the concept of craft chocolate, what I really came for were the interviews.
Megan Giller had actually been collecting them for years before her book ever went to print, sharing them on her site Chocolate Noise (where you can still read many of them). Bean-to-Bar Chocolate: America's Craft Chocolate Revolution even gave me several new terms to Google and add to my chocolate vocabulary, such as "epicatechin" (which I'm still not sure how to pronounce).
The book also includes nearly two dozen cacao-based recipes from some of America's best chocolate makers. I just can't believe it's been three years since publication, and this book is still just as relevant as it was on the day it was released.
Click here to see Bean To Bar Chocolate on Amazon.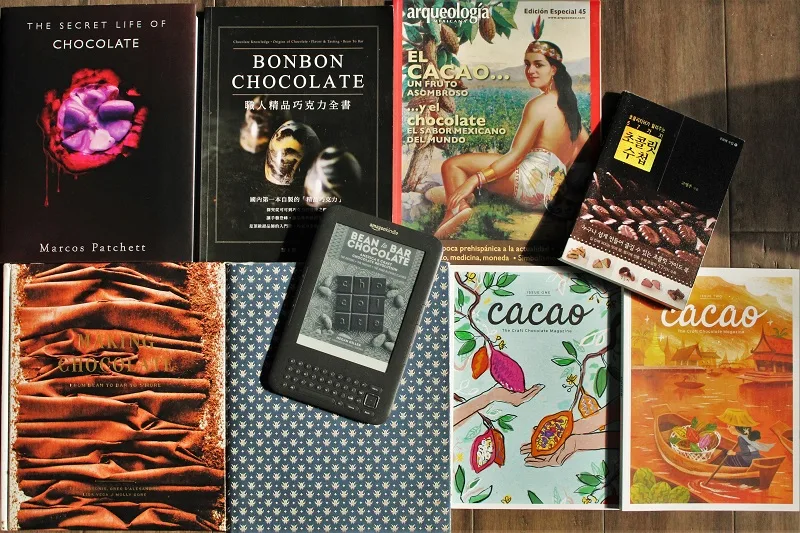 by Pam Williams & Jim Eber, 2019
A story told in four parts— beginning before the beans even take shape, and continuing past the typical chocolate bar— this is functionally a textbook for students of cacao. Raising The Bar is written by two celebrated educators, Pam Williams and Jim Eber, as a thorough overview of the fine chocolate industry in past, present, and future.
Through interviews with experts from every aspect of the cacao and chocolate industries, Williams and Eber narrate the changes the industries have undergone over the last two or three decades, and what they expect to see over the next decade or so.
This is recommended reading for all students of Ecole Chocolat, as well as anyone looking to be more thoughtful about their chocolate consumption.
Click here to see Raising The Bar on Amazon.
by Marcos Patchett, 2020
"This book is fascinating," to quote myself, talking to myself, after a recent binge of chapter 7. If you have any degree of interest in the cacao plant, as I do, then I recommend you resist declaring yourself to be a true obsessive until you get your hands on a copy of The Secret Life of Chocolate.
The textbook is made up of over 700 pages of thoroughly-researched reference material, stories, and even recipes gathered over the course of 14 years of research by a medicinal herbalist. Having just been published in spring 2020, the information is up-to-date and covers a huge range of cacao-related topics; dare I say all of them.
From flipping through the chapters (I emphasize seven hundred pages), some of the more eye-catching sections include the ones on chocolate allergies, ancient blood sacrifices, and the many modern cousins of Theobroma cacao.
I was provided a complementary copy of this book by the publisher, but all opinions are my own, as always. Click here to see The Secret Life of Chocolate On Amazon.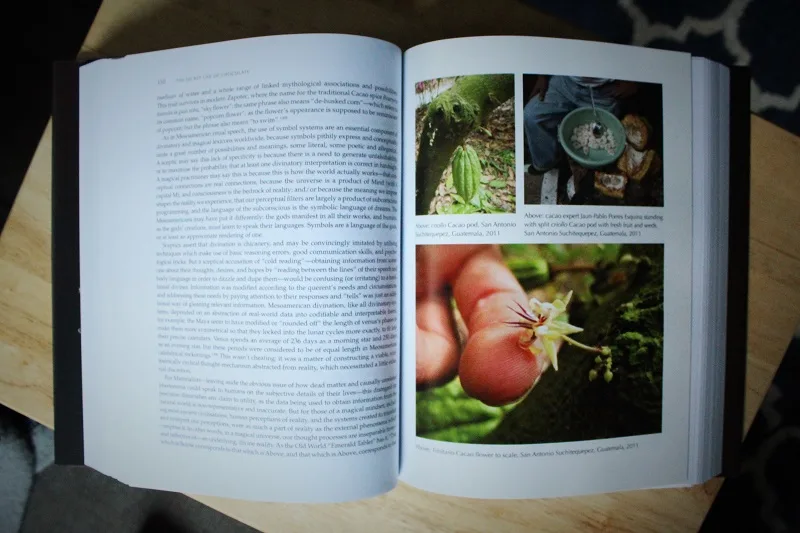 Books About Chocolate History
by Sophie D. Coe & Michael D. Coe, 2013
Although both of the authors have since passed away, this incredible resource on the history of chocolate still offers a comprehensive look at where chocolate has been. While this third edition doesn't include up-to-date information on the ancient Amazonian consumption of cacao revealed in 2018, it still contains an overview of Mesoamerican chocolate production.
Above all, it's written by a scholar of Mayan history & culture. So the Mesoamerican-centric overview includes historically-accurate tidbits on the botanical characteristics of certain cacao varietals, archaeology influences by cacao, and culinary uses from El Salvador to Spain.
There are even full-color photographs of chocolate advertisements from the 19th century, when chocolate was still largely regarded as a medicinal beverage, and they are just as hilarious today as they were two hundred years ago.
Click here to see The True History of Chocolate on Amazon.
by Maricel E. Presilla, 2009
The full title of this book is The New Taste of Chocolate, Revised: A Cultural & Natural History of Cacao with Recipes, though that's a bit of a mouthful. But to be fair, that matches with the contents, which themselves are a comprehensive look at chocolate's history and application in the Americas over the last few millennia.
This was actually the first book about chocolate history that I ever read. One night in Guatemala I stayed up most of the night on a cacao farm, reading this book from cover to cover (& skimming once my eyes tired out).
The focus is very much on the Americas and somewhat on Europe, with a strong dose of influence from the Cuban-American author's lifelong relationship with Theobroma cacao. I'd recommend this book for beginners looking to get a strong overview of chocolate history (though some of the contents need updating, as new science has come about), and do some baking with fine chocolate.
Click here to see The New Taste of Chocolate on Amazon.
by Dr. Kristy Liessle, 2018
Cocoa is one of the many products of over two decades of field experience in the African cocoa sector. The professor of African Studies uses the 240 pages at her disposal to share the politics of exploitation lurking behind the flavor most of us grew up drooling over.
Her research has taken her to hundreds of cocoa farms across West Africa— mostly in Ghana, where she's based— to speak with cocoa farmers about what it's like to be a modern cocoa farmer. She traces the cocoa value chain around the globe to reveal the often dark truths behind the world's favorite food.
This was one of the first chocolate books I bought on my kindle, actually, though there's just something about being able to hold the book in your hands that make its contents feel more real. In 2019 I had the pleasure of interviewing Kristy Leissle for a podcast episode. You can hear our full-length interview here.
Click here to see Cocoa on Amazon.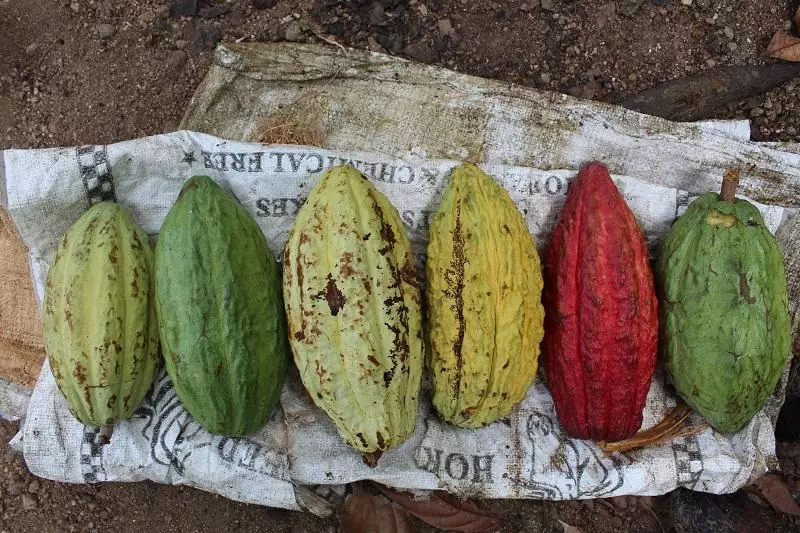 Books About Chocolate Making & Tasting
by Nathan Hodge, 2018
Though it may seem relatively short at just 160 pages, this whopper of a book covers the background and application of the bean to bar chocolate making process. Unlike most books on chocolate making, Nathan Hodge's book begins with the chocolate tree rather than the finished product of chocolate (presumably to be made into other chocolaty treats).
With a decade in the chocolate making game, the author is certainly qualified enough to speak of his many sourcing trips to cocoa-growing countries and many faux-pas when making his own chocolate. What I was most delighted by were the many recipes for regional moles and chocolate drinks. As an amateur chocolate maker myself, they're all on my to-make list!
Click here to see The Art and Craft of Chocolate on Amazon.
by Dom Ramsey, 2016
I've seen this book translated into at least eight languages, and there are undoubtedly more out there that I have yet to lay my eyes on. Chocolate is a divine resource on all things related to its namesake, offering a primer on buying, tasting, and making fine chocolate.
There's a section dedicated to some of the history and harvest of cacao, but the name proves itself true as the content is focused squarely on the so-called brown gold. It even gets into the addictive qualities of chocolate, before divulging some of Ramsey's hard-won bean to bar chocolate recipes, and some ideas of what to do with the stuff once you've made it.
Hundreds of high-quality photographs lend further credence to the author's decades of experience in the chocolate industry, the synthesis of which has been condensed here.
Click here to see Chocolate on Amazon.
by Dandelion Chocolate, 2017
Dandelion Chocolate managed to create quite the buzz around this book when they released it in the fall of 2017. I remember having my sister haul my copy all the way to my home in South Korea, along with the special origin bars they sent out with pre-ordered copies.
It was such an exciting event that I ended up spending most of our first night together reading the book while she slept in the other room! This was one of the first comprehensive books on chocolate making from bean to bar to ever be released, and its popularity has held up even years later.
The book is broken down into five sections: history, process, ingredients, deep dive, and recipes; each of which builds up and off of its predecessor. All of the book's four authors brings their own perspective and expertise to the process, making for a helpful & hilarious read. With its many beautiful images, this is definitely a coffee table book you'll actually use.
Click here to see Making Chocolate on Amazon.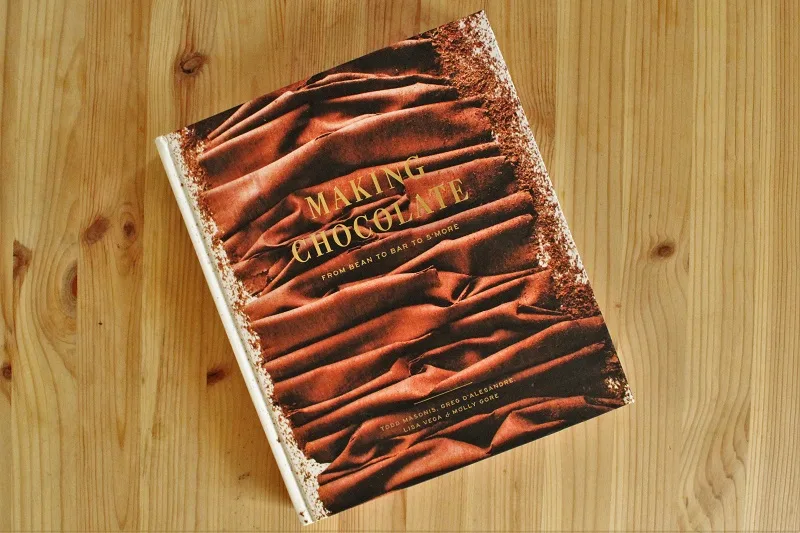 Chocolate Recipe Books
by Amy Guittard, 2015
How many cookbooks ever get the approval of renowned pastry chef & blogger David Lebovits? If you've never heard of Lebovits, I highly recommend a Google search, but suffice it to say that his high opinion of this book and of the Guittard company as a whole is noteworthy praise.
The book as a whole contains several dozen cacao-focused recipes, all of which use at least one Guittard Chocolate product (surprise), though you could substitute another brand's product of the same percentage without issue.
What I appreciate most about this book is not the modern food blog-like approach of family stories interspersing the recipes, but rather the sheer variety. Some of these recipes clearly go back 100+ years to the founding of the company, and having this book in your hands feels like you're holding a piece of history.
Click here to see Guittard Chocolate Cookbook on Amazon.
by America's Test Kitchen, 2020
America's Test Kitchen rarely disappoints (and I'm pretty sure that when it does, it's my own damn fault). In this particular instance, I'm being wowed by their new chocolate cookbook, which features over 200 recipes starring America's favorite dessert: chocolate.
From pana cotta and pie to making your own chocolate bars, this book doesn't dive too deeply into the history or stories around cacao & chocolate. What it does do is use thoroughly-tested recipes to get you one step closer to a delicious dessert at any time of day. Once again, I'm amazed at the number of ways one can use chocolate.
Click here to see Everything Chocolate on Amazon.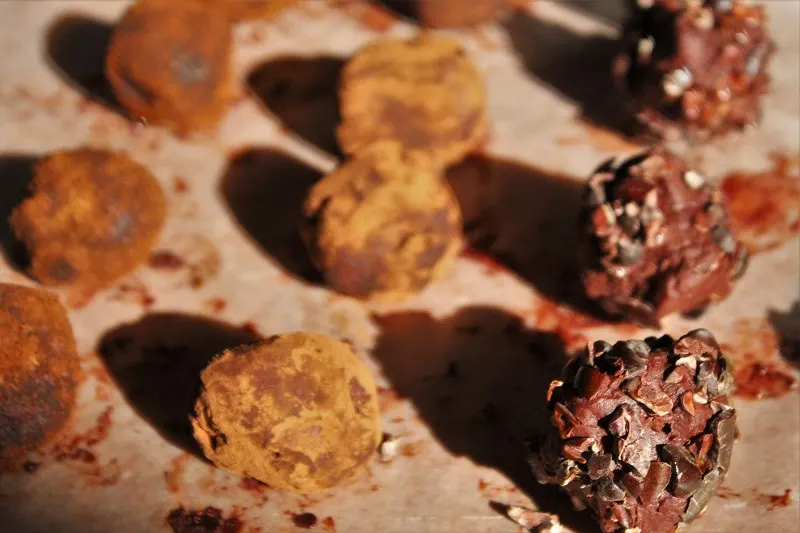 by Debra Music & Joe Whinney & Leora Bloom, 2015
While this Seattle chocolate powerhouse has made a big name for itself over the last decade and a half, it hadn't stepped much into the savory realm until this book was released in 2015. Little-known to the amateur cook, chocolate as it was consumed in Mesoamerica, and even in ancient Iberia, was a savory food. Or rather, it was unsweetened.
This cookbook pays homage to that history, with 75 cacao-centric recipes from the sweet to the savory for any time of day. They also share a bit about how & why Theo Chocolate was founded, hopefully inspiring you to only use craft chocolates in your execution of their recipes!
Click here to see Theo Chocolate: Recipes & Sweet Secrets on Amazon.
by Bonnie Scott, 2016
Even though the title sort of says it all, this book really covers its bases. There are regional, flavored, vegan-friendly, and even slow cooker hot chocolate recipes held inside its pages. These aren't your usual Swiss Miss hot cocoas, either, but bonafide hot chocolate recipes, collected over years of observation and travel.
Consider it a go-to for your cookbook shelf when you're craving something chocolaty and indulgent, but not so dangerous that it'll sit in your fridge until you finish it off. Note also that there are only about 100 hot chocolate recipes in here, as the last 20 recipes are for variation of whipped creams to top them all off with.
Click here to see 120 Hot Chocolate Recipes on Amazon.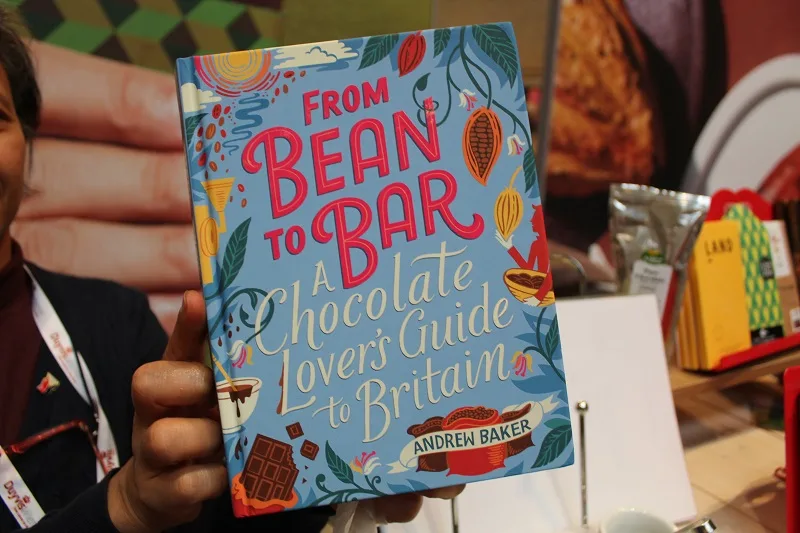 Books About Chocolate Travel
by Andrew Baker, 2020
Without a doubt, the craft chocolate scene in Britain has matured since my last visit, in 2013. This 270-page travelogue of chocolate recounts the tales of dozens of chocolate makers and many chocolatiers from across the British isles. Each chapter focuses upon a main company's founding story, and expands into some of the region's other makers (when there are any).
Some more familiar brands include: Willie's, Chocolate Tree, Duffy's, and Dormouse. I'd say that this chocolate book has more than earned its full title: From Bean to Bar: A Chocolate Lover's Guide to Britain.
Click here to see From Bean To Bar on Amazon.
by Lonely Planet Food, 2020
To be fully transparent, I happened to contribute to this book, though I don't get any royalties for each copy sold. I just think it's a beautiful amalgamation of the variety of fine chocolates available in the world right now, not to mention another great book about chocolate.
Over the course of 250+ pages of insider info & full-color photographs, you have the pleasure of discovering 150 of the world's best chocolate destinations in 45+ countries on 6 continents. Each company profile includes a photograph, a blurb about what to expect when you visit, places to see nearby, and all the necessary contact info to plan your trip.
Note that while there are a few companies in there that I've been to & would have eliminated (no, I'm not going to name any names!), well, quite frankly this isn't my book. But it is a damn good guide to some of the world's best chocolates.
Click here to see Global Chocolate Tour on Amazon.
by Lukas T. Reinhardt & Alexandra Davidson & Ruby Willow, annual publication
If you consider yourself a true chocolate lover, you've probably heard of Cacao Magazine. The young enterprise launched their first issue in early 2019, and the bi-annual publications seem to be a huge hit with anyone interested in fine food. There are now three issues available, with the fourth one in the works.
Even though there are only two new issues each year, the arrangement is such that it's more like an individual book in each iteration, and every issue has a different focus. The first two magazines focused on Germany and then Thailand (I contributed to this issue!), while the most recent one shined a spotlight on women in chocolate.
This is one company I hope to keep hearing more from as the years go by!
Click here to see Cacao Magazine on Amazon.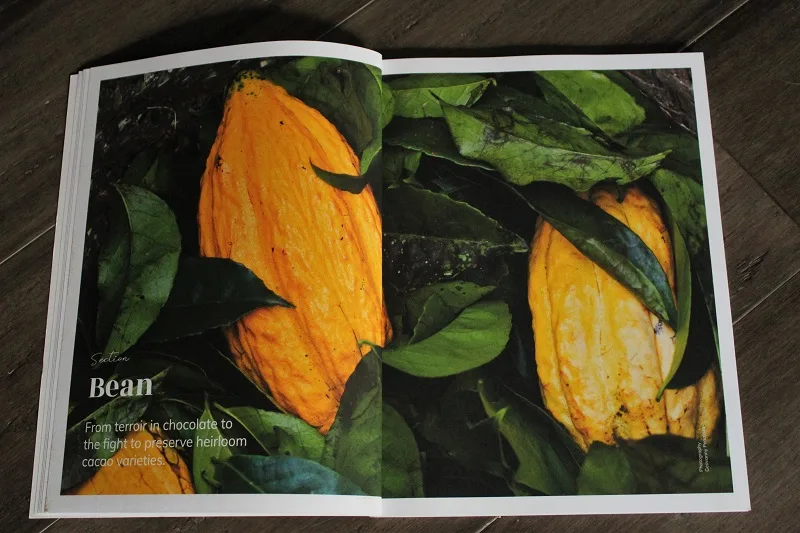 Books About Chocolate For Kids
by Sandra Markle & Charise Mericle Harper, 2005, ages 6-9
As part of the "Smart About" series for kids, this chocolate storybook comes in the form of a students report detailing where chocolate comes from. The book starts with some history on the cacao tree and then how the seeds were uses, where it comes from now, and eventually how chocolate is made.
It's a chronological presentation of chocolate's story in the world, presented in simple language but without dumbing down any of the many processes. Ironically, that would be a great book for a child to do a book report on.
Click here to see Smart About Chocolate on Amazon.
by Elizabeth Zunon, 2019, ages 3-6
I'm a little obsessed with this book. Not only does it combine my two favorite things (cacao and teaching), but it brings this complex connection between West Africa & the flavor of chocolate to a topic which any child can understand: grandparents.
While not all of us may have had the joy of visiting our grandparents when we were younger, it's a concept we can all relate to, especially as children. In this book, the little girl is baking a chocolate birthday cake with her father, while listening to a story about her grandfather, who's a cacao farmer in the Ivory Coast.
It's wonderful to see the illustrations bridging the kitchen and the jungle, and then visually bridging the little girl and her grandpa. Zunon beautifully brings together the story of a child creating something delicious with a parent, and the story of the millions of West African farmers who grow & process the cocoa that becomes the chocolate of our childhoods.
These farmers aren't just strangers in faraway lands, but they're our people.
Click here to see Grandpa Cacao on Amazon.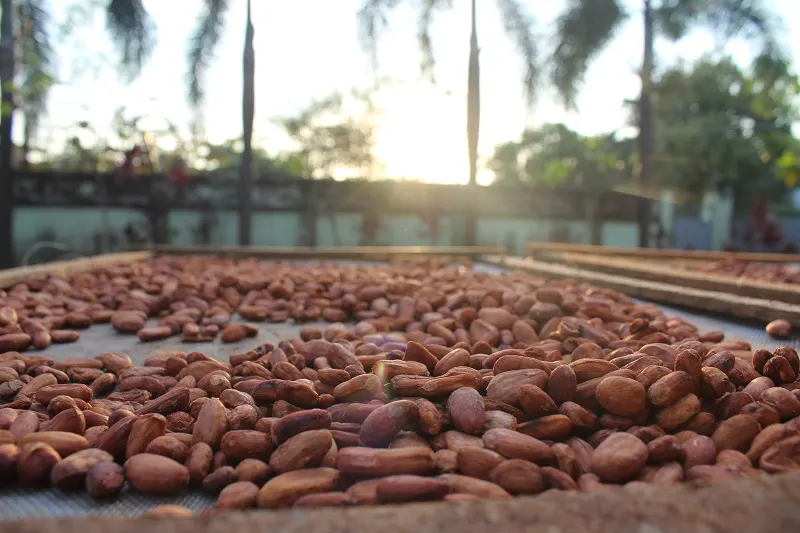 by Bridget Heos, 2018, ages 5-8
Similar to the "Smart About" series mentioned above, this addition to the "Who Made My Lunch?" series is all about the cultivation and creation of chocolate. Starting at the equator, the chocolate storybook takes you through the entire chocolate making process from tree to bar, through the eyes of a child.
Similar to Grandpa Cacao, this book makes reference to the fact that around two-thirds of the world's cacao is grown in West Africa, further illustrating the globality of the product. The book includes a map of where cacao is grown and a glossary of the more obscure terms.
Click here to see From Cocoa Beans to Chocolate on Amazon.
by Birgitte Rasine, 2016, ages 9-12
This reminds me of the Magic Tree House series I read obsessively as a kid. The story centers on a boy named Max, whose parents moved the family to Guatemala to study the cacao tree. Though not your typical chocolate book, the tale centers upon Max and his friendship with a local girl named Itzel, who teaches him all about Mayan culture and their connection to the cacao tree.
It functions as both a fantastical mystery and a learning tool for those curious about some of the cultural forces behind the divinity of chocolate. While The Jaguar and the Cacao Tree is technically written for young adults, I think readers of all ages would find joy in discovering one of chocolate's lesser-known origins through the eyes of young Max (coincidentally also my name!).
Click here to see The Jaguar and the Cacao Tree on Amazon.
Pin this list of books about chocolate!