I first met Emily when I visited her Chuncheon-based chocolate factory last June. They'd been open just over 6 months, and we sat down to chat over cups of drinking chocolate, both excited to geek out over fine chocolate & exchange bars.
Fast forward about 18 months, and Emily's celebrating two years of being open, with all the ups and downs it's brought. She's one of the pioneers of a rapidly growing chocolate movement in South Korea: bean to bar. She takes cacao beans, small brown seeds from the tropical Theobroma cacao tree, and roasts, peels, and then grinds them into chocolate.
It's an involved process that's easy to complete, but difficult to do well. And Emily does it really well. Not only was she one of the first chocolate makers on the peninsula, but she's also become one of the best.
But how has chocolate culture been catching on in the rest of South Korea?
Well in a word, gradually.
Korean chocolate culture is still an imprecise phrase with a bevy of images attached: Lotte, Pepero Day, Ghana, cartoon hearts, etc. Note that none of those has anything to do with craft chocolate, or even really with countries; "Ghana" is the name of a popular candy bar here. But in a county whose main communication app is called "Kakao," you'd expect a bit more excitement to surround their booming chocolate culture.
Yet still, makers struggle.
At Public Chocolatory, Emily's small chocolate factory-cafe, there's enough space for maybe a dozen people to sit and chat. Illustrations of chocolate making hang above the cafe tables, while burlap bags of cacao beans line the product display. The aesthetic is open and transparent, with a clear line of sight into the room where cacao beans become shiny chocolate bars.
Emily welcomes me into her chocolate making room, placing herself so that she can still see the door, in case a customer comes in. She's working alone tonight, not uncommon on a Sunday. "Most customers just come in and buy something; they don't stay," she warns me before jumping up to greet the customer who just walked in. He buys a coffee and a chocolate bar, and couple of minutes later, Emily returns, smoothing her hands over her shirt before returning to her own origin story.
How did a young Korean woman get into chocolate making, and how does her story fit into Korean craft chocolate as a whole?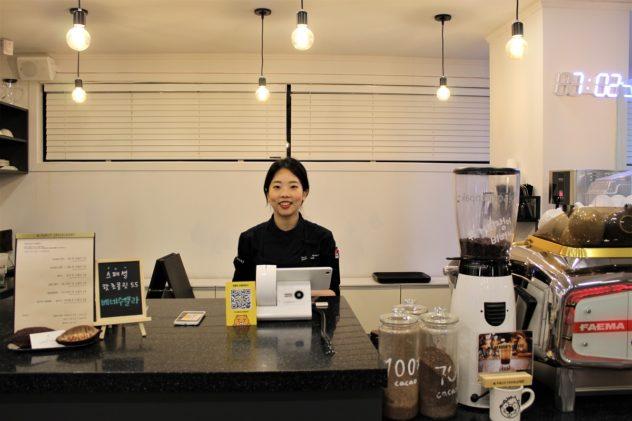 I'll let Emily give you some insight:
"When I was a university student, usually I bought a bar of chocolate on exam weeks. I wanted to concentrate on my studies, so I went to the supermarket, bought one bar, and while I was studying, I had one bite... studying. One bite, studying. Onebitestudying. It was like my energy when I was young."
Don't misunderstand; Emily is still young, just in her early 30's, but she's had a lot of challenges to her youthful energy in the decade since finishing her formal education.
Fast forward a few years after those sweet study sessions and she'd joined the career world of South Korea, infamous for high-stress environments, and she'd fallen ill. Like, very ill. Emily had dived so deeply into her work that stress had drowned her system, forcing her to step away from the corporate world for a bit. During her hiatus, she often found herself at the library, relaxing in the cookbook section.
It's there that her chocolate journey began.
It started with a Korean-language book on chocolate. In 2011 this meant a book geared towards chocolatiers, instigators of a fine food movement still working to gain popularity on the peninsula. Emily became interested in chocolate, first as a hobby and then as a potential career path. Unlike most young Koreans at the time, she eventually chose to leave the stability of her job to pursue her interests and train as a chocolatier.
Just a year later she met Eddie Kim, a character whose own winding path in chocolate helped build the Korean bean to bar movement.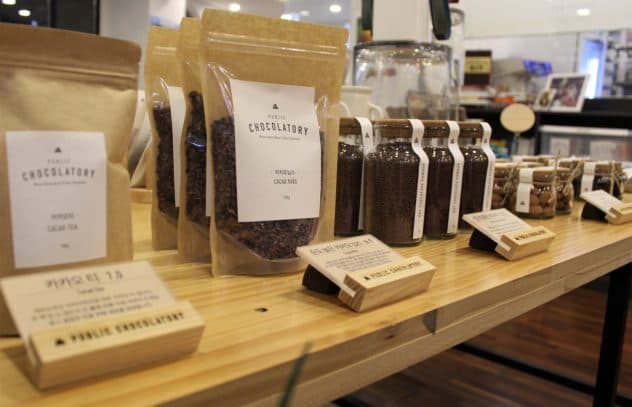 But Eddie's is a story for another time.
Emily was enjoying diving into a new field and uncovering the intricacies of a diverse industry. "Making chocolate was fun, but I really wanted to know 'what is real chocolate?' Chocolate is good, delicious, fun, sweet, but I really wanted to know the basics of chocolate." So Emily started researching cacao, and quickly ran into the two architects of Korean craft chocolate, Eddie and BK Kim. It was 2012 when Emily started down the rabbit hole of craft chocolate, but it was another two years before she took the biggest leap of faith: relocating to New Zealand.
"I started to think I had to open my own space to do something with chocolate, because otherwise I can't do anything in Korea. There was no one in Korea who could tell me about cacao." Enter: Wellington Chocolate Factory. The idea of uprooting her life in Korea to move to New Zealand was obviously scary to Emily, but it was also very exciting.
"I was in Korea, and they wanted to interview me though Skype, so we had an interview and they said 'okay, please come.' So I did," she laughs.
Wellington Chocolate Factory had itself only opened the year before. When Emily arrived the team was a mere 5 or 6 people. But when she left just two years later, there were around 20 employees, including part-timers.
At the same time as Eddie & BK were cultivating the second generation of chocolate makers up in South Korea, New Zealand's chocolate movement was also taking place, and Emily was right in the thick of it.
Yet the craft food scene in New Zealand has a lot of cultural aspects going for it, with a variety of artisanal food group riffing off of each other and building up a backbone based in community. Korea's social hierarchy and cultural inclination towards competition has been somewhat of a hindrance in this regard.
Coffee culture has grown big, but it's still very volume-oriented rather than quality-oriented. Public Chocolatory has now been around for two years— as long as Emily spent in Wellington— and her small factory is still at just 3 employees, including herself. The contrasts between the two markets couldn't be more obvious.
Emily notes of Wellington that "they lead the culture of bean to bar in New Zealand," but "bean to bar is still quite new in Korea. So when I explain about the chocolate, people really like it, but [I still have to explain it]... plus, the whole chocolate market is really small in Korea."
It's a good point.
In general, Koreans don't eat nearly as much chocolate as Kiwis; it's a much newer import here. Despite having over ten times the population of New Zealand, Korea also has just 6 to 8 established craft chocolate makers, with another dozen or so working to build their businesses. So not only is there a smaller fine food scene in Korea, but there's also less interest in building one, though young Koreans are now working hard to change that in a variety of fine food niches.
In fact, all the first & second generations of chocolate makers in Korea are people in their thirties.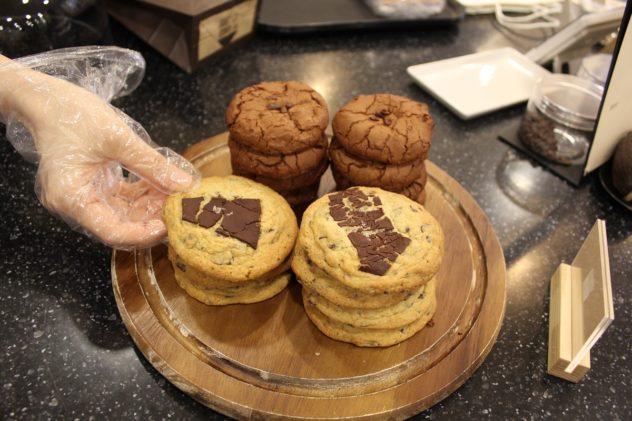 It's something you might not notice at first glance, but the face of Korean chocolate is very young. Koreans born in the 1980's or later have grown up on a peninsula where genuine democracy is the reigning form of government. It's a place where if you protest something, change will occur. Take last year's ousting of President Park Geun Hye, and her later jail sentence of twenty-four years in prison. This wasn't a movement only of outraged young people, but it did send a message to all young Koreans that this is your country and it is what you make it.
For some young people, like Emily, this has become a sign that South Korea has finally arrived. Gone are the days when every able-bodied adult was working towards furthering the country's place in the world. Pursuits that could have only been beloved hobbies before can now become careers, as long as you're willing to put in the work. Mom and dad won't necessarily approve, but these days, they don't really have to. Western influence has seeped into clothes, careers, and culinary options, with capital city Seoul as the hub of it all.
The "Korean Wave" (hallyu) is diversifying interests far beyond the Republic.
Many people are choosing to study abroad and then bring their newfound knowledge back home, Emily included. But in Korean bean to bar, most makers still choose to use the resources within the country to train and experiment with chocolate. Emily just happened to go a different path, literally.
Since moving back from "the Bottom of the Earth," Emily has set up shop in her hometown of Chuncheon, about 1.5 hours by bus outside of Seoul. Despite the continual problems with educating the public, and her location outside of the cultural hub, she's made quite the name for herself through her skills, and a little help from her friends.
Er, from her colleagues. Collaborators?
Emily's been able to work with with several very different businesses in her area to create special bars and events over the years. Last year she had a few dozen students from a nearby university come and tour the factory, ending with a tasting of her single origin bars.
Running a chocolate shop in Korea is rewarding, but undeniably challenging. Unlike the Japanese, Koreans are not as used to paying more for higher quality or unique foods. And with fewer population hubs compared to their eastern neighbor, some days it feels like Seoul or bust. Therefore much of Emily's collaborations are based on working with nearby farmers or making special bars for corporations & events, rather than working with other Korean chocolate makers.
"In Chuncheon there are local farmers growing ginseng... I put the dried ginseng in the Ecuador chocolate. When I conched it, I put the powder in. It tastes really strong."
Emily had a few other stories like that, of working with local groups to build up business in her own community. But in a country with so much national pride (and internet shopping), it's hard to feel like you're making as much of an impact when your customer base is largely restricted to the town you're based in. And with competition heating up— ten new makers entered the scene this year, over half of them in Seoul— it's starting to feel like her location is more of a barrier than an advantage for reaching a willing market.
For example, recently she's been working on importing a new origin of cacao beans that she's fallen for, but is running into difficulties with the government. She'd have to bear the cost of the government's strict testing of the beans, in addition to the high cost of the quality cacao. But with more makers appearing on the scene, this particular hardship may find a solution if she can share the cost with some of them.
So while she's excited at the prospect of building a community of chocolate lovers and aficionados in Korea, it's also worrying. These new makers are into bean to bar, but not quite as much as their predecessors.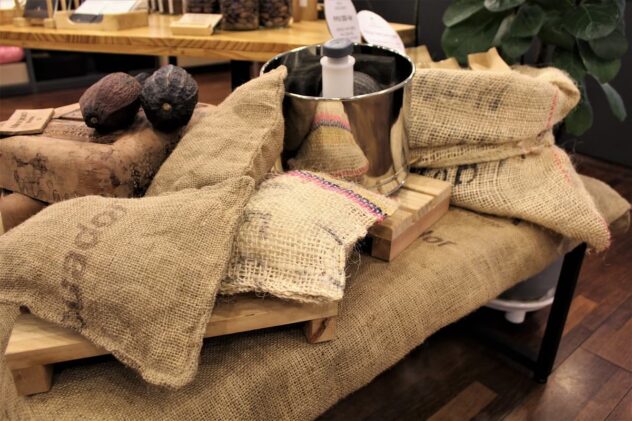 The number of "pure" chocolate makers is limited these days, as most all of the new makers are running cafes with coffee and drinks and pastries, where they also happen to sell chocolate. But this isn't an uncommon way for makers to go partway in. It's the smart way to go about it, in my opinion. The safe way.
Since the fine chocolate community is still so small in Korea, Emily by no means expects to see a hundred makers pop up in just a few years, like what's happened in Japan, but she certainly expects to continue to see growth. The current model is almost exclusively piggybacking off of fancy bonbons and chocolate presents, or coffee shops with tastings and educational seminars. Yet the emerging market is taking a different approach.
Even a couple of years down the line, Emily suspects this cafe model will continue to be the norm, with many people "making bean to bar chocolates at their own cafe, in their own space using the small grinders." But professional bean to bar makers? She says "there are not many professionals in Korea, [who are] only chocolate makers."
As Emily works through the growing pains of running and building a business in a country that's not quite ready for her product, she's also been taking her place as one of Korea's fine chocolate leaders. Bringing together Korea's strong social hierarchy and craft chocolate's community-like feel is difficult, but it's not as if Emily doesn't have experience with adapting cultures. Difficulties lay in the past and ahead, but for all of Korea's young chocolate makers, this is a group of challenges they're more than willing to take on.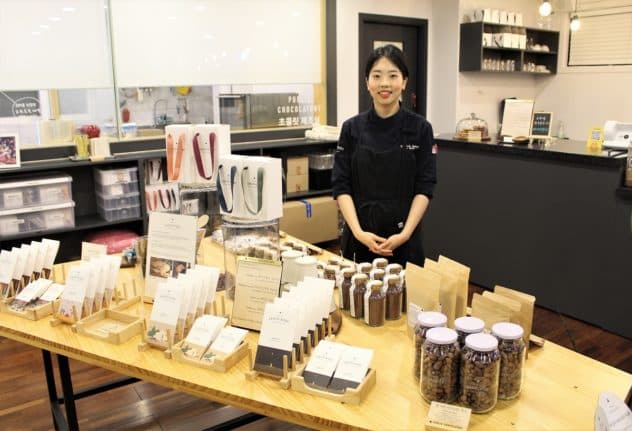 Be sure to visit Public Chocolatory at their cafe in Chuncheon, buy her bars at Cacaum, or come visit them at the Seoul Salon du Chocolat in January 2022!
Hours: 12pm-8pm, Tuesday to Saturday // 1pm-8pm, Sunday
Address in English: 832-6 Seoksa-dong, Chuncheon, Gangwon-do
Address in Korean: 강원도 춘천시 석사동 832-6