You probably found this while looking for Hawaiian chocolate shops, and maybe even for Honolulu chocolate shops in particular. But did you know that Hawaii is the only state in the US which can actually grow chocolate?
The chocolate tree is called Theobroma cacao, and these cacao trees grow quite happily in the tropical clime of Hawaii. The islands make for beautiful places to visit in the fall, when cacao pods are dripping off the branches.
In fact, the island of Oahu is one of the northernmost places in the world where cacao can grow (the northernmost is Taiwan). When you're on Oahu, chocolate trees are just a short drive away, and you can even tour a working cacao farm & a multitude of local chocolate factories.
Similar to their neighbor of The Big Island, Oahu chocolate shops are fairly concentrated on one part of the island; in this case, Honolulu. Most of the cacao on Oahu is cultivated on the North Shore, so you'll have to leave the big city to visit a cacao farm, but it's worth the trek.
On a cacao farm tour you'll learn the steps of chocolate making, the culture of Hawaiian cacao, and how making chocolate on Hawaii contributes to keeping local farming sustainable.
Check out my other chocolate travel guides, too!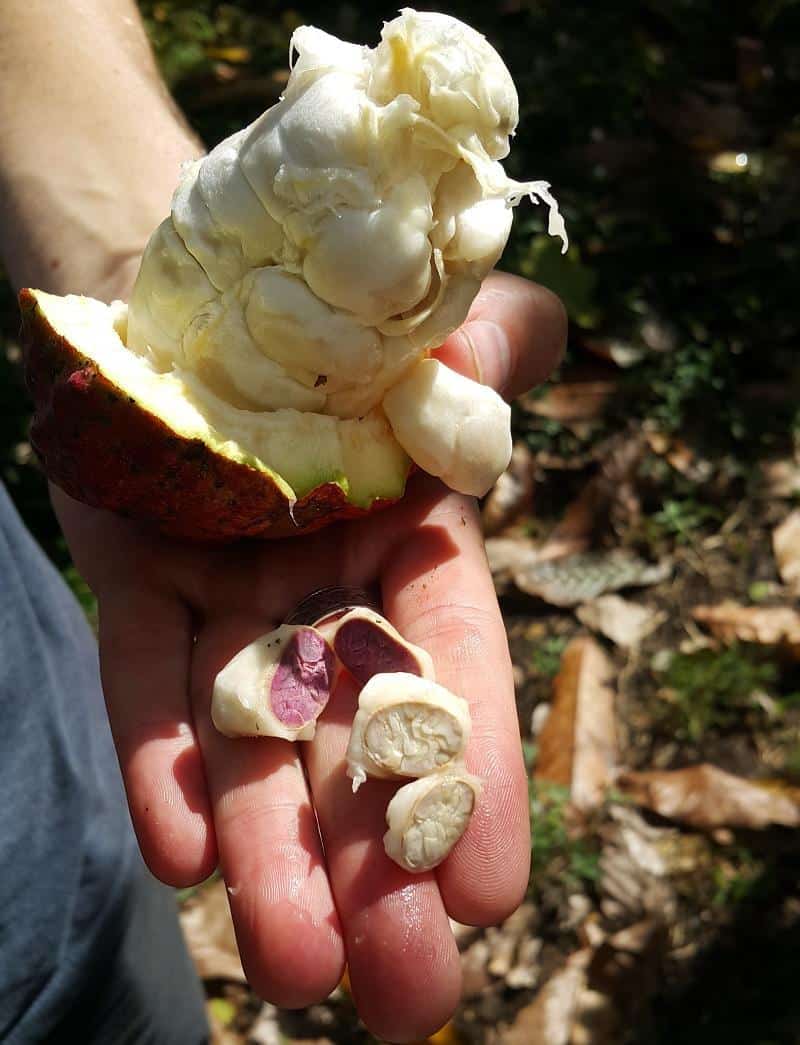 About Hawaiian Chocolate Culture
Ask any local and they'll tell you that the city of Honolulu, and Oahu as a whole, get much more tourism than the other islands. And even though I'd argue that The Big Island is a better chocolate destination, the chocolate shops in Honolulu are more accessible than the ones in Hilo.
It's a balancing act for Hawaiian chocolate, as all of the local cacao farmers are tiny by world standards, but demand for locally-made chocolate is really high. Despite low inventory, Hawaii is still the best place in America to learn about chocolate.
The Big Island in particular offers great insight into how chocolate is made, and a wonderful opportunity to chat with cacao farmers one-on-one. But for those who can't make it over to Kona, here's a bit of background on Hawaiian chocolate and cacao:
During the civil war, a botanist brought cacao to the islands and began growing it for study. Over the years there were a few attempts to grow cacao commercially on Hawaii, similar to how sugar cane was being grown, on these huge estates, but all efforts failed.
That is, until about a decade ago, when Dole Foods began a relatively small commercial cacao farm on the North Shore. Small-scale farmers had been growing small amounts of cacao for decades, but the success of Dole really pushed a lot of these farmers to expand their cacao groves.
Some of them then chose to start processing their cacao into chocolate, themselves, creating the US's first tree to bar chocolates. Some of these are still being made today.
Honolulu Chocolate Shops
Honolulu is the most popular destination on Oahu, by far, and it also has the highest concentration of chocolate makers & retailers. Honolulu chocolate shops can be rather far apart, however, and the bus system isn't very developed, so be sure to factor travel time into your visits.
I also haven't listed the fancy hotel chocolate shops in here, as unlike in East Asia, hotel chocolate shops in the states tend to be there out of convenience rather than because they offer real value.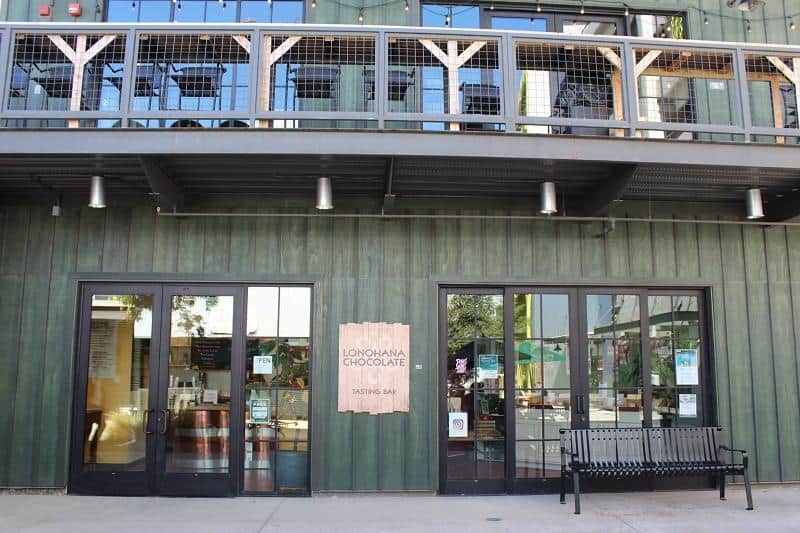 One of the newest additions to the Hawaiian chocolate scene, Lonohana's retail store in downtown Honolulu is perfectly located for convenience and quality. It's also one of the only places in the world where you can buy bars of tree to bar Hawaiian chocolate, crafted by a true expert.
Seneca Klassen has been growing cacao on the North Shore of Oahu for over a decade, and crafting chocolate in Honolulu for just over half a decade. Until he opened the shop in late 2017, his bars were only available online.
But now you can access any of his bars, truffles, and drinks every day of the week. I'd recommend the Chocolate Thai Iced Tea, which is divine and leaves a pleasant floral taste in your mouth (if you can hold off on sipping it for a few seconds!).
Address: 344 Coral St Unit 104a, Honolulu, HI 96813
Hours: 11am-6pm, daily (open until 8pm Fri/Sat)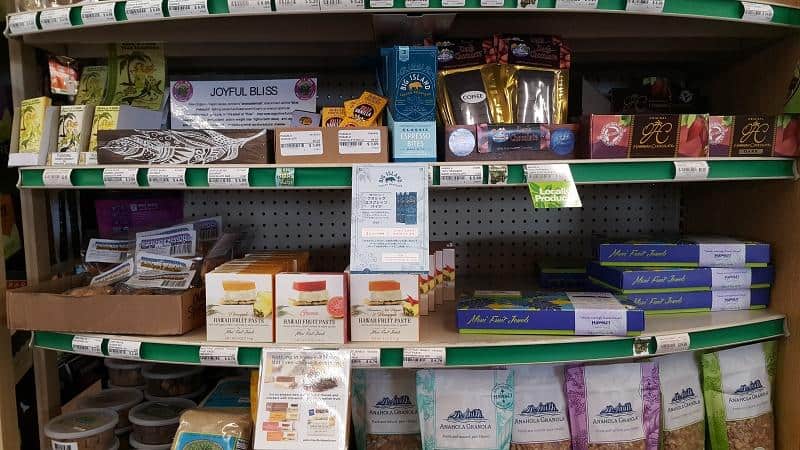 Foodland is first & foremost a grocery store, but they also have a much larger-than-average selection of local Hawaiian chocolates, including those of Madre Chocolate. Madre is a Hawaiian chocolate company which used to have shops in both Kailua and Honolulu, but they have since shut those shops down; they've been visiting farmers' markets recently.
If you're pressed for time, but know that you're near a Foodland, it's worth stopping in for a look at the chocolate selection. If they take you to the Hawaiian Host chocolates, be more specific and as about "high end" Hawaiian chocolates, maybe even mentioning "Manoa" (one of the more common Hawaiian chocolates).
Address: 1450 Ala Moana Blvd, Honolulu, HI 96814, USA (only this location is marked on the map below)
Hours: 5am-11pm, daily (Ala Moana location)
Kailua Chocolate Shops
While there is also a city named "Kailua" on the Big Island, this city is a quick flight and an hour's drive from its counterpart. It's on the eastern shore of Oahu, and home to just one chocolate shop, as far as I can tell: Manoa Chocolate.
But there's also a cacao farm a little north of the city, offering great insight into chocolate making and agricultural lifestyles on Hawaii.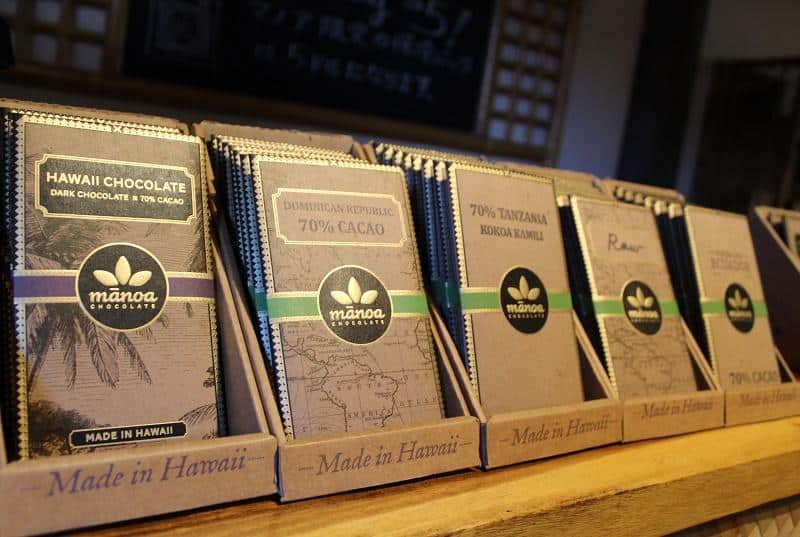 Manoa is now run by husband & wife, Dylan & Tamara Butterbaugh, but was started by Dylan back when he was a college student in 2010. Over the years, Mānoa has grown to become one of the biggest small-batch chocolate makers in the world, and certainly one of the biggest in Hawaii.
Over the last 9 years they've grown the business into a force for spreading the word about Hawaiian terroir. Their bars are made with cacao from a range of origins, but they're especially proud of the bars made with cacao sourced from local farms, a very limited resource they're working hard to increase availability of.
At Manoa's shop, which will open its expansion in spring 2019, the team will lead much larger factory tours. This will enable them to increase their work processing cacao for local cacao farmers who want to keep the chocolate making as local as the cacao. I recommend sampling everything, and taking home some lavender dark milk or a ghost pepper bar (in my honor; mahalo).
Address: 2nd floor, 315 Uluniu St Suite 203, Kailua, HI 96734, USA
Hours: 9am-5pm, daily (closes at 2pm on Sundays)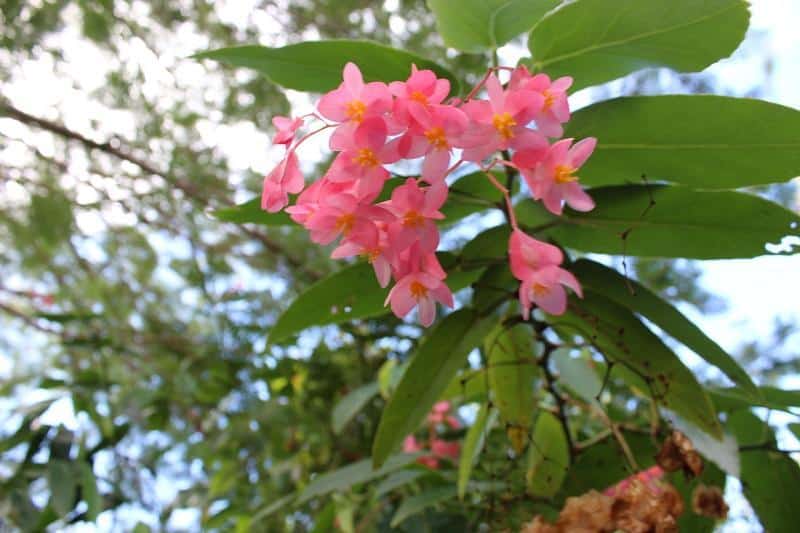 One of the few cacao farm tours on Oahu, 21 Degrees Estate has been offering visitors insight into Hawaiian agriculture for years now. The family-run farm opens their land to visitors twice a week, and additional groups of visitors when scheduled in advance.
Tours take 2 to 2.5 hours, and include a look around their fruitful farm, a complete overview of how chocolate is made from tree to bar, and a chocolate & honey tasting. Don't forget to pick up some of the Estate's honey, "Kahalu'u Gold."
Address: 47-546d, Mapele Pl, Kaneohe, HI 96744, USA
Hours: tours available Tuesdays & Saturdays at 1pm (or by appointment for large groups)
North Shore Chocolate
The North Shore of Oahu is where many of the biggest Hawaiian cacao farms are located, including the Dole Plantation (currently the largest producing cacao farm on Hawaii).
It's got a very rural feel, but the North Shore is just 1-1.5 hours from downtown Honolulu, and offers a great look at the still-prominent agricultural sector of the islands. Surfers flock here in the summertime, though, so be sure to time your visit carefully!
Dole? Isn't that a fruit company? Why yes it is! The Dole Fruit Company has been growing pineapples on Hawaii for over 100 years, and over the last couple of decades they've also begun growing another fruit on Hawaii: cacao.
Dole's choice to grow these chocolate trees actually had a big impact upon cacao growing in Hawaii. At the moment, their 50 acre cacao farm is the largest producing cacao farm in all of Hawaii. Unfortunately neither their cacao farm nor their chocolate factory are open to the public.
But when you visit the Dole Plantation on the North Shore of Oahu, you can see some fully-grown cacao trees growing on their property. When you visit their gift shop (the "Farmer's Market") or their online shop, you can purchase some of their single-estate Hawaiian chocolate, in addition to some of their more famous pineapple creations.
You can also find their chocolate (which is pretty darn good) in select shops across Oahu.
Address: 64-1550 Kamehameha Hwy, Wahiawa, HI 96786, USA (this is the address for the Dole Plantation Tourist Center/Area)
Hours & Prices: 9:30am-5:30pm, daily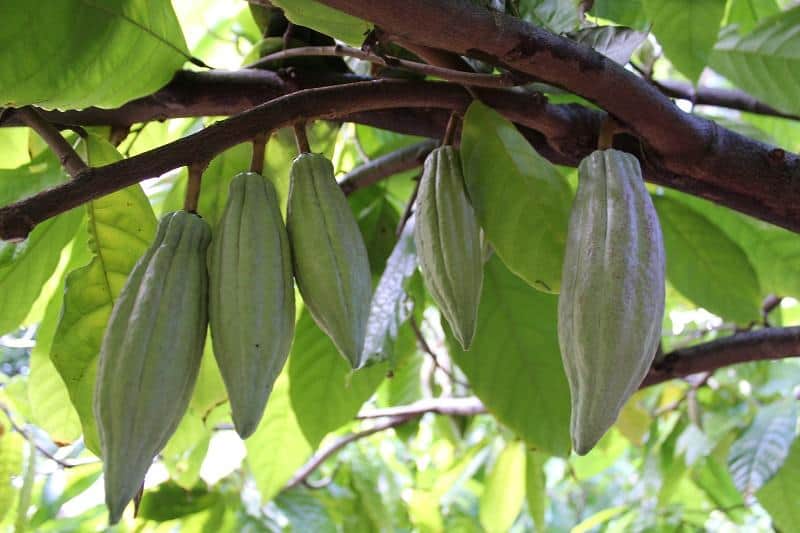 Honolulu Chocolatiers
FULL DISCLOSURE: I didn't have the chance to visit any of these chocolatiers during my time on the island. I've listed them here in case any of you are looking for more truffles and confections than chocolate bars.
Most cities of Honolulu's size would have more chocolatiers than this, but the heat is hard to beat! Chocolatiers are marked on the map in purple.
This Honolulu chocolate shop offers bars, barks, bonbons, and seemingly everything in between. Made from white, milk, and dark chocolates, there's something for almost any customer, with the chocolate-covered fortune cookies as a local favorite.
However, since the shop is a little hard to find, they also have an online store you can browse. Compared to other chocolatiers in Honolulu, Chocolate On A Mission is moderately priced. The shop is actually owned by a non-profit Christian charity based in the Honolulu area, so the proceeds go towards helping under-served populations on Oahu.
Address: 101 N Pauahi St 3rd Floor, Honolulu, HI 96817, USA
Shop Hours: 8am-5pm, weekdays
Despite how popular the American craft chocolate movement has become, some people still think that European chocolate reigns supreme. In this case, it's a bit muddled— Belgian chocolate maker Pierre Marcolini has been producing his own chocolate since the mid-2000's, and I have to say, it's pretty damn good.
So Marcolini's selection of macarons, bonbons, and other typical Belgian confections is made with fine chocolate, but it's not very Hawaiian (though there are some fruit flavors). The mix of flavors is somewhere between Japanese and European, making it a nice reprieve from all of the tropical fruits, but decidedly on the pricey side. Bonbons range from $3 to $3.50 each, with tax.
Address: 1450 Ala Moana Blvd, Ala Moana Center, Level 3 Ewa Wing, Honolulu, HI 96814, USA
Shop Hours: 9:30am-9pm, Mon.-Sat.; 10am-7pm, Sun.
With a surprisingly large storefront for a chocolatier in Honolulu, Padovani's is a blend of French culinary expertise and Hawaiian flavors. The chocolatier & owner, Philippe Padovani, came to Hawaii in the 1980's and spent many years working in hotel kitchens across the islands, opening this very shop in 2006.
The selection on bonbons is impressively large— with several dozen flavors to choose from— and expensive, running an average of $4 per bonbon. But with time & experience comes specialization, in this case resulting in a variety of customizable French-style bonbons for all occasions.
Address: Suite 280, 650 Iwilei Rd, Honolulu, HI 96817
Shop Hours: 8:30am-5pm, weekdays; 10:30am-4:30pm, Sat.
Godiva Chocolate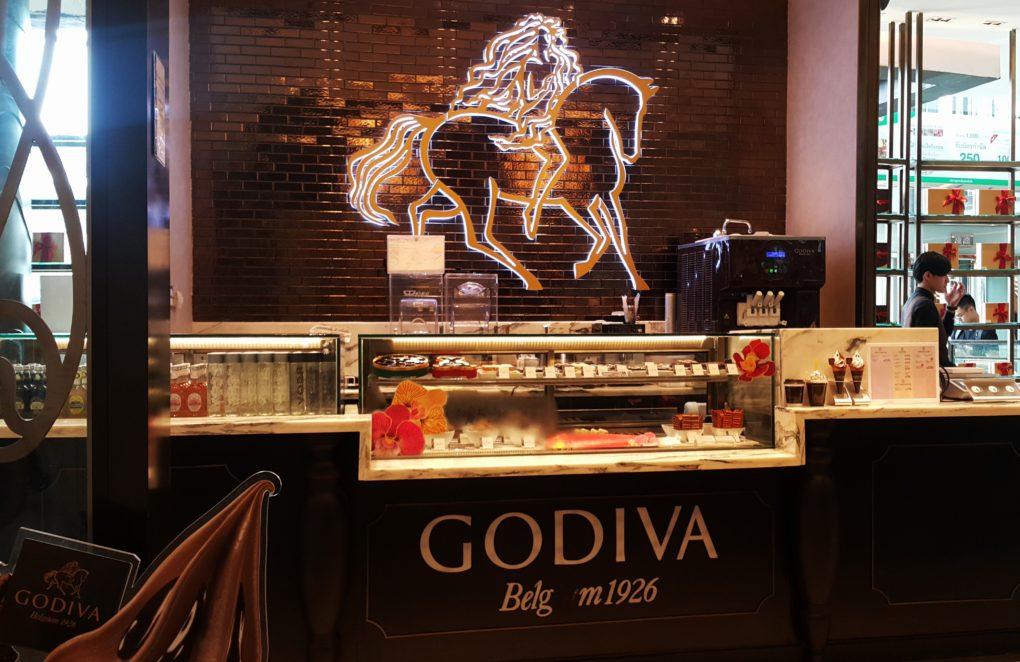 All the Godiva in Honolulu (& the rest of the United States) have now been permanently closed! If you browse this site a bit, it's no secret how much I dislike Godiva as a "premium" chocolate brand. The Belgian company has been around for decades, and when I was a young teenager it was one of my favorite chocolate shops.
I've tried Godiva on three different continents and it always tastes the same. I still think it's a step up from mass-produced chocolates, but if you're willing to spend $3 per truffle (Godiva chocolates are sold by weight, so this varies), then I'd recommend you head elsewhere (preferably to a local chocolate maker, using Hawaiian cacao).
If you'd still prefer Godiva then at this location you'll find their usual selection of nearly 2 dozen bonbon flavors, chocolate-covered fruits, and chocolate ice creams. There are other Godiva shops in Honolulu.
Address: 1450 Ala Moana Blvd, Ala Moana Center, Honolulu, HI 96814, USA
Shop Hours: 9:30am-9pm, Mon.-Sat.; 10am-7pm, Sun.
Big Island Candies has outlets in both Hilo and Honolulu, but their goal in their selection of chocolates and cookies is to reflect the diversity of the Hawaiian Islands, a Herculean task they seem to do quite well. Their mac nut shortbread and other cookie-style treats are popular in gift boxes, and represent much of the Hawaiian and Japanese populations on the island.
In their many chocolates you find tropical flavors such as passion fruit, Kona coffee, and salted macadamia nut. Their use of "white coating" rather than white chocolate gives me pause, however, so I'd think twice before committing to a box. Luckily, if you shop in person you can sample many of their chocolates and cookies on-site!
Address: 1450 Ala Moana Blvd, Ala Moana Center, Honolulu, HI 96814, USA
Shop Hours: 9:30am-9pm, Mon.-Sat.; 10am-7pm, Sun.
The area of Honolulu is massive, so while the shop's address is still within the city limits, it's really in Manoa. That said, Choco Le'a looks from the outside like it belongs in small-town Cape Cod, while inside it's an oasis of tropical chocolate flavors and confections.
The owner & head chocolatier combined European-made chocolate with a portion of locally-sourced Hawaiian chocolate. In addition to her 18 flavors of bonbons, she also creates chocolate-dipped fruits and boxes of pave chocolate.
The bonbons are beautifully tempered and moderately-priced at just $2.50 each. I'm not sure if it's the marketing or the lilikoi truffles calling my name, but I wish I'd been able to drive over on my trip to Hawaii!
Address: 2909 Lowrey Ave, Honolulu, HI 96822, USA
Shop Hours: 10am-6pm, Mon.-Sat.
See's Candies
When I was a kid, my mom would bring a box of See's Candies' chocolate back from business trips. It was always a special treat, the whipped cream on top of having my mom back home. But recently I tried See's Candies again and was blown away by how overly sweet and flat it tasted.
See's is a popular shop around the world, and there is a See's Candies in Honolulu, but I feel it's my duty to point you towards a local chocolatier or chocolate maker in Honolulu, like Lonohana or Manoa Chocolate.
If you're still attached to visiting See's, however, this location is full service and offers their lollipops, nut clusters, and several flavors of truffles, including a special Hawaii Collection.
Address: 1450 Ala Moana Blvd, Ala Moana Center, Honolulu, HI 96814, USA
Shop Hours: 9:30am-9pm, Mon.-Sat.; 10am-7pm, Sun.

Oahu Chocolate Map
---
Did this post help you plan your trip to Hawaiian chocolate shops? Save it on Pinterest so that it can help others, too!
Have you ever visited Honolulu, or Hawaii in general?