From my years as an expat in Korea, I have a rather unique perspective on where to stay in Busan and what to do when you get there. Most visitors to the city try to stay near the beach, which is a great albeit expensive option in the summertime— but what if you hate crowds?
Similar to my guide on where to stay in Seoul, this post covers the main neighborhoods in Busan and the pros & cons to picking each of them. Visitors come to Busan for the beach & ocean vistas, abundant seafood, and the most famous living village in Korea: Gamcheon Culture Village.
GCV is undoubtedly known as one of the most unique places you can visit or things you can do in Korea, but many people end up missing it when they don't plan their trip well enough in advance. So to help you prioritize fun over frustration, my guide to Busan accommodation will help you pick where to sleep each night & start off each day.
Click here to jump to where to stay in Busan!
Click here to read my 3 Day Busan Itinerary!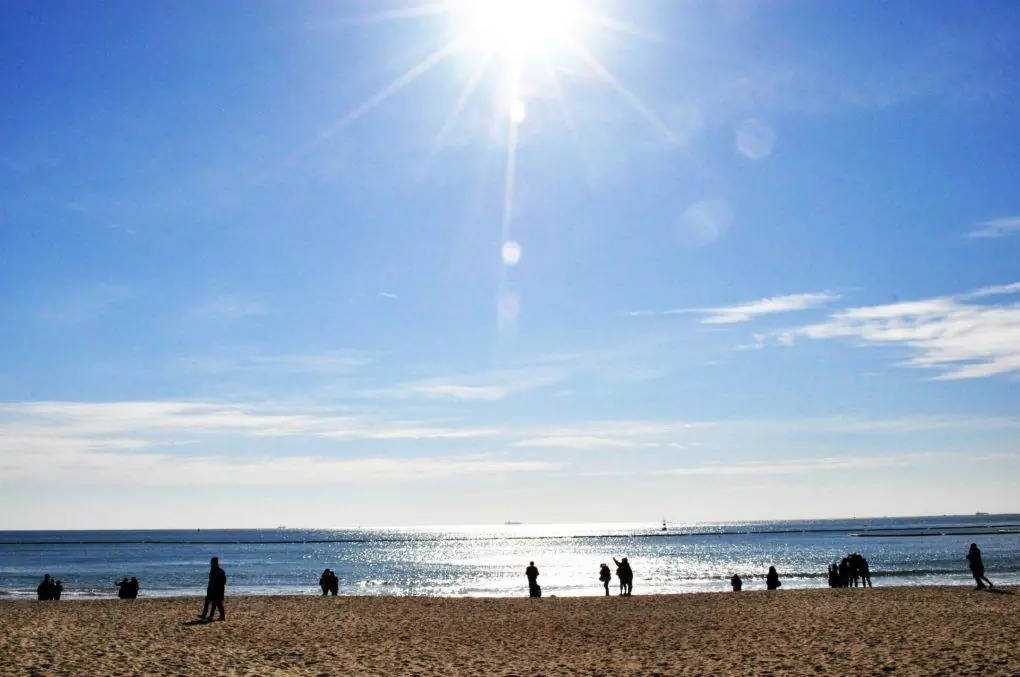 Planning a Trip to Busan (2023 Update)
Those of you looking to visit South Korea are probably as confused by all the changes as I was before I visited again in 2022. The Korean government has been as wishy-washy with their pandemic policies as those in most of the other heavily-touristed countries in Asia have been.
But as of September 18th, 2023, masks are still required in medical settings like hospitals but are NO LONGER REQUIRED in all other indoor public places, including on public transport (though some people continue to wear them).
Here are the documents you need to visit Korea as a tourist:
K-ETA (Korean Electronic Travel Authorization, applied for at least 72 hours before departure) OR Visa to visit Korea (countries which previously had a visa exemption now need to apply for a K-ETA). From April 1, 2023 to December 31, 2024, passport holders from 22 countries will also temporarily NOT need a K-ETA or visa to visit Korea (includes: Australia, Austria, Belgium, Canada, Denmark, Finland, France, Germany, Hong Kong, Italy, Japan, Macao, Netherlands, New Zealand, Norway, Poland, Singapore, Spain, Sweden, Taiwan, UK, US (including Guam)). If you're a valid ABTC card holder (APEC card), you are not required to apply for a K-ETA [excluding Americans & Canadians].
Q-Code (can also be filled out upon arrival): visitors need to fill out information for the Korean quarantine system, known as Q-Code. Note that all travelers are now allowed in regardless of vaccination status, but you do need to have filled out your Q-Code before going through immigration.
If for some reason you need to take a covid test in a South Korea airport, the cost of a covid test in Incheon Airport is currently ₩80,000 ($60USD), with some options within Seoul as inexpensive as ₩65,000 ($50USD). There's no testing requirement to leave South Korea, but you may be required to take a test in order to move on and enter your next destination or home country.
Arrival & Getting Around Busan
Most short-term visitors to Busan arrive by either train or plane, though some locals take the bus if they live outside of Seoul. As the second-largest city in South Korea, Busan is well-connected to the rest of the country.
Nearby cities like Gimhae, Daegu, or the historic Gyeongju are just a short bus ride away, so most visitors come for 3 or more days to make the most of all the sights in the region. The city has its own international airport, located just next door in the city of Gimhae.
Coming from Seoul to Busan, flights are extremely cheap and frequent, as are train trips. The KTX or the Mugunghwa (slow train) are the only trains from Seoul Station to Busan or vice versa. A more affordable option— and the only one, if you live outside of Seoul— is to take the bus.
There are direct buses from all of the Seoul bus terminals (I recommend Express Bus Terminal), but if you're coming from outside of the city it may be more realistic to changes buses at a nearby city. There's a Busan subway line well-connected to the bus stop where you'll arrive.
So if you go that route, you won't have trouble getting to your accommodation. Be sure to download a Korean translation app like Papago and a Korean map app like Naver Maps, as those will have the best translations and directions here.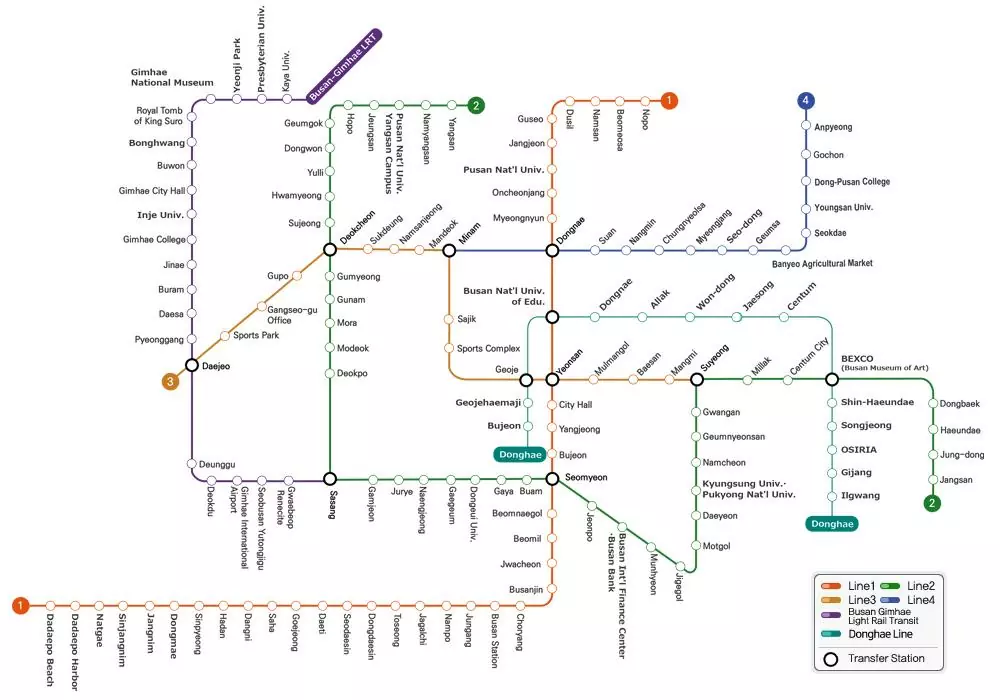 Where to Stay in Busan
Despite most of the attention landing on Seoul, Busan itself is still a metropolis. With millions of residents, there are multiple hubs and multiple places to stay. When figuring out where to stay in Busan, it's important to ask yourself what you want to get out of your trip. Cultural experiences? Food? Nightlife? Just some good vibes, and a feel for the city?
Busan Neighborhoods
As I said above, Busan has several hubs and each one is popular for a different reason. Debatably the most popular with visitors is Haeundae, famed for its gorgeous beaches and more laid back vibes. Second-most popular is Seomyeon, the central downtown area of the city, known for shopping & nightlife.
Stay in Seomyeon is most often compared to Seoul's Gangnam district. The other regions are still very popular, but not as well-known unless you've done your research. If you're looking for all of the beach at Haeundae but way fewer people, head to Gwangalli.
This is by no means a quiet beach area, but it is more popular with locals and therefore has a larger selection of Korean restaurants and bars. The final Busan neighborhood I recommend is Nampo & Busan Station.
These two are next door to each other, and thanks to the train system, Busan Station is often the first place that visitors see in the city. However, Nampo is the winner in this scenario, famed for its proximity to the city's main port and therefore its freshest seafood.
Note that the area around Busan Station is notoriously a bit seedy, so while you may arrive there, I'd recommend staying closer to Nampo. Generally, you should stay in Gwangalli for quiet time and a day on the beach, or in Seomyeon for the nightlife, but during the day you'll want to go elsewhere.
Both of those are central locations from which to base yourself, however, so don't rule them out as places to rest your head.
Click here to explore hotel prices in Busan.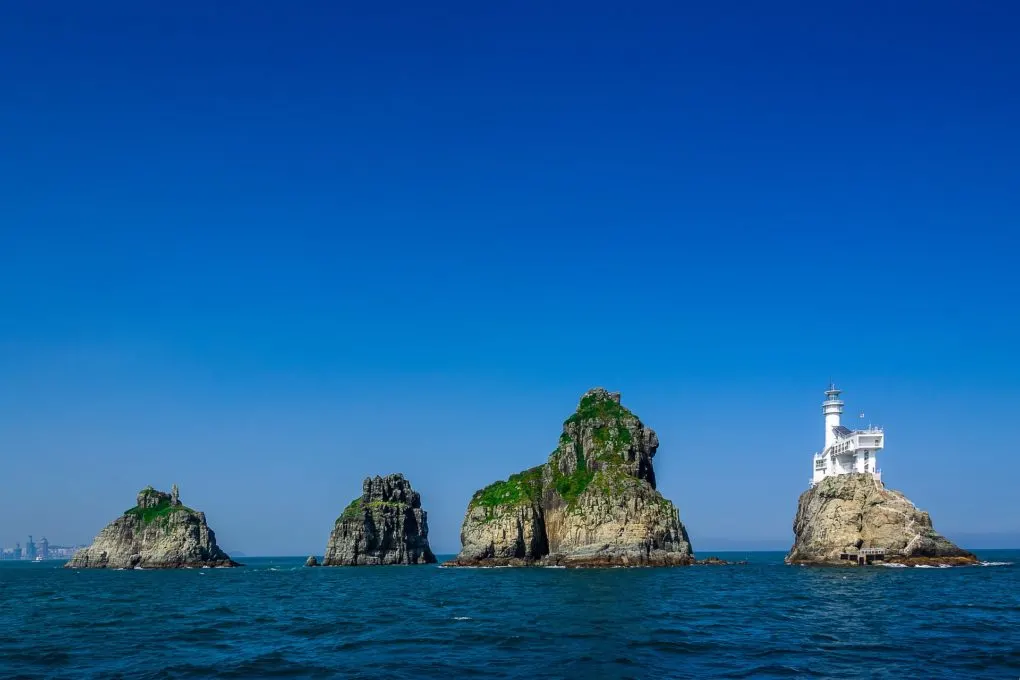 Where To Stay In Haeundae (Beach & Nightlife)
Luxury: Park Hyatt Busan
For that very special weekend away, I can think of nowhere I'd rather stay than the Park Hyatt. This is the definition of opulence, with huge, cushy beds and full-length windows looking right over the bay. Guests love the breakfast buffet and in-house restaurants, as well as the quiet location and the indoor pools for when it's too cold to visit the beach.
The Park Hyatt and its gorgeous views remind me a lot of hotels along the bay in Hong Kong, and it's very popular with couples and families. King rooms start at $200USD.
Click here to check the latest prices.
Mid-Range: Ibis Ambassador
For the hotel experience at half the price, Ibis is your bet. Motels are very popular in Korea, but have a bad reputation for not being very clean, so some "budget hotels" have stepped in to fill the space, and Ibis has been recommended to me as the best.
Their rooms are a bit smaller than a luxury hotel's, but the beds are large and comfortable, the bathrooms are clean and shiny, and the hotel is a 2-minute walk to the beach. This hotel in particular is very popular with couples and groups of friends. Standard rooms start at just $60USD.
Click here to check the latest prices.
Budget: The Bay Guesthouse
Since I've found this place, The Bay has become my go-to guesthouse in the warmer months, as it just 3 minutes to the beach and 2 minutes to the metro. It's a very central location for those who plan to base themselves in one place, but travel around the whole city.
The beds are very large and comfortable, and are styled as a cross between those in Japanese capsule hotels and those in a more typical hotel. Every morning the manager even cooks breakfast for the guests, and there's coffee on the pot in the dining room.
This spot is more popular with solo travelers and younger groups of friends or backpackers. Beds start at just $20USD.
Click here to check the latest prices.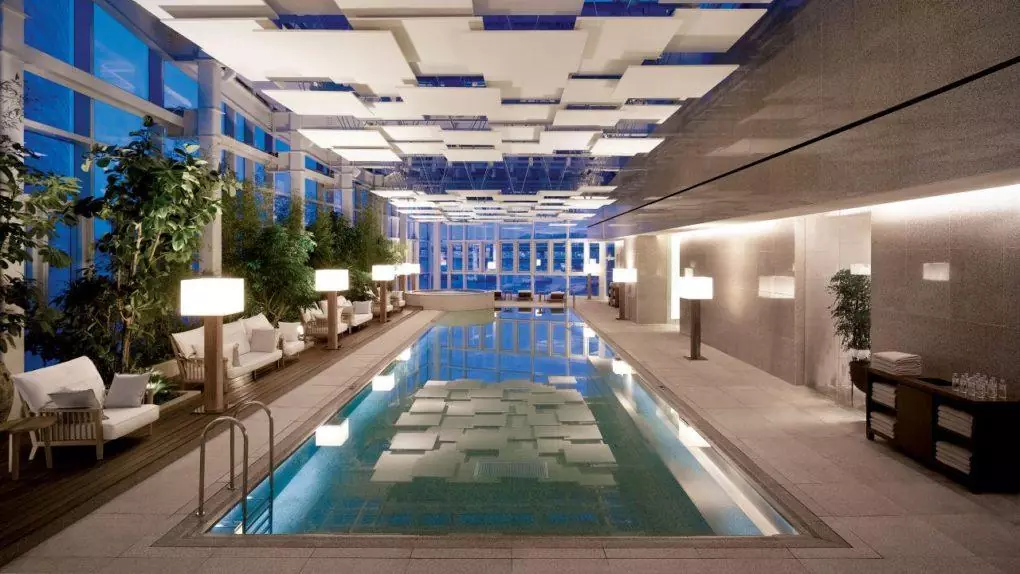 Where To Stay In Seomyeon (Nightlife & Shopping)
Luxury: Lotte Hotel
Though better known internationally for their department stores and food products, within Korea Lotte is known for offering a variety of luxury experiences, including in their chain of hotels. Each suite offers big fluffy beds and a spacious bathroom, as well as a bevy of modern furnishings.
Especially popular with families thanks to Lotte's reputation and their spa & restaurant facilities, Lotte Hotel is located right next to Seomyeon Station and the Lotte Department Store. Double rooms start at $170USD.
Click here to check the latest prices.
Mid-Range: Uniqstay Hotel
While there are bunk beds available in this hotel, it's only because rooms are offered for between 1-4 people at a time, giving it a sort of bed & breakfast feel. The bar, laundry room, and computer lounge are unexpected— but not unappreciated— perks.
Since the hotel has private rooms, it's become more popular with businessmen and other solo travelers, but it is still possible to stay here if traveling Busan with kids. The staff is very friendly, and seem happy to answer any questions about the area and the city. Double rooms start at just $55USD.
Click here to check the latest prices.
Budget: TraveLight Busan
One of the highest-rated hostels in Busan, you've got to book early if you want to stay here. TraveLight is just a couple blocks from the subway, and offers a hotel feel in a guesthouse setting, with the addition of bedside storage for each guest.
The beds are comfortable, the staff is friendly (& speaks English), and there's even an elevator, a rare find in the budget accommodation realm. The only downside is that you'll have to bring your own full-sized towel, but that may be just a Korean quirk. Dorm beds start at just $20USD.
Click here to check the latest prices.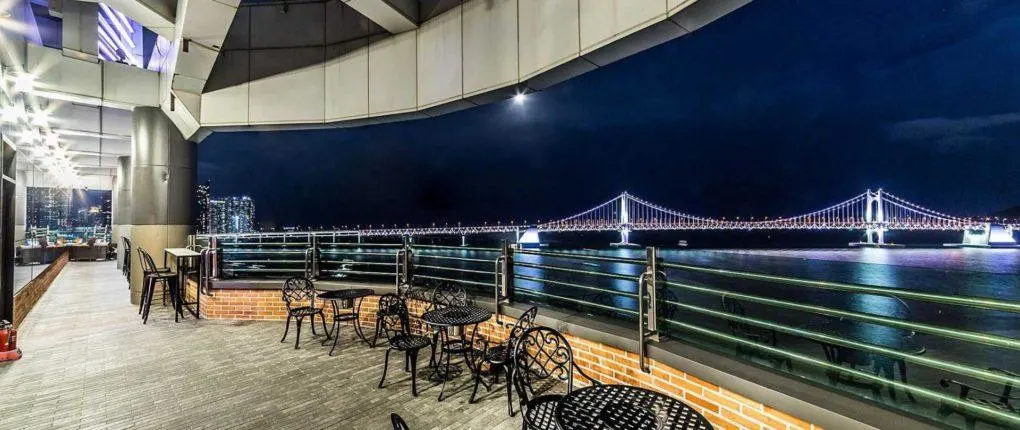 Where To Stay In Gwangalli (Food & Beach)
Mid-Range: Hotel H Avenue
Since it's a more local spot, Gwangalli Beach doesn't really have any luxury hotels. However, the most popular hotels in the area are Kent and H Avenue, and since Kent tends to get a litany of complaints, I'd recommend H Avenue: they've got comfortable beds, great views, and a 1-minute walk to the beach.
The rooms are a bit small, but the breakfast is delicious and the facilities are beautiful. It's definitely worth giving up a little space to have everything else fall into place. Standard double rooms start at just $65USD a night.
Click here to check the latest prices.
Where To Stay In Nampo (Culture & Food)
Mid-Range: Stanford Inn Busan
Busan doesn't have a lot of luxury hotels like you'd find in, say, Seoul, but they do have a fair number of affordable hotels. Stanford Inn is a relatively new addition to that lineup, but in the 2 years since it opened its doors, guests have been very impressed with the high quality of the rooms and the breakfast buffet.
The port-side suites have garnered the most praise, with guests impressed by the view and the proximity to the metro, just a few blocks to stations in either direction. Double rooms start at just $60USD.
Click here to check the latest prices.
Budget: 24 Guesthouse
Since the Nampo neighborhood is so close to Busan Station, many hostels have popped up in the area to accommodate late-night arrivals. So with the pick of the lot, 24 Guesthouse is by far the winner for me.
Not only do they have an abundance of private rooms with their own bathrooms, but they also have very inexpensive dorm beds with just four guests, so the facilities stay quite clean. The location is also fantastic, right next to Jagalchi Station and Jagalchi Market. Dorm bed start at just $13USD a night.
Click here to check the latest prices.
What To Do In Busan
While there are many more activities listed in my Busan itinerary, you can think of Busan as most Seoulites do: the beachy version of Korea's capital city. Most of the people who vacation in Busan visit for the miles of coastline, including rocky shores leading to temples hidden in the mountains.
This is possible because Busan is huge, with a population of 3.5 million, comparable to cities like Berlin or Santo Domingo. Because of this, it can easily take you two hours to get from one side to the other, so I recommend you plan to visit attractions in the same region each day.
Gwangalli Beach and Haeundae Beach are the most popular attractions in Busan each summer, but year-round, tourists always flock to the beautiful and historic grounds of Haedong Yonggungsa Temple.
Further inland is the Busan Museum of Art, with both permanent and seasonal collections, as well as educational programs and seminars for visitors of all ages. Taejongdae is another popular place to visit in Busan, with a multitude of hikes, a lighthouse, a cafe, and an observatory on the grounds, all reachable by train.
Over in Nampo are Busan Tower and Huinnyeoul Culture Village, two spots with winning views of the city. Just nearby is Jagalchi Market, a foodie's paradise with a selection of the city's most famous dishes. One popular approach for me is to pick one of the major attractions in Busan and then find other interesting things to do nearby.
What to Eat in Busan
Busan food is not so different from that in Seoul, except for the fact that it features even more seafood. Dishes like Haemul Pajeon, Sannakji, and Hoe are relatively common (respectively a seafood pancake, fresh raw octopus, and fish eggs), and the side dishes tend to lean more fishy.
While I'd always recommend visiting chocolate shops in Busan, the city is much better-known for their meats and stews; the most famous dessert from Busan is a seed pancake with cinnamon sugar.
One of the best ways to get a quick taste of Busan is to try some of the street food. While there are an endless number depending upon the time of day and season, two of the most popular are Eomuk & Ddeokbokki, which are respectively fish cakes & spicy rice cakes.
Soondae is another common food to see at street stands; it's Korean blood sausage and very popular with soju (rice liquor). Local specialty foods in Busan include Dwaeji Gukbap (pork soup with rice) and Milmyeon (wheat noodles in a meaty chilled broth), both of which you'll see grandly advertised near every tourist spot.
You'll also, of course, see lots of fresh grilled fish and other seafood, always accompanied by local banchan. One of the most popular of these is Jogae Gui, or grilled clams.
Click here to explore hotel prices in Busan.
Busan Travel Tips
Pollution in Korea is horrible. In recent memory, spring 2018 and winter 2019 come to mind as the worst, with many days seeing pollution levels as high as in Beijing, China. Bring or buy a face mask, although these days you'll be wearing one for another reason!
Card is king in Korea, but… always have some cash as backup. International cards are notorious for being rejected seemingly at random, so always keep enough money on hand to pay for your meal, entrance ticket, etc.
Buy a T-Money Card before you leave the airport. This handy card can be reloaded at any convenience store and used to pay for the metro, buses, taxis, and in convenience stores.
Speaking of convenience stores, most convenience stores are open 24 hours. If you're ever looking for somewhere to kill some time, stay out of the heat, or ask for help, this is your spot.
Use your T-Money card to get around by bus outside of the city center. The bus system in Busan is great, and will be much faster to get around on in the outskirts, and much cheaper than taxis. Use Naver Maps to figure out your route (this is true for your entire South Korea trip, not just in Busan!).
If you can't find the place, look up. If you're looking for a guesthouse or cafe or restaurant, and you just know you're at the right address, simply look up. It's probably just on a waaaaaaay higher floor, like the 10th or 42nd.
As a port city, Busan has fantastic seafood. So go to the wet market early in the morning to enjoy the freshest seafood, and have it prepared right in front of you. Fried fish is good at any hour.
On the topic of early, there's a reason they call Korea the Land of Morning Calm⁠— nobody really gets up before 10am. So if you want to have the streets to yourself (& any other smart tourists), wake up early and eat breakfast in your hotel before heading out to your first activity.
When to Visit Busan
Much like Jeju Island, the period between April and October is the best time to visit Busan for good weather, access to tourist sites, and the best seasonal dishes. However, I'd recommend April or October if you don't mind the cold and really want to avoid the crowds.
Then if you enjoy warmer weather and don't mind a few tourists, I'd come during May, June, or September. Korean kids are out of school all of July and most of August, so that's when thousands of Koreans will flock to Busan and its nearby beaches for summer holidays.
Local sights can be different from month to month, but by late March you'll find the cherry blossoms and the festivals they bring. Then as weather continues to warm, more of the plants come to life and green overtakes the city, remaining until the weather starts to cool and the colors of the leaves change once again.
If you want to visit Busan for two days specifically to go to the beach, you should note that beaches in Korea close sometime in late September, due to the weather.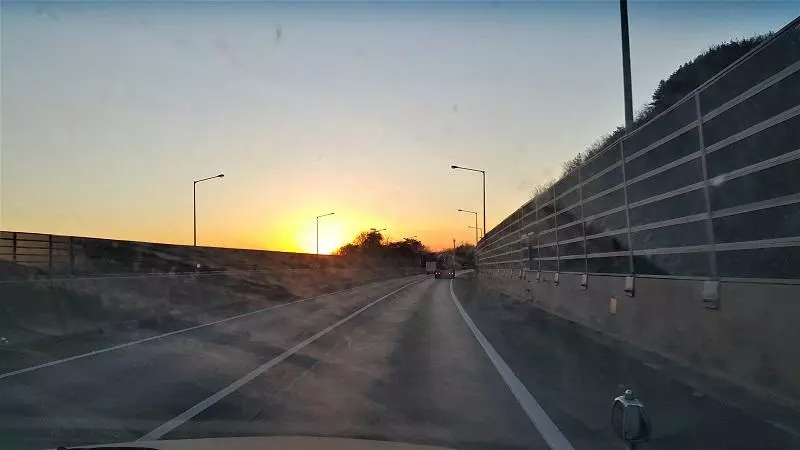 Basic Korean Lesson
So you're ready for your trip, but you don't know any Korean! Let's fix that. You won't be fluent overnight, but lucky for you, I've already broken down the English-Korean language barrier several times over. Here's a shortlist to help you order food and just generally be respectful.
Many Koreans speak enough English to understand your order, but it's always polite to throw in a little Korean. If you want to do anything other than order food, though, you'll run into some vocabulary limits. I'd highly recommend downloading a picture-capable translation app before you go, like Google Translate.
Hello // An-nyeong-ha-se-yo. (안녕하세요.)
Thank you // Gam-saahm-ni-da. (감사합니다.)
Do you speak English? // Yeong-aw jal-hae-yo? (영어 잘해요?)
I don't speak any Korean. // Han-guk-aw jal-moat-hae-yo. (한국어 잘못해요.)
How much is it? // Eol-ma-yeh-yo? (얼마예요?)
One of these, please. // Ee-gaw ha-na ju-say-yo. (이거 하나 주세요.)
It's to-go/takeout. // Po-jahng ee-eh-yo or Tae-ee-kow-shi-yay-oh. (포장 이예요.)
Lesson complete! Now let's go pack for Busan.
Busan Points of Interest Map
---
Did this post help you figure out where to stay in Busan? Save it on Pinterest so that it can help others, too!
Have you ever visited Busan, or any of the other big Korean cities? Anything else to add?